Tuxedo cats look absolutely adorable. If you meet one, you`ll fall in love with this type of cats forever. Their magic is in contrast to the black and white that can create an image of tuxedo formal wear.
Tux (Tuxedo) and Penguin are the most popular cat names for this cat coat type. But let`s look at other name ideas you can choose if you own a tuxedo cat.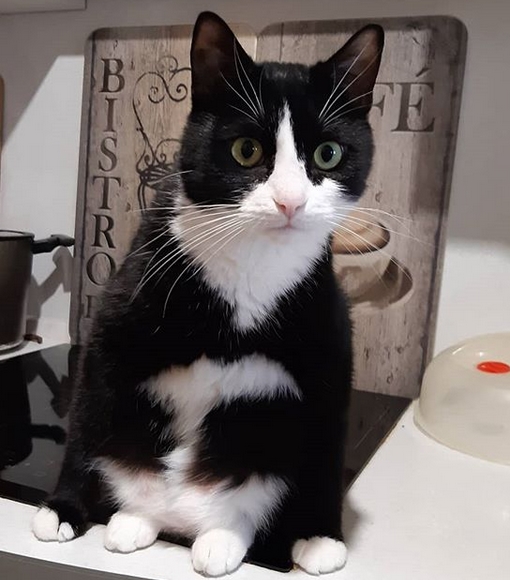 Salt and Pepper
Marilyn Monroe
King
Xavier
Willow
Polkadot
Tiger
Badger
Shamu
Tux
Speck
Butler
Harmony
Marbles
Rebel
Banner
Blot
Koala
Mickey
Pepe LePew
Poker
Swissroll
Fancy Feline
Snowball
Kiss
Cupcake
Party Boy
Magpie
Maverick
Klondike
Rabbi
Hello Kitty
Betty Boop
Pancake
Tuxedo
Shadow
Noir
Cappuccino
Moo
Obsidian
Bessie
Mime
Rorschach
Puddles
Perdita
Patch
Emperor
Mottle
Eskimo
Salter
Checkers
Party Girl
Keys
Aristocat
Motley
Ebony and Ivory
Yin Yang
Dab
Penguin
Coco Channel
Sunspot
Socks
Bull's Eye
Holstein
Vega
Mittens
Mr. Mistoffelees
Coffee
Two-tone
Coffee and Milk
Night
Peanuts
Nova
Retro
Bow tie
Whoopie
Battersy
Chip
Prince
Panda
Puck
Ian
Skunk
Blackie
Puffin
Blotches
Double Trouble
Reverend
Vintage
Smudge
Soccer
Yelp
Elvis
Albatross
Snoopy
Jazzy
Puss in Bed
Moon
Yasmin
Minnie
Opera
Drake
Zigzag
Chips
Patches
Whiskerson
Pinstripe
Jellicle Cat
Jasper
Pepper
Pirate
Tuxie
Raccoon
Fancy Girl
Ying and Yang
Pongo
Fred Astaire
Shoes
Odette
Dabble
Figaro
Referee
Dalmatian
Magician
Dapple
Maiden
Duke
Rocko
Half and Half
Day and Night
Peppermint Patty
Boggle
Coco
Eight Ball
Pepper
James Bond
Hemera
Fancy Pants
Dressy
White Gloves
Raven
Groucho
Twilight
Latte
Charlie Chaplin
Crescent
Lemur
Aristocrat
Cafe au Lait
Lincoln
Dice
Ozzy
Piano
Majordomo
Chester
Jeeves
Mask
Felix
White Pants
Orca
Tap
Caped One
Tapir
Barcode
Fancy
Dotty
Greta
Stripey
Puzzle
Swirl
Freckles
Puss in Boots
Inky
Zebedi
Jellicle
Keyboard
Zarnel
Priest
Zorro
Whisky
Domino
Spot
Jacket
Gypsy
Cookie
Ladybug
Scrabble
Ermine
Top Cat
Rocky
Garbo
Cruella
Swan
Luna
Zebra
Houdini
Bandit
Chilly Willy
Oreo
Pinto
If you looking for more name ideas, you can check our complete tuxedo cat names. or if you need more name ideas, we still have tons of name ideas you can get on our complete cat names from A-Z.
And if you are more interested in cultural cat names, we've compiled for your the complete foreign cat names.
Advertisement