The most hated and despised governor, today in America, is also the worst dog owner in America. Reports said outgoing Governor of New York, Andrew Cuomo, has been without his dog Captain ever since he moved out of the Governor's mansion.
Is Cuomo really the worst dog owner?
After he resigned due to sexual misconduct allegations, Andrew Cuomo wanted to move on with life as the New York governor began leaving the state's executive mansion. But he just seems to leave behind one thing important – his dog, Captain.
Two State Police sources told the Times Union that the governor asked staff members if they would be interested in "temporarily" taking care of Captain.
Captain is a mixed breed of a shepherd, Siberian, and malamute. Sources said the dog had nipping issues since Cuomo adopted him in 2018. A mansion staffer volunteered to take the dog home for a few days but gave up after falling victim to the dog's nipping.
Richard Azzopardi, a spokesman for the governor, denied the allegations about the governor leaving the pup in the hands of another. He said the arrangement was only "temporary" because the Governor plans to take a vacation after formally resigning from office.
The outgoing governor also fiercely denied the claim on Twitter.
Azzopardi also backed the governor as he needed to deal with the tropical system Henri bearing down on southern New York and New England.
***
Why the issue of leaving the pup worsened
Although, images on Friday showed vans parked outside of the governor's mansion. The dog, Captain, was nowhere to be found among the boxes being packed up in preparation for departure.
***
After the story broke about Captain being left in NYC Monday morning, the New York State Animal Protective Federation released a statement saying it was ready to take care of Captain if Mr. Cuomo had requested so.
The New York State Animal Protection Federation is the legislature on behalf of branches of The Humane Society, SPCAs, and non-profit and municipal animal shelters across the state.
"Captain deserves better," executive director Libby Post said. "He will be welcomed with open arms (and paws) into one of our shelters."
Post, who is also a public radio commentator on WAMC, told The Daily Beast that she later received a call from Azzopardi, who informed her that the dog's temporary displacement was due to a planned vacation.
It's "unacceptable" for a pet to go overlooked, but it's not unheard of among politicians.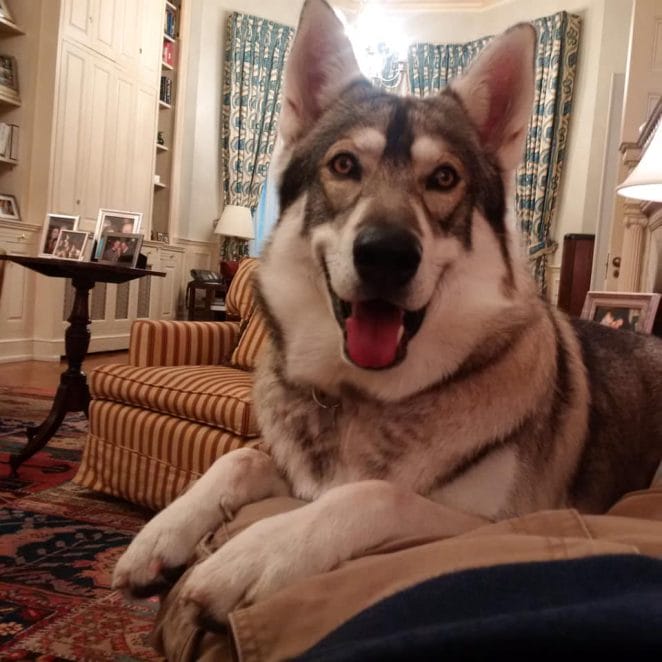 Cuomo adopted Captain in 2018. Meanwhile, the outgoing governor had his belongings trucked to a luxurious Westchester County property owned by his sister and her husband.