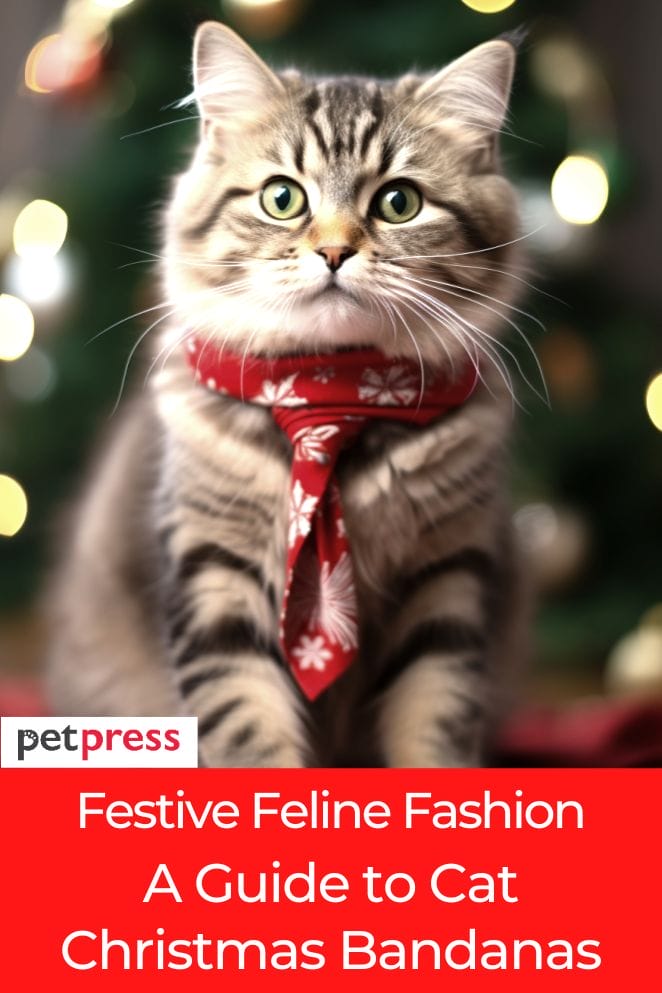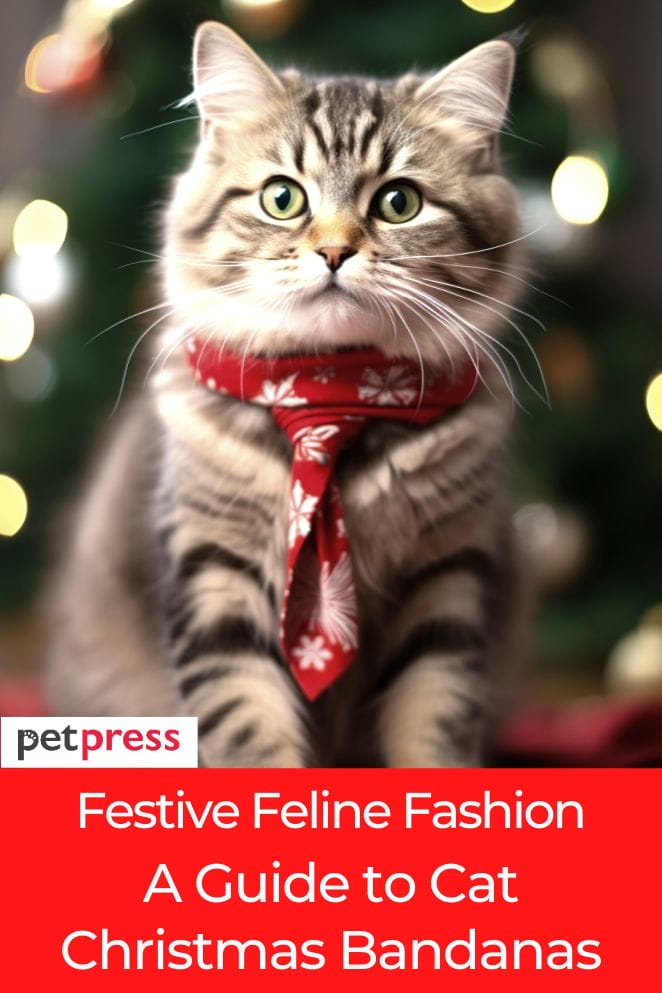 Celebrate the holiday season by adding a festive touch to your furry friend's wardrobe!
Join us in this guide as we delve into the charming realm of Cat Christmas Bandanas – the ideal accessory to enhance your cat's festive vibe.
From uncovering the undeniable perks to crafting your personalized bandanas, we'll navigate how these little accessories can infuse joy and style into your cat's holiday experience.
Benefits of a Cat Christmas Bandana
Festive fashionista
Elevate your cat's holiday style by adorning them with a Christmas bandana.
Whether featuring jolly Santas, reindeer, or snowflakes, these accessories add a charming flair to your cat's festive ensemble, creating picture-perfect moments for your social media.
Comfortable expression
Unlike elaborate costumes, Christmas bandanas provide a comfortable avenue for your cat to express their holiday spirit.
Recognizing cats' discerning preferences, these lightweight and non-restrictive accessories offer a stylish way for your feline friend to participate in the seasonal festivities.
Capture the holiday spirit
Let your cat join in on the holiday joy!
Christmas bandanas enable your feline companion to embody the festive spirit, making them an integral part of your holiday celebrations.
Moreover, these accessories serve as delightful conversation starters at family gatherings or virtual meet-ups, adding a touch of charm to your seasonal interactions.
Best 10 Cat Christmas Bandana Ideas
Classic Christmas patterns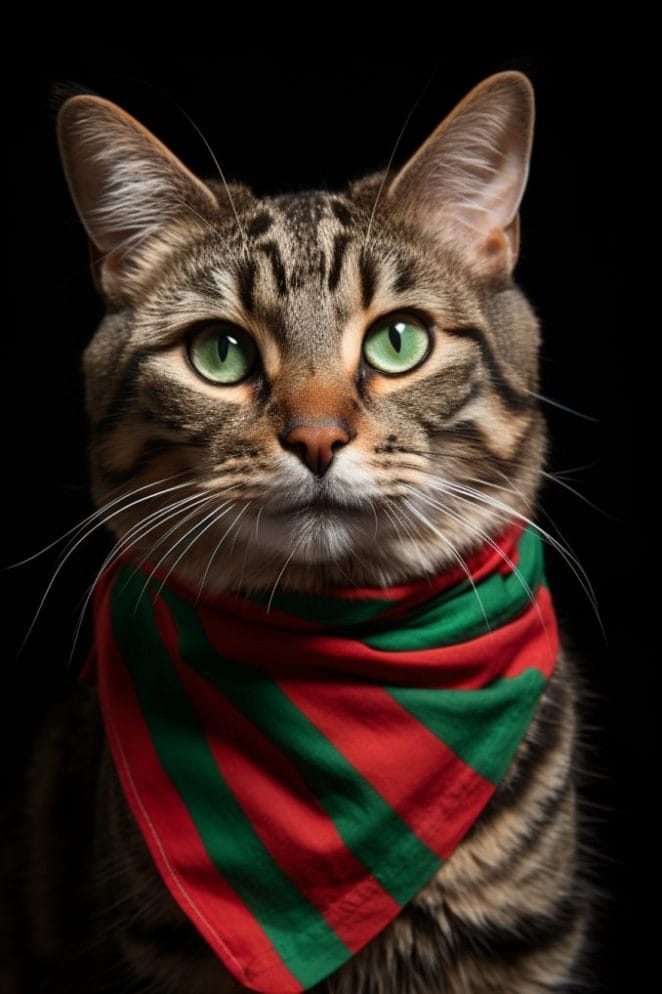 Embrace the timeless holiday spirit with traditional red and green stripes or plaid patterns.
These classic designs offer a sophisticated and festive look for your cat.
The combination of these iconic colors creates a holiday aesthetic that never goes out of style, ensuring your feline friend exudes elegance during seasonal celebrations.
Winter whimsy designs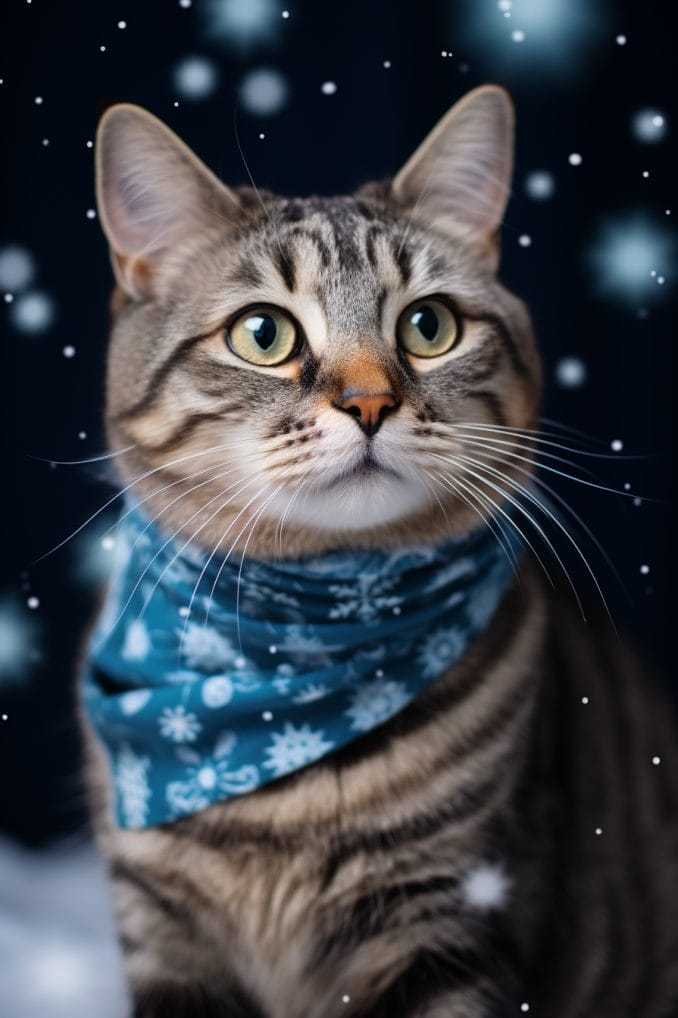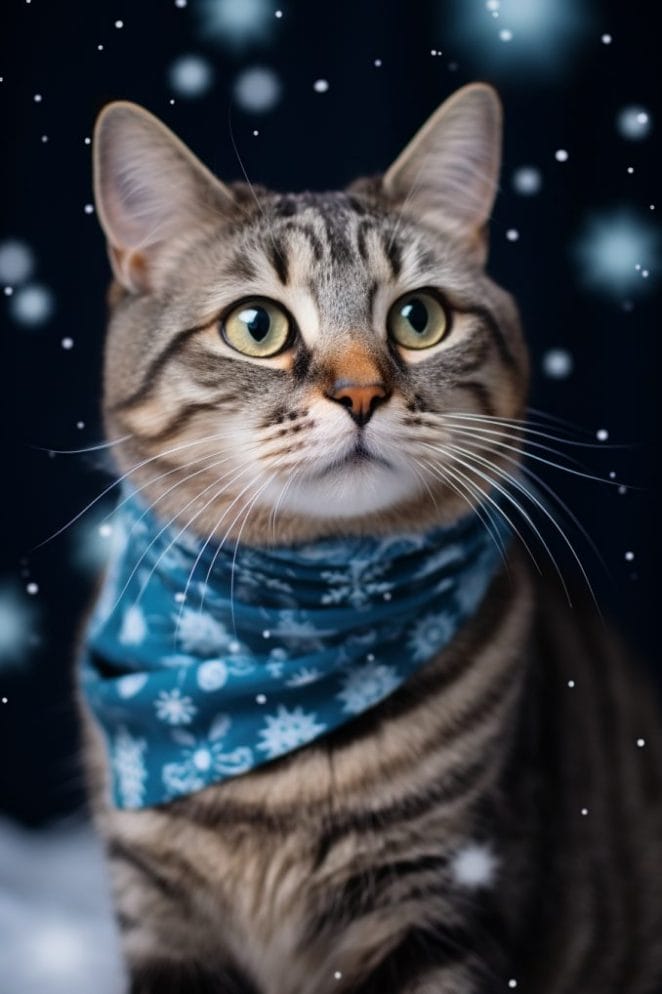 Infuse a playful touch into your cat's holiday wardrobe with whimsical patterns featuring snowflakes, mittens, and other winter-themed elements.
These charming designs add a lighthearted and festive vibe to your cat's ensemble, capturing the enchantment of the winter season in every wear.
Santa paws extravaganza
Elevate your cat's holiday style with bandanas adorned with miniature Santa Claus motifs.
This Santa Paws Extravaganza brings a festive touch, turning your furry friend into a charming holiday companion.
The adorable Santa-themed bandanas create a delightful visual appeal, perfect for spreading joy during seasonal gatherings.
Snowy scenes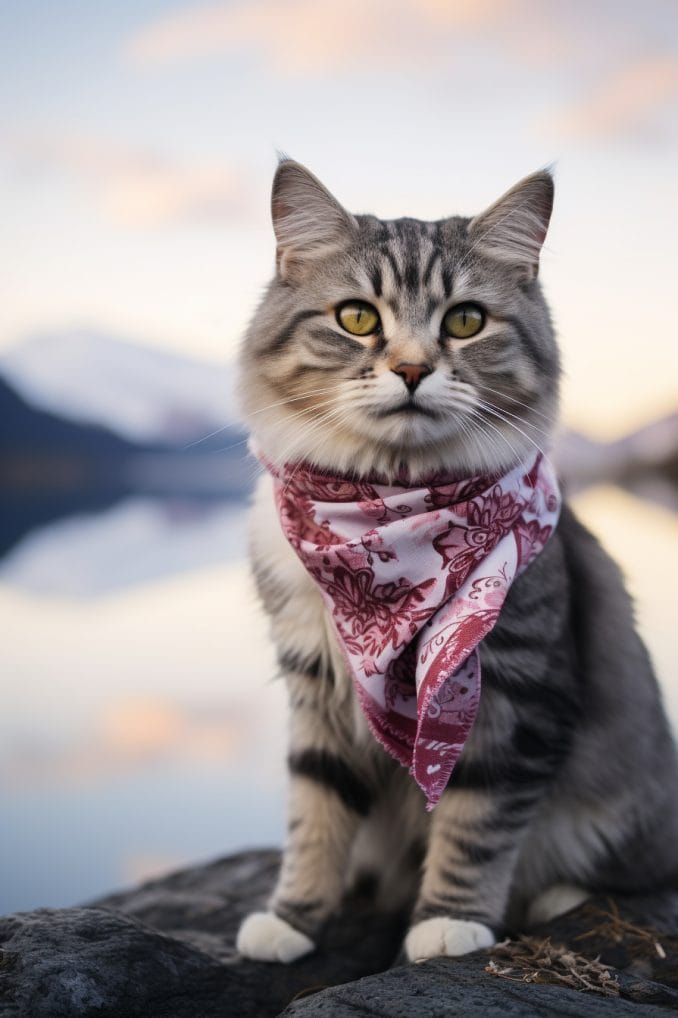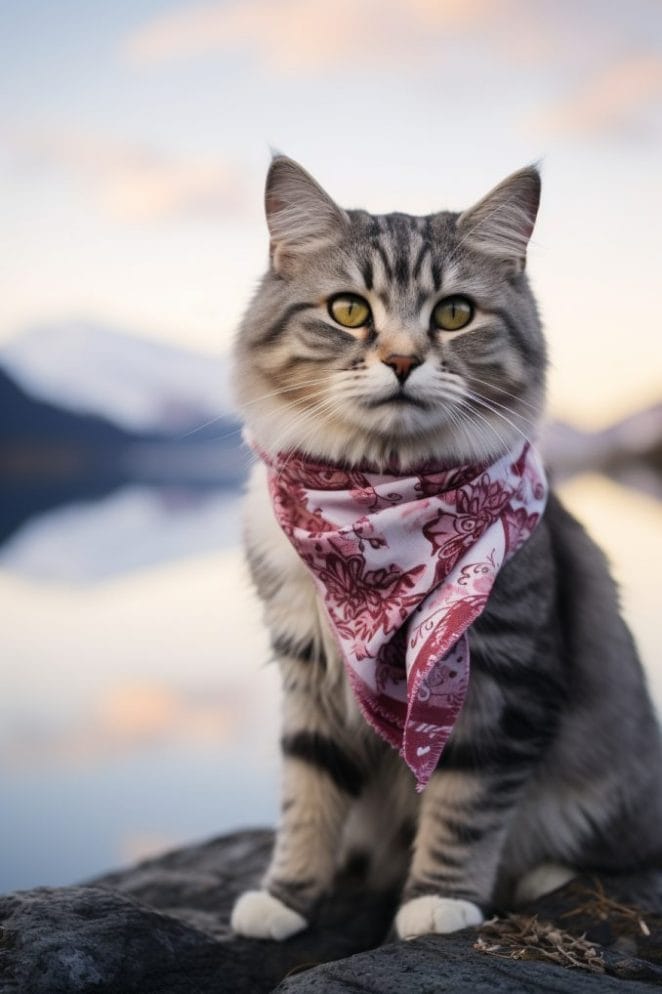 Transport your cat to a winter wonderland with bandana designs showcasing serene snowy landscapes.
These picturesque accessories capture the beauty of cats in the snow, providing a tranquil and seasonal touch to your feline friend's attire.
Ideal for winter outings, these bandanas bring a touch of nature's beauty to your cat's holiday wardrobe.
Festive fair isle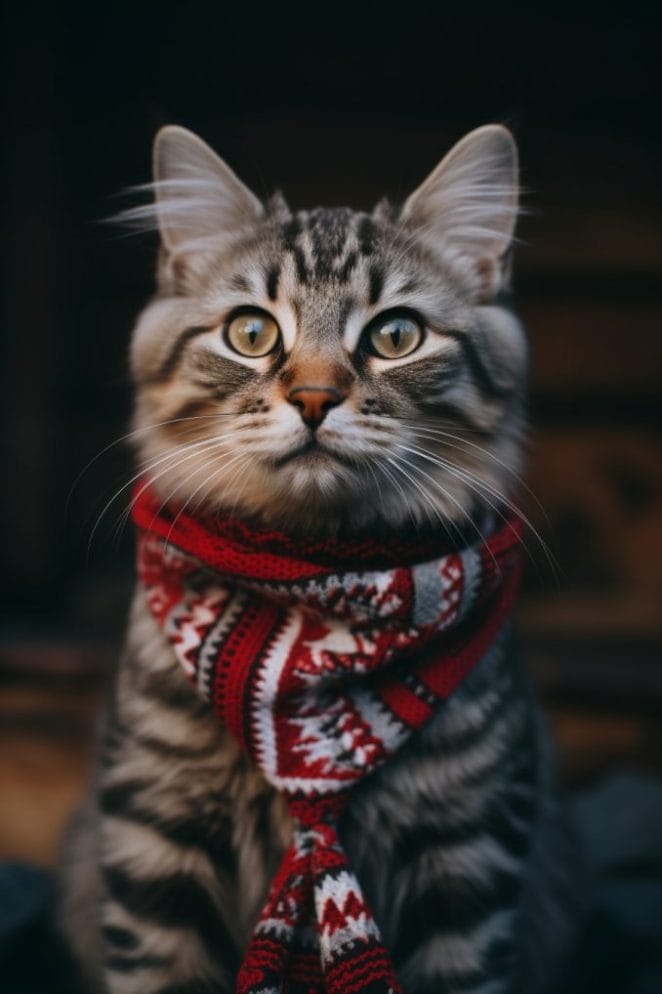 Embrace the warmth of the holidays with bandanas inspired by the classic Fair Isle knitting technique.
Featuring festive colors and intricate patterns, these accessories add a cozy and traditional feel to your cat's holiday look.
The Festive Fair Isle bandanas showcase a timeless charm that resonates with the spirit of the season, making them a perfect addition to your cat's festive attire.
Meowy and bright colors
Infuse vibrancy into your cat's holiday wardrobe with Meowy and Bright bandanas.
These colorful accessories boast playful Christmas-themed prints, adding a lively and spirited touch to your feline friend's ensemble.
The combination of bold hues and festive patterns ensures your cat stands out in cheerful holiday gatherings.
Holiday characters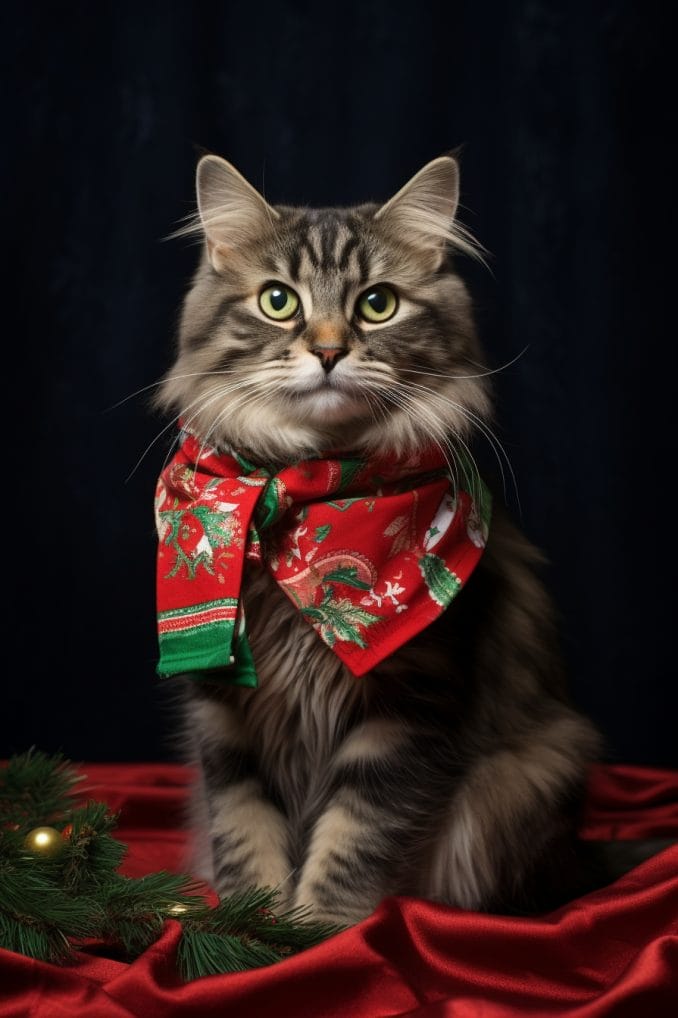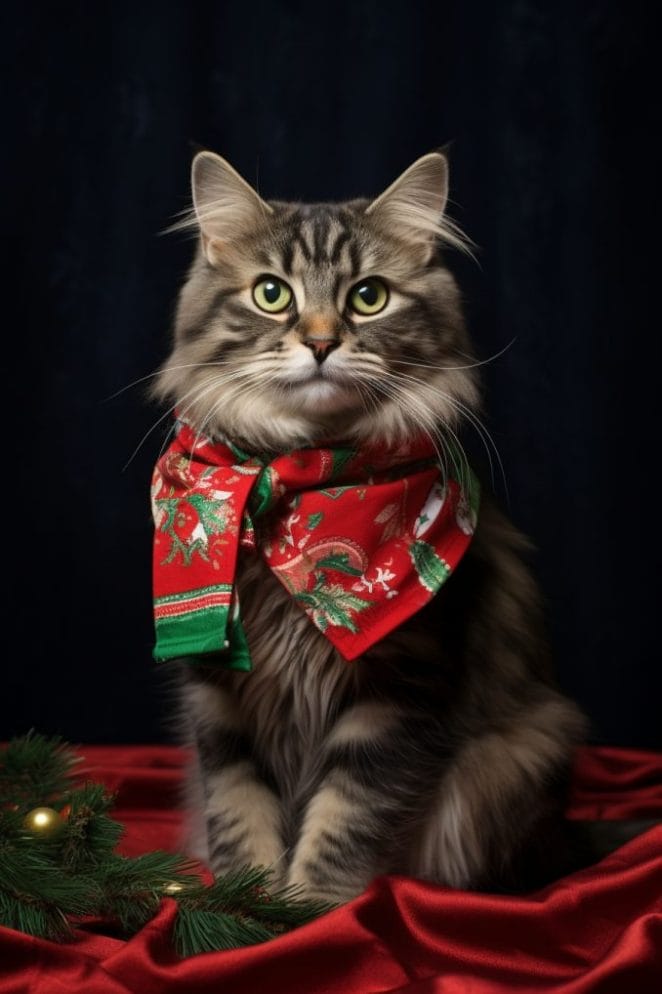 Bring iconic holiday characters to life with bandanas featuring beloved figures like Rudolph, Frosty, or elves.
These character-themed accessories add a whimsical and festive flair to your cat's appearance, capturing the enchantment of the season.
Your cat becomes a charming holiday companion, spreading joy with every wear.
Personalized options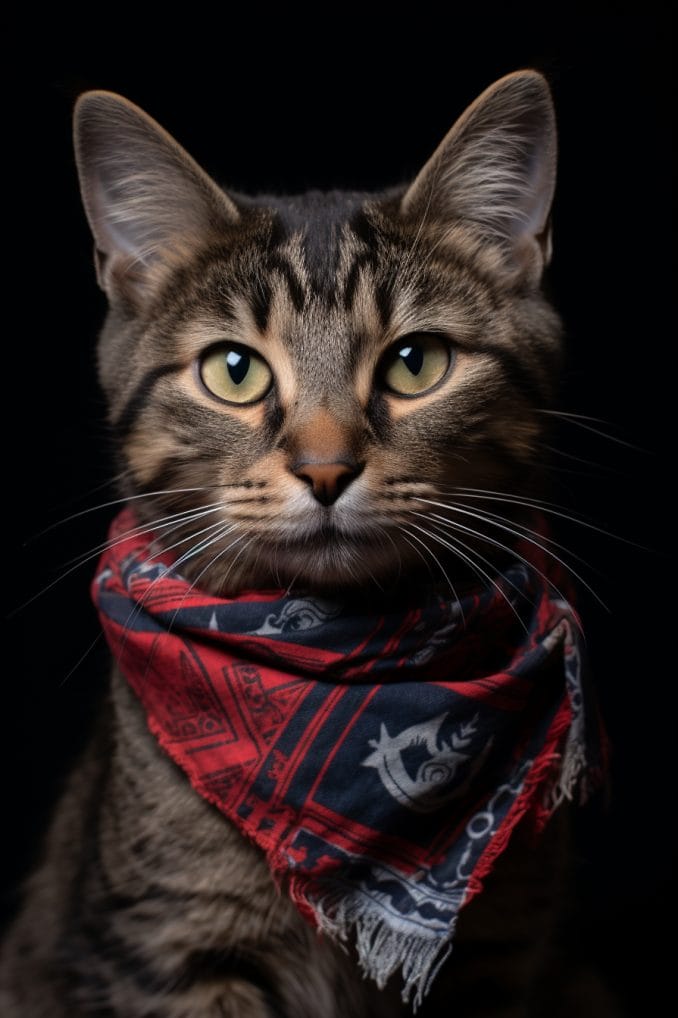 Make your cat's holiday attire extra special with personalized bandanas.
Customize these accessories with your cat's name or a special holiday message, creating a unique and meaningful touch.
These personalized options allow your furry friend to showcase their individuality during the festive season, making them stand out in style.
Gingerbread delight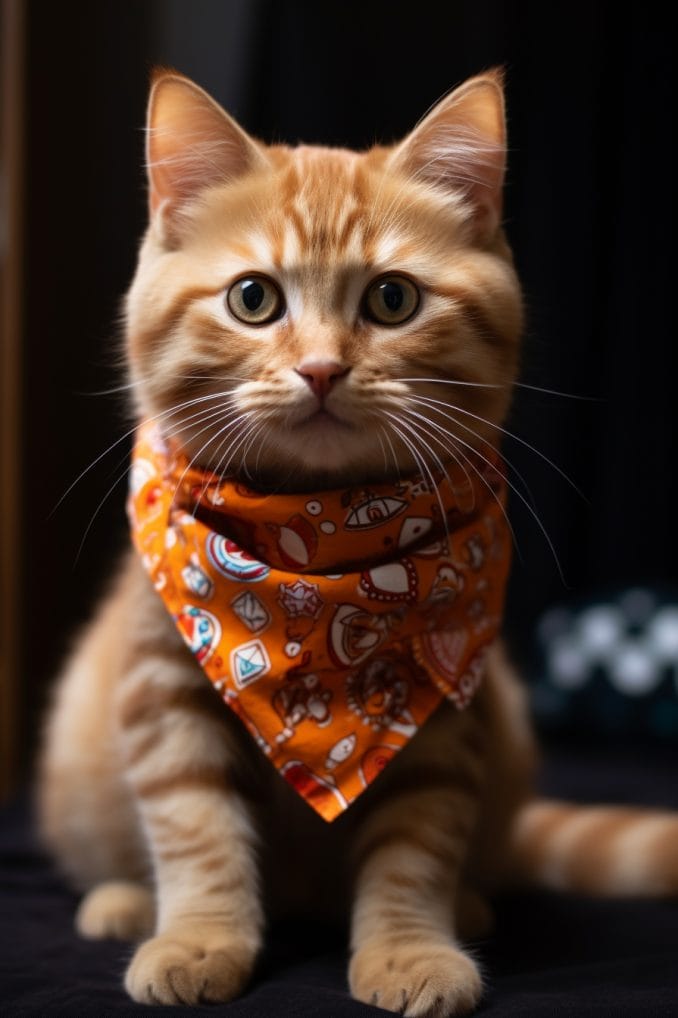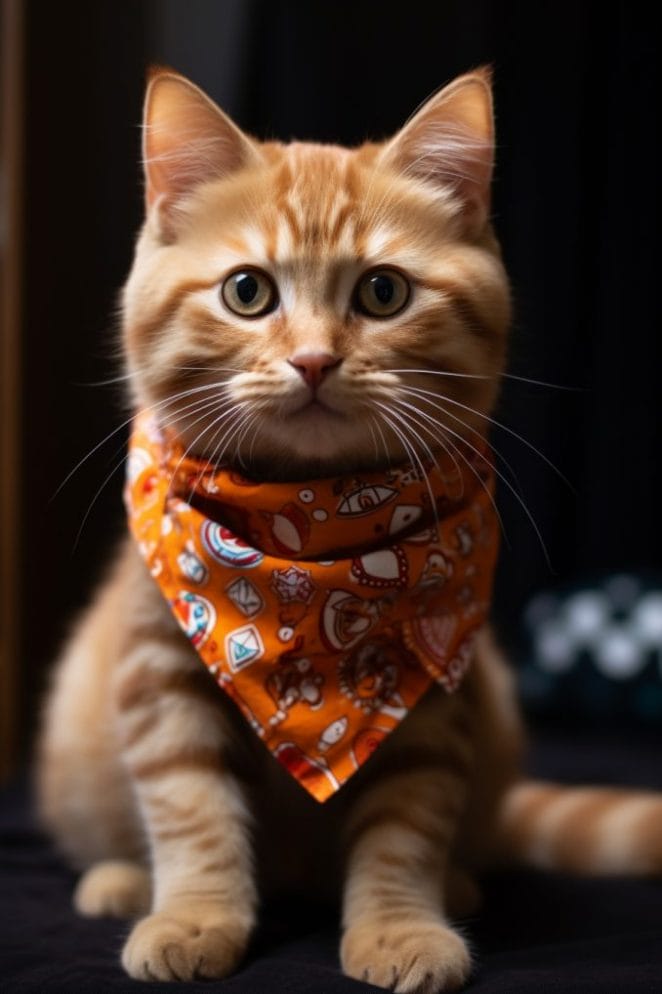 Sweeten up your cat's holiday look with bandanas adorned with cute gingerbread cat shapes.
This Gingerbread Delight adds a delightful and charming touch to your cat's ensemble, reminiscent of the beloved holiday treat.
These whimsical bandanas evoke a sense of warmth and sweetness, making them a perfect addition to your cat's festive wardrobe.
Christmas lights and ornaments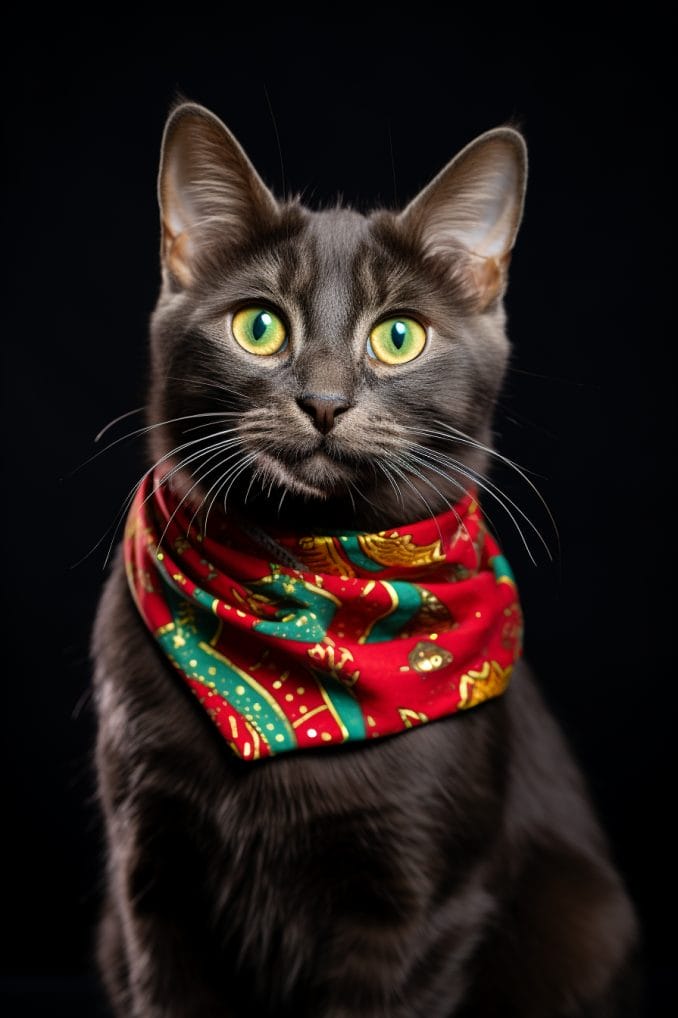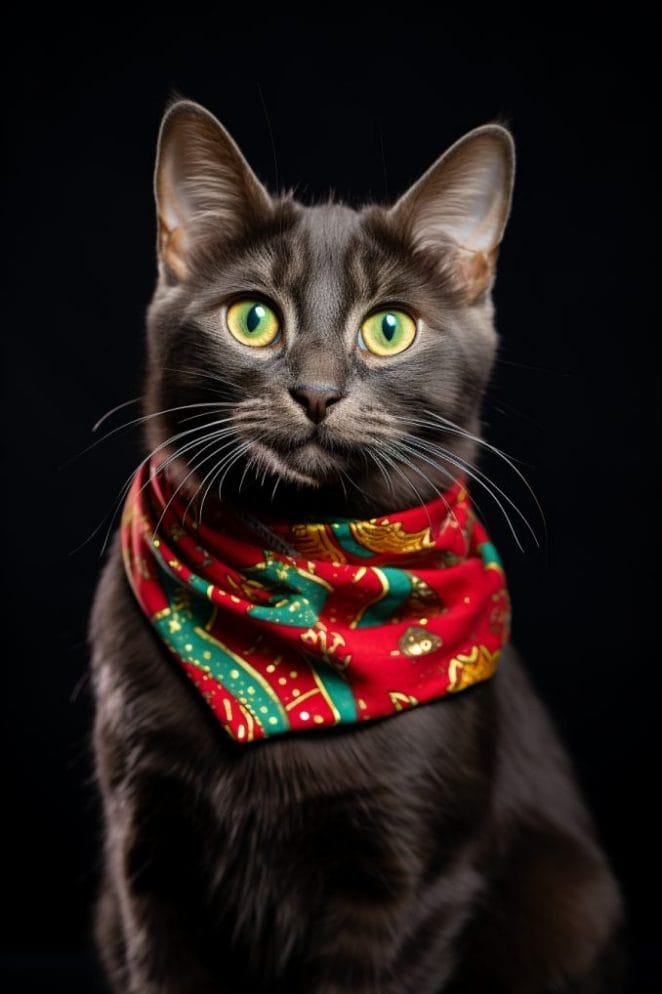 Illuminate your cat's holiday style with bandanas featuring festive Christmas lights, ornaments, and baubles.
These accessories bring a sparkling and decorative element to your feline friend's attire, capturing the essence of holiday decorations.
The Christmas Lights and Ornaments bandanas create a festive and joyous vibe, ensuring your cat is ready to shine in any holiday celebration.
Creating Your Cat Christmas Bandana
Choose cat-friendly fabrics
Opt for soft, cat-friendly fabrics like cotton or fleece when crafting or selecting a Christmas bandana. Ensuring comfort is key to your cat embracing their new accessory.
Select a festive design
Embrace the holiday spirit with a design that reflects the season. From classic Christmas colors to whimsical patterns, choose a bandana that complements your cat's personality and style.
Measure and cut with care
Measure your cat's neck circumference and add a few inches for comfort. When cutting the fabric, ensure it's a triangular shape with a tie or snap closure for easy and secure fastening.
Personalize with pizzazz
Get creative! Personalize your cat's Christmas bandana with their name or add a small jingle bell for a festive touch.
Just remember to keep any embellishments safe and secure.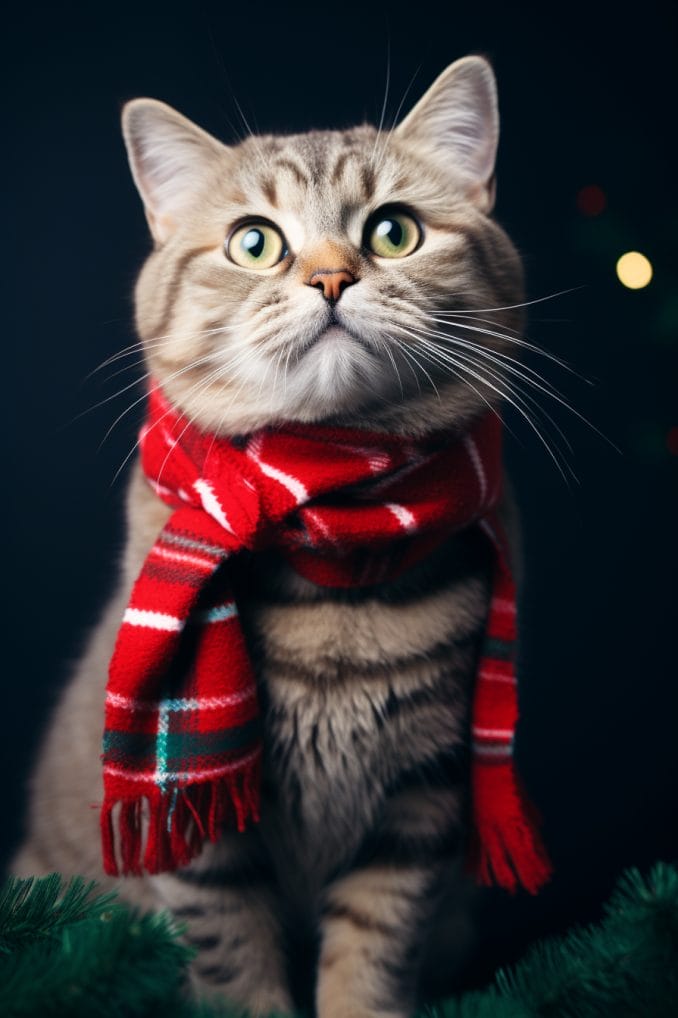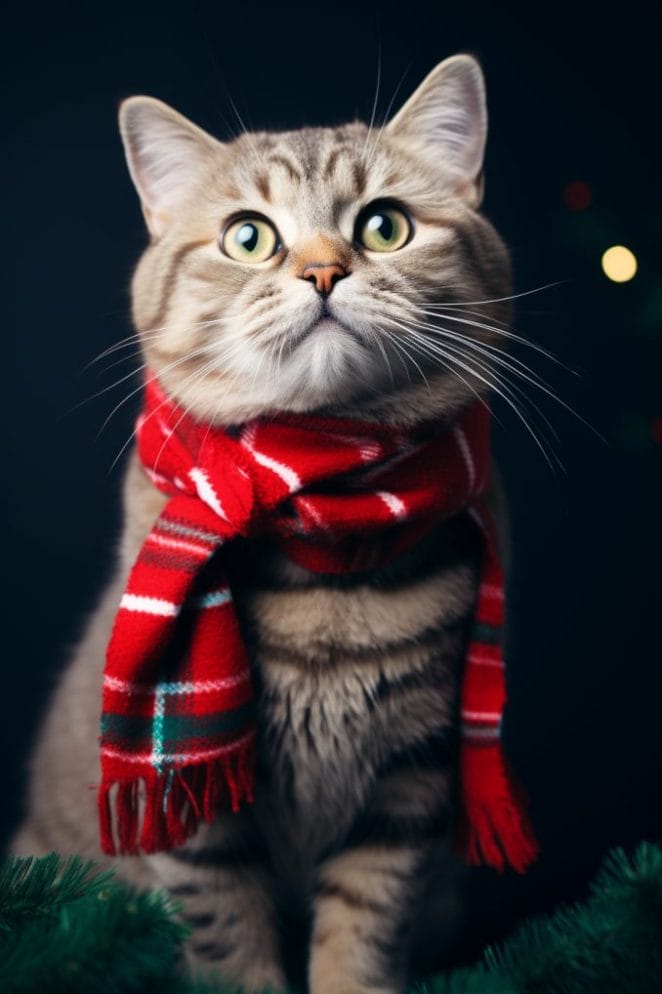 Tips for Using a Cat Christmas Bandana
Gradual introduction
Introduce the Christmas bandana gradually.
Start with short periods, allowing your cat to acclimate to the new accessory.
Positive reinforcement, such as treats or gentle praise, can make the experience enjoyable.
Supervise wear time
While Christmas bandanas are designed for comfort, it's essential to supervise your cat during wear.
Ensure the bandana is not too tight and doesn't interfere with your cat's movement or grooming habits.
Keep it clean
Just like any other accessory, Christmas bandanas should be kept clean.
Opt for machine-washable fabrics, and regularly wash the bandana to keep it fresh for your cat's next festive outing.
Conclusion
Cat Christmas Bandanas are more than just adorable accessories – they're a way to involve your feline friend in the holiday festivities.
With benefits ranging from festive fashion to comfort and expression, these bandanas add a touch of joy to the season.
So, why not treat your cat to a stylish holiday makeover?
In the spirit of creativity and celebration, crafting your own cat Christmas bandana allows for a personalized touch.
Just remember to choose cat-friendly fabrics, select a festive design, and add a dash of pizzazz.
With a gradual introduction and mindful wear, your cat will be turning heads at every holiday gathering.
Let the festivities begin as you and your cat embark on a season of style and merriment with the purr-fect Cat Christmas Bandana!