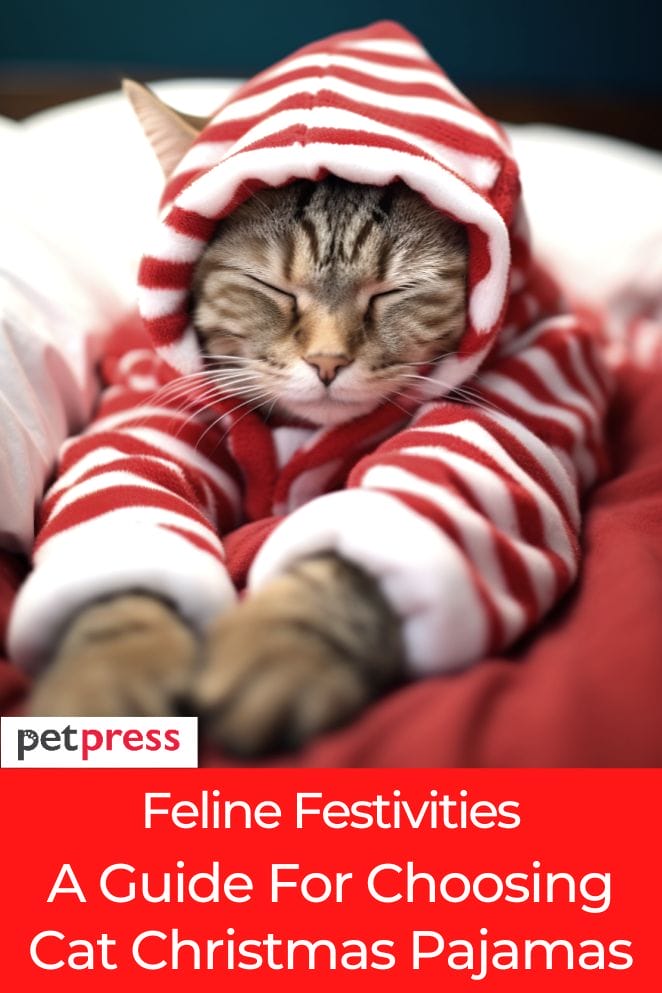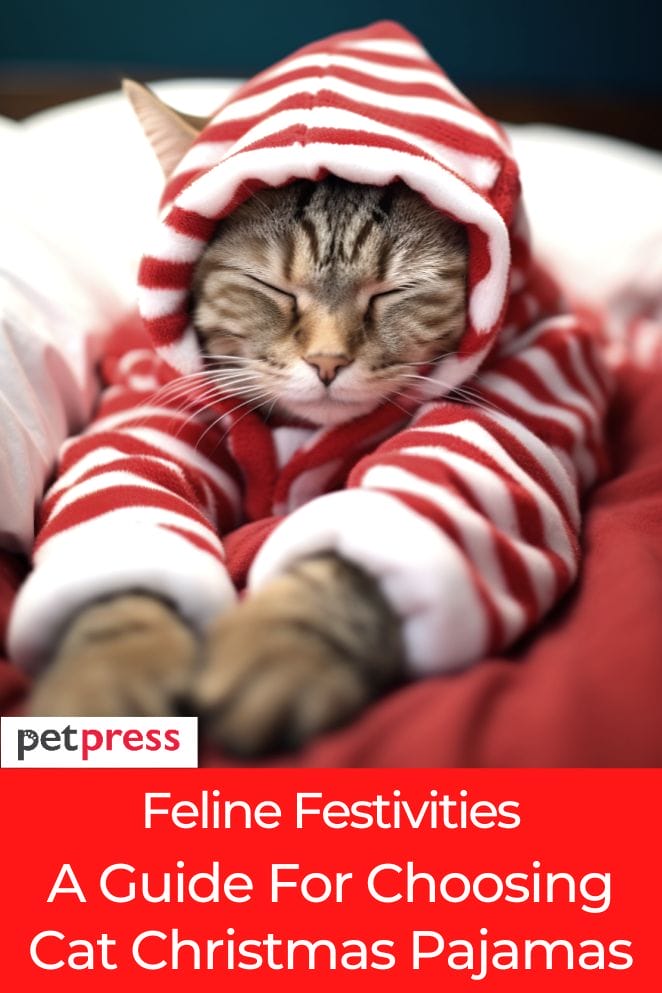 As we dive into the holiday season, why not spread the festive joy to our beloved feline friends by adorning them in charming cat Christmas pajamas?
Dressing up your cat isn't just a delightful activity—it's a chance to pick the ideal pajamas and craft a warm, festive space for your furry companion.
This guide delves into the nuances of finding the perfect cat Christmas pajamas and offers imaginative suggestions for adding a touch of holiday spirit to your cat's environment.
Types of Cat Christmas Pajamas
There are many different types of cat Christmas pajamas available, so you can find the perfect one for your furry friend. Here are a few of the most popular options:
Santa paws ensemble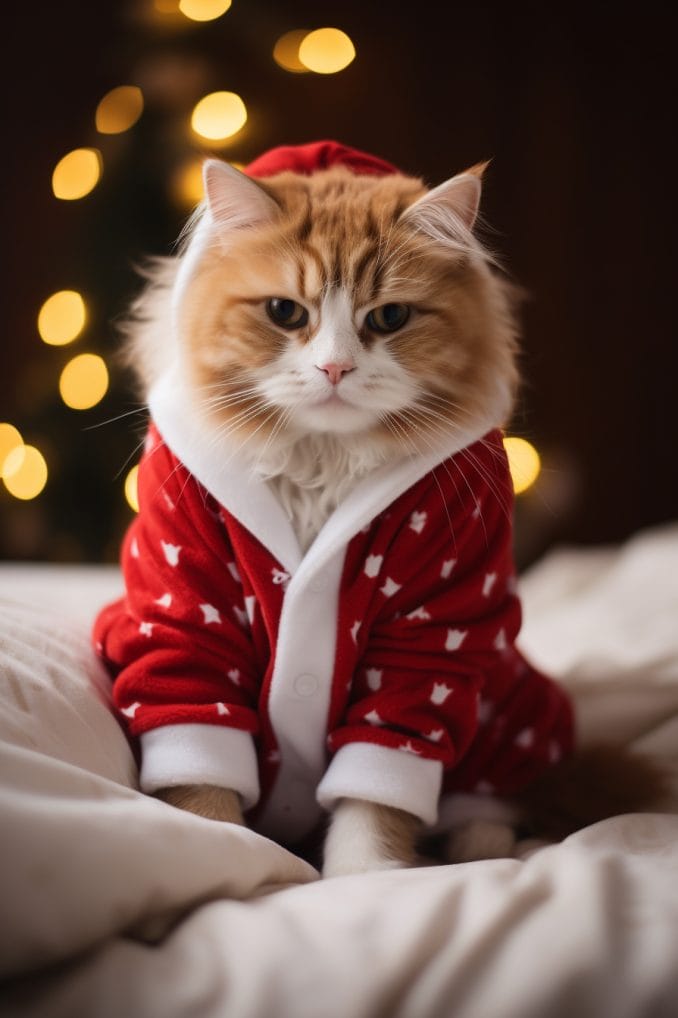 The Santa paws ensemble is a charming outfit designed to bring holiday cheer to your feline friend.
Crafted from soft and comfortable fabric, these red pajamas feature a fluffy white trim, mimicking the iconic Santa suit.
Your cat will be the purr-fect mini Santa with a small hat to top off the festive look.
Imagine the joy of seeing your furry companion in this adorable ensemble, spreading holiday magic throughout your home.
Reindeer rompers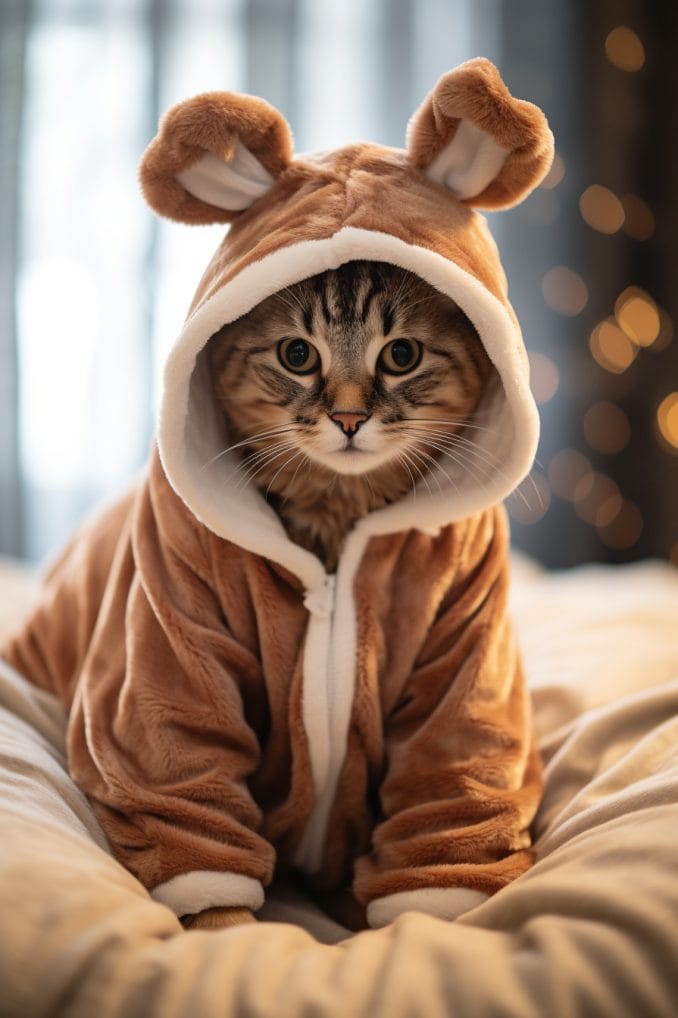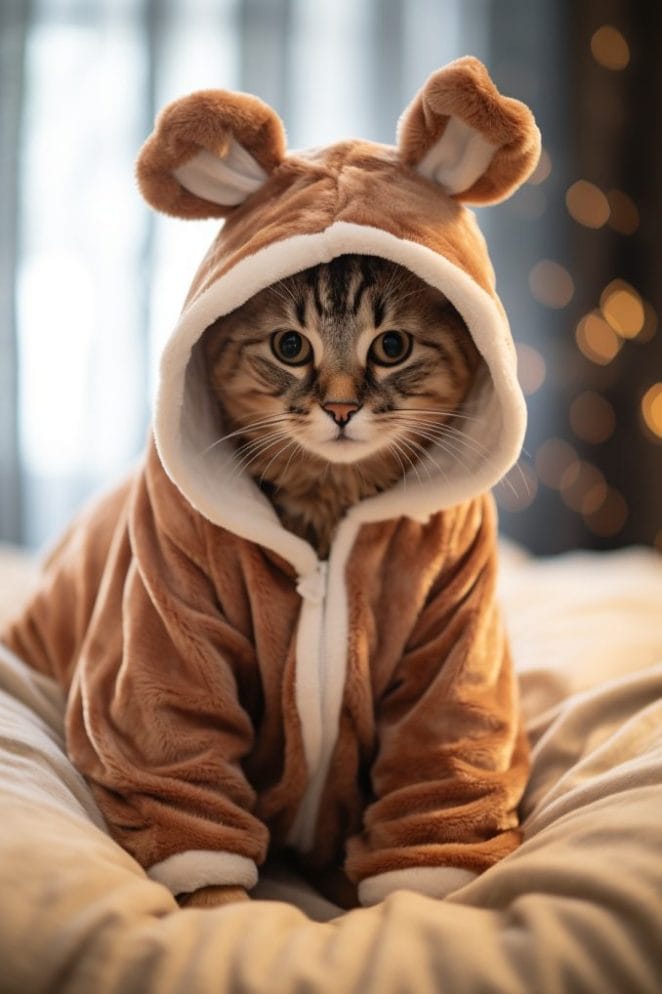 For a playful twist, consider the Reindeer Rompers.
These brown pajamas come complete with adorable reindeer antlers and a red nose, instantly transforming your cat into the beloved Rudolph.
The attention to detail in this outfit is bound to capture the hearts of everyone around, making it a delightful addition to your holiday celebrations.
Snowflake snuggles set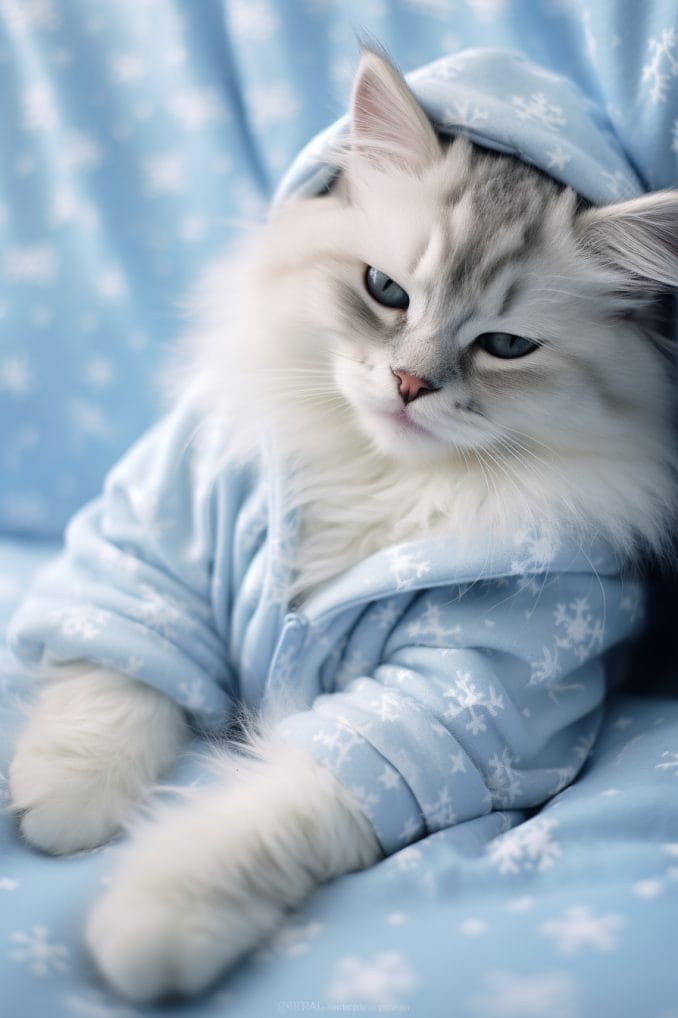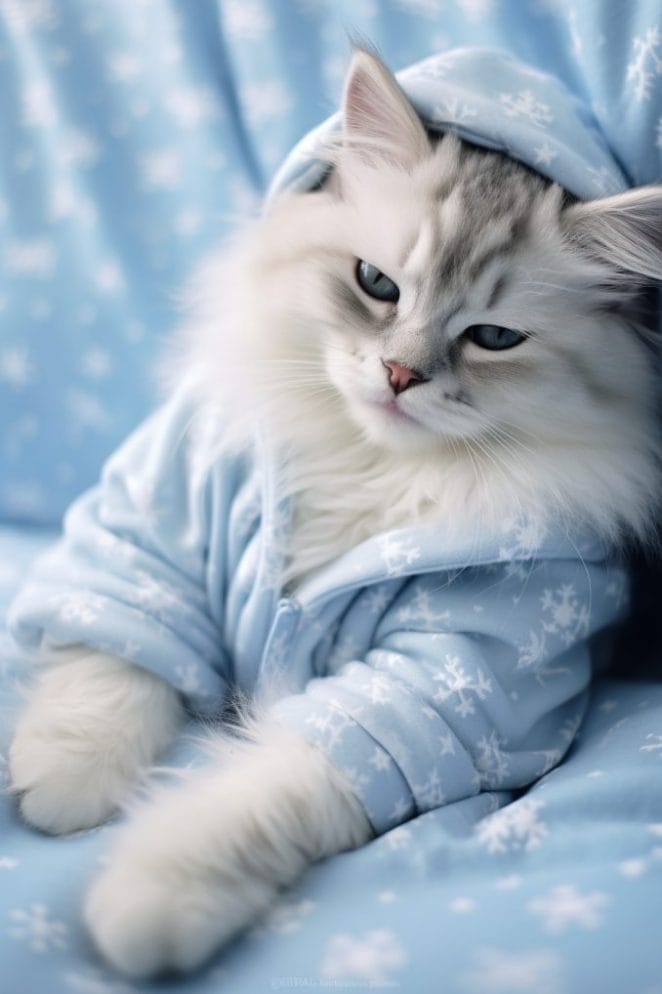 If you're envisioning a winter wonderland for your feline friend, the Snowflake Snuggles Set is the perfect choice.
Select from either blue or white pajamas adorned with delicate snowflake patterns.
Imagine your cat curled up by the fireplace, exuding coziness in these delightful winter-themed jammies.
Beyond being a mere outfit, this set serves as a testament to the warmth and joy encapsulated in the holiday season.
Elf elegance attire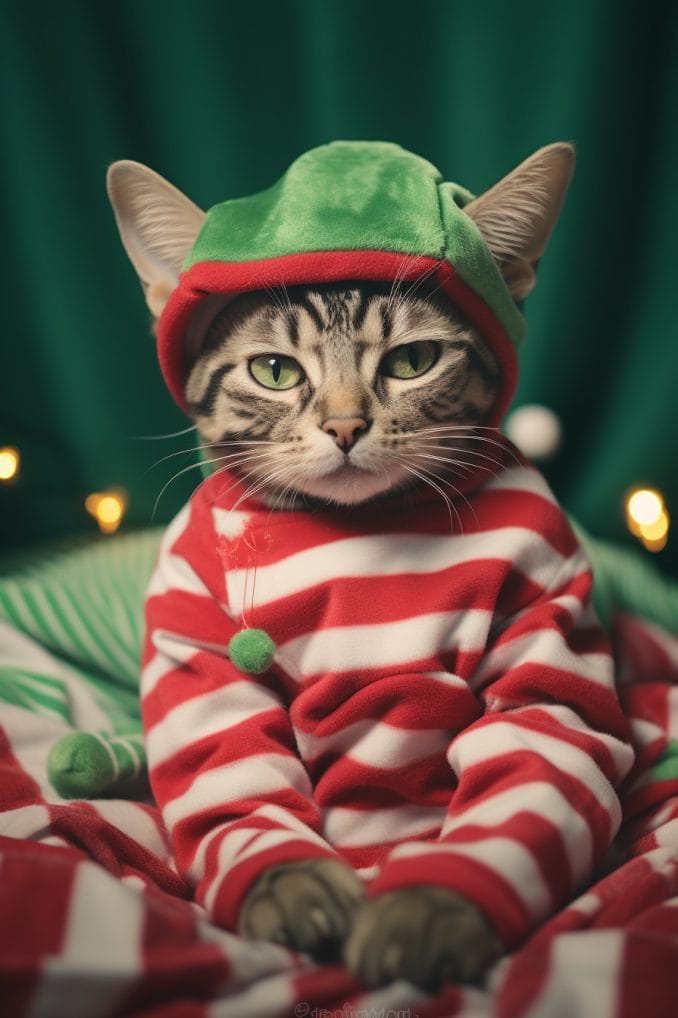 For a touch of elfin magic, opt for the Elf Elegance Attire.
These green and red striped pajamas boast pointed elf-like collars, creating a whimsical and festive look for your cat.
It's a playful nod to Santa's workshop, and your cat will undoubtedly steal the show at any holiday gathering.
Gingerbread kitty jammies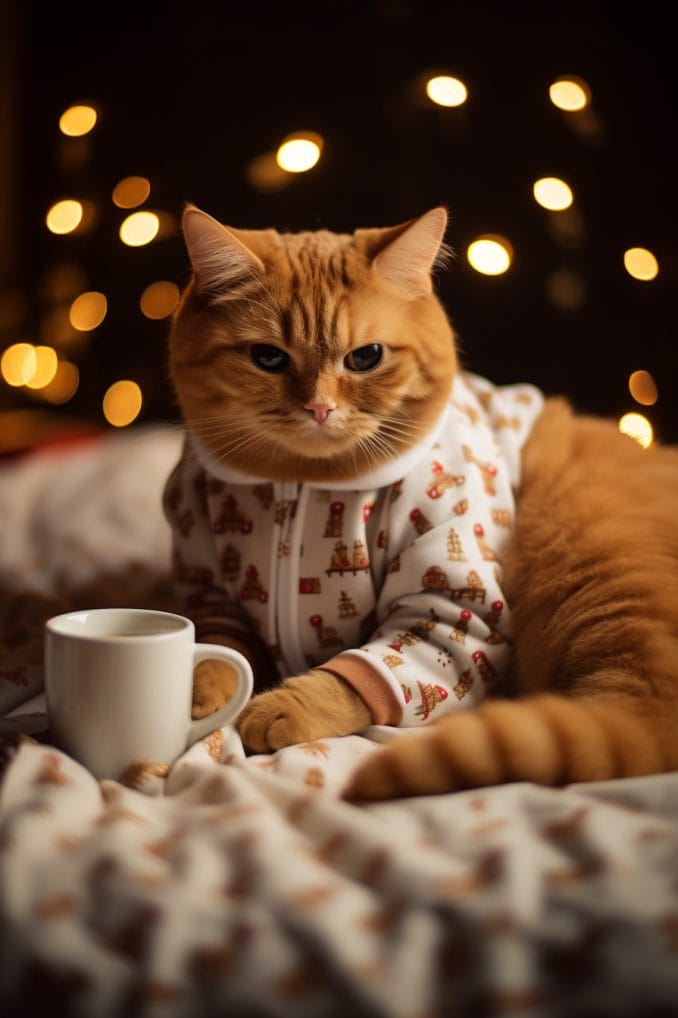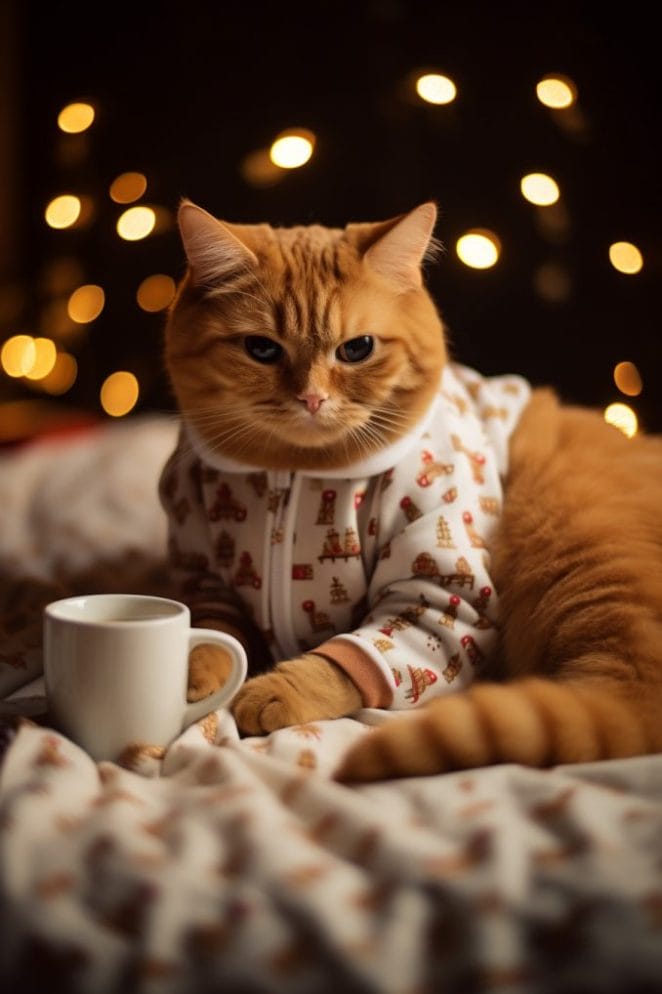 For something a bit sweeter, consider the Gingerbread Kitty Jammies.
These tan pajamas are adorned with adorable gingerbread cookie designs and tiny buttons, adding a sweet and festive touch.
Your cat will be the epitome of holiday charm, and you'll find it hard to resist snapping pictures of this festive feline in action.
Ugly sweater surprise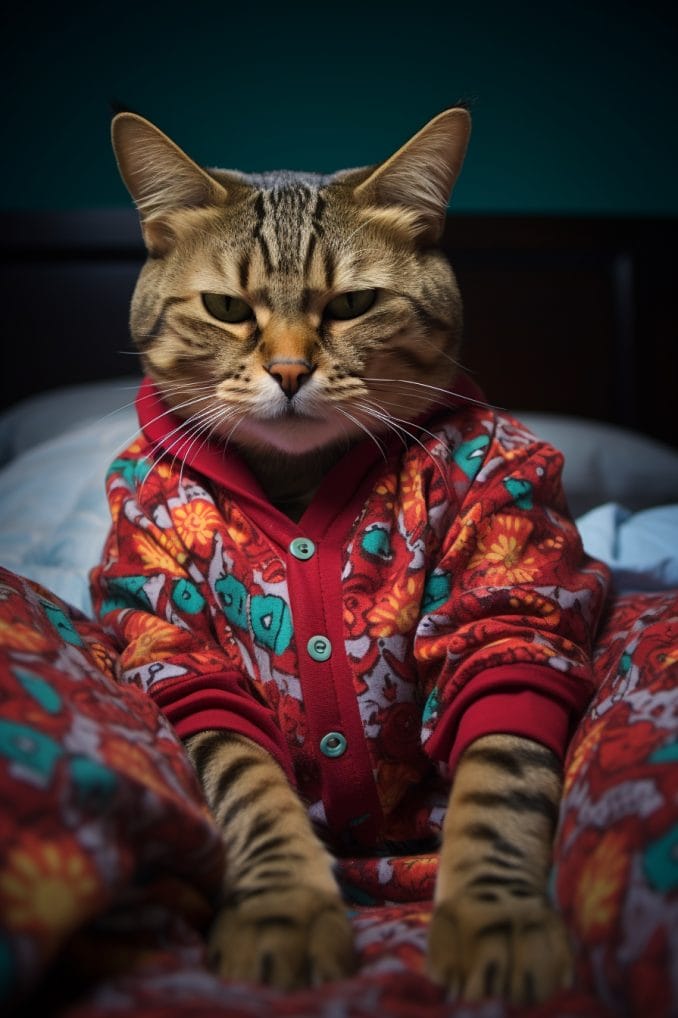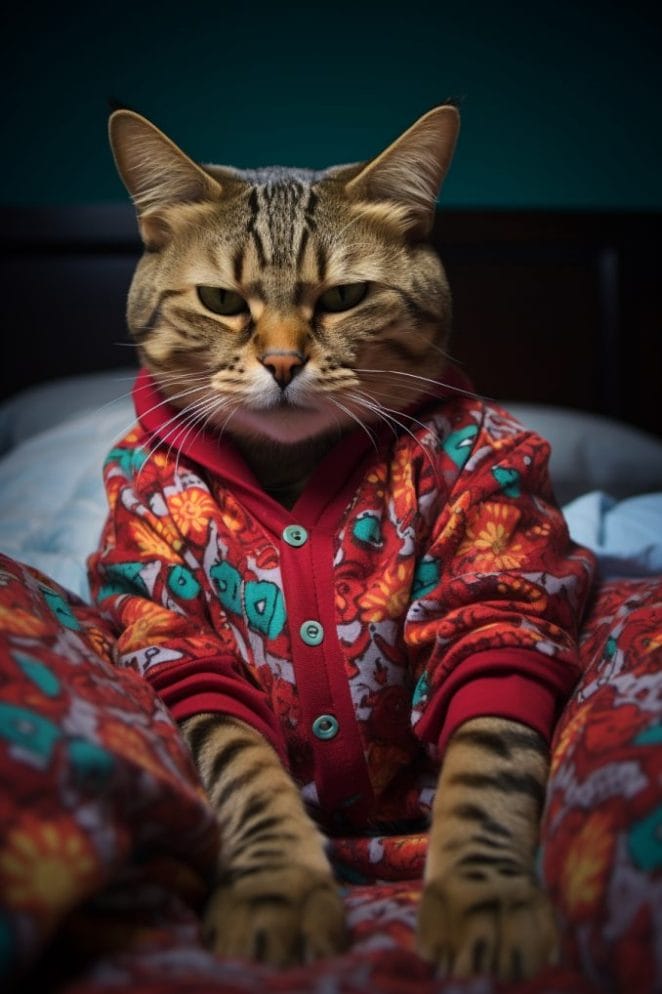 Introducing the Ugly Sweater Surprise, a whimsical ensemble that brings the classic "ugly sweater" design to a whole new level of feline fashion.
These pajamas feature bright colors, festive holiday motifs, and a snug fit tailored for your cat.
Picture your furry friend donning this quirky outfit, stealing the spotlight with its undeniable charm.
The attention to detail in the ugly sweater design adds a playful touch to your cat's holiday wardrobe, making it a must-have for any festive occasion.
Christmas lights onesie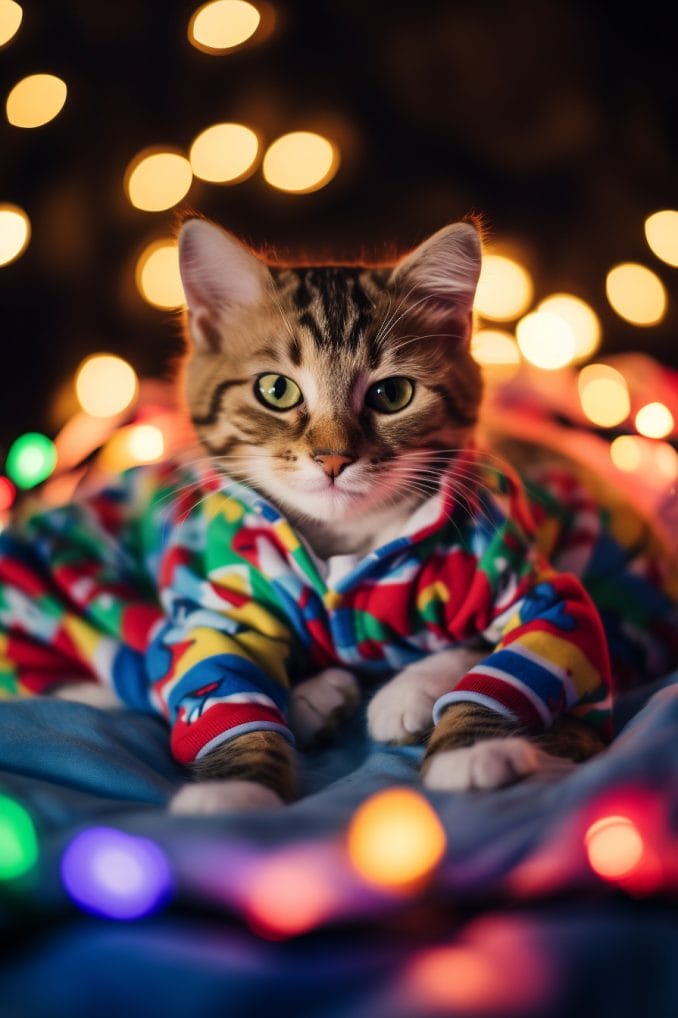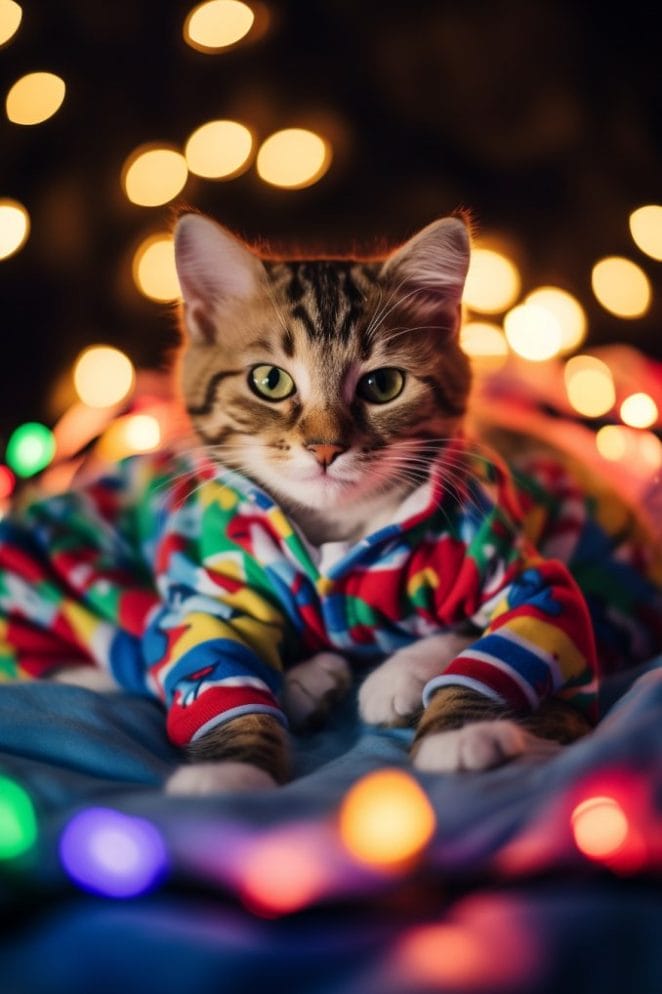 For an ensemble that truly lights up the festive atmosphere, consider the Christmas Lights Onesie.
This charming pajama set is adorned with colorful Christmas lights, creating a playful and bright look for your cat.
The vibrant lights on the onesie impart a festive glow to your cat's appearance, making it a delightful spectacle during your holiday celebrations.
It's more than just an outfit; it's a celebration of the joyous spirit that defines the holiday season.
Festive flannel PJs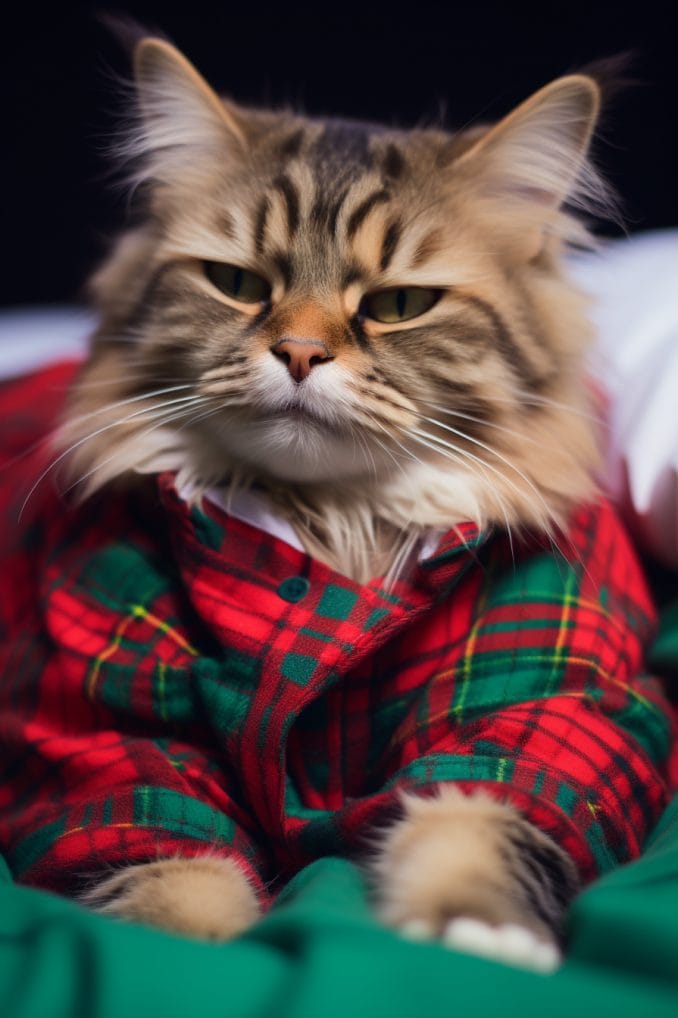 If you're a fan of classic holiday patterns, the Festive Flannel PJs are the perfect choice for your cat.
These pajamas feature a timeless combination of red and green flannel with a traditional holiday pattern.
Beyond its aesthetic appeal, these flannel PJs provide a cozy and comfortable look for your cat, ensuring they stay warm and stylish throughout the festive season.
Holiday cheer nightgown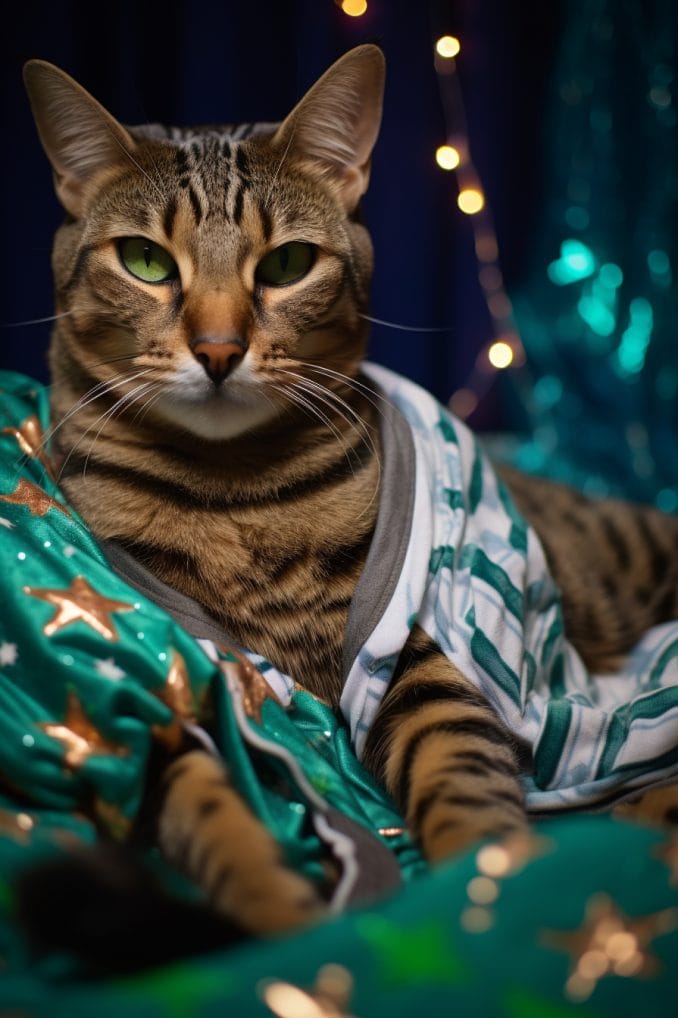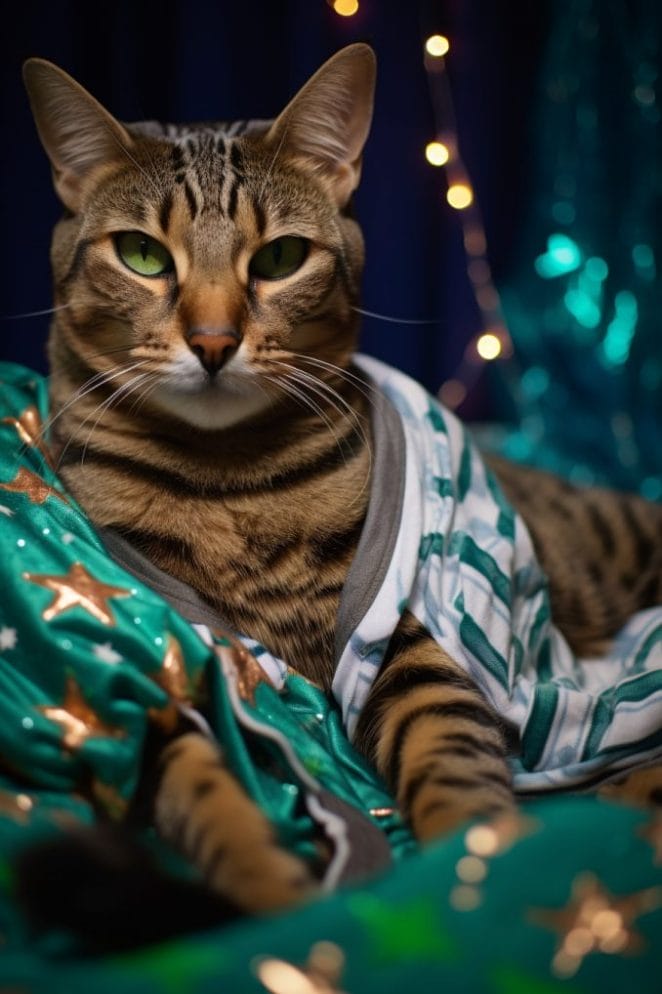 For a blend of comfort and elegance, consider the Holiday Cheer Nightgown.
This flowing nightgown-style pajama boasts a festive print that exudes both holiday charm and sophistication.
Your feline companion will not only be comfortable but will also showcase a touch of grace and style, making it a versatile choice for various holiday occasions.
Purrfect present pajamas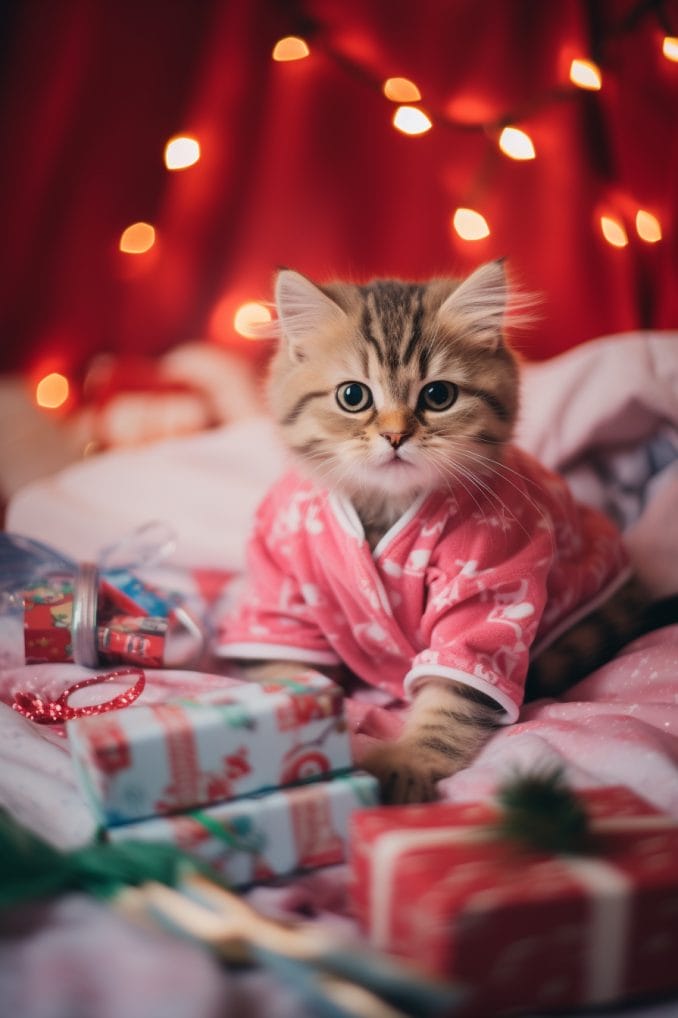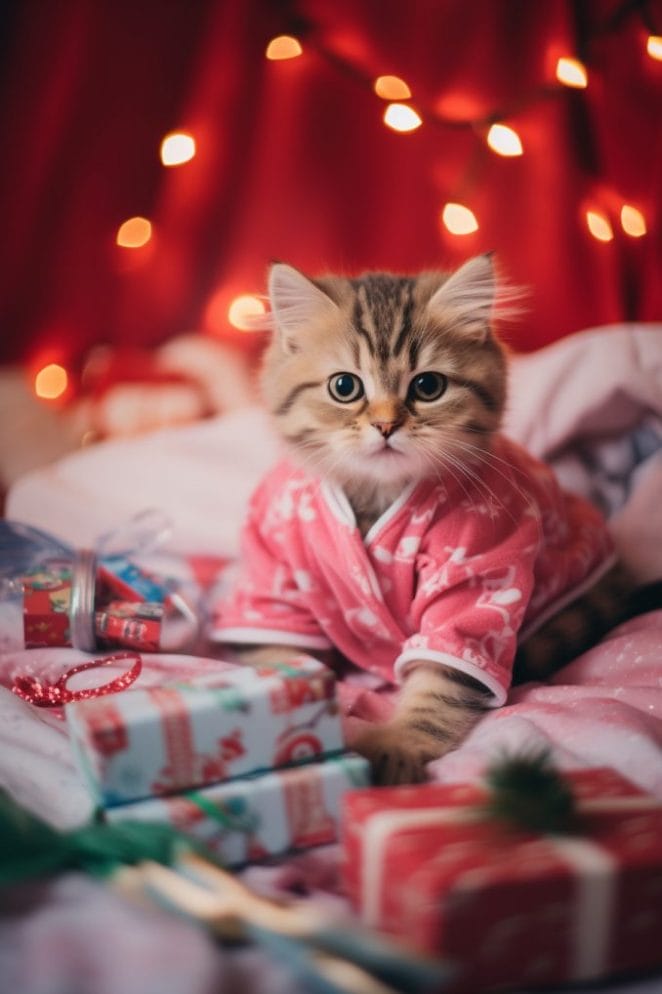 For a playful twist on gift-giving, opt for the Purrfect Present Pajamas.
This set features a creative gift-wrapped box design, complete with a bow on the back.
Your cat will resemble a delightful holiday present, ready to bring joy and smiles to everyone around.
The thoughtful details in the design make these pajamas a unique and adorable addition to your cat's festive wardrobe.
Choosing the Right Cat Christmas Pajamas
Consider your cat's size
When selecting Christmas pajamas for your cat, it's crucial to consider their size.
Just like humans, cats come in various shapes and sizes, and one size certainly does not fit all.
Ensure a snug fit without being too tight, as discomfort can lead to an unhappy kitty.
On the flip side, overly large pajamas might result in your cat effortlessly wriggling out of them.
Take your cat's personality into account
In addition to size, it's essential to factor in your cat's personality.
Cats, much like us, have distinct preferences. Some may enjoy the comfort of soft and plush pajamas, while others might prefer something more lightweight.
Pay attention to your cat's behavior and reactions to different textures to ensure they'll be content and comfortable in their holiday attire. 
Factor in favorite colors and patterns
Adding a personal touch to your cat's Christmas pajamas involves considering their favorite colors and patterns.
Whether it's a classic red and green combination or a playful holiday pattern, choosing designs that resonate with your cat's preferences will make them more willing to flaunt their holiday style.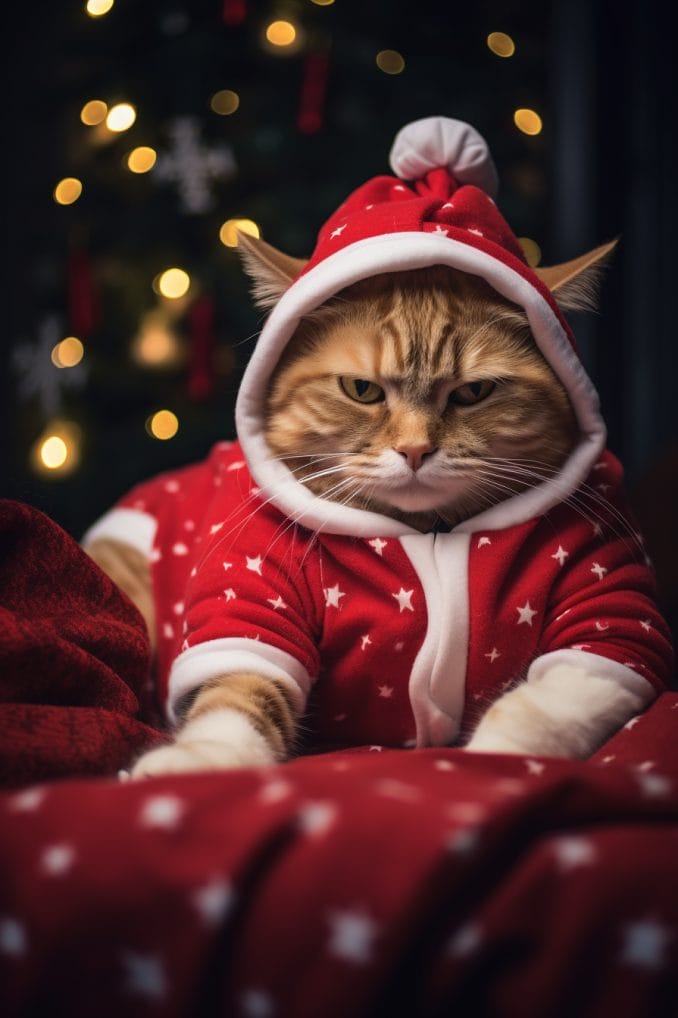 Tips for Decorating with Cat Christmas Pajamas
Create a festive sleeping area
Transform your cat's sleeping area into a holiday haven by strategically placing their Christmas pajamas in a festive spot.
Whether under the twinkling lights of the Christmas tree or by the warmth of the fireplace, creating a cozy and inviting space for your cat enhances the overall holiday experience.
Add some festive accents
To further amplify the holiday atmosphere, consider adding festive accents around your cat's sleeping area.
Hang a Christmas stocking nearby or drape a garland for an extra touch of seasonal charm.
These simple yet effective additions contribute to the overall festive ambiance and create a visually pleasing environment for both you and your cat.
Let your cat get involved
Turn the process of decorating into a bonding experience by letting your cat get involved.
Cats are naturally curious creatures, and including them in the selection and placement of holiday decorations makes the sleeping area more familiar and comforting.
This shared experience strengthens the bond between you and your feline friend, turning the holiday preparations into joyful moments of togetherness.
Conclusion
In the heart of the holiday season, celebrating with your cat in matching Christmas pajamas adds an extra layer of joy and warmth to your home.
When selecting the perfect pajamas, consider your cat's size, personality, and favorite colors.
And don't stop there—transform their sleeping area into a festive retreat with creative touches like stockings and garlands.
By involving your cat in the decoration process, you're not only enhancing the holiday atmosphere but also creating special moments that will be cherished for years to come.
Here's to a purr-fectly festive and cozy holiday season with your furry friend!