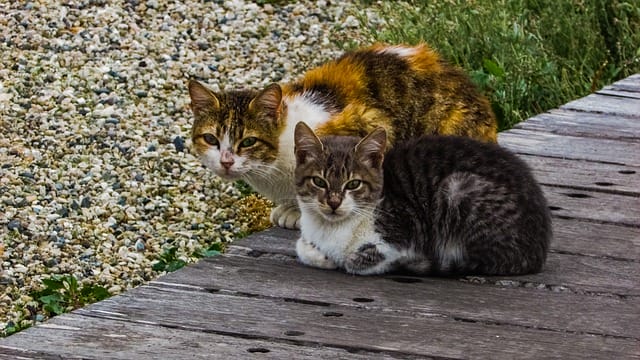 The Kanawha-Charleston Humane Association was filled with the sound of meowing cats on Wednesday.
Employees at the shelter, as well as South Charleston Humane Officers, saved 105 cats from a hoarding situation in South Charleston.
"The cats there were actually quite clean, in fact, they did an amazing job taking care of these cats. They just realized they were overwhelmed," said Tolley. "You'd be surprised; it was actually rather clean there.
They did a fantastic job caring for these cats. Even though all of the cats were healthy, there were a lot of cats, 106 to be exact."
The animals were taken to the Kanawha-Charleston Humane Association where they will be held until a court date is set.
"They may have been well cared for in the sense that they didn't look like your stereotypical animal hoarder," Tolley said.
The shelter was already at its maximum capacity before the cats were brought in, so they needed to come up with other methods to make room.
"We've acquired pop-up crates that you would use for a dog and are now stacking them in closets to provide enough space for everyone," Tolley continued.
The team relocated the cats that had already stayed at the shelter into pop-up crates as well as other cages closer together. It was all done in an attempt to put the new bunch inside their cat-isolation room, where they could all be together.
I'm surprised they're being so polite; after all, everything has been turned upside-down and has been moved around again since we were already using our cat room to house pregnant cats, it hasn't been an easy task; it's very labor intensive, as well as time consuming. We're trying to take care of all the other animals that are here. Plus, we've got all of our kittens that are due

Sarah Tolley, who's with the shelter.
The cats will most likely be up for adoption around the beginning of October. "They'll most likely be adopted out after they've been fixed if everything goes as planned," Tolley said.
With more than 200 cats, the shelter is straining at the seams. "We're really stretched quite thin right now," Tolley added.
While the employees are swamped, they are committed to ensuring that the cats are healthy, well-cared for, and successfully adopted into a loving home.
The shelter is in dire need of supplies. If you have any food, trash, blankets, or towels to give away, Tolley asks that you do so. In addition, all of the cats are being microchipped, treated for fleas and ticks, de-wormed, and vaccinated in preparation for adoption.
The shelter is also in need of volunteers. If you would like to help out with the overcrowding situation, Tolley asks that you contact them at 304-746-4856 or go to their website. "We're going to continue helping as many animals as we can," he said.
If you're interested in adopting one of these cats, go to the Kanawha-Charleston Humane Association's website or call 304-342-1576.