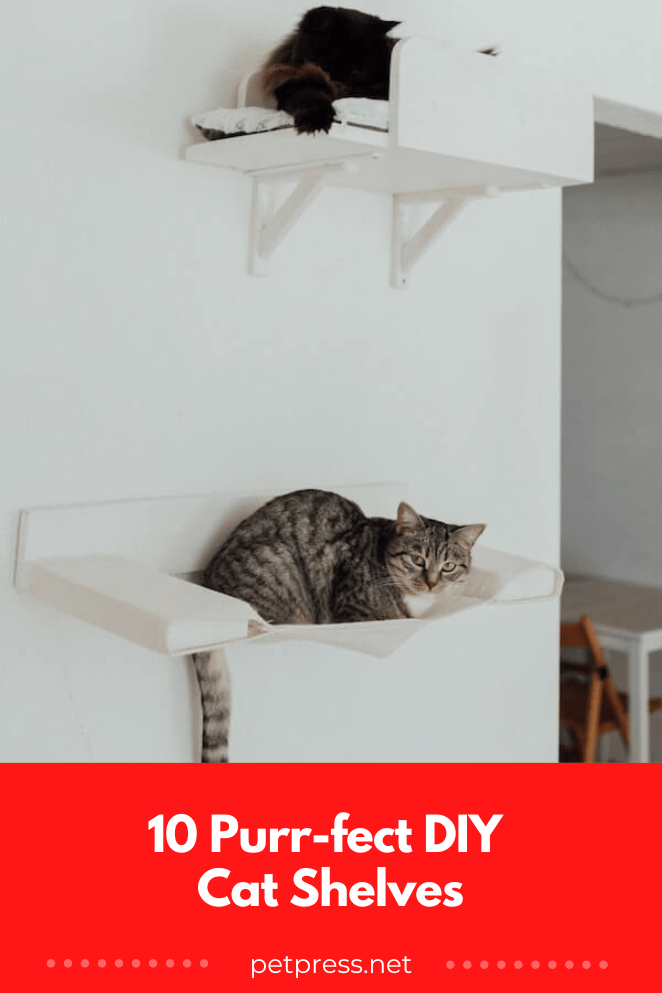 If you love cats and crafts, then DIY cat shelves are for you! These clever contraptions provide your kitty with a safe place to relax and play, allowing them to explore new heights in style.
Not only do they look great, but they also give your feline friend the freedom to roam around without taking up too much space.
Plus, building them yourself is easy and fun – what's not to love? We have handpicked some of our favorite DIY cat shelves to get you started.
Designing and building your own cat shelf can be a rewarding project, and with a few simple tools and supplies, you can have your own custom piece of cat furniture in no time.
Whether you're looking for an easy weekend project or something more complex, we have got you covered.
So grab your toolbox, roll up your sleeves, and get ready to build the perfect home for your kitty! Let the crafting begin!
1. DIY Climbing Wall for Cats
Provide your cats with plenty of opportunities to climb and scratch by constructing DIY cat shelves on your walls.
These shelves are designed to be both spacious and durable, capable of supporting the weight of a fully grown cat.
2. DIY Cat Wall Shelves for Your Cats
These strategically placed cat shelves are perfect for an adventurous kitty. Construct these DIY cat shelves to add a touch of sophistication to your feline's playtime.
You can even add some toys to the shelves to make them more enticing.
3. A shelf with scratchy walls
You can use an old bookcase or a nightstand to make this a safe haven for your cat. All you need is a partitioned wooden block and some rope.
This way your cat will be busy as well as relaxed in the same place.
4. A shelf with a hammock
Let your kitty chill and relax in this cozy corner of your home where you can add a hammock to the stool legs. You can also add in a rope that can act as a scratching post.
5. Cat climbing wall shelves
Cats love climbing and cats love walls! So why not combine both of them and watch them have fun?
Create this cat adventure space on any of the walls of your home and your watch your cats play there for a very long time.
6. Alternate Floating Cat Shelves
These floating shelves are best for corners and suitable for cats of all sizes. Follow the instructions guide and create a relaxing as well as a play area for your cat.
7. Two-tiered cat hammock
This piece is versatile, serving both practical and recreational purposes. It features a work surface and storage area on top, as well as room for two enjoyable cat hammocks below.
8. Drawer Cat Shelf
Find a drawer from a desk or the kitchen where it's no longer in use. Give the drawer a fresh coat of paint or decorate it to your liking.
Install the drawer onto a wall using shelf brackets, making sure it's within easy reach of your furry friend. Add a carpet square or small pillow inside the drawer for added comfort
9. Shelf made of books
These vintage bookshelves are a great idea for those who adore books and cats. Stack the bookshelves on a wall in a way that it allows your cat to climb up with ease.
10. Wall Mounted Cat Shelves
One of the biggest advantages of this project is that you can utilize affordable wood scraps from your local craft store to make these shelves.
All you need for this DIY project are shelves of varying sizes. Using different sizes can make it more engaging for your cat to jump from one to another.
To mount the shelves on the wall, you'll require wall anchors and a screwdriver for fixing and securing them.
DIY cat shelves are an affordable and creative way to give your feline friend a luxurious place to lounge and explore.
Not only will they give your cats a great space, but you can also have fun customizing the shelves based on the size of your home and the needs of your cats.
You can also check out some cool cat house ideas and get inspired to DIY.
As you can see, there are many benefits that come with building DIY cat shelves for your furry companions. So go ahead and get creative – it's sure to be both purr-fectly enjoyable and rewarding!