Introduction
When you're done walking with your furry friend and he's had enough playing games in the backyard, why not kick back and check out these cleverly constructed doggy dilemmas?! If you love dogs and you enjoy brain-teasers or quizzes all about dogs, we have three brand-new pup-related puzzles for you to ponder over with your pooch!
Pup Puzzle 1 – Spot The Difference!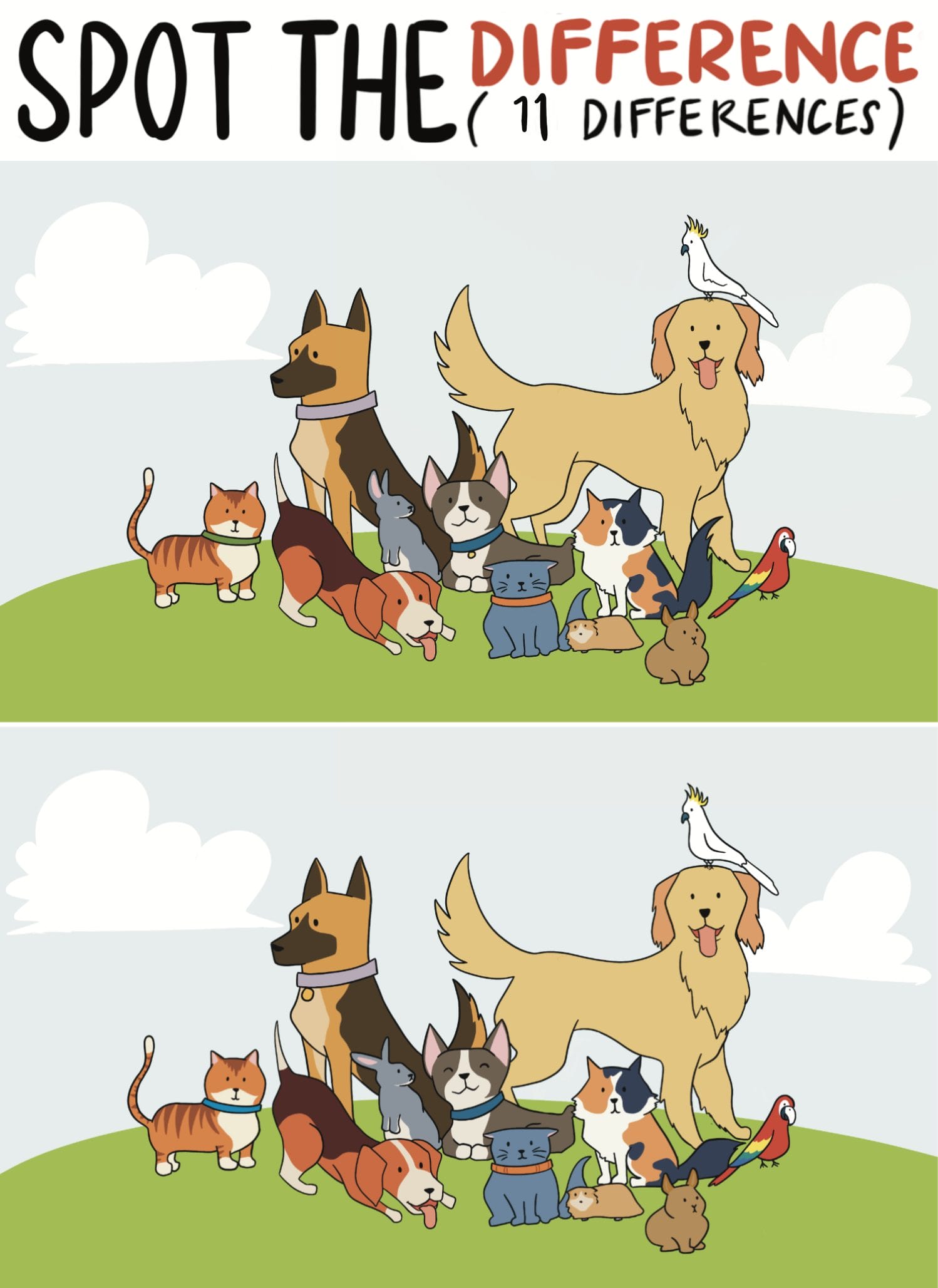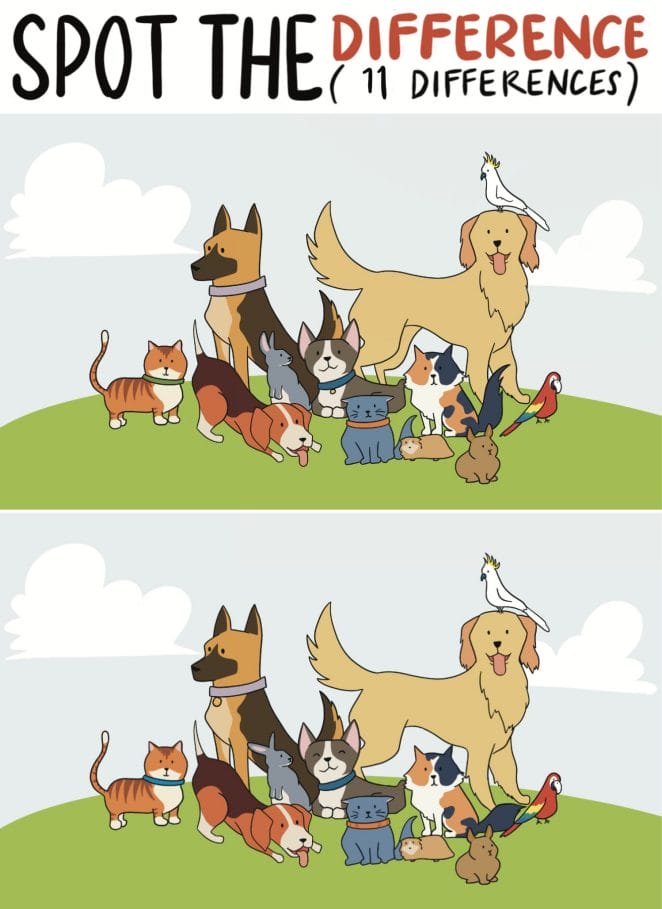 Take a look at these two pet-themed pictures. At first glance, they look identical, but there are 11 differences between them.
Hint: Look very closely and take your time!
This is a tricky conundrum to sniff out the solution to. So, I'll give you a few handy clues to help you get started:
You don't need an ID tag to work out the answers!
That fuzzy Goldendoodle doesn't have a leg to stand on!
Hey! Is that puppy awake, sleeping, or did he just blink?
Answers?
I bet you found all the answers already, but in case you're missing a few, here's the solution to the puzzle:
Looking from left to right …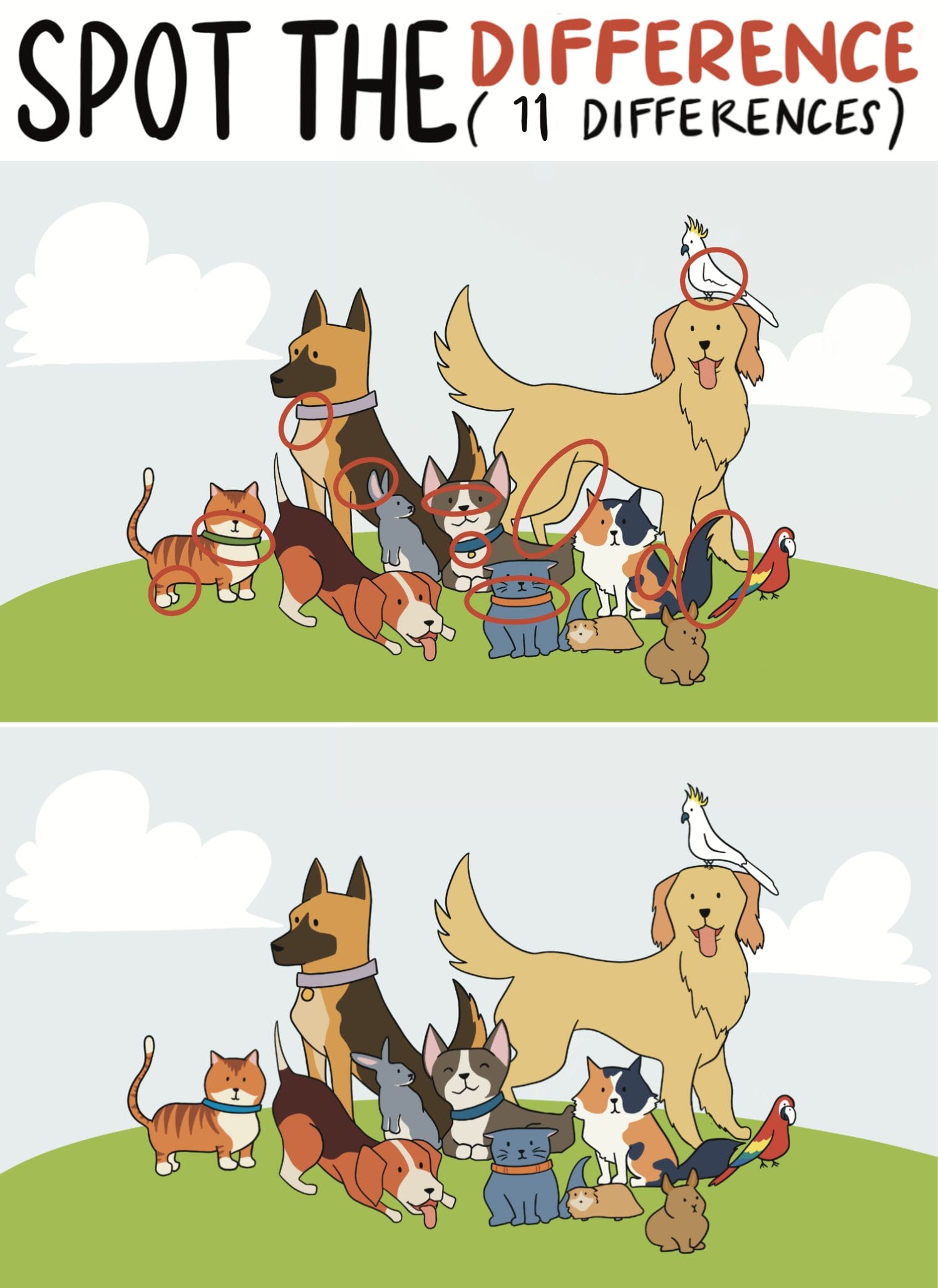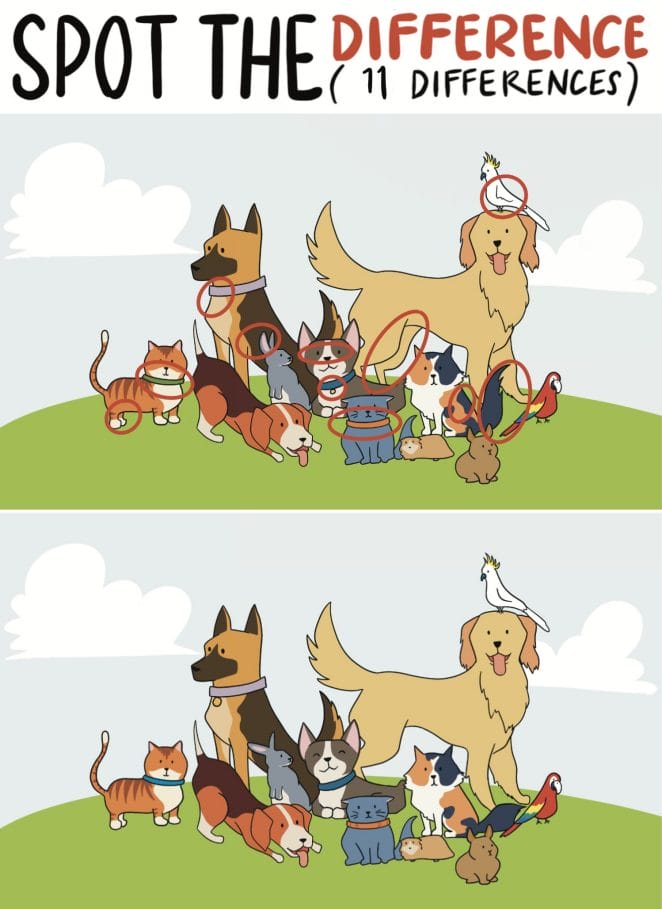 In picture 1:
The ginger pussy cat has a different colored paw.
The ginger pussy cat doesn't have a tag on his collar.
The German Shepherd doesn't have an ID tag on his collar.
The bunny rabbit's ear is standing up in one picture and floppy in the other.
The puppy lying down has his eyes open in one picture but closed in the other.
The puppy lying down has an ID tag that's missing in the other image.
The gray pussy cat is missing his ID tag in one picture.
The fuzzy Goldendoodle has four legs in one picture but only three in the other.
The calico kitty cat has a different marking on his back in the second picture.
The calico cat's tail is upright in one image but it's relaxed and flat in the other.
The white cockatiel's wing is a different shape in one of the pictures.
Wow, that was challenging! Did you spot them all? I bet you did!
Pup Puzzle 2 – How Many Dogs Can You See?
I know you love dogs, so this puzzle is perfect for you. How many dogs can you detect hiding out in the picture?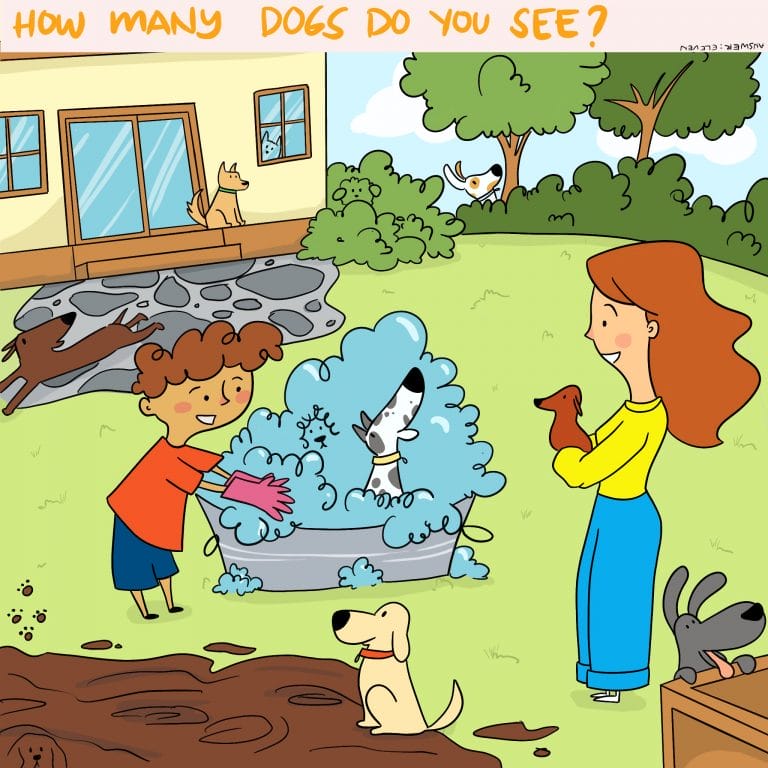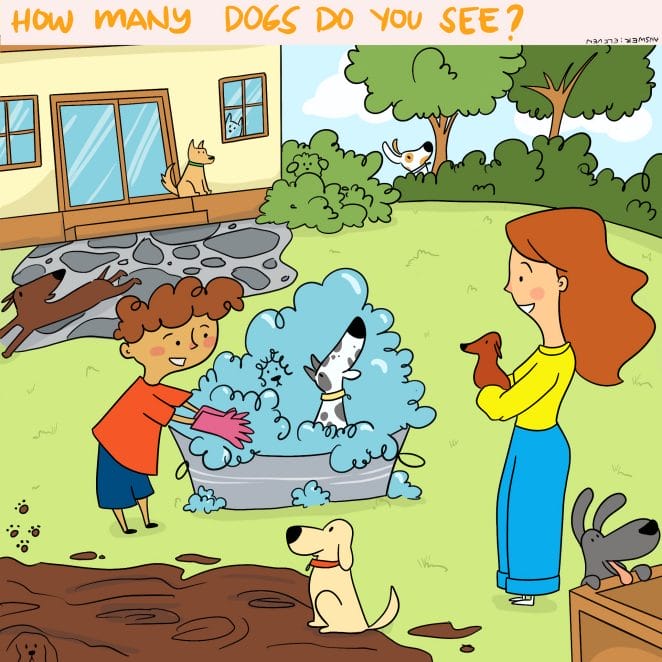 Hint: There are 11 hidden hounds to find!
As you know, some pups can be downright sneaky when they don't want to be found, especially when it's bathtime. So, to help you catch them all, here are a few clues:
Look who's hiding in those bathtime bubbles!
Who's that mucky pup getting down and dirty in the mud?
Don't beat about the bush – is that a doggy hiding in there?!
Answers:
The sharp-eyed hounddogs among you will have spotted all those cunning canines already, but just in case a few slipped by unnoticed, here's the answers to the puzzle: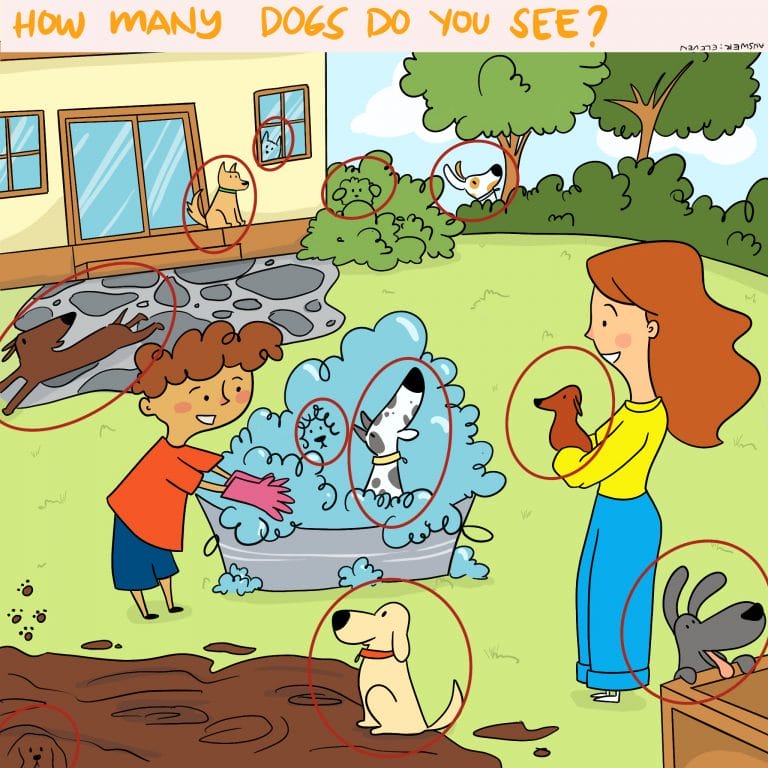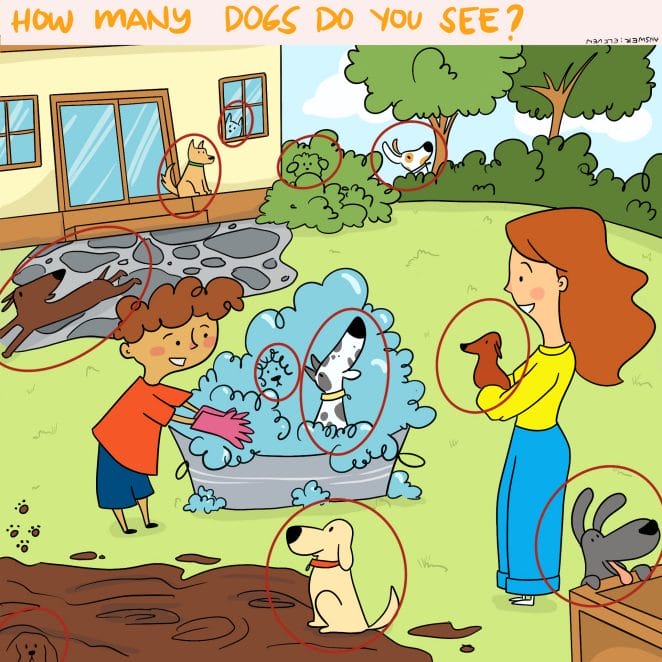 There's a tiny pup hiding right in the bottom lefthand corner of the mud patch.
See that dog sitting right in the mud! He just doesn't care who sees him!
Spot the gray dog sitting up looking into the box.
There's a tiny puppy in his owner's arms.
And a spotty dog enjoying bathtime fun.
There's a bubble dog in the bathtub soap suds!
Who's that lazy dog enjoying a lay down in the sun on the patio?
And another doggy sitting out on the decking.
Who's the pup looking out of the window?
I spy a dog hiding in the bushes.
And there's another hound peeping over the hedge by the tree.
That was tricky! Bet you found 'em all tho!
Pup Puzzle 3 – Spot the Difference Again!
There are 7 differences between these two pup portraits. How many can you spot?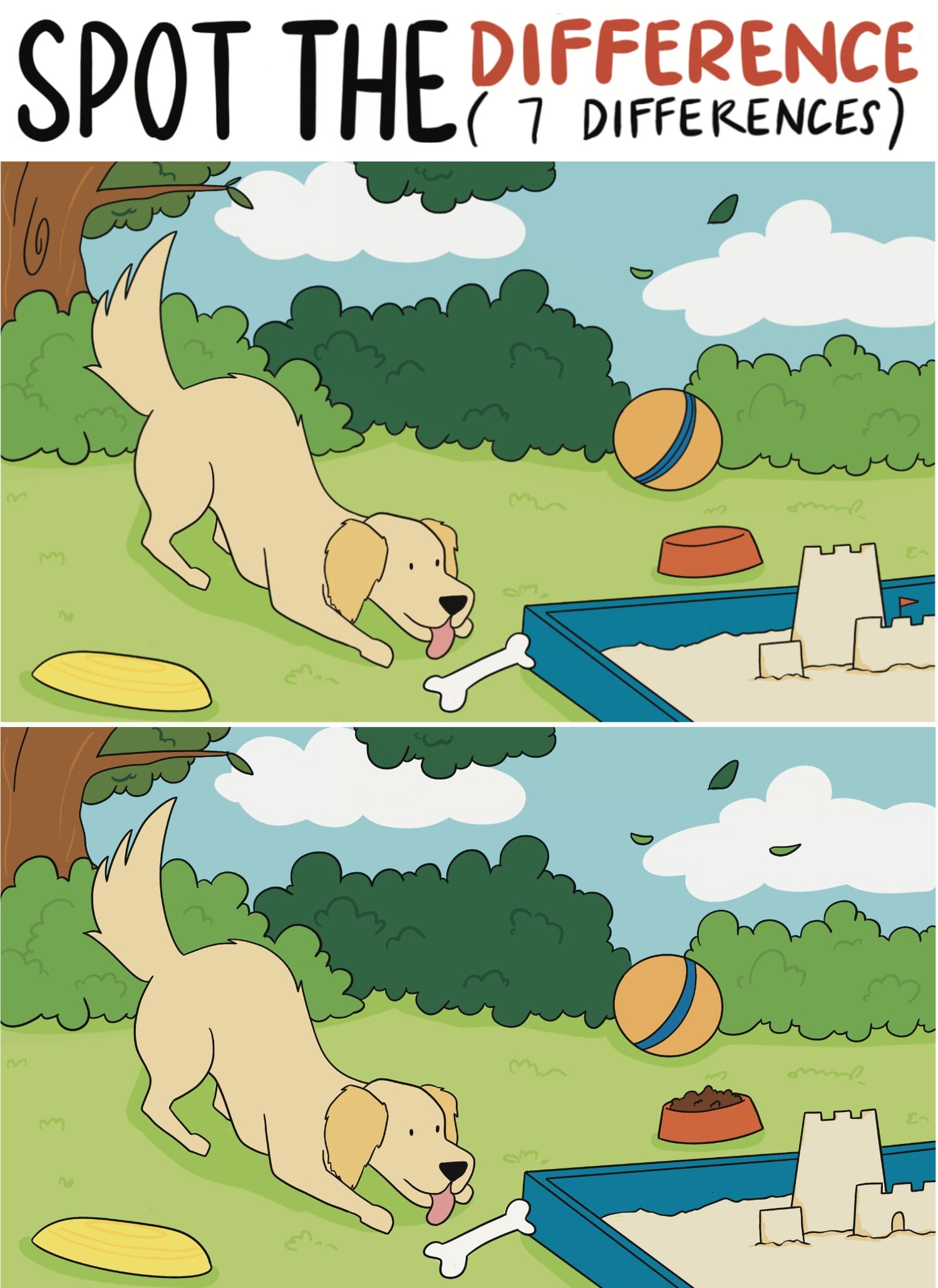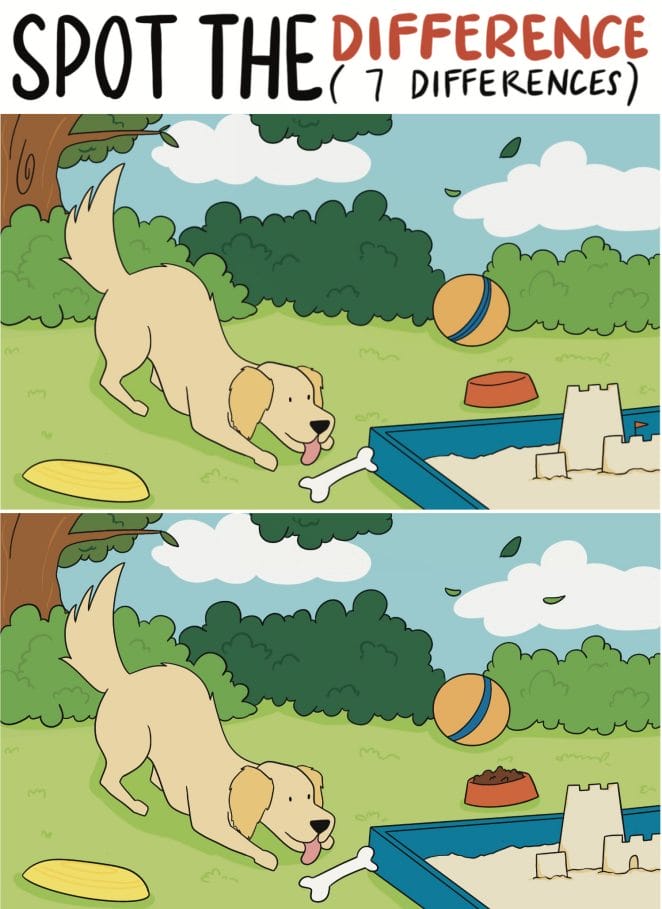 I reckon this pooch puzzle should be a breeze for all you sharp-eyed doggy detectives! But here are a few clues, just in case you need them …
Don't start "barking" up the wrong tree!
Does that pup look hungry to you?
Put the flags out!
Answers:
How did you do?
Here are the answers. Although, I don't reckon you need them!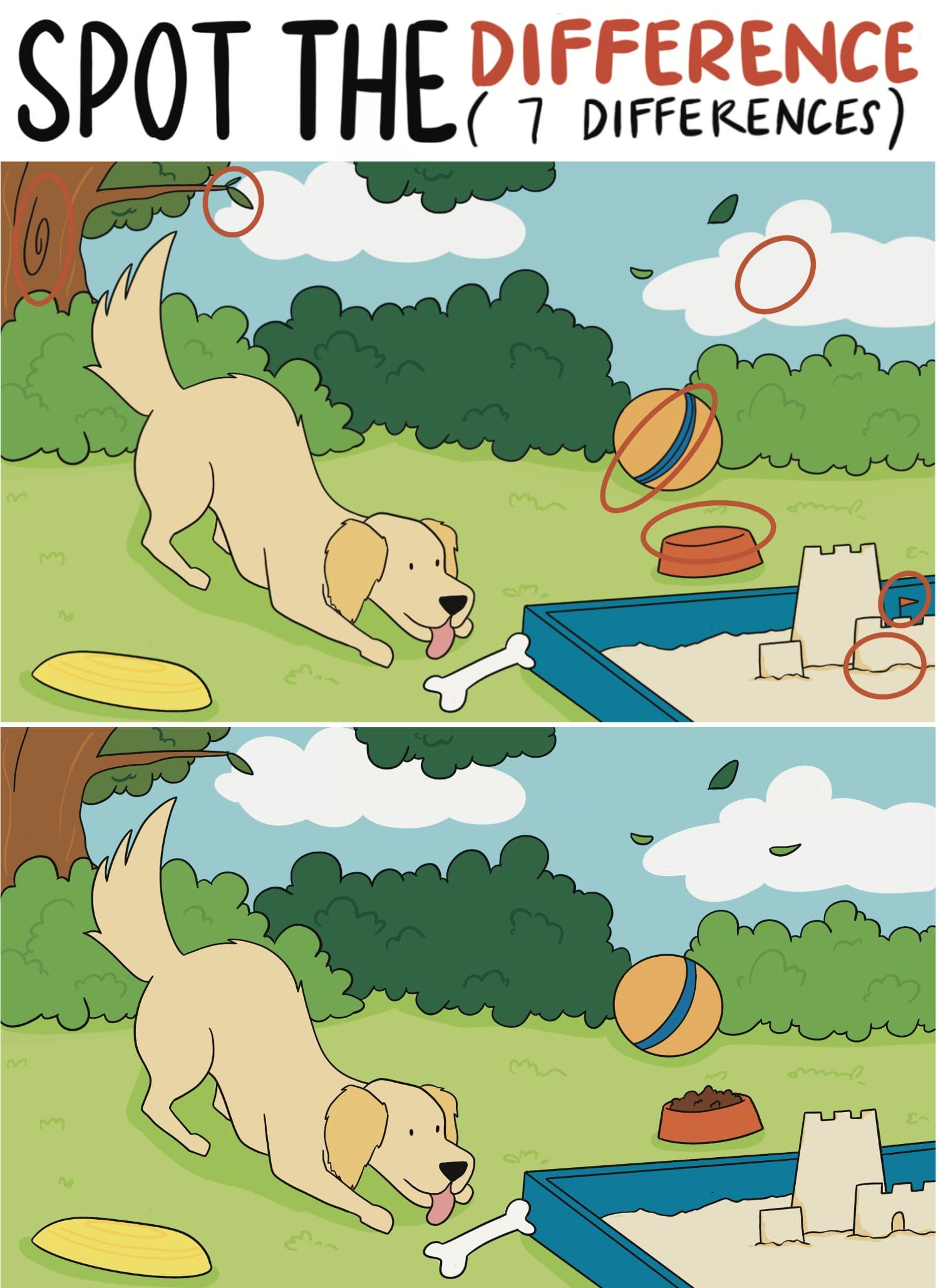 Must be the fall … that tree has lost a leaf!
It's windy too, judging by those falling leaves.
The tree's bark has changed.
The pup's ball has a different band around it.
Who filled up the dog's dinner dish? Looks like Fido ate it all!
Someone took the flag from the sandcastle …
… and added a door!
Did you find all the answers to all three of our pup puzzles? If you did, well done you!
I hope you enjoyed our canine conundrums. We'd love to know how you got on, so tell us how you did in the comments box below!