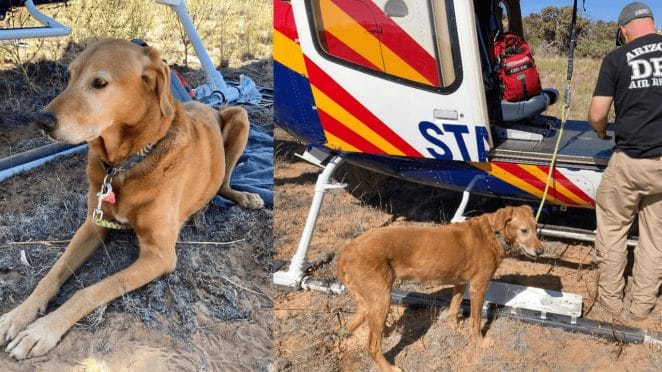 A dog that had miraculously survived a fatal air disaster in northern Arizona returned home. On Sept. 22, a plane went down in the Paria Plateau region, which is almost 30 miles southwest of Page.
Jim Petersen, the pilot, was killed while his wife Uta Petersen was injured. When emergency workers arrived at the site of the catastrophe, they found a blue heeler and assumed it had died in the crash.
The same dog was spotted again the next day when authorities revisited the scene. The canine fled when the chopper arrived, but crew members used water to entice him back and get a leash on him, according to DPS.
The weary puppy was hungry and thirsty after his long journey. "For having survived a plane crash and some days in the wilderness, he is in pretty good shape.
He does have a dislocated hip, which will require surgery," said Amy Ford of Lake Powell Communications.
DPS troopers took the dog to the Page Animal Shelter where workers tried to find his family. It turns out that Jim and Uta Petersen had friends in Utah who are familiar with the dog's breed but didn't recognize the blue heeler.
The crew drove the dog to Page Airport. The deputy took the dog and reunited him with his family once he had been taken to the Coconino County Sheriff's Office. During such a difficult time, DPS is grateful for the opportunity to reunite this dog with its family.
Thursday morning, after ten long days apart, Oreo was reunited with Uta Petersen, the wife of the pilot who died in the crash.
"He's always been a member of our family since he was born," said Uta Petersen. "Somehow it seems like he knew that Jim wasn't coming back and…he came to us."
Oreo is now at home recovering with his owners – something they said is a godsend.
"Oreo has just been the love of our lives for all these years," said Uta Petersen.