Many pet parents have ignored the fact that they can spend less than receiving stressful amounts of expensive bills from treatments during regular or emergency visits at the veterinary or clinics for their furry buddies. Without considering the options in front of them and their adorable pets, some may even ask…
Is it worth getting a PET INSURANCE?
Well, the real question here is, would you be able to afford an emergency vet bill of $500-1000 just like that? Here's why it is worth getting pet insurance, especially when no pets are immune to unexpected accidents and illnesses! To give a brief background, Embrace Pet Insurance is an online insurance company based in Cleveland, Ohio, that is known for its extraordinary pet health services to both cats and dogs in the United States.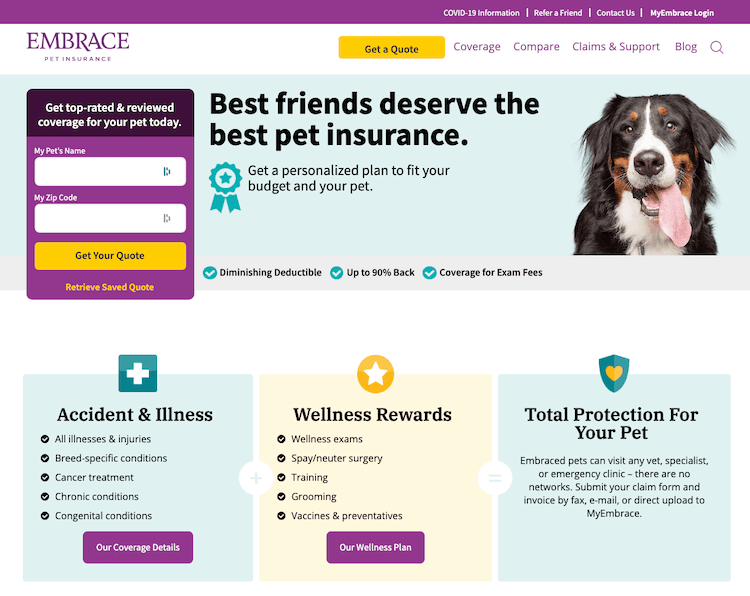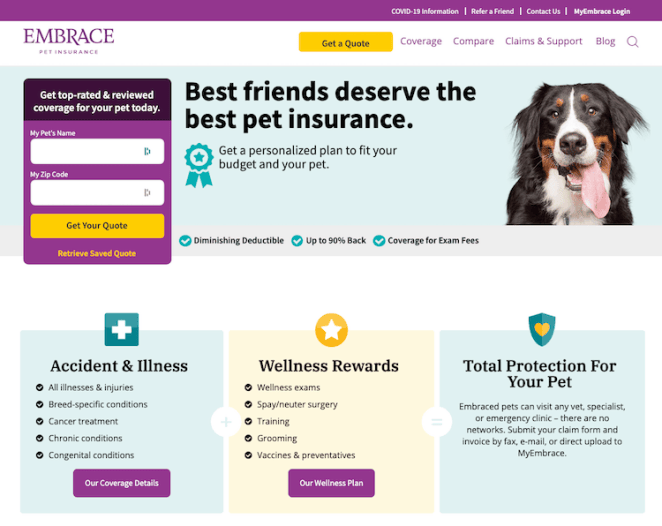 Believe it or not, veterinary bills have been really expensive by almost 80% compared to having an insurance plan for on-the-spot checks of any injuries or illnesses our pets have suffered or are currently suffering from. To avoid circumstances like this, Embrace offers complete packages with their "nose-to-tail" accident and illness insurance coverage and flexible routinary care as part of their Wellness Rewards plan. They consist of professional pet insurers with one of the highest customer ratings in the whole pet insurance industry. To go over the details, here are the 4 ways where Embrace standouts from other pet insurances:
1. They have the best diminishing deductible
Embrace's Healthy Pet Deductible reduces your annual deductible $50 each year you don't receive a claim payment which is included on every pet insurance policy at no additional cost. They provide up to 90% back on bills using any vet with dependable claims payments and personalized plans that make caring for your pet easy and affordable.
2. They do pet insurance by dog & cat breeds and also evaluate pre-existing conditions
Another great thing here is how they determine the summary of common health concerns, interesting facts for different types of pet breeds, and which insurance policy fits them and their owners. Other than that, Embrace covers pre-existing conditions evaluation while other pet insurance doesn't. They can distinguish curable and incurable pre-existing conditions, covering curable conditions after 12 months symptom- and treatment-free.
3. Wellness Rewards for Routine Care
It is usual for pet insurances to cover the vet bills when your pet is sick or injured as part of the accident and illness policy. But what stands out for Embrace is their Wellness Rewards, which reimburses for everyday veterinary, training, and grooming costs with no per-item limits. Wellness Rewards is not an insurance policy but works as a budgeting tool and rewards you for being proactive with your pet's care. Check out the list below for the complete reimbursable items.
Aside from the reimbursable items, you are free to choose your reimbursement plans. You may choose the perfect amount for each pet, each year, and get a $25 annual reward from Embrace.
$250 allowance per policy year
$450 allowance per policy year
$650 allowance per policy year
With Embrace, you're able to change your Wellness Rewards amount at renewal each policy year, making it perfectly personalized to meet your needs. The billing also shows a completely different charge from your original coverage.
4. Accessible online customer profile and 24/7 Pet Health Line
You may access your policy anytime and anywhere with MyEmbrace, Embrace's online customer log-in tool included in their website and downloadable from app store. Here you can submit claims, review and change your agreed coverage, check claims status, updated payment details, and contact their customer care team which is available at any time of the day. You can also add pets for an additional insurance plan too! Also, trusted decision support and guidance from Pet Pros are available via live chat, phone, or video conference at no cost to policyholders.
As mentioned, Embrace's one simple yet comprehensive pet insurance policy from "nose-to-tail" and reimburses up to 90% of your pet's unexpected vet bills. With a personalized policy based on your budget, your pet will enjoy coverage for the following:
Accidents – from broken bones to foreign body ingestion, Embrace has you covered when your pet gets hurt unexpectedly, including the consultation and exam fees at any licensed vet.
Illnesses – which happen from time to time to pets no matter their age, breed, or species. Every illness will be covered with no per condition limitations
Dental Illnesses – humans can't bear a massive toothache so what more our pets. Dental issues covered include gingivitis, root canals, crowns, oral masses, extractions, and more.
Breed-specific & genetic conditions – Embrace covers all hereditary and genetic conditions on every accident and illness policy.
Cancer – is the leading cause of expensive pet bills, Embrace covers all cancer-related testing, and treatment is included with no extra cost.
Chronic conditions – Embrace also covers chronic conditions like allergies, diabetes, and arthritis which affect pets long-term
Apparently, before determining what kind of illness our pets may have, there will always be a consultation fee included. However, Embrace includes coverage for exam fees in their simple policy at no additional cost. The exam fee can be $100 or more at emergency or specialty vets, and without coverage, it's like paying an extra deductible each time you visit the vet.
Other covered treatments that Embrace offers:
Alternative therapies & rehabilitation
Behavioral therapy
Emergency veterinary care
Specialist care
Diagnostic testing
Hospitalization & surgery
Prosthetics & mobility devices
Prescription drug coverage
As perfect as it may seem, all pet insurance plans have exclusions. The good thing about Embrace is that they share what they can't cover:
Routine veterinary care
Pre-existing conditions
Breeding, whelping, & pregnancy
Injury caused deliberately by you or any other person residing in your home
DNA testing or cloning
Injury or illness resulting from fighting, racing, cruelty, or neglect
Cosmetic procedures such as tail docking, ear cropping, & dewclaw removal unless medically necessary
Avian flu or nuclear war
As you can see, we have stated the facts about the services of Embrace that can be very helpful to all pet parents looking for an insurance policy. If you would like to know more about Embrace Pet Insurance and get a free quote for your adorable pet, visit their website and they will be more than happy to assist you.