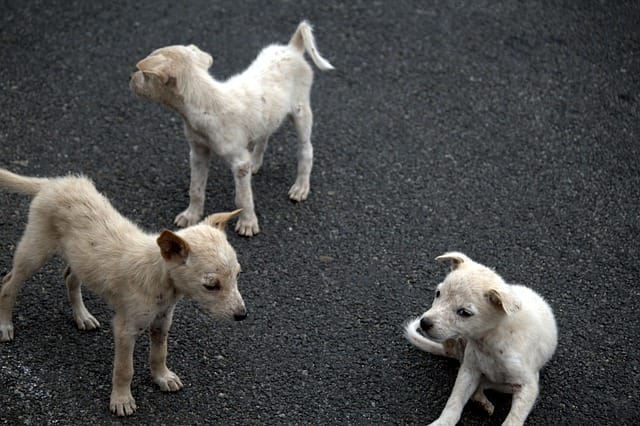 Two puppies who had been dumped in a bin less than two weeks before Christmas have died from parvovirus, a deadly disease that affects dogs.
On December 10, Hope Rescue in Llanharan sheltered them and gave them Christmas names, but they believe they came from backyard breeding or a puppy farm.
They were found by an onlooker outside a church in Aberkenfig after the owner had left them there.
It is believed she did this because they were ill, or because she could not afford to look after them.
The puppies would have only been ten weeks old when found, but staff believes they were much younger and had not received their full course of vaccinations.
Both had fleas and sarcoptic mange, as well as being underweight with diarrhea and the deadly parvovirus.
The pups were too young to determine their breeds but appeared to be a type of hound or hound cross.
On December 18, Hope Rescue announced that Parsnip had died that evening, and on Boxing Day poor Nutmeg passed away as well.
A spokesperson for Hope Rescue said: "We're sorry to inform you that we had to let Sprout go this morning.
"He got sick overnight, and he was in a lot of agonies despite the fact that he took pain medication, so it wasn't the right decision to keep him alive.
"We can't thank the fantastic team at Vets4Pets enough for the amazing job they do on a daily basis, and we can't thank our supporters enough for rallying around Parsnip and Nutmeg to help them fight so valiantly.
"These two little troopers gave it their all, but parvovirus is a particularly nasty illness that's very difficult to treat in puppies.
"We have to believe that it's better for all involved, but especially the puppies themselves, to go gently and pain-free."
The couple who run Hope Rescue is now campaigning against puppy farming. They hope this will help see an end to the mistreatment of animals in Wales.
We would like to remind you that in 2022, we will continue the fight against backyard breeders and puppy farmers. We will ensure that Parsnip's and Sprout's tragic story is known
Sprout and Parsnip's story was met with hundreds of well-wishing comments on the Rescue had been updating their Facebook page regularly about Sprout and Parsnip, where each post received thousands of likes and dozens of kind words from admirers.
"Two stunning puppies, blessed with love and friendship a bit too late, give me hope for a new beginning."
Said one of the hundreds who commented on the pair's story, while another added: "Thank you for fighting for them and hope they didn't suffer too much."
Hope Rescue believes that there are dozens of puppy farms in Wales where dogs are treated as breeding machines, not pets.