Sometimes, we can't help but think of puns when coming up with a pet name. For frogs, we have a lot to share when it comes to punny frog names for naming a new pet frog. 'Lollihops' and 'Plutoad' are just some of the hilarious ideas we found. So check this list of funny frog names that you should consider.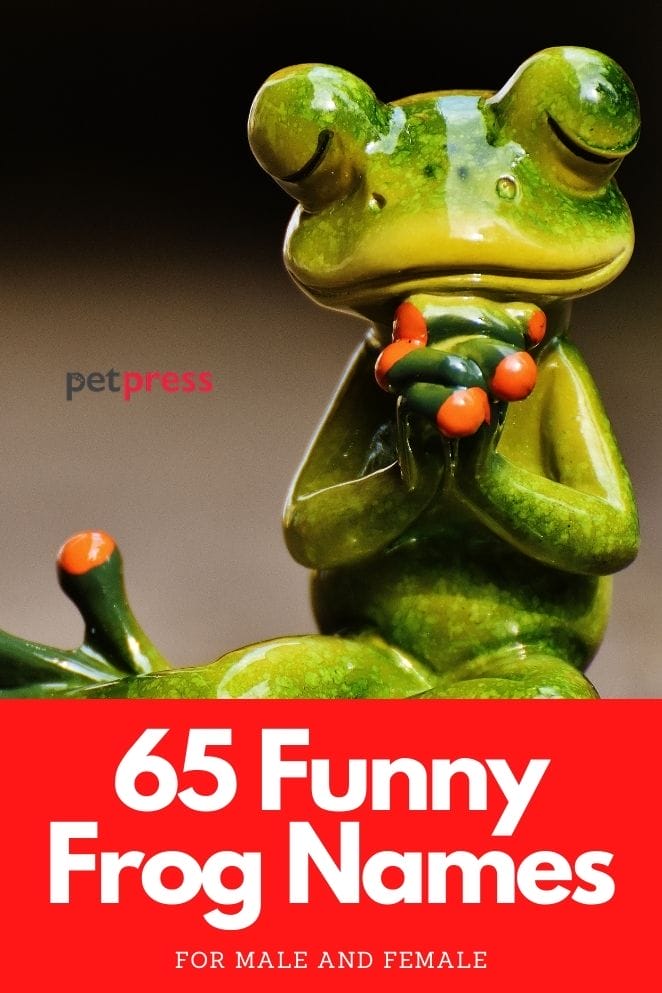 Busta Slimes
Snoop-frog
Lollihops
Herold
Croak Flykilla
Jim Hopper
Big Daddy
Dapylil
Snoop Froggy Frog
Engelbert Hopperdink
Ribbit Downey Jr.
Hypnotoad
Toadibias
Dwight Eisenhopper
Ribbit Gilliman
Gorf
Bully
Fatso
Green Man
Water Lilly
Mr. Toad
Budweiser
Edward Hopper
Croakley
Optimus Slime
Gwen Stefroggy
Pickle
Tiana
Naveen
Frogger
Kermit
Legs
Lord Kroak
Froppy
Morty
Froggo
Tad Pole
Toadie
Rona
Flyswatter
Polliwog
Hoppy
Froakie
Jeremiah
Gweneth Paltoad
Pablo Escofrog
Sir Croaks-a-lot
MC Hopper
Gorf
Hip Hop
Pepe
Hopalong
Plutoad
Slippy
Rosie the Ribbitor
Lollihops
Croaky
Yoda
Croakster
Quibbit
Lillypad Von Ribbit IV
Bob
Anthony Hopkins
Frog the Bounty Hunter
Lilly Paddy
If you're not looking for fun ideas and are still looking for the best frog names, we also have a frog name generator that can guide you to create the best name for you and your pet frog.