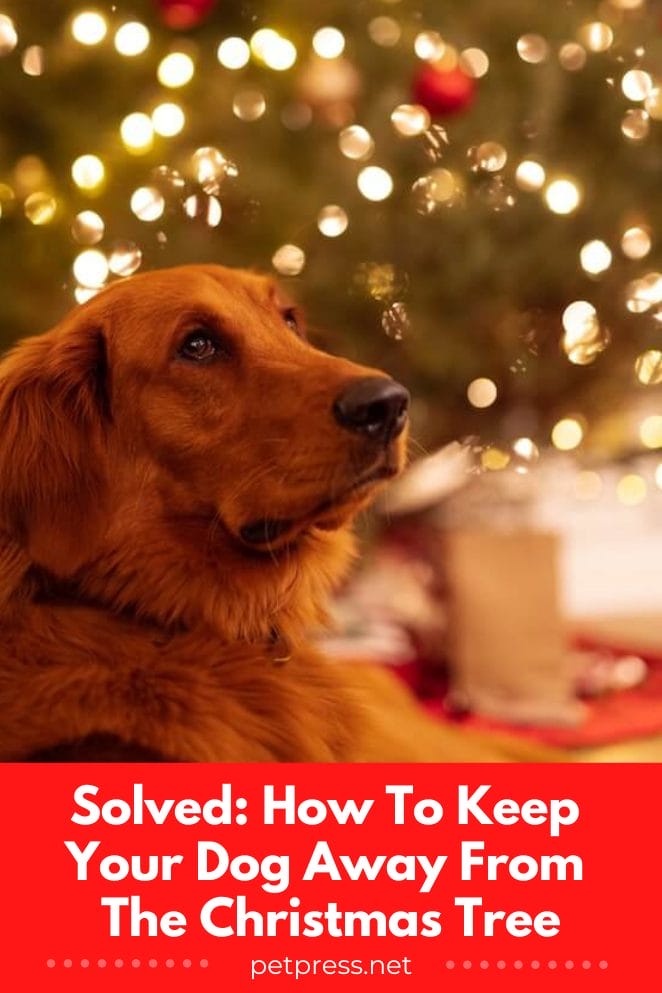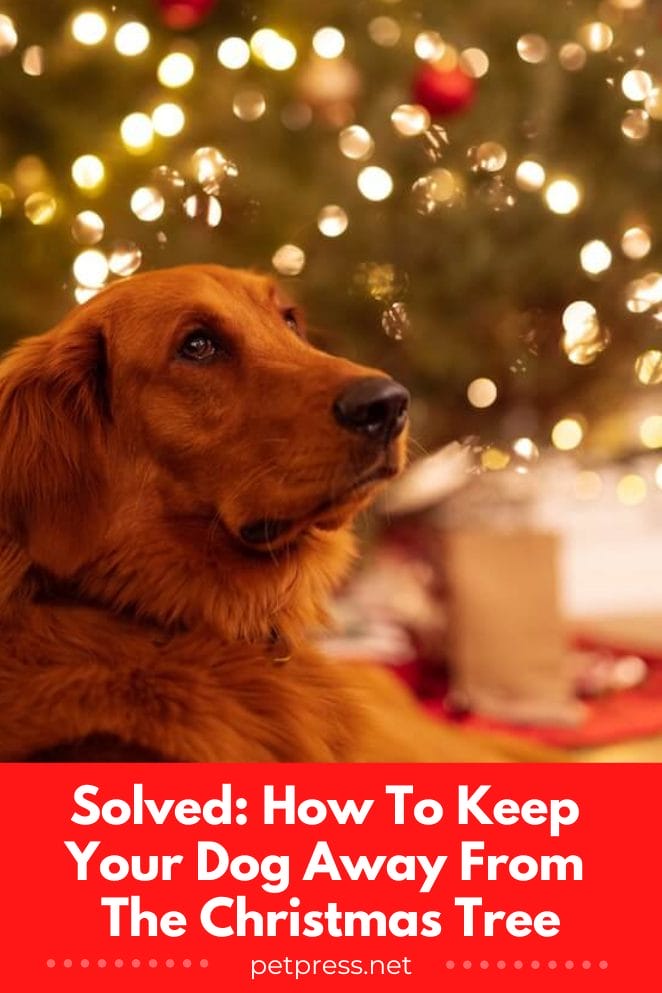 Dogs are the perfect companion for all your holiday festivities. Dogs do know its Christmas and love to celebrate the holiday season with their human,
They're always up for a game of fetch, a walk around the block, or just cuddling on the couch.
While it can be cute to see a dog running around under the Christmas tree, it can also be dangerous.
In this article, we will be discussing 10 ways that you can keep your dog away from the Christmas tree.
How To Keep Your Dog Away From The Christmas Tree
Dogs love Christmas just as much as we do. They love the smells, the sounds, and of course, the food. But when it comes to the Christmas tree, they can be a bit of a nuisance. If you're looking for a way to keep your dog away from the tree this holiday season, try these tips.
1. Place the tree in a corner or against a wall
If you're looking to keep your dog away from the Christmas tree, try placing the tree in a corner or against a wall.
This will make it more difficult for your furry friend to get to the decorations and gifts. Plus, it'll help to prevent any accidents if your dog happens to knock the tree over.
2. Use a tree skirt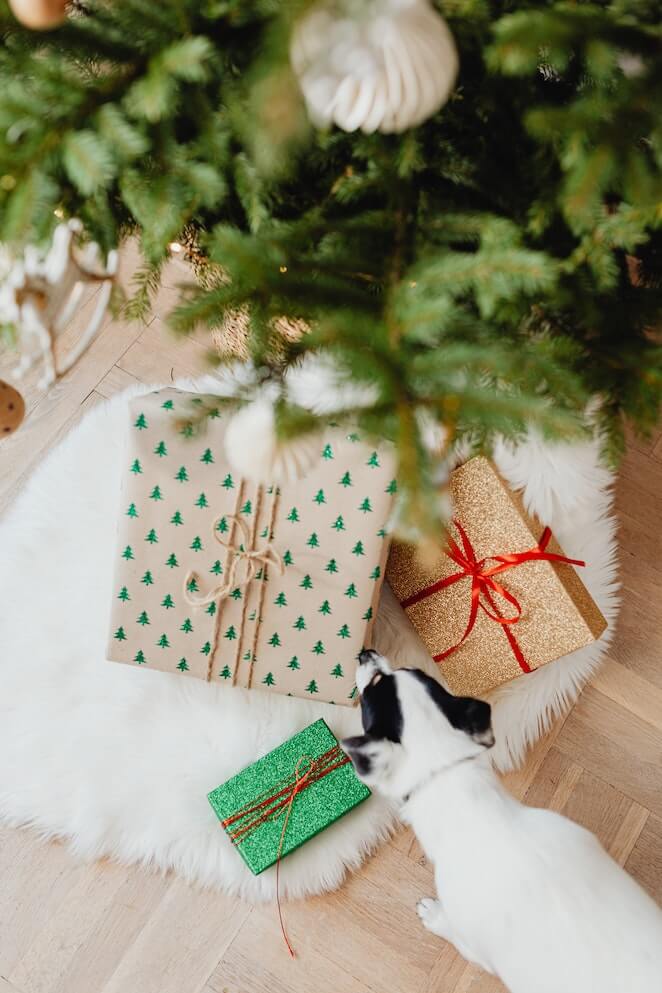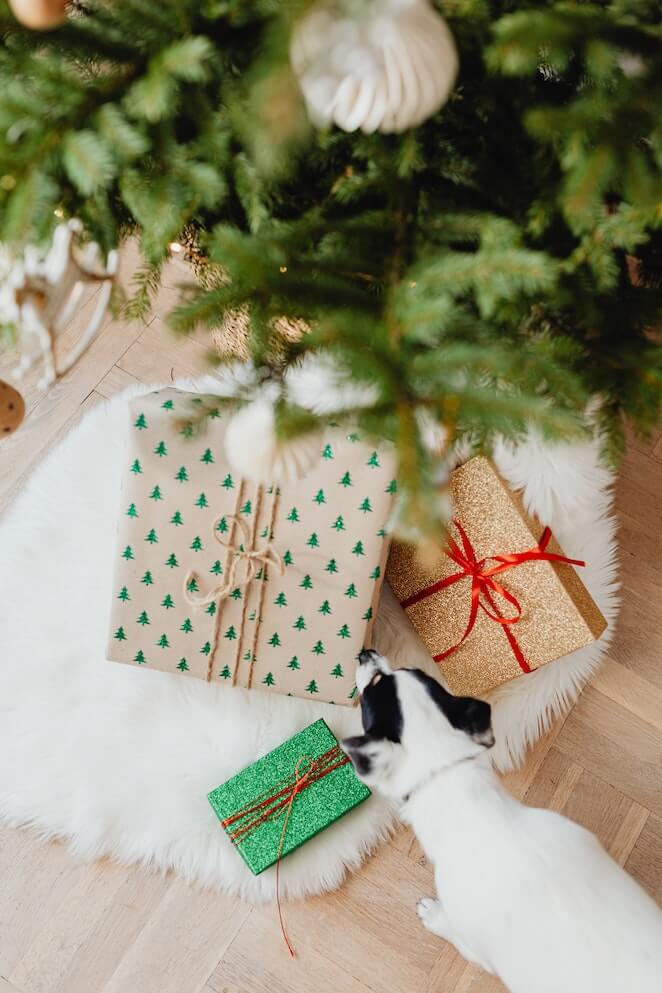 Did you know that there's an easy way to keep your dog away from the tree? All you need is a tree skirt or some other barrier.
This will create a physical barrier between your dog and the tree, making it much less likely that they'll be able to get to it.
And if they do manage to get past the barrier, they'll still have to contend with all of those pesky presents underneath the tree. So go ahead and put up that tree skirt. It just might save your Christmas!
3. Hang tinsel and ornaments high
Hang tinsel and ornaments high up on the tree so your dog can't reach them.
This will discourage them from trying to jump up and grab at things, and you won't have to constantly worry about them knocking things over.
4. Use shatterproof ornaments
Dogs see Christmas decorations as one big chew toy.
If you're worried about your dog destroying your holiday decorations, don't be!
With shatterproof ornaments, you can rest assured that your tree will remain intact – no matter what your furry friend gets up to.
Plus, these ornaments are just as stylish as their glass counterparts, so you won't have to sacrifice aesthetics for safety.
5. Place Christmas lights around the tree rather than hanging them from it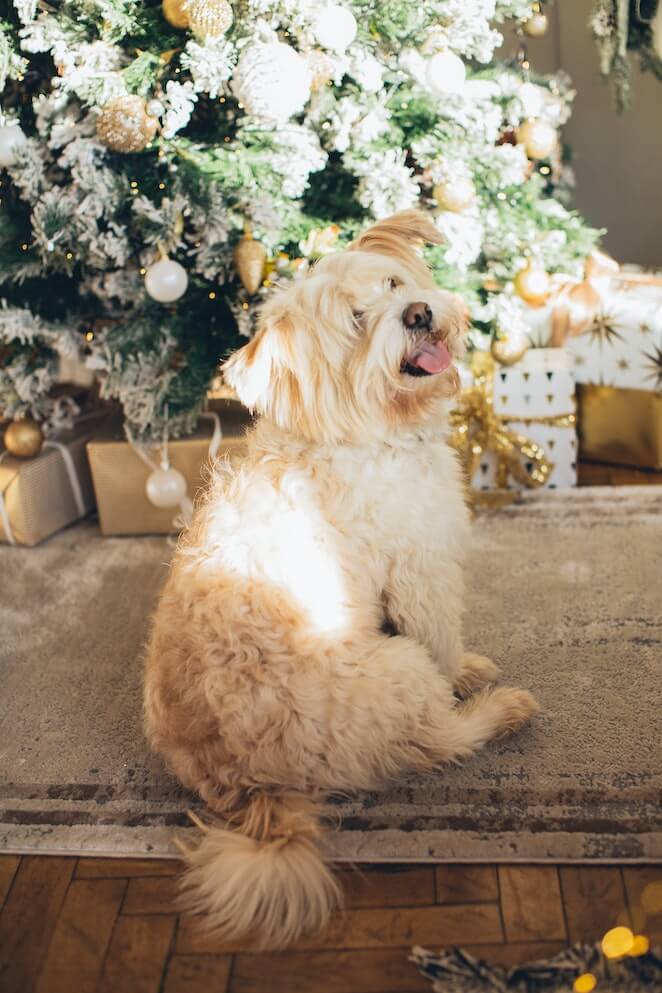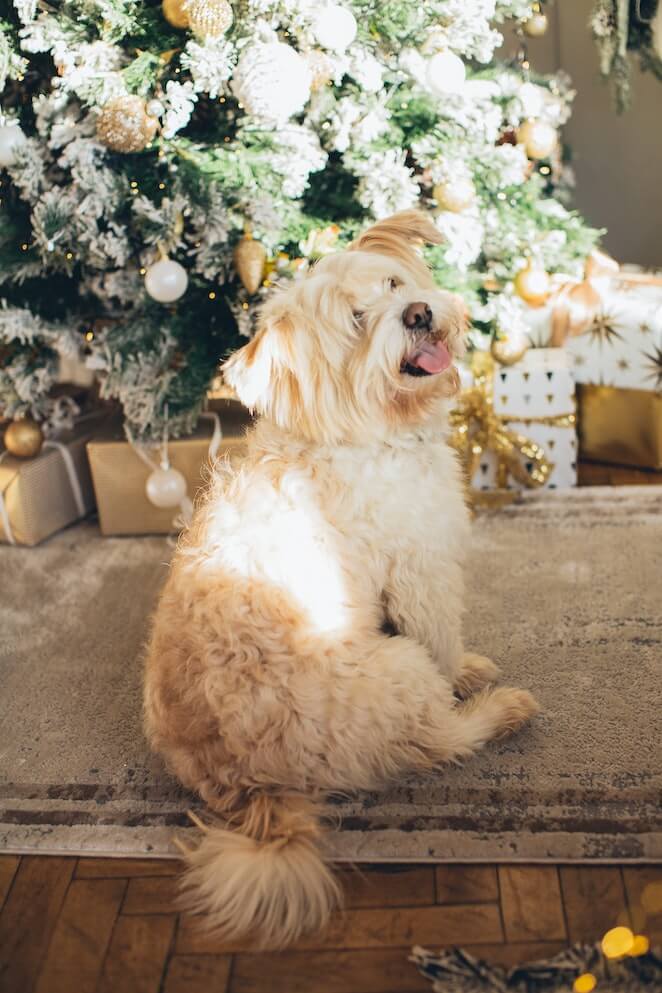 One important thing to remember when decorating for Christmas is to avoid hanging lights from the tree.
Not only are they a fire hazard, but your dog could easily chew through the cords and get electrocuted.
Instead, try wrapping the lights around the tree. This will keep them out of reach of curious pups, and it will look just as festive.
Plus, you'll be able to enjoy the holidays without worrying about your furry friend's safety.
6. Put away any tempting toys and treats
If you want to keep your dog from getting into the holiday spirit, make sure to put away any tempting toys and treats that he may be tempted by near the tree.
You don't want him getting his paws on anything he shouldn't have, after all.
Otherwise, you might just find yourself with a very merry (and mischievous) pup on your hands. And we all know that's the last thing anyone wants during the holidays.
7. Keep your dog occupied
If you thought having a dog was tough, try having a dog during Christmas. Suddenly, all of the things that make your house festive become potential hazards for your furry friend.
But with a little preparation, you can make sure both you and your dog have a happy holiday season.
First things first: water and toys. Your dog is going to need lots of both, especially if they're the curious type.
Keep them away from the Christmas tree by giving them something else to focus on – like their favorite chew toy or a new bone.
8. Keep an eye on your dog at all times when they're near the Christmas tree.
Dogs are curious creatures. They like to sniff around and explore their surroundings.
That's why it's important to keep an eye on them when they're near the Christmas tree.
The last thing you want is for your dog to start chewing on the electrical cords or knocking over the tree.
Enjoy the holidays with your furry friend, but make sure you're keeping a close eye on them. After all, safety is always the most important thing.
9. If all else fails, put your dog in another room
Even the best-behaved dog can get excited when there's a Christmas tree in the house.
If all else fails, put your dog in another room when decorating is taking place.
That way, you can avoid any "surprises" under the tree.
10. Buy a fake tree
If you're considering a fake Christmas tree this year, take your dog's tree preferences into account. After all, they'll be the ones spending the most time around it!
If your pup is particularly interested in trees, a fake one may be the best option to avoid any accidents.
Plus, it'll save you from having to vacuum up pine needles every other day. Win-win!
Conclusion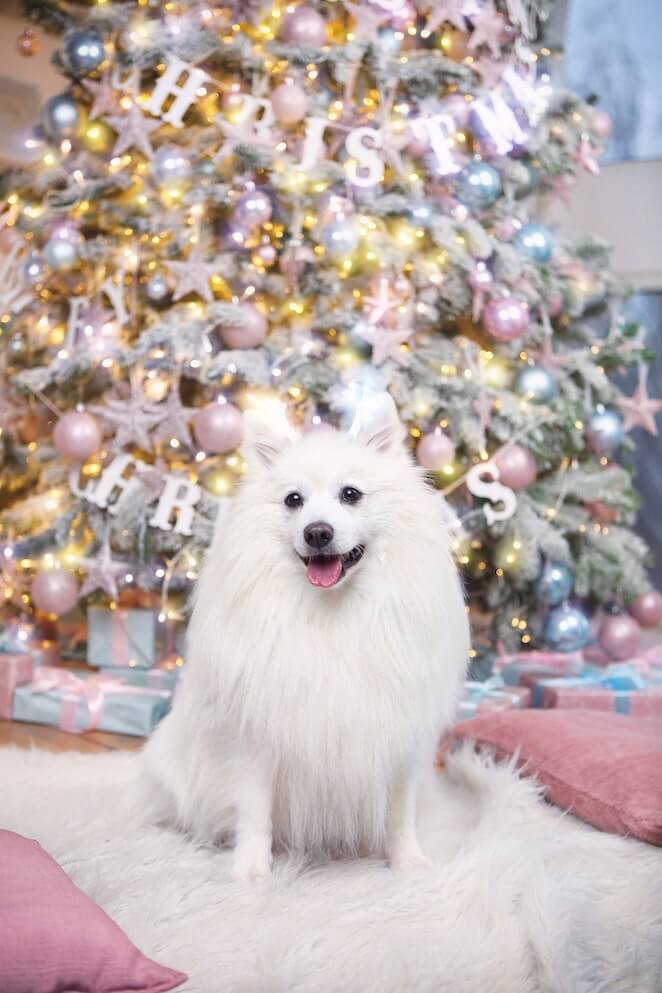 Is your dog barking up the wrong tree? Make sure your dog isn't too close to the Christmas tree, or you may be picking pine needles out of his fur for weeks.
Dogs and Christmas trees just don't mix.
No matter how well-behaved your pup is, it's just too tempting for them to resist taking a spin around the tree or taking a quick snack of those tasty-looking pine needles.
So, to avoid a Christmas disaster, it's best to keep your furry friend away from the tree.