Jennifer Aniston just can't help but show her love for Austin Pets Alive! and her ex-husband, Justin Theroux, together with his dog.
The actress shared a photo on Instagram of Justin's furry companion Kuma and praised them both for supporting the dog rescue shelter.
"Love what these two are doing to help people who help pups who help people," Aniston wrote. "They helped save 60 dogs @austinpetsalive yesterday."
Theroux and his canine companion, Kuma
Justin Theroux isn't the only member of his family to get his start in the show business.
Theroux started an Instagram account for his dog, Kuma, to show their support to the dog rescue group APA!.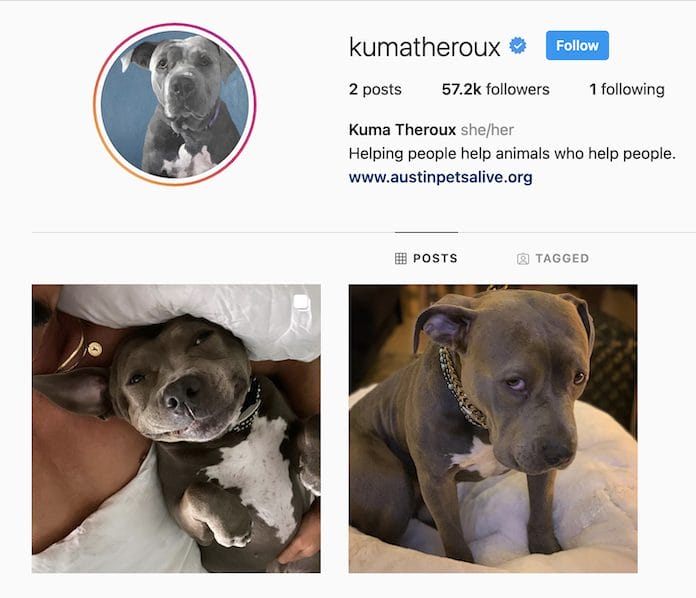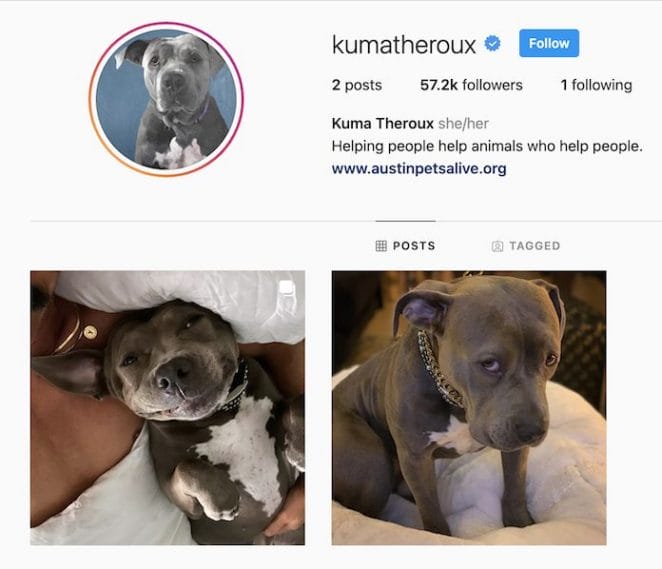 It is all in Kuma's Instagram bio which says "Helping people help animals who help people: www.austinpetsalive.org."
Last week, Kuma made waves on the internet when he promoted Austin Pets Alive! —and even Jennifer Aniston became a fan.
Not only is Kuma proving to be a fan-favorite puppy, but this grey pitbull mix is quickly earning the sort of attention that her owner, a movie star, is known for. She now has over 57,000 followers as of Sept. 29.
Justin Theroux didn't adopt Kuma from APA! He did, however, learn about a rescue organization in Conroe, Texas, while in Austin. Since then, he's been a supporter
Theroux adopted Kuma after Hurricane Harvey.
Theroux and Kuma helping people find pets
Theroux's goal is to support the dog rescue group with the mission of "eliminating the killing of pets in all shelters" while helping people help pets.
It's not uncommon to people that there has been a rise in puppy mills and how hundreds of puppies are suffering in stacked cages.
Theroux started to collaborate with APA! while filming 'The Leftovers'. He was impressed with APA's initiative of "helping people help pets" and fell in love with all the stray dogs.
Austin, largest no-kill city
The No-Kill program has reached its 10th anniversary of Austin becoming the United States' first and largest no-kill city.
According to a news release, the campaign has resulted in the rescue of nearly 100,000 animals.
APA! initiatives are being fully replicated in dog shelters across the United States, and their efforts to care for pets include those involved in natural disasters.
For the anniversary, APA! is asking for donations to help keep their programs running and "ensure Austin stays No Kill for the next ten years."
About Austin Pets Alive!
Austin Pets Alive! is not your average animal shelter. APA! works to overcome the needlessly high death rates in animal shelters, constantly building on improvements, and reaching for the day when all healthy or treatable pets leave shelters alive. It began in 2008 in Austin, Texas, by creating specialized medical and behavioral programs able to provide sustainable, replicable lifesaving solutions that could reach 100% of homeless pets, not simply within its own shelter but across the entire community.