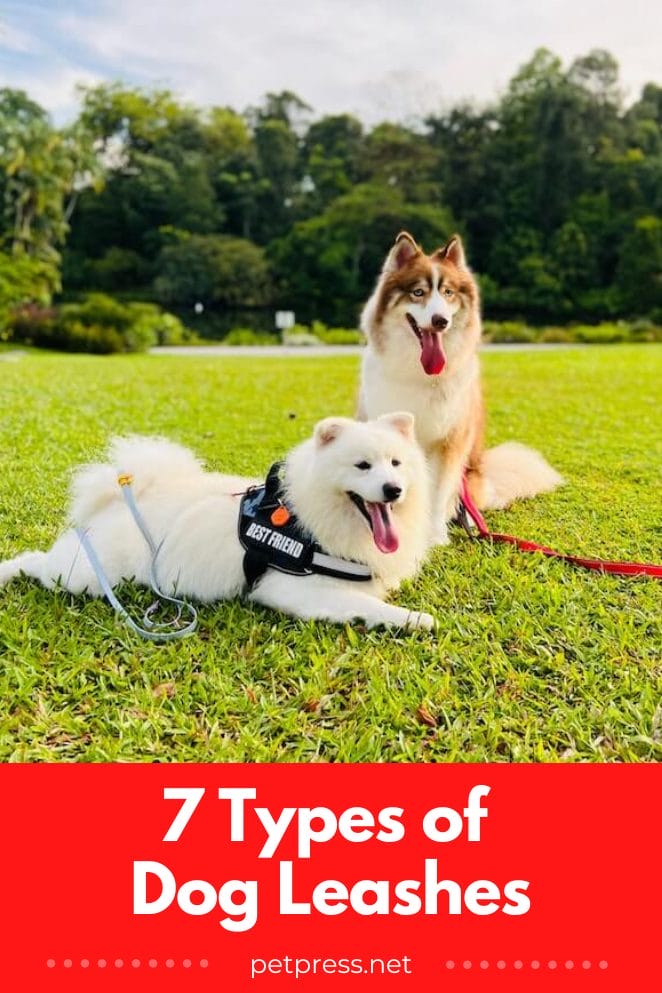 A dog leash is the first and foremost thing that any dog owner should get for their pups. After all, you don't want your furry friend running off into danger! That's why there are so many different types of dog leashes out there – from retractable models to leather varieties and more.
In this article we will look into the various options in dog leashes and also how to choose the best one for your dog. Read on for all the details! Let's start with the most basic question.
How do I choose a dog leash?
Here are five key things to keep in mind when selecting a leash:
1. Length
Most leashes come in 4-6 feet lengths, but some can be as long as 10-15 feet for large breeds. Consider your needs and the environment you'll be walking in when deciding on a length; if your pup loves to explore, a longer leash might be best.
2. Width
The wider the leash width, the more comfortable it is to hold onto; however if you have a smaller pup or want something lightweight then opt for thin webbing.
3. Material
The material of the leash can range from nylon, leather, to rope; some even come in reflective materials for nighttime walks. Consider how often you'll be using it and if it's suitable for your pup; softer materials are typically more gentle on their skin.
4. Hardware
Make sure that the clasp or carabiner is strong enough to handle your pup's strength and size. Choose one with a swivel eye-hook so that the leash won't twist when they pull against it.
5. Comfort
Last but not least, make sure you're comfortable with the leash. A good grip, adjustable strap, or padded handle can all make a difference in your walks.
7 Types of Dog Leashes
When it comes to choosing the right leash for your pup, there are so many options to choose from! Here's a brief overview of seven different types of dog leashes and what breed they might suit best.
1. Standard Dog Leash:
The most common and affordable type of dog leash, the standard leash is a good all-rounder for any breed of dog.
It generally consists of a long length of material (usually nylon or leather) with either a looped handle at one end, or handles on both ends allowing two people to walk the same dog.
This type of leash will suit most dogs, but may be more suitable for larger breeds due to the greater control you have over them when walking.
2. Chain Leashes:
A steel chain link leash, often covered in rubber tubing for extra comfort, is designed primarily for strong dogs that pull on walks or lunge at other animals.
It's important to note that these leashes are only effective if used with the correct technique, as they can be quite heavy and uncomfortable for both you and your dog.
However, if you have a strong breed of dog, then this is an ideal leash to help keep them in check on walks.
3. Retractable Dog Leash:
Perfect for giving dogs more freedom when out walking, retractable leashes allow your pup to explore their surroundings while still keeping them within a certain distance from you.
This type of leash features a spool that stores the nylon cord inside it and can extend up to 10-20 feet at the press of a button.
While these are great for small breeds that don't pull too hard, they may not provide enough control for larger, stronger breeds.
4. Bike Leash:
Designed to keep your pup by your side while you're out cycling, these leashes attach to the frame of your bike and feature either a bungee cord or metal chain leash for your dog to be secured to.
These are ideal if you plan on taking your pup with you on long rides, as it will help them stay close without getting in the way of your pedals or handlebars.
However, they may not be suitable for strong dogs that pull hard on walks.
5. Double Dog Leash:
This type of leash is perfect if you have two dogs that need walking at once! It basically consists of two standard dog leashes connected together with an additional looped handle in the middle.
This enables one person to walk both dogs at once, with each lead connected to its own handle for greater control over the two pooches.
6. Harness Leaders:
A harness leader is a type of leash that attaches to your pup's existing body harness while walking them.
It's an effective way of controlling strong dogs and ensuring they stay close by while out and about, as it provides more stability than a regular leash which can be easily pulled from their collar or head halter.
However, this type of lead may not suit smaller breeds due to the additional weight and bulkiness of the harness itself.
7. Rubber Lead (i.e Bungee):
These leashes are designed with extra 'give' to help reduce the pulling and tugging that often occurs between excited dogs and their owners.
They consist of a regular leash with elastic tubing attached to both ends, making them ideal for medium and large breeds as they provide more support for larger animals!
The only downside is that these leads can be quite heavy, so may not be suitable for smaller dogs.
Conclusion
Buying a secure and comfortable leash is what you need to do for your dog's safety. Doing so will ensure a safe and enjoyable walking experience for both of you!
With the right leash, you'll have a companion by your side each time you head out on an adventure.