If you want to give your dog a special name that will mean something for you, here is the list of 30 most unique dog names.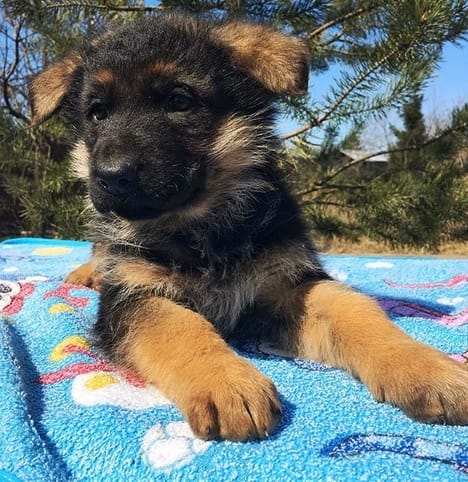 Munich (or München in German) – The city of Munich is home to the famous Oktoberfest festival.
Frankfurt – This large German city definitely makes for a cute dog name.
Maibock – Miabock is a pale, strong lager brewed in the spring.
Goliath – Fabled giant.
Rolf – Celebrated wolf.
Frederik – Peaceful power.
Alvin – An honorable friend or a companion of the elves.
Claudia – Enclosure.
Dunkel – a darkened German lager.
Pilsner – A pale lager that gets its name from Pilsen, a city in Bohemia.
Wolfgang Amadeus Mozart – A prolific composer of the Classical era.
Britta – Power.
Dieter – Ruler of people.
Heidi – Of honorable birth.
Dusseldorf – a big city and the financial center which can become a cool name for your GSD.
Herr – German for mister.
Bavaria – a popular region in Germany that can become awesome name to associate with your pet dog.
Liesel- Sworn to God.
Ludwig van Beethoven – One of the world's most influential and famous composers.
Frau or Fraulein – Miss and Mrs. in German, respectively.
Sauerkraut – Sauerkraut is cabbage that is cut fine, salted and allowed to ferment until sour.
Spätzle – A dish popular in southern Germany, Spätzle consists of small dumplings poached in boiling water.
Hund –  German for dog!
Gunther – Brave fighter.
Schnitzel – This dish of a thin slice of veal or other light meat, coated in breadcrumbs and fried, is quite popular.
Sofie – Intelligence.
Paulaner – Based out of Munich, Paulaner is one of the six breweries who provide beer for Oktoberfest.
Bernard – Brave and strong.
Albert Einstein – This German-born theoretical physicist revolutionized modern science.
Berlin – The capital and most popular city in Germany, Berlin is full of amazing history, landmarks and more.