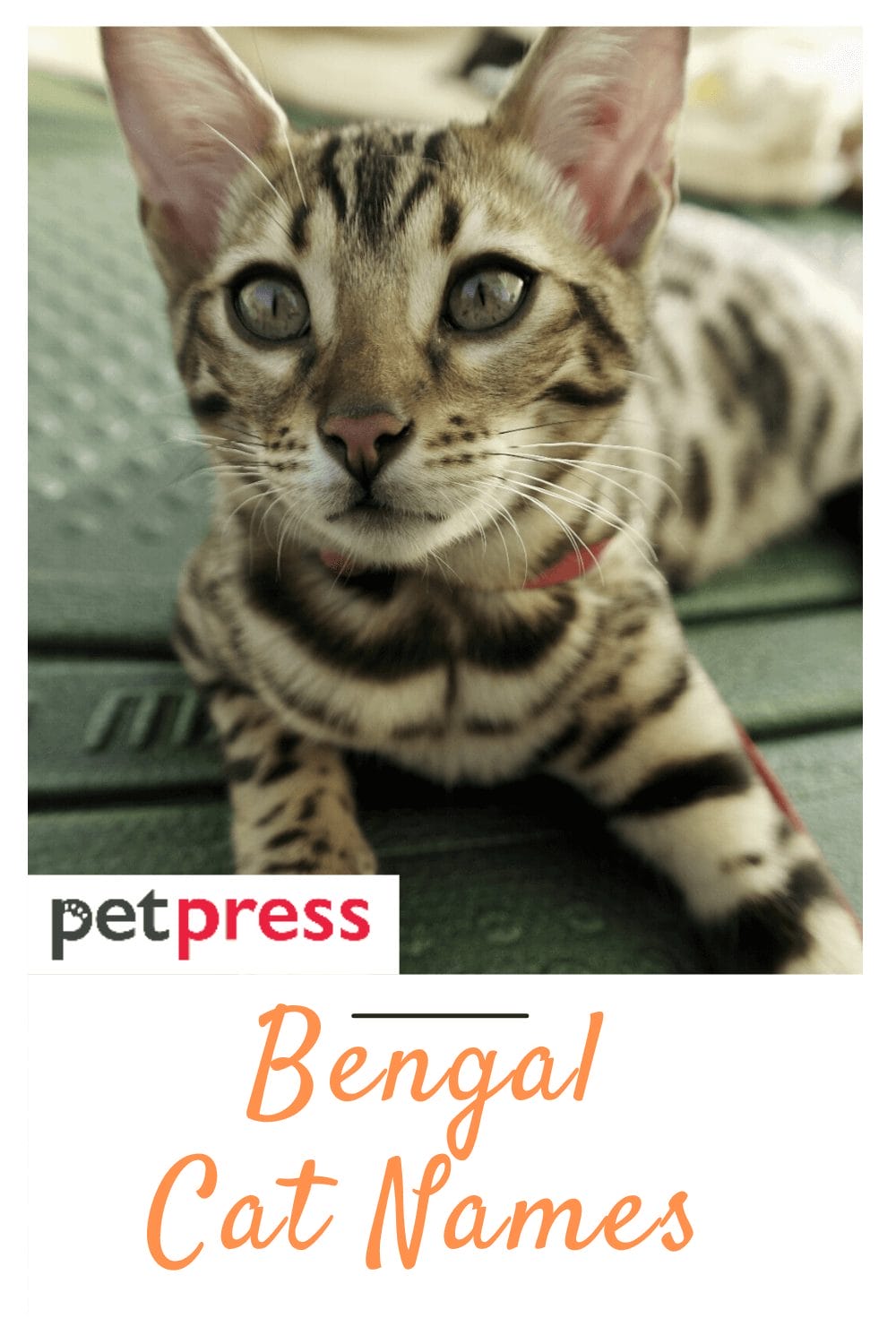 If you have a Bengal cat, you must be very lucky since this breed has an exotic color that comes from their leopard cat ancestry. Though they look like wild cats in appearance, but this cat breed is actually sweet and loving. They are also active and extremely athletic and easily attach to their owner.
If you are looking for a good name for your Bengal cat, we've compiled the best Bengal cat names to help you find the perfect name for your cute Bengal kitten since we know finding the perfect name for it wouldn't be easy and time-consuming. So here are our Bengal cat name ideas for you!
Male Bengal Cat Names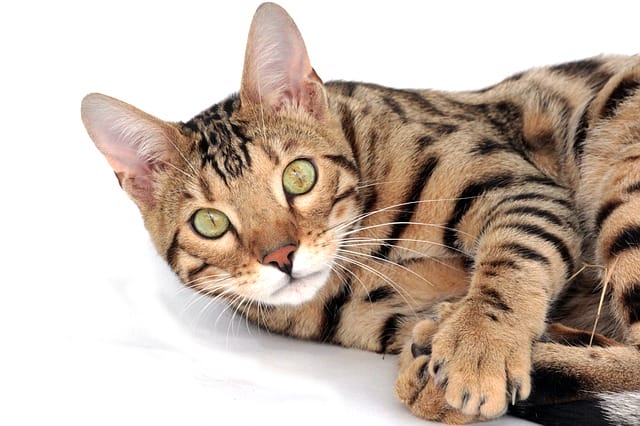 George
Sammy
Luke
Cee Lo
Timmy
Ernie
Flynn
Jake
Mason
Buttons
Evan
Boomer
Oli
Oscar
Axel
Apu
Oliver
Alex
Jack
Kaio
Diesel
Nicky
Reggie
Ricky
Czar
Frankie
General
Harry
Ben
Gaston
Apollo
Teddy
Judge
Noah
Einstein
Billy
Seb
Elvis
Quentin
Cheetos
Archie
Alexander
Mikey
Chad
Captain
Usain
Manny
Frank
Will
Dexter
Bailey
Eddie
Charlie
Dave
Cameron
Wyatt
Arnie
Theo
Greg
Ben
see also our other male bengal cat names
Female Bengal Cat Names
Brenda
Minnie
Ella
Cinnamon
Diana
Penny
Lola
Iris
Rae
Carly
Darling
Ava
Annie
Jasmine
Bella
Chocolate
Megan
Dakota
Zöe
Orla
Trixie (one of our best female bengal cat names )
Stella
Demi
Mia
Amie
Fiona
Jess
Beth
Karla
Gigi
Wanda
Enid
Hazel
Ingrid
Nora
Chloe
Nala
Leyla
Judy
Sasha
Zelda
India
Mitzie
Tia
Peaches
Georgie
Helga
Viola
Daisy
Honey
Willow
Emily
Adele
see also our female bengal cat names
Cute Bengal Cat Names
Cherry
Boo Boo
Beauty
Sunny
Bubbles
Queenie
Tigger
Belle
Buttons
Heaven
Bloom
Pumpkin
Angel
Cherub
Honey
Cuddles
Sweetie
Bitsy
Dream
Sparkle
Bonnie
Kitty
Divine
Tickles
Giggles
Muffin
Darling
Mufty
Charm
Diamond
Silver Bengal Cat Names
Cinna
Marble
Gleam
Gray
Sylvie
Storm
Ash
Bullet
Saffron
Pewter
Weber
Opal
Ice
Sterling
Pearl
Flash
Slate
Iron
Misty
Foggy
Tao
Seal
Tinsel
Glitz
Smokey
Cinder
Whisper
Granite
Ember
Miss Kitty
Queen
Gunner
Nugget
Glam
Shine
Steel
Argent
Famous Bengal Cat Names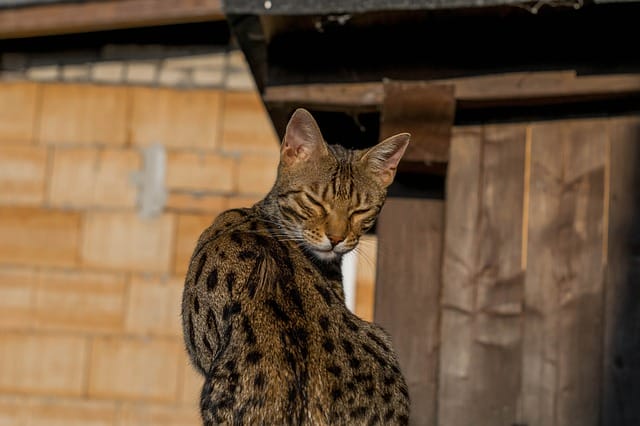 Nahal
Garfield
Manchas
Felix
Simba
Tigress
Aslan
Zuba
Nermal
Cheetata
Kovu
Sarabi
Rajah
Zira
Boots
Clawhauser
Heathcliff
Tonto
Nala
Kiara
Sylvester
Bagheera
Cheetato
Tom
Figaro
Duchess
Kion
Mufasa
Scar
Cool Bengal Cat Names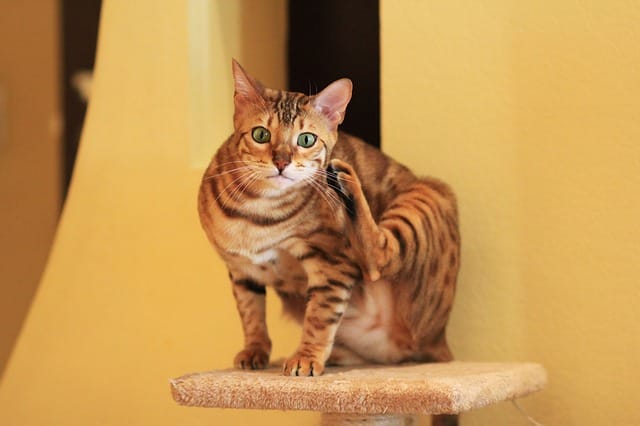 Quest
Killer
River
Logan
Forest
Bracken
Saber
Prey
Poacher
Hunter
Maze
Trapper
Tracker
Trail
Clash
Frisky
Raid
Hero
Fern
Hawk
Leonard
Drive
Blaze
Falcon
Ranger
Nala
King
Thicket
Bramble
Chase
Shikar
Bagheera
Prowler
Louie
Spook
Valley
Flush
Scout
Ferret
Marbles
Chester
If you found those name ideas above don't meet your taste, you can easily find a perfect name with our cat name generator. 
If you prefer the visual experience we hand selected our favorites from this list in this video.