Looking for the perfect black and tan dog name? You've come to the right place!
This list has over 200 names for black and tan dog breeds.
Whether you're looking for a name that honors your pup's heritage or just something unique and fun, we've got you covered.
Black and tan dog breeds include German Shepherds, Rottweilers, Boxers, Coonhounds, and Bulldogs.
So what are you waiting for? Start browsing our list of black and tan dog names now!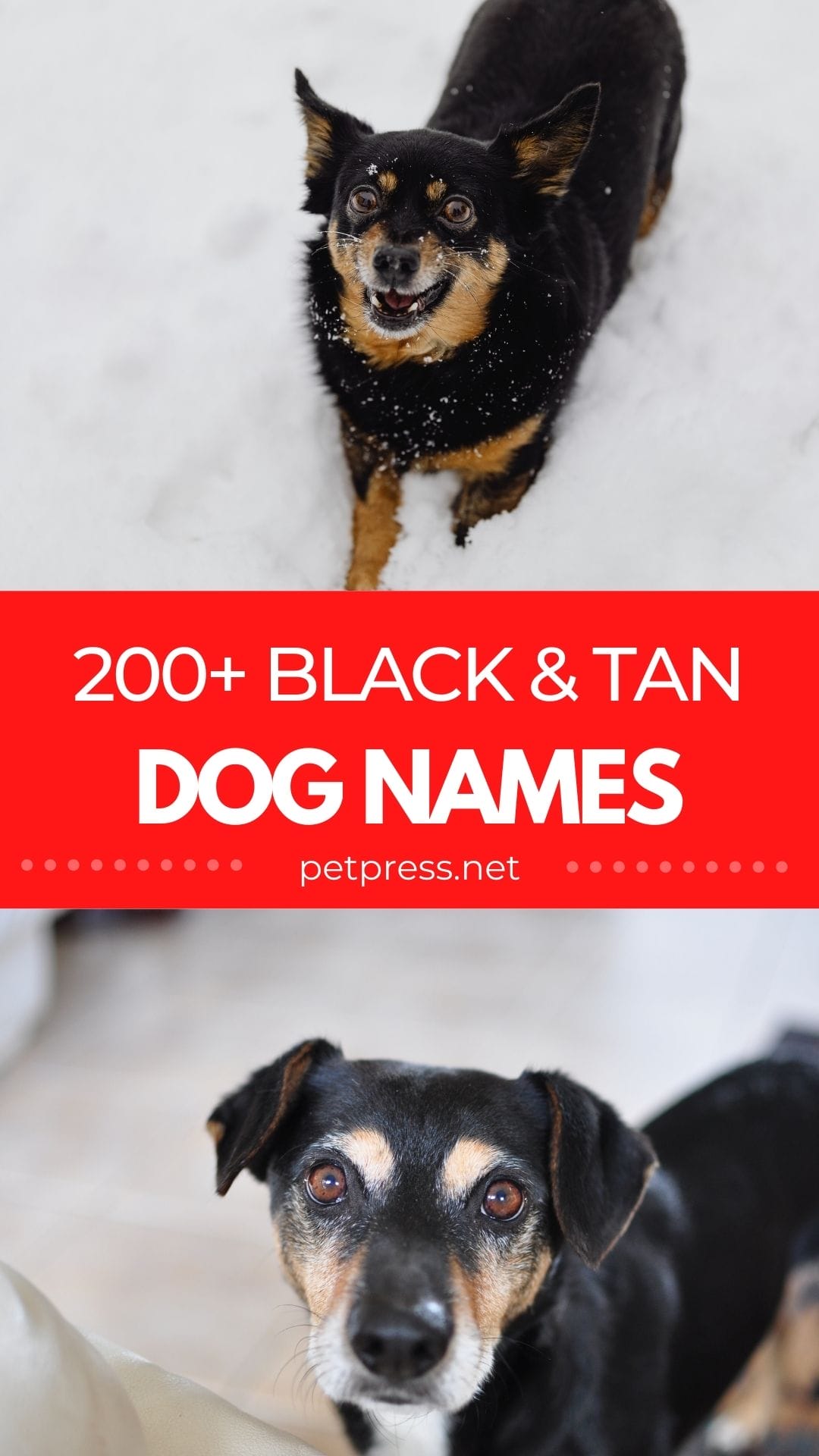 Here are the best black and tan dog names which also include male and female name ideas.
Male Black & Tan Dog Names
Kuno
Spot
Hawk
Cecil
Carbon
Coal
Reece
Inkblot
Knobby
Leilo
Dusty
Gunner
Storm
Julian
Shadow
Tater
Shade
Spades
Bruno
Jamesy
Spade
Hunter
Sooty
Calla
Winston
Tanner
Smoke
Fancy
Kellen
Chase
Jet
Cocoa
Mamba
Smokey
Topper
Foo
Duncan
Shawn
For more ideas, check our list of male black dog names.
Female Black & Tan Dog Names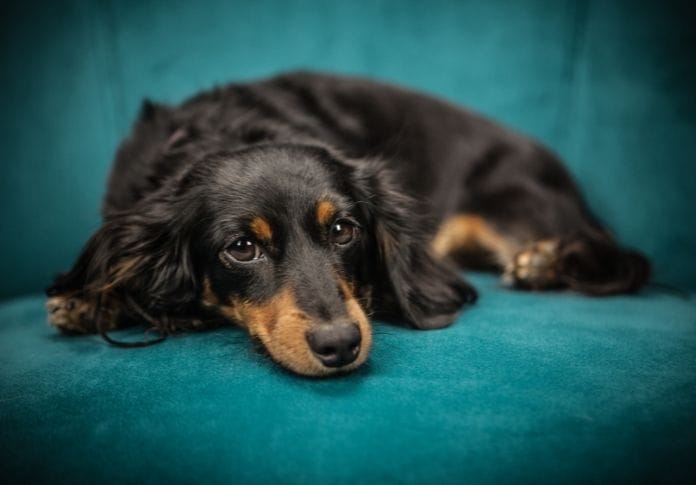 Hecate
Gem
Huntress
Tiffany
Kedavra
Celeste
Graphite
Opal
Odile
Von Rothbart
Onyx
Darcy
Pearl
Talladega
Jewel
Leila
Donnie
Puddle
Dahlia
Angel
Trixie
Ghost Rider
Poe
Dakota
Pepper
Harley
Diabolique
Minuit
Pitch
Nevermore
Phantom
Pepsi
Nimbus
Rosie
Panther
Deadshot
Morticia
Mystica
For more ideas, check our list of female black dog names.
Cute Black & Tan Dog Names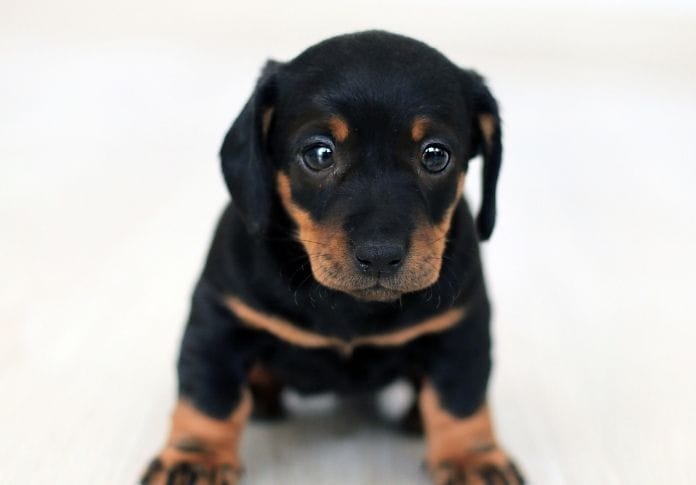 Sadie
Trudy
Angus
Tippy
Huey Lewis
Georgina
Treacle
Darling
Vilma
Daisy
Nero
Sweetie
Domino
Chicory
Jannette
Caviar
Sting
Kory
Nhi
Blackie
Ace
Grace
Anisette
Licorice
Monday
Bubbles
Fuzzy
Anna Lee
Puffins
Shaunee
Petal
Midnight
Sonya
Black Bean
Cutie
Achilles
Smudge
Noir
Tegan
Shandy
Moonstruck
Moonbeam
Acer
Fluffy
Sammie
If you're looking for hilarious name ideas, check our list of funny black dog names.
Cool Black & Tan Dog Names
Cronin
Eclipse
Blackberry
Crow
Diesel
Rorschach
Currant
J.J.
Ernie
Spots
Eightball
Steel
Caleb
Chrome
Smudge
Raccoon
Elmo
Sir
Stick
Ember
Soot
Delano
Zander
Paul
Dagan
Lily
Tony
Cinder
Knight
Nigel
For dog breeds such as Lancashire Heeler dogs, check our list of Lancashire Heeler Dog Names
Unique Black & Tan Dog Names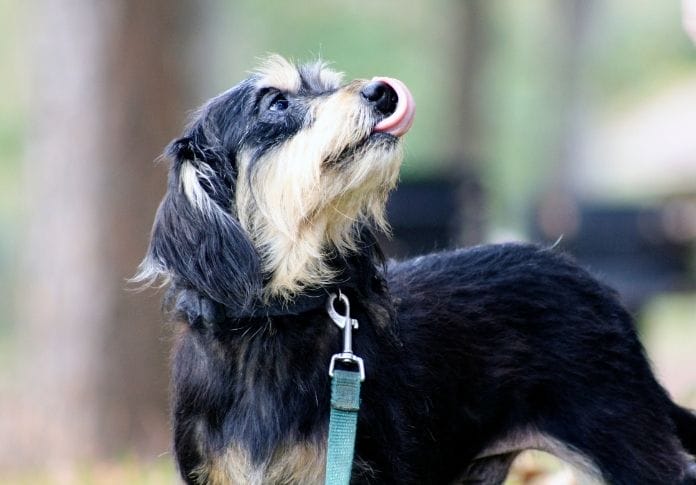 Wednesday
Ajax
Inky
Sable
Wilder
Harlequin
Margarita
Tienna
Misfit
Black Knight
Cobb
Cherokee
Grayson
Taskia
Aiden
Fleur
Onyx
Chico
Selena
Badger
Tansy
Metallica
Agent
Muse
Nightshade
Sophora
Liami
Yukon
Raskolnikov
Inkspot
Susan
Larnie
Velvet
Dash
Mickey
Poppy Seed
Thirteen
Galaxy
Restorical
Undertaker
Chaplin
Kasha
Hershey
Tarmac
Vader
Widow-maker
Stormy
Scout
Loranna
Bootleg
Espresso
Agate
Ricky Rocket
Jet
Tavarra
Nate
Rosalee
Salami
Vlad
Thunder
Vega
Cree
Olive
Bash
So there you have it, over 200 black and tan dog names to choose from! Hopefully, this list has given you some great ideas for naming your new black and tan pup.
If not, don't worry – we've still got plenty of other naming articles that will help you find the perfect name for your four-legged friend like our list of popular black dog names.