Black Friday is coming up and we want to help you find the perfect dog gift for your furry best friend…. with a big discount!
We've compiled a list of 15 awesome Black Friday dog gifts that every dog lover will love this Black Friday.
Whether you want to give them a new fancy toy or a cool-looking dog bed, these are just some awesome dog gifts that are just what you're looking for!
You'll be sure to find something on our list that's perfect for your furry friend!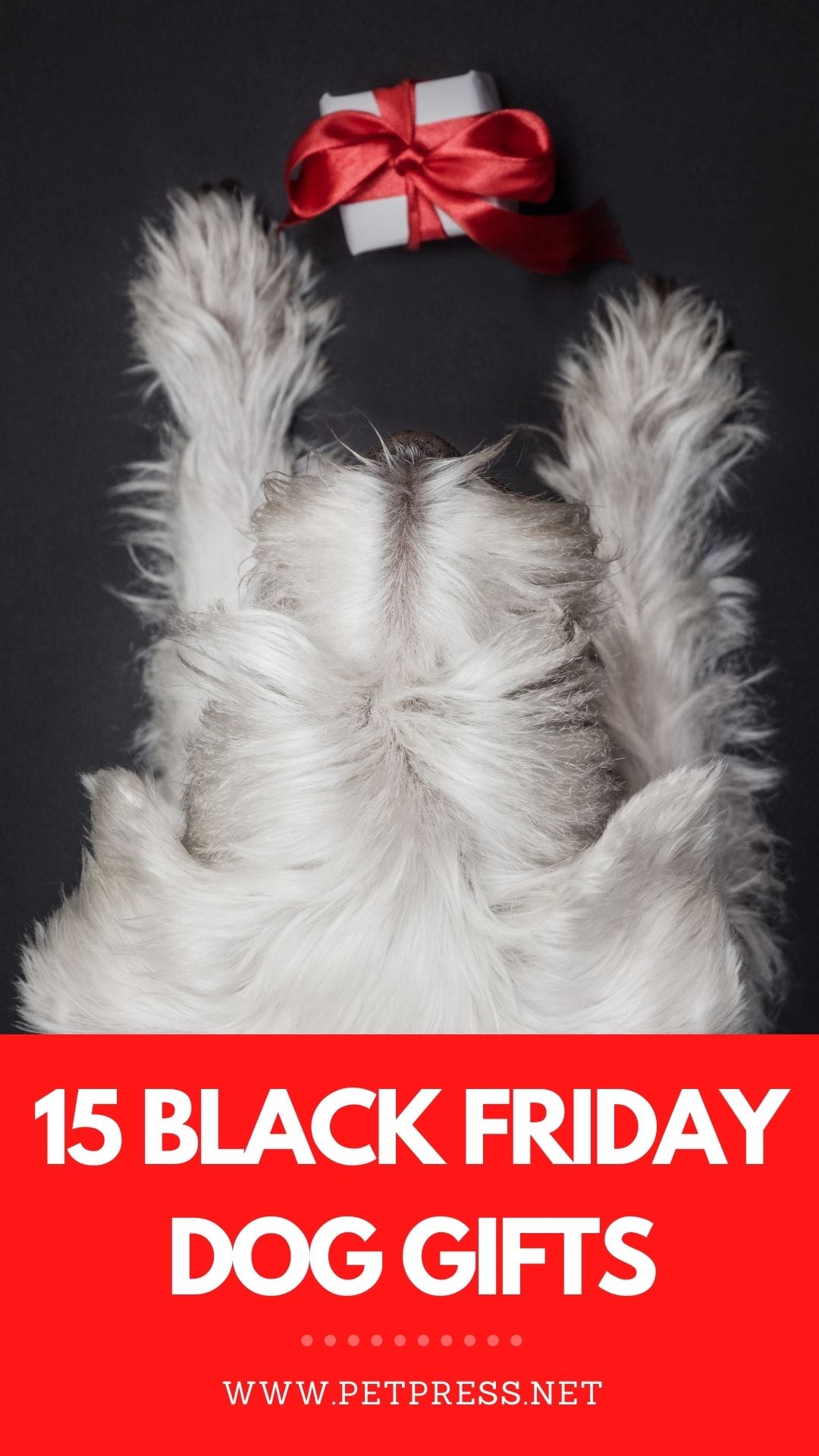 Check out these deals that you can grab this Black Friday for dogs.
This dog bed for medium dogs has a raised rim that creates a sense of security and provides head and neck support, while the super-soft filling offers joint and muscle pain relief.
Tired of your pet shedding? Remove pet hair in a second. This pet hair remover roller can easily clean dog hair from your bed, furniture, couch, sofa, chair, car, carpet, and so on.
If you can't handle your dog barking and you need to give some training, this device will come in handy. The bark collar works in automatic mode, in which sounds and vibrations are combined to effectively and safely stop the barking. Useful when you are not at home and your dog stays alone.
The dog calming mat helps calm and soothe your pet by helping release endorphins through the promotion of licking. It is a boredom buster for the dog to suppress destructive behavior and relieves anxiety at home alone.
This chew toy can release your puppy's extra energy by chewing and playing. The toy can help them develop healthy chewing habits, clean their teeth, relieve anxiety, increase interaction between you and your puppy, and reduce your puppy's boredom and barking problems.
If your pup has trouble in an ordinary dog bed, then Veehoo is here to save you. The raised dog bed can hold a maximum weight of 150 pounds, and your pet best friend can say goodbye to the fear of a sudden bed collapse. Sleeping on an elevated dog bed is more comfortable, cleaner, dryer, and healthier compared to the ground.
The dog rope toys are great for training while interacting like toss and fetch and tug of war. This way it can also promote the relationship between dogs and owners and keep your dogs busy.
Sometimes dogs don't scratch things in purpose. It is because they have long and sharp nails! The cordless dog nail clipper is built with an advanced diamond bit grinder that delivers superior control and precision. It is also portable and has a LED light below the grinder that shines on your pet's claw so you can see it better, preventing over-grinding or cutting.
Don't worry about your dog leaving waste behind. Pet parents can rely on the time-tested natural strength of claw scoop to turn an unpleasant chore into a mess-free, stress-free, convenient disposal. Pet parents can operate the claw scoop with one hand for quick & easy clean-up.
Instead of chewing shoes, sofa, pants, trash cans, the long-lasting chewing dog toy is a much better option.
With the Wopet automatic pet feeder, you can feed your dog up to 4 times per day with adjustable portions according to your dog's needs. The feeding schedule can also be customized and has a good capacity so your pup will never run out of treats.
The dog car seat booster is designed with two safety belts to prevent sliding in the car. Perfect enough so that your pet won't disturb you when you driving. Adjustable straps fit most cars and there is a ring to hook the dog's harness too so it won't jump out.
Put the pet training pad in the crate or kennel to prevent the dog's urine or poop from soiling. It not only provides a good living environment for the dog but also makes the cleanup easy for the pet's owner.
The stainless steel pet fountain has a large, wide drinking space for small and medium pets with enough water capacity for 2 weeks even. This comes in handy when you are on a business trip.
The outdoor dog cable is made of durable, vinyl-coated aircraft cable and a rust-proof 20-foot dog tie which is long-lasting. It provides your dog with freedom and safety at the same time. Good for dogs under 100 pounds.
With the end of November approaching, Black Friday is just around the corner.
So if you're looking for some last-minute gift ideas, we have compiled a list of 15 best dog gifts to help you find presents that any dog lover will appreciate this holiday season!
From tennis ball launchers to squeak toys to designer handbags and jewelry with dog designs, there are so many great items here at every price point.
And don't forget about all those dogs out there waiting patiently by their owners' side –they deserve something special too.