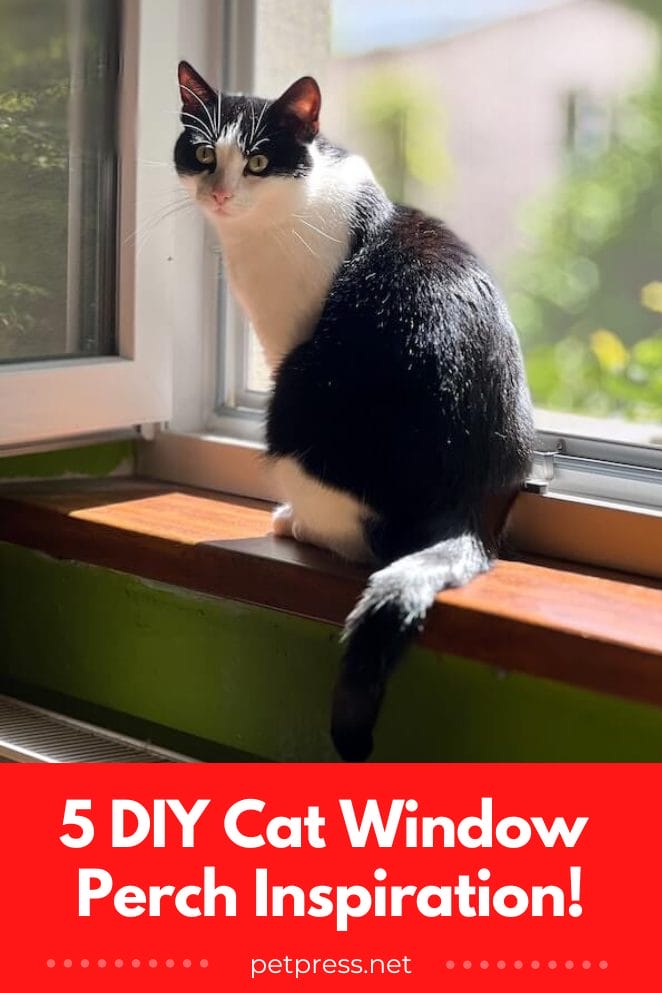 If you have a kitty who loves to bask in the sun and watch the world go by, a DIY cat window perch is an ideal way to provide them with their very own special spot.
Not only does it give your feline friend an excellent view of the outdoors, but they'll also love having a cozy place to lounge while enjoying fresh air circulating through the room.
With just a few simple materials, you can create this perfect perch and your beloved pet will thank you for it! So why wait?
Put on your crafting gloves and get ready to make the perfect habitat for your kitty companion. It'll be purr-fection!
Wooden Ledge Perch
To create a custom windowsill shelf, measure the width inside the frame and cut plywood to fit. Wrap the edges with a leather strip and secure it with nails.
Attach eye hooks at the top corners of the plywood and into the window jambs, connecting them with a safety chain.
Pre-drill holes and secure the plywood to the sill with screws. Finish by adding a cushion and sheepskin for a cozy touch.
Hanging Window Basket Perch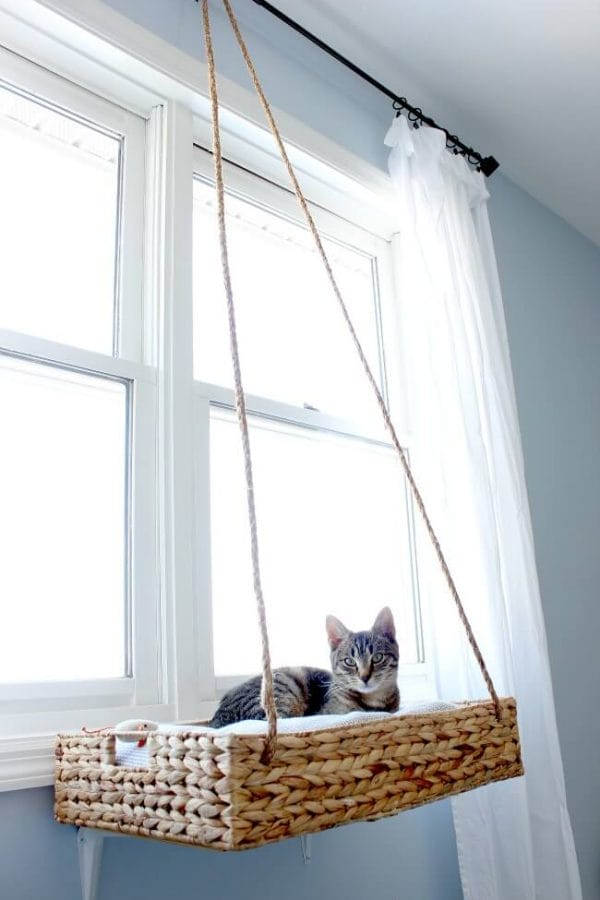 This attractive cat perch also doubles up as a decor item for any home.
Create a delightful hanging cat perch by mounting brackets under the window trim and attaching a piece of plywood on top.
Place a basket on the plywood and secure it by drilling holes and using zip ties. Make the perch cozy with a folded-down blanket and a tea towel to protect against cat hair.
For colder days, add a cozy fur blanket.
DIY Cat Tree Perch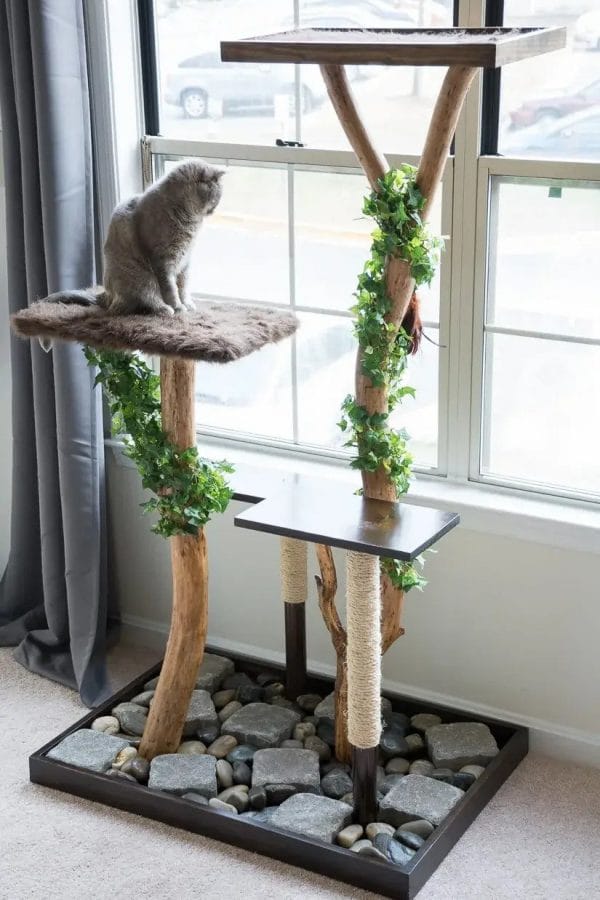 For a DIY cat tree using a real tree, start by finding a suitable tree and prepping the branches. Remove the bark, sand, and stain them.
Attach the branches to a base with screws. Create scratching posts using dowels and sisal rope. Make platforms from wood and faux fur.
Secure the platforms in place with Liquid Nails and screws. Add finishing touches like stepping stones, rocks, and faux vines for a natural and playful look.
Tray Cat Window Perch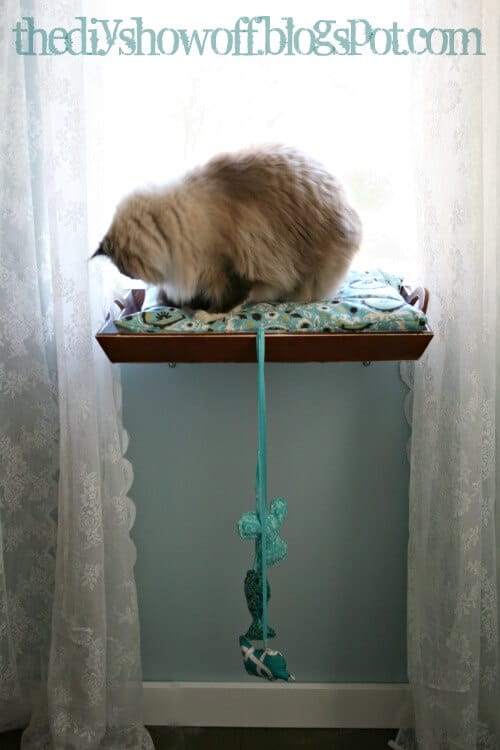 For this DIY project, you can turn an old tray into a cute little cat perch.
Create a charming windowsill shelf by sanding and decoupaging a tray with wallpaper. Sew an envelope-style pillow cover from leftover fabric.
Drill a hole for attaching catnip toys on the ribbon. Install shelf brackets and attach the tray. Add the ribbon toys and pillow for a cozy finishing touch.
Scratching Post Window Perch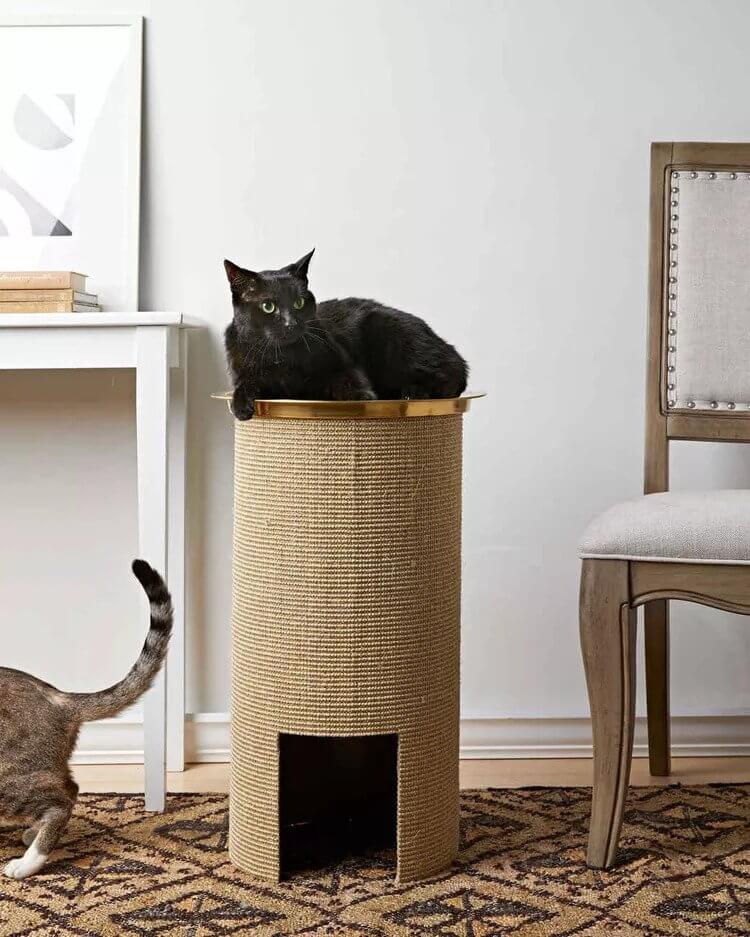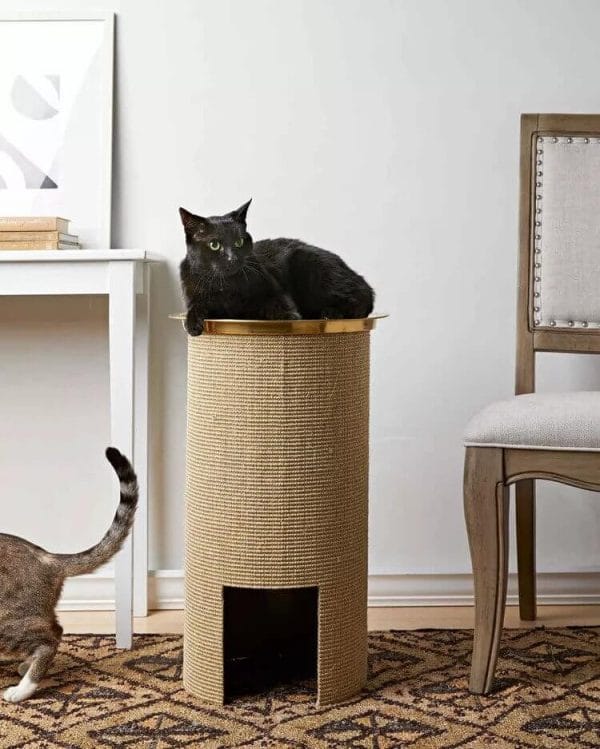 For this DIY cat tower, you'll need a tube for concrete, a handsaw, a hot glue gun with sticks, sisal, a tray, sheepskin, and a pencil.
The base is created using a sturdy cardboard cylinder, cut in half with a handsaw. Sketch and cut out a front door.
Attach a durable sisal exterior using a hot glue gun and add a shearling-lined tray on top for a cozy spot.
This way your cat will have a scratching post as well as a perch to climb upon. Place it right next to a window and watch your cat explore the world.
Why do cats like window perches?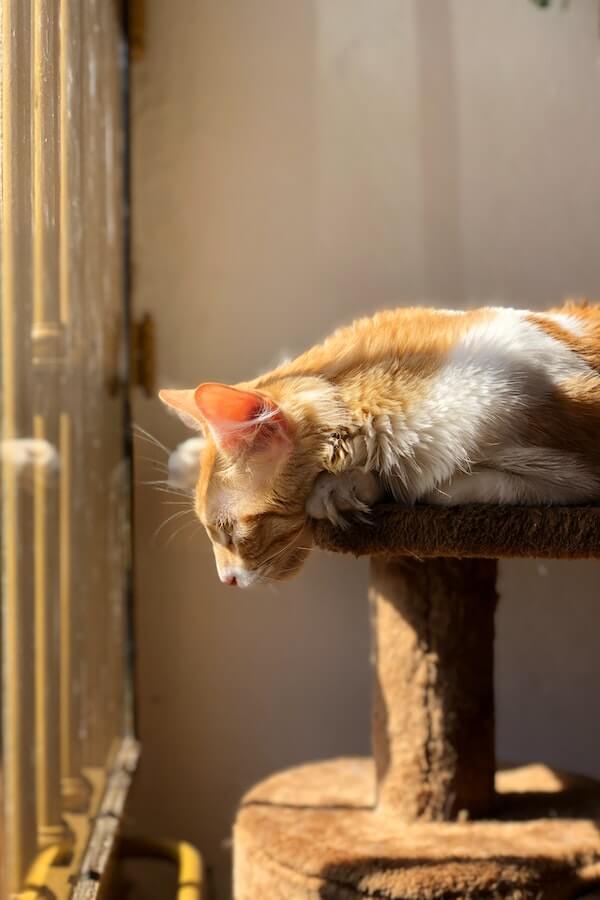 Cats sure do love their window perches, especially indoor cats. Have you ever wondered why? It all comes down to their inquisitive nature!
They can observe the world while safely being in the comfort of the inside. Plus, cats are always ready for a good sunbathing session, and what better way than stretching out on a window perch?
With a DIY cat window perch, you'll be able to provide your feline friend with hours of entertainment as they keep an eye out for birds and squirrels or just take in the view outside.
Who knows, maybe they're even thinking deep thoughts about life! Either way, one thing's for certain: cats absolutely LOVE their window perches.
So if you want to give them the best spot in the house, a homemade window perch just might be the way to go!
Final Thoughts
In conclusion, building your own DIY cat window perch is an easy and cost-effective way to give your feline friend a sunny spot to bask in the view.
With just a few simple materials and some elbow grease, you can create a stylish and safe place for your kitty to lounge in the sun!
Plus, each time you catch them sprawled out on their homemade throne, you'll be proud of all the hard work that went into making it.
You can also check out DIY catios that can also double up as a window perch.
So what are you waiting for? Give your furry companion the best seat in the house!