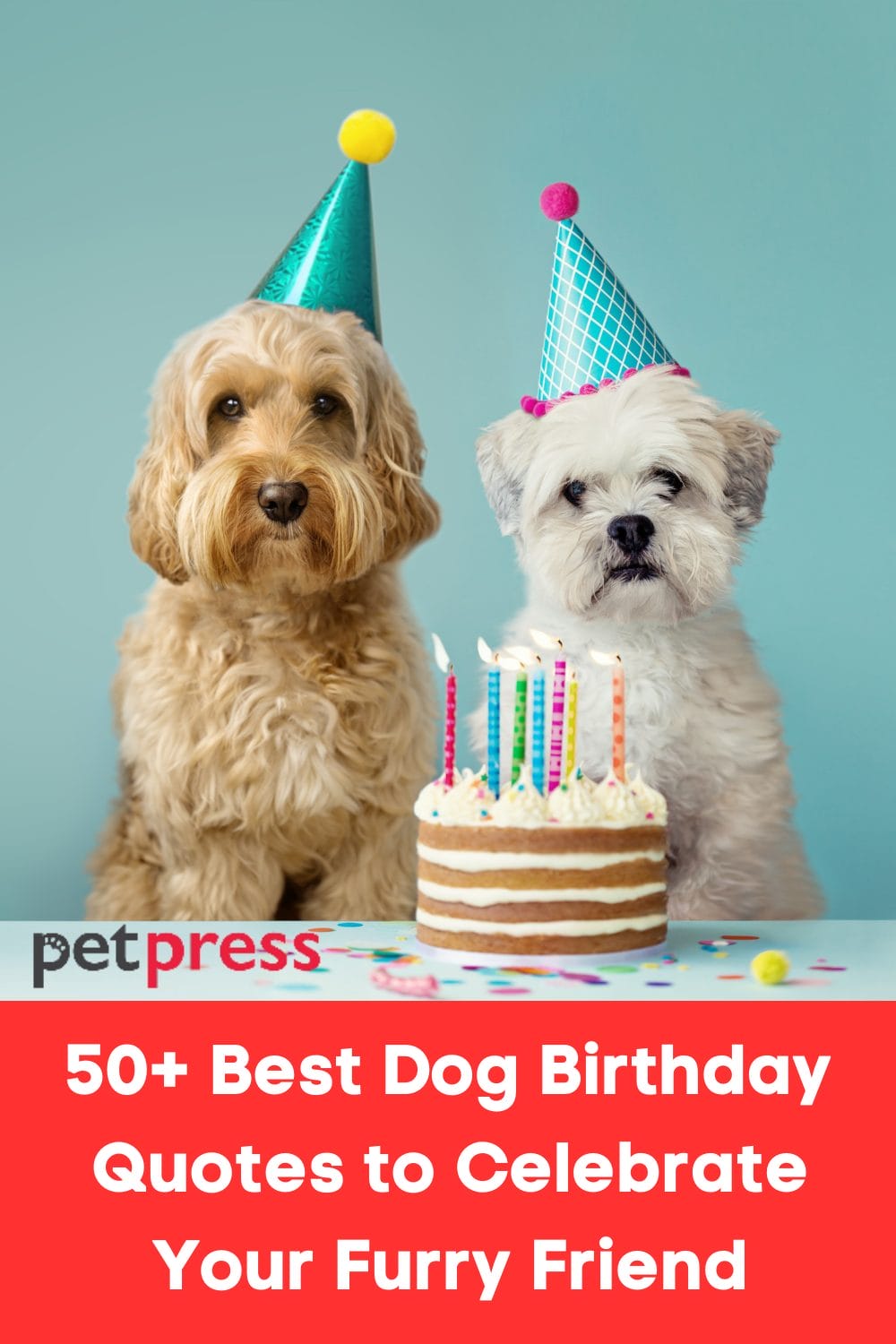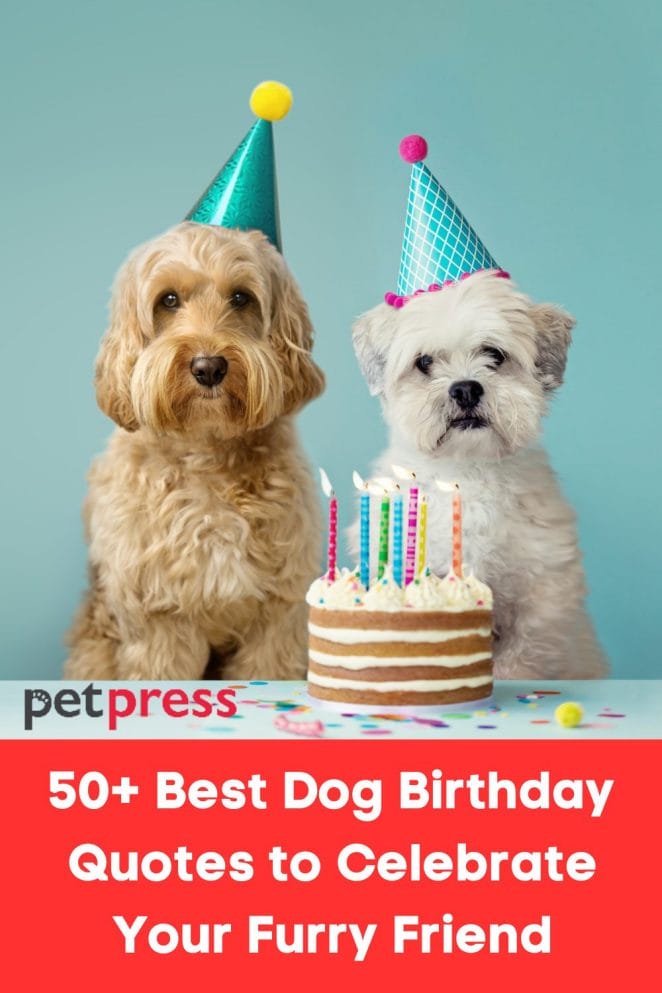 Birthdays are a special time to celebrate the ones we love, and that includes our canine companions! When adding a pop on your pup's birthday or looking for inspiration for a card, this collection of best dog birthday quotes will make them feel extra special.
With their tail wagging, wet kisses, and, most importantly, unconditional love, dogs deserve birthday treats, too. It shows them our love and appreciation for being a part of the family. It can also be the best time for you to make memories together.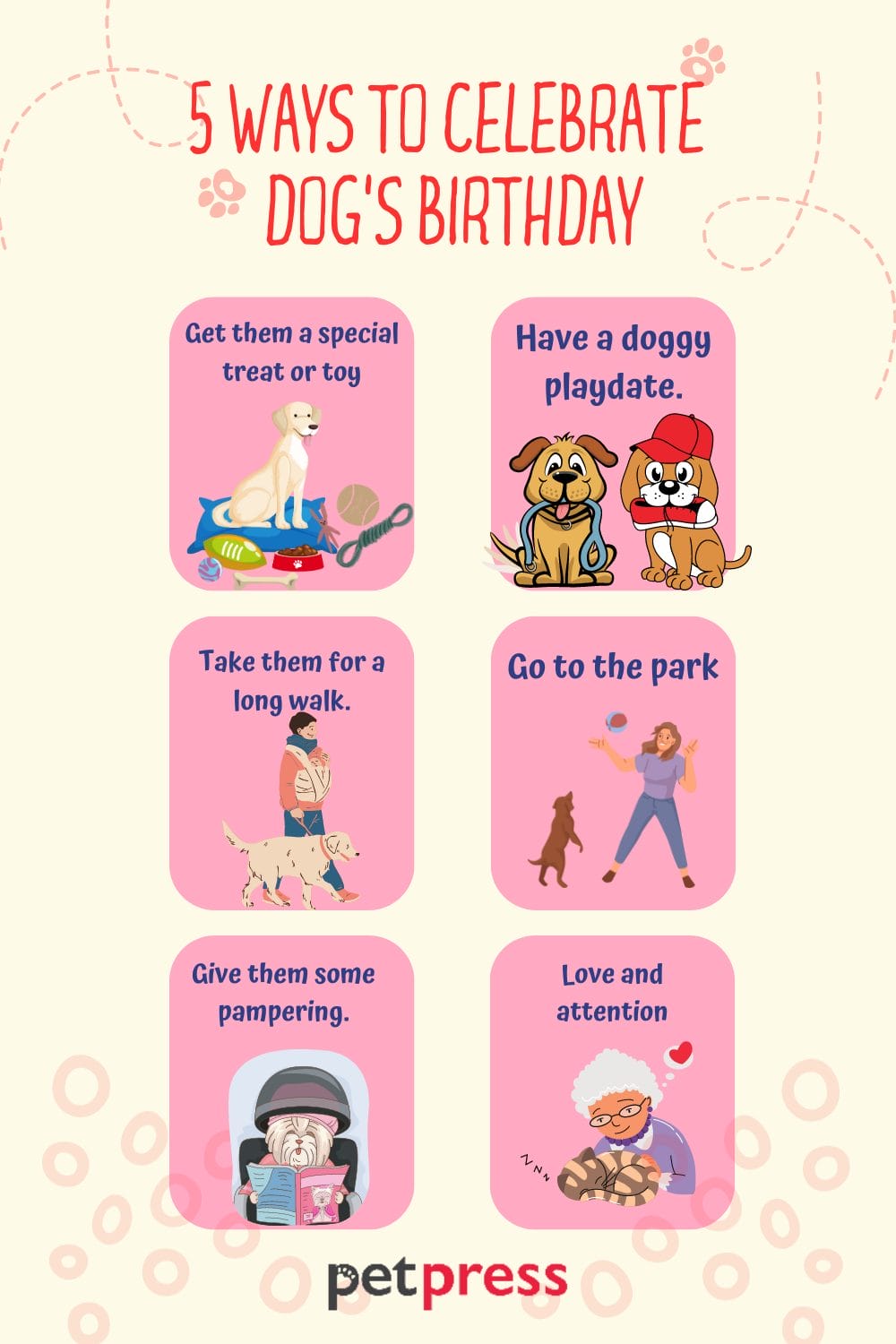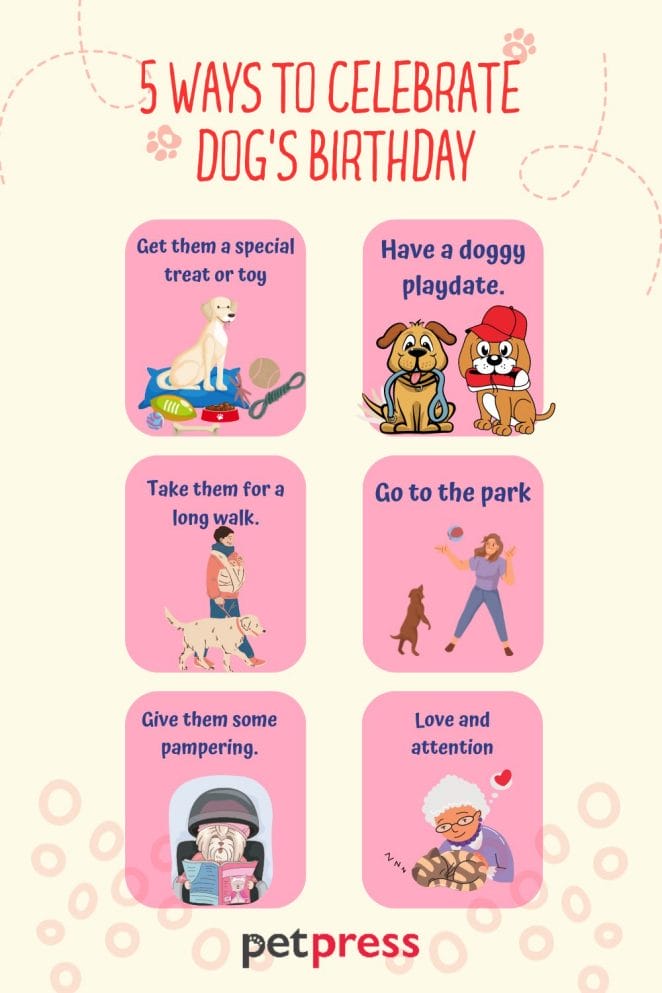 5 ways to celebrate dog's birthday
From playing the pup's favorite game to going out on a special outing, celebrating your furry friend is a time to cherish. Here are five ways to make your pup's birthday an extra special one:
Get them a special treat or toy. Whether it's a new squeaky bone, chew toy, dog birthday hat, or even a special homemade dish, getting your pup something they don't usually get will surely bring a smile to their face!
Have a doggy playdate. Invite your pup's friends for an afternoon of games and treats. Letting your furry friend play with their buddies is a great way to help them burn off some energy.
Take them for a long walk. Birthdays are special, so why not take your dog on an extended journey? Pack a few snacks and explore new parts of the neighborhood together!
Go to the park. Visit your local park and let your pup run, jump around, and play with some new friends. They will surely be delighted with this activity.
Give them some pampering. The most memorable way to celebrate their birthday is to give them extra attention and pampering! Give them an extra belly rub or a special new toy from the pet store. Let your dog know how much you appreciate them on their special day!
No matter how you celebrate, remember to pair it with one of these favorite dog birthday quotes and make the day even more memorable. From sweet and inspirational messages to funny anecdotes, you will indeed find the perfect quote for any doggo!
Best dog birthday quotes
"No one could have ever asked for a more devoted friend — Happy Birthday, pup!"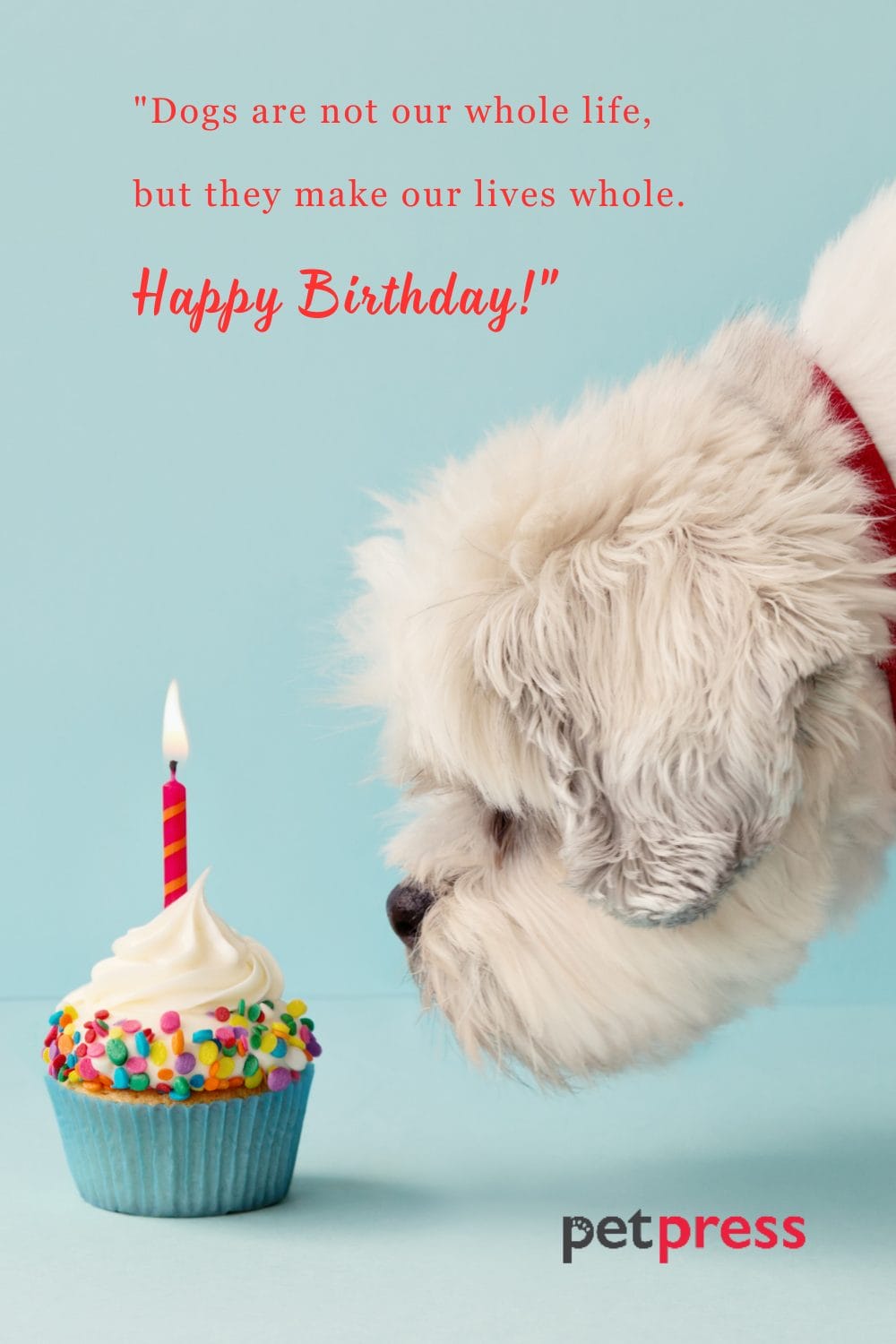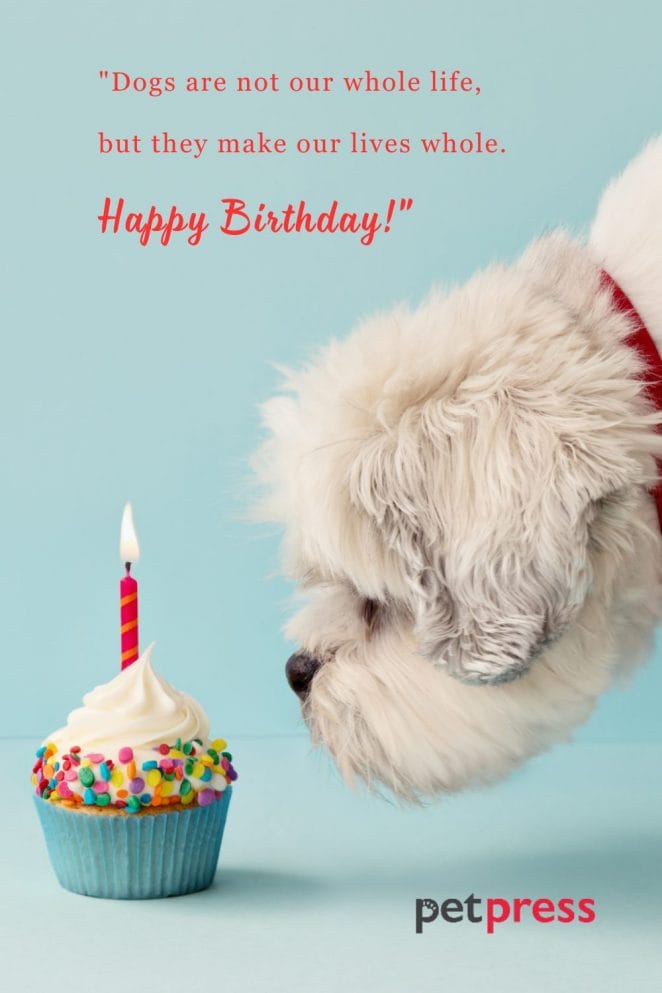 "Dogs are not our whole life, but they make our lives whole – Happy Birthday!"
"Love is a four-legged word and that's why I love you so much – Happy Birthday!"
"A good dog is the greatest of blessings – Wishing you a birthday full of treats and joy!"
"I don't think there are enough words to express how much I love my dog – Have the best birthday ever!"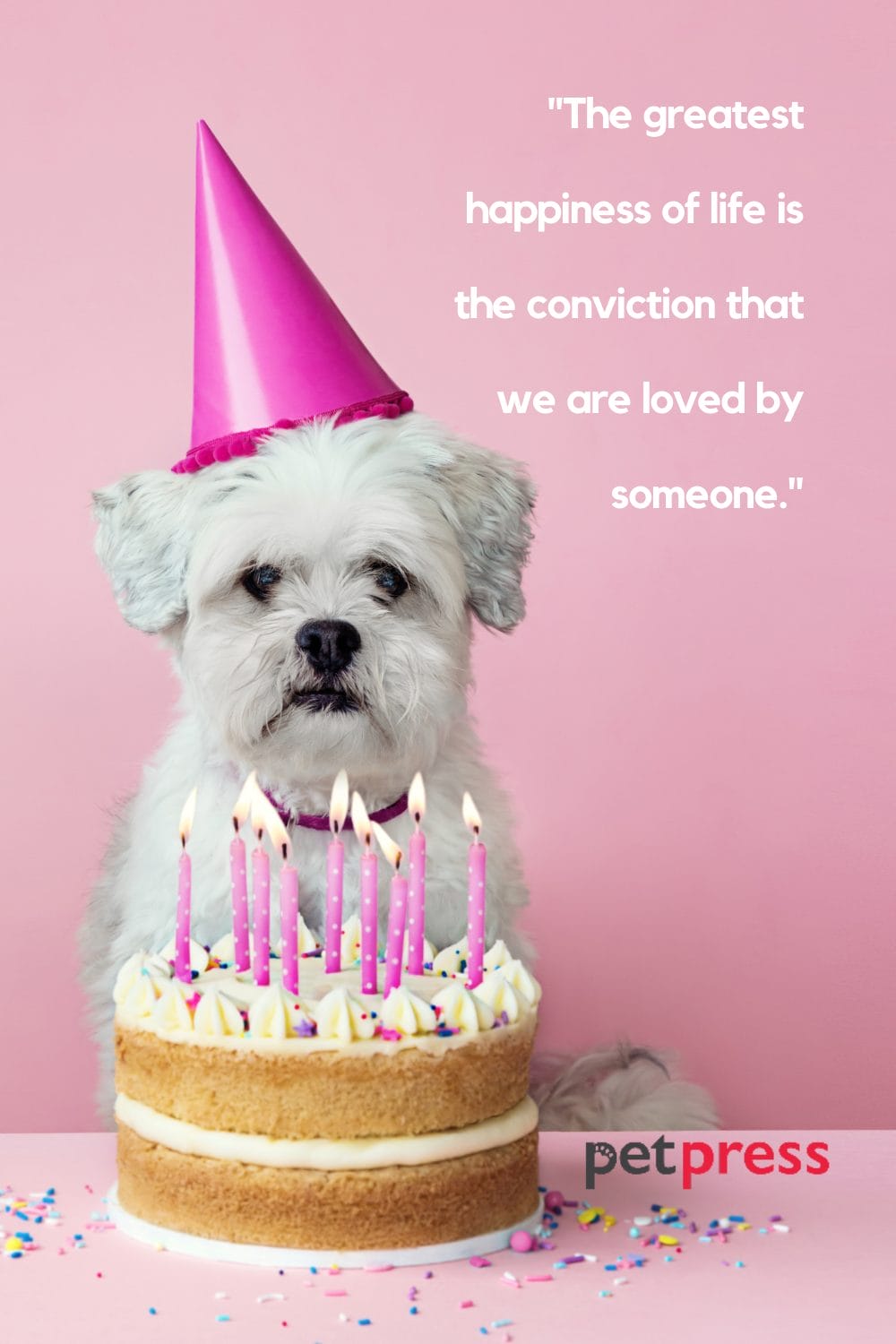 "The greatest happiness of life is the conviction that we are loved by someone."
"You don't stop wagging your tail when you grow old; You grow old when you stop wagging your tail – Have an amazing birthday, pup!"
"A dog's purpose in life is to be loving and loyal; The perfect example of unconditional love – Celebrate your special day in style!"
"Not all those who wander are lost, especially when it comes to dogs" – Cheers to another year of adventures with your furry pal!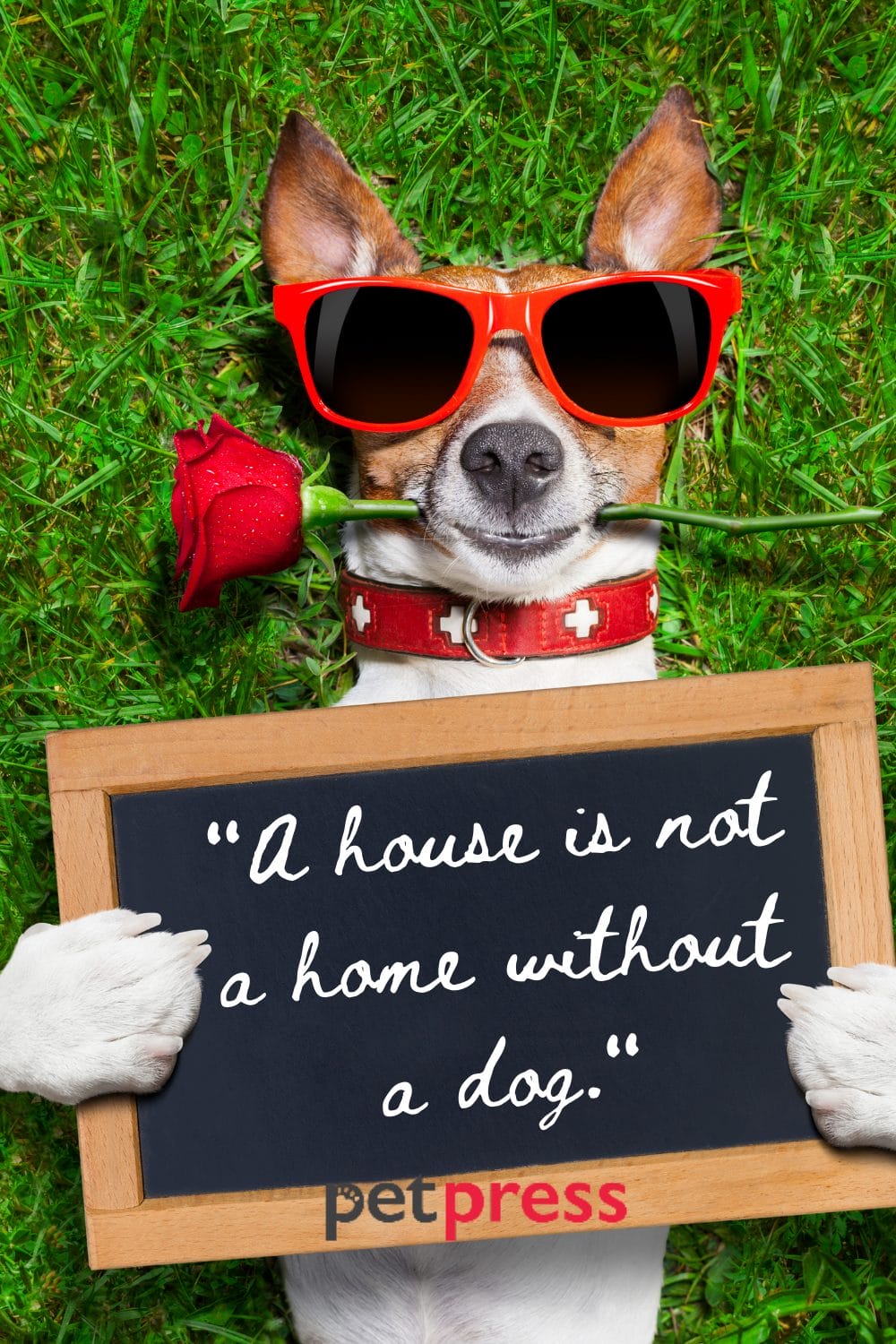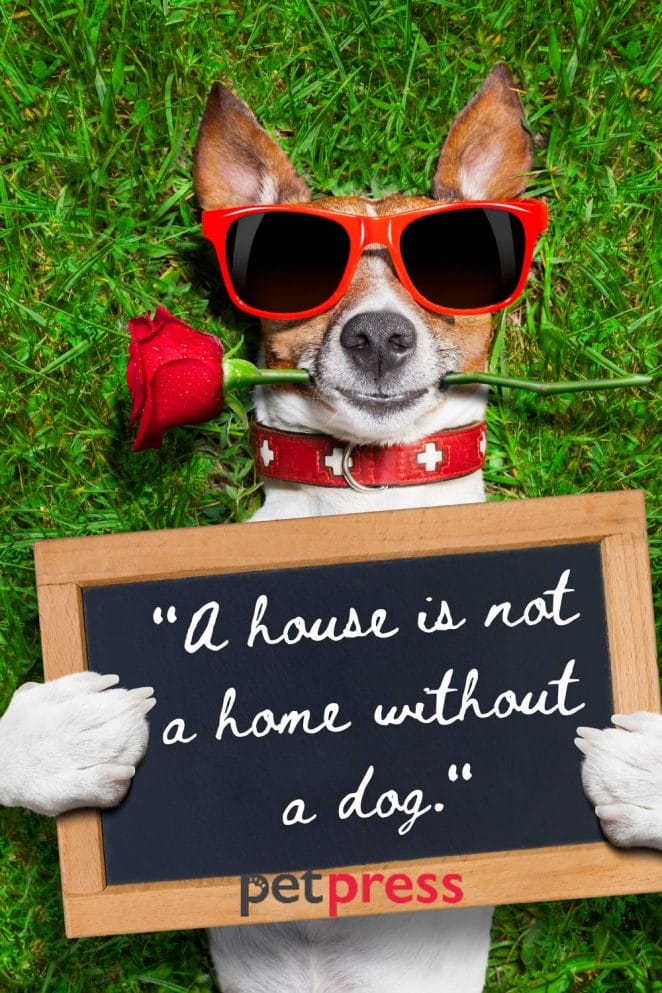 "A house is not a home without a dog."
"When you wake up every day, it's like a new birthday; it's a new chance to be great again and make great decisions." – Poo Bear
"To live is the rarest thing in the world, my beloved dog. Most people just exist." – Oscar Wilde
"Puppies are born with the genes for love, but it still takes a village to raise a loving dog." – Clive D.L. Wynne
"Gray hair? That's not gray…it's frosting! Some things just get sweeter with age."– Senior Tail Waggers
"We don't stop playing because we grow old; we grow old because we stop playing."– George Bernard Shaw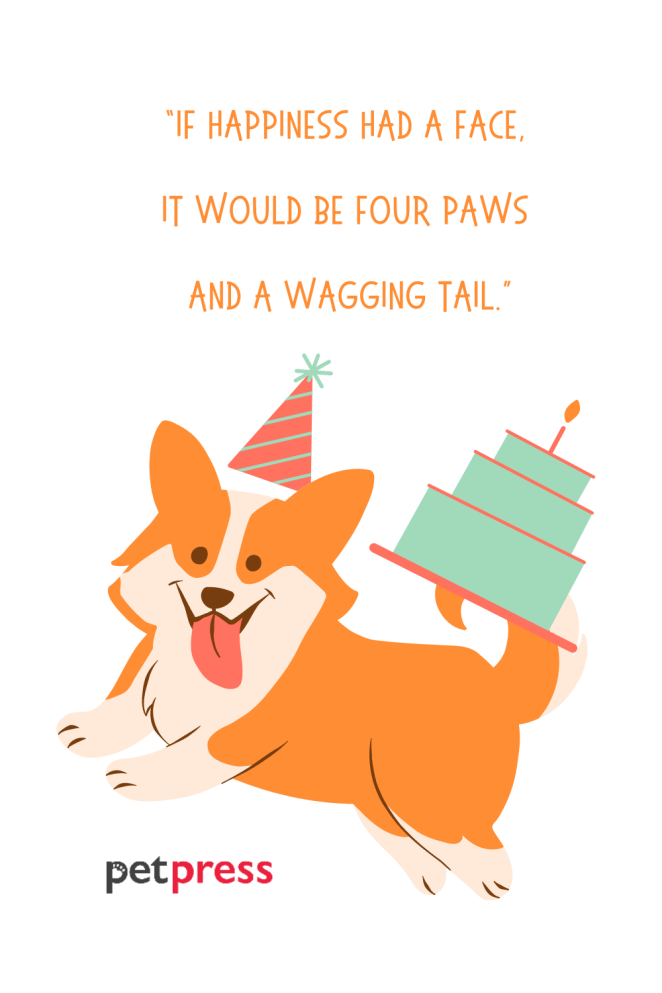 "If happiness had a face, it would be four paws and a wagging tail." – Unknown
"Joyful, joyful, joyful, as only dogs know how to be happy with only the autonomy of their shameless spirit." – Pablo Neruda
"Age is an issue of mind over matter. If you don't mind, it doesn't matter." – Mark Twain
"Old dogs, like old shoes, are comfortable. They might be a bit out of shape and a little worn around the edges, but they fit well." – Bennie Wilcox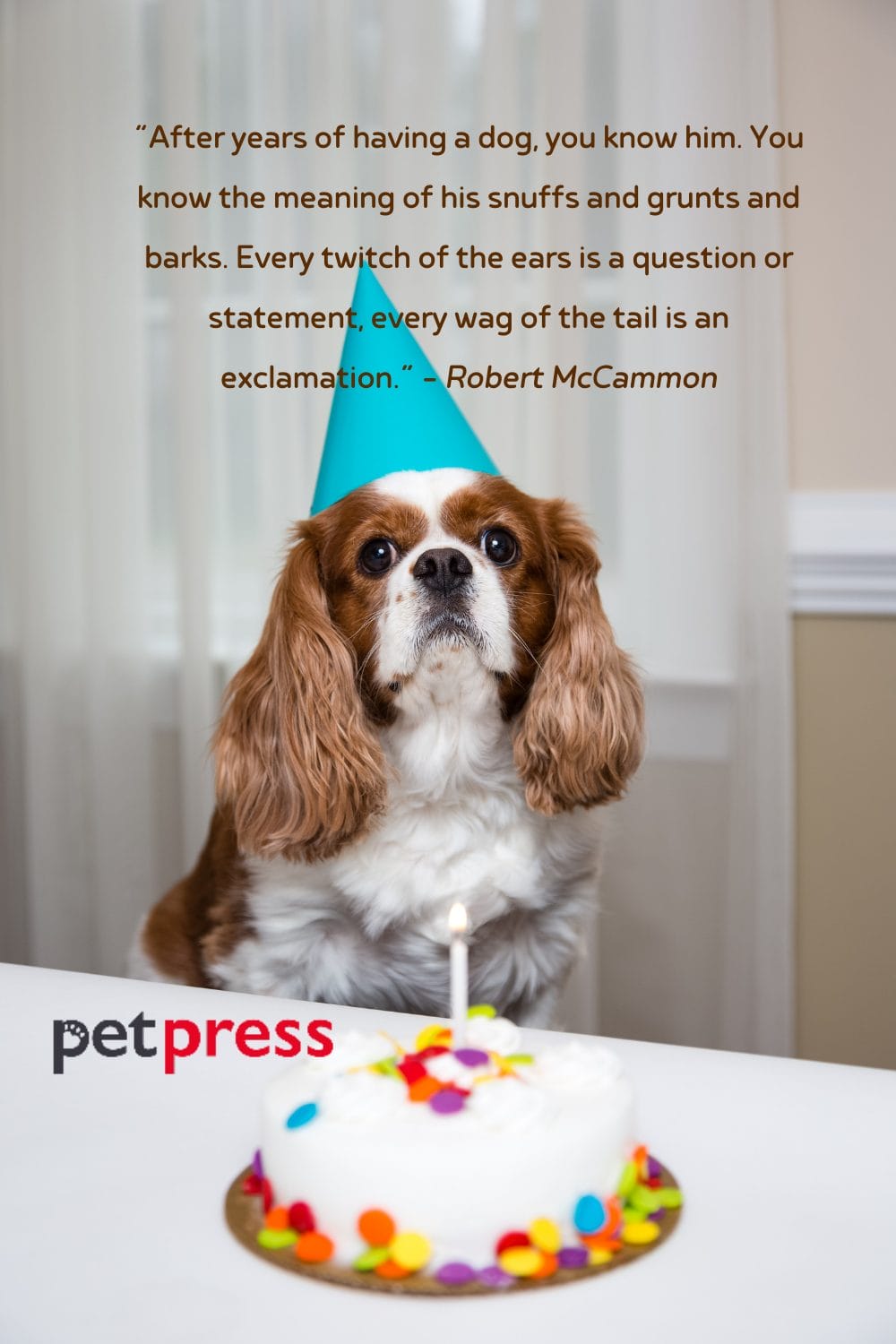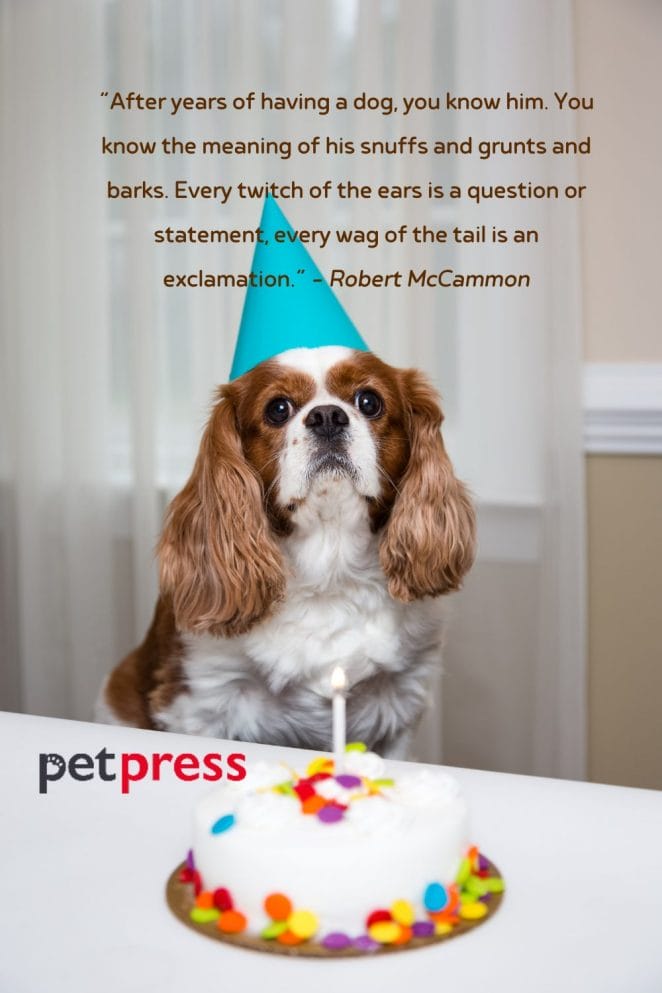 "After years of having a dog, you know him. You know the meaning of his snuffs and grunts and barks. Every twitch of the ears is a question or statement, every wag of the tail is an exclamation." – Robert McCammon
"Today you are you, that is truer than true. There is no one alive who is youer than you!" – Dr. Seuss
"When I needed a hand, I found your paw. Happy birthday to the best dog in the whole world." – Anonymous
"Who says a dog is only a pet? For me, you are a soul who is as beautiful as any human being on the planet." – HappyBirthdayAll.com
"If you want a genuine friend, then a dog is always in trend. Happy birthday!" – Happy-Wishes.net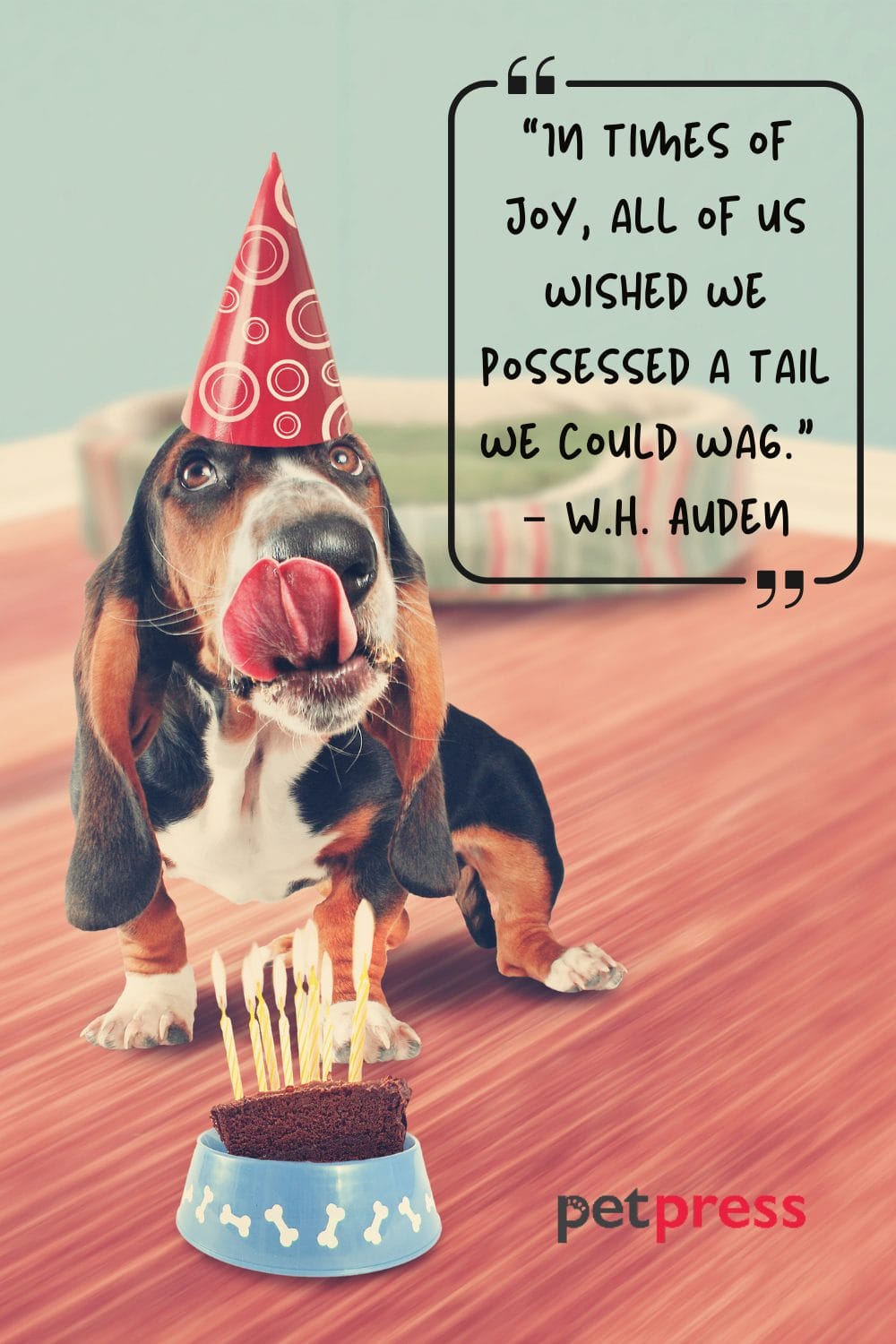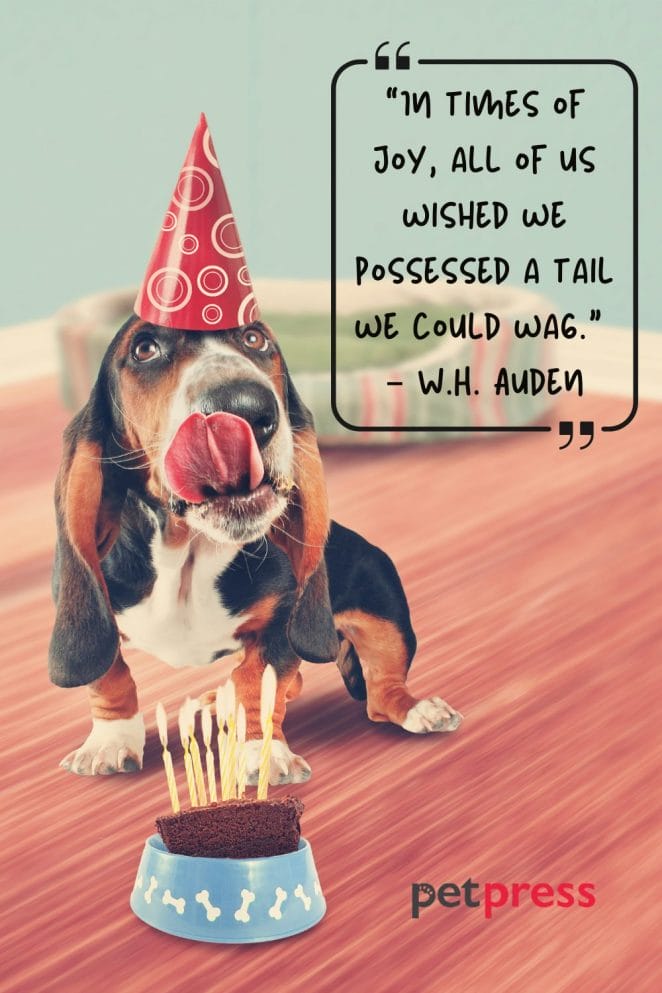 "In times of joy, all of us wished we possessed a tail we could wag." – W.H. Auden
"The journey of life is sweeter when traveled with a dog." – Bridget Willoughby
Birthdays are for breaking out the really good treats!
I hope your birthday is just like you – pawsome!
Turning one is fun, and senior dogs are not party breakers either. They deserve to have a fun birthday full of good treats with their doggy and human friends.
Some dogs know tricks, but you know how to touch my heart. Happy birthday.
You are the first being on the earth who tends to give me amazing therapy just by wagging your tail and licking my face for hours.
"Everything I know, I learned from dogs." – Nora Roberts
"Be the person your dog thinks you are." – C.J. Frick
"Dogs do speak, but only to those who know how to listen." – Orhan Pamuk
"The greatest pleasure of a dog is that you may make a fool of yourself with him and not only will he not scold you, but he will make a fool of himself, too." – Samuel Butler
"Money can buy you a fine dog, but only love can make him wag his tail." – Kinky Friedman
"Dogs are the magicians of the universe." – Clarissa Pinkola Estes
"My fashion philosophy is, if you're not covered in dog hair, your life is empty." – Elayne Boosler.
"No matter how little money and how few possessions you own, having a dog makes you feel rich." – Louis Sabin
"You can say any foolish thing to a dog, and the dog will give you a look that says, 'Wow, you're right! I never would've thought of that!" – Dave Barry
"My sunshine doesn't come from the skies. It comes from the love that's in my dog's eyes" – unknown
"Live life at the end f the leash."
"Age is just a number, but the love of a dog is timeless."
"Birthdays come and go, but the love and loyalty of a dog last a lifetime. Here's to many more years of wagging tails and wet kisses."
"We should all measure our age in dog years — there are way more birthdays!"
"The best therapist has fur and four legs."
"They say that the world needs more wagging and less barking, but you can do both for your birthday."
"You know, a dog can snap you out of any kind of bad mood that you're in faster than you can think of." — Jill Abramson
"Bliss is the result of a silent conversation between me and my dog."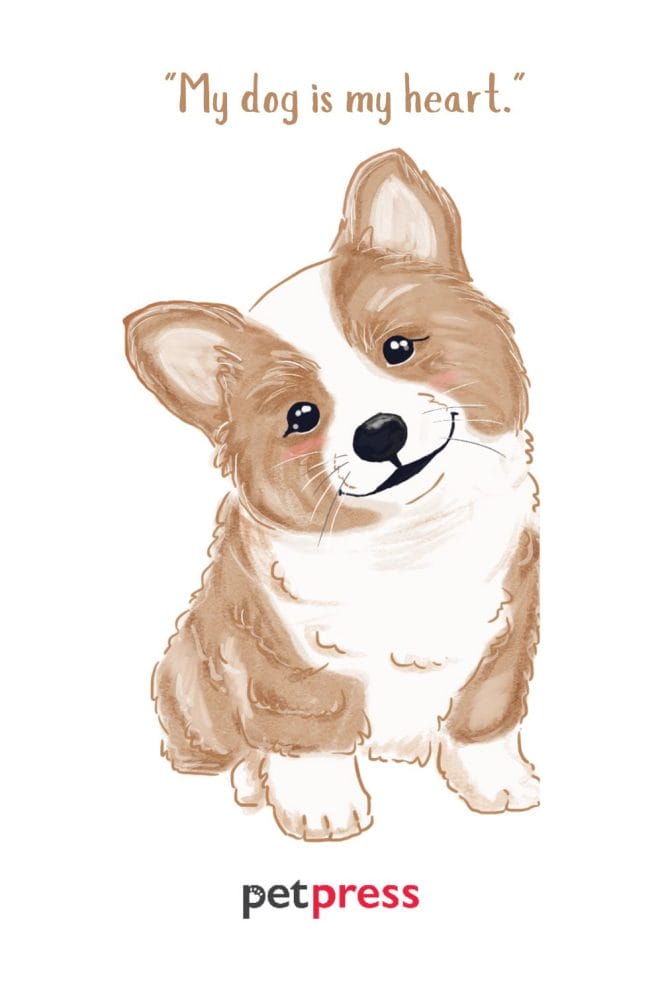 "My dog is my heart."
Celebrate this special day with dog birthday quotes
Celebrate your furry friend in style with these 50+ dog birthday quotes. No matter how you choose to celebrate, make sure to give your pup some extra love and attention on their special day. The options are endless for celebrating your pup's special day!
So get creative and find the perfect way to show them how much they mean to you. Enjoy every moment together and may all their birthdays be filled with joy and special.
Related Posts:
50+ Dog Best Friend Quotes that Prove Unconditional Love
50+ Dog Breeder Quotes to Inspire and Melt Your Heart