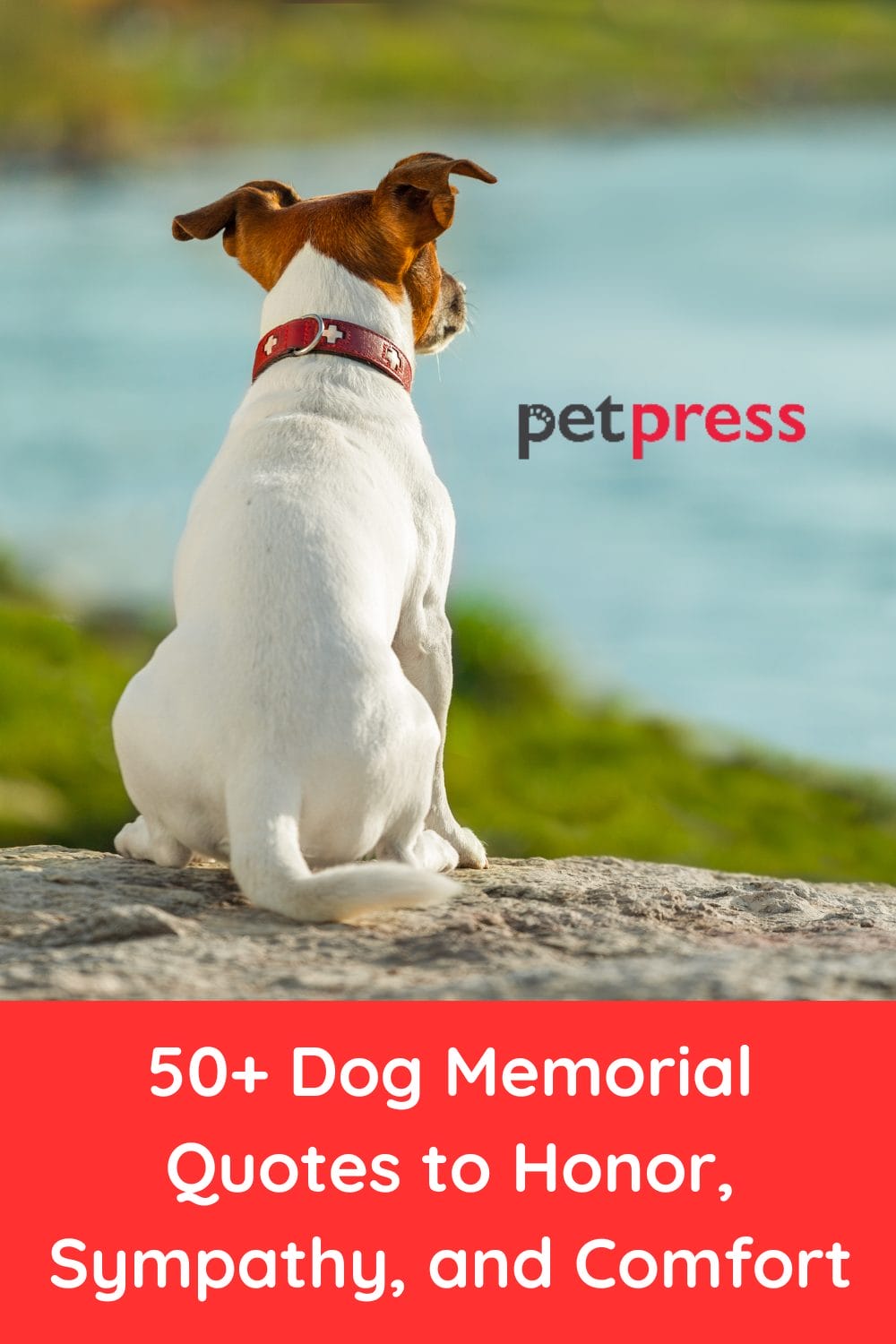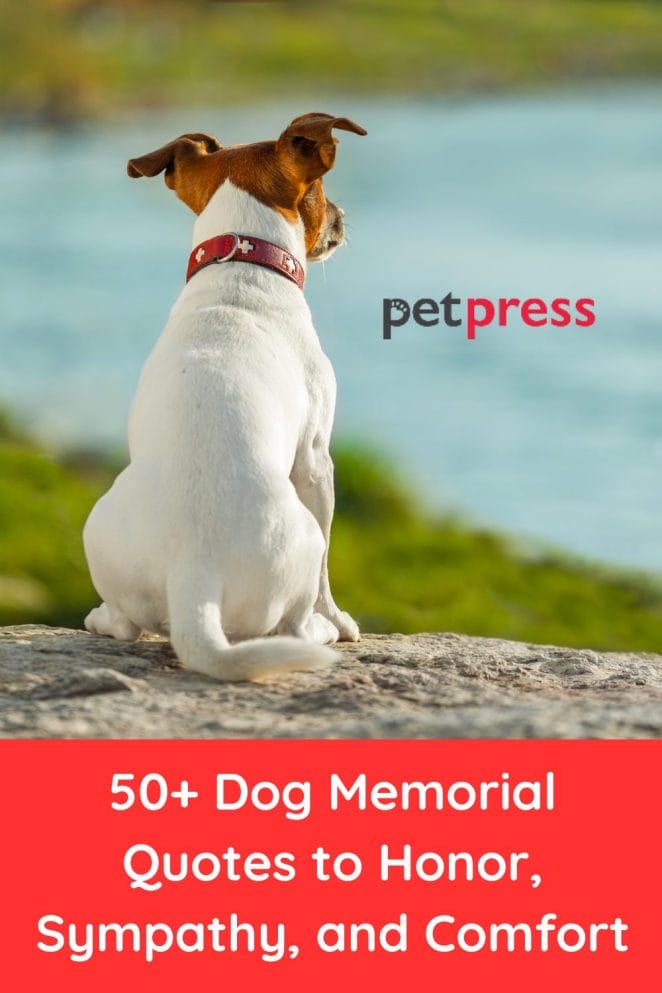 Losing a pet can be a devastating experience. With their love that is so unconditional and accepting, they greatly impact our lives, and their loss is deep. That is why dog memorial quotes help us find the right words to express our feelings during this difficult time.
Dog memorial quotes are an excellent way to honor your furry best friend. It has comforting words that can relate to heartbreak and grieving.
Commemoration of a dog is an integral part of the healing process when dealing with the loss. They are treated like any family member or a friend who passed away. As part of grief, one would wish to keep their memories alive.
Best ways to keep your pet's memory alive
Here are the best ways to keep your pet's memory alive:
Customize art or jewelry with their names engraved on it
Get a tattoo to honor your pet
Plant a tree in honor of your lost dog
Give to animals in need
Donate your time to an animal shelter
Best dog memorial quotes
Whether you need something for writing on a card or engraving on a plaque, we have curated these heartfelt dog memorial quotes to help you remember your pup's unconditional love and loyalty.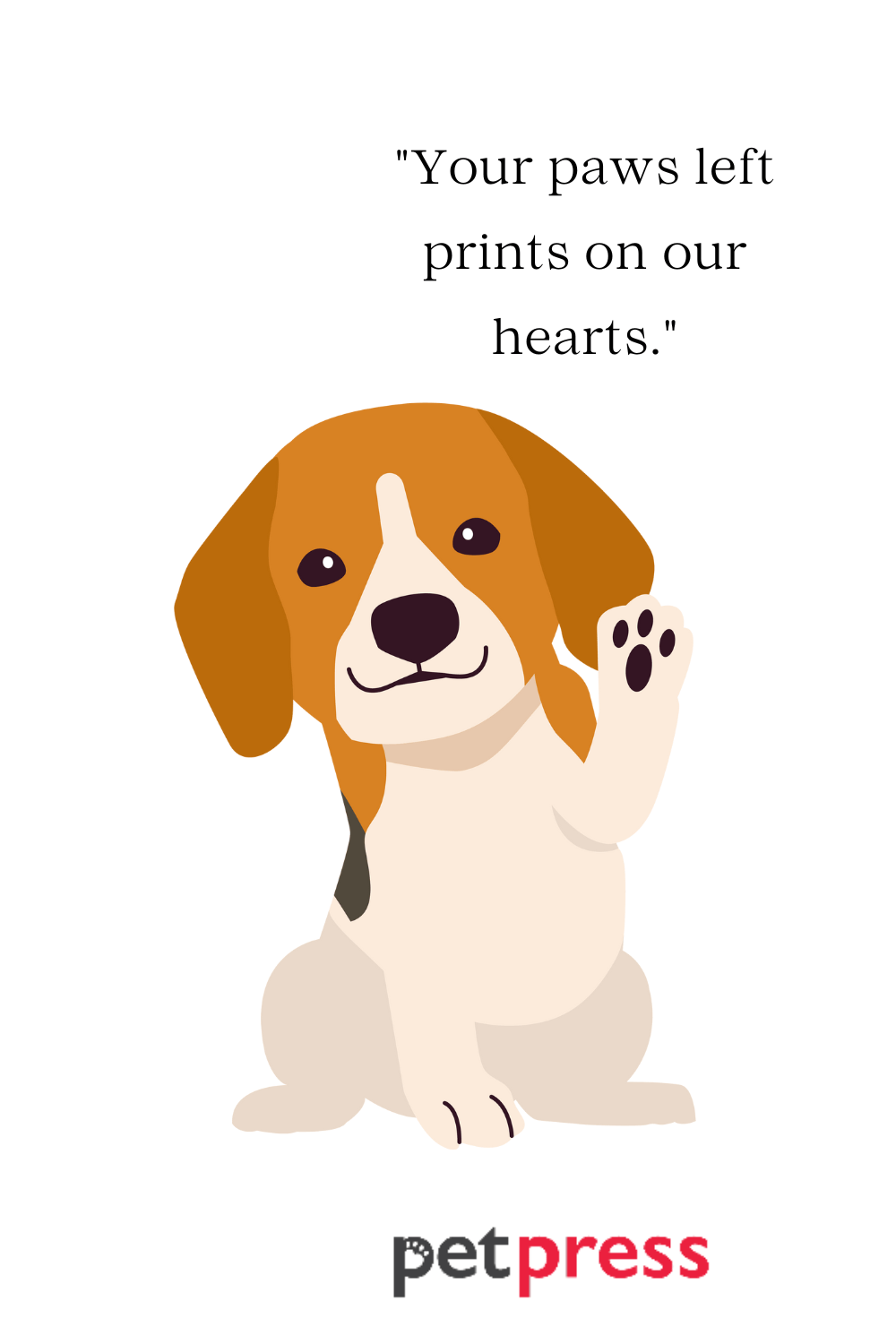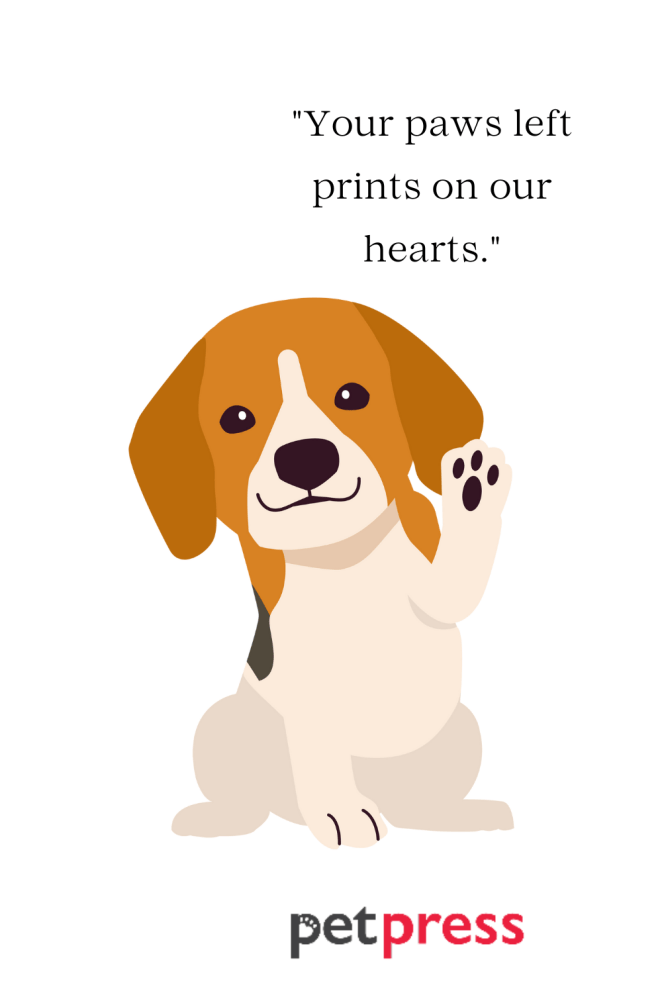 "Your paws left prints on our hearts."
"Heaven gained another angel, but we lost a loyal companion."
"The ones that are closest to our hearts never truly leave us."
"A dog is the only thing on earth that loves you more than he loves himself." – Josh Billings
"No longer by my side, but forever in my heart."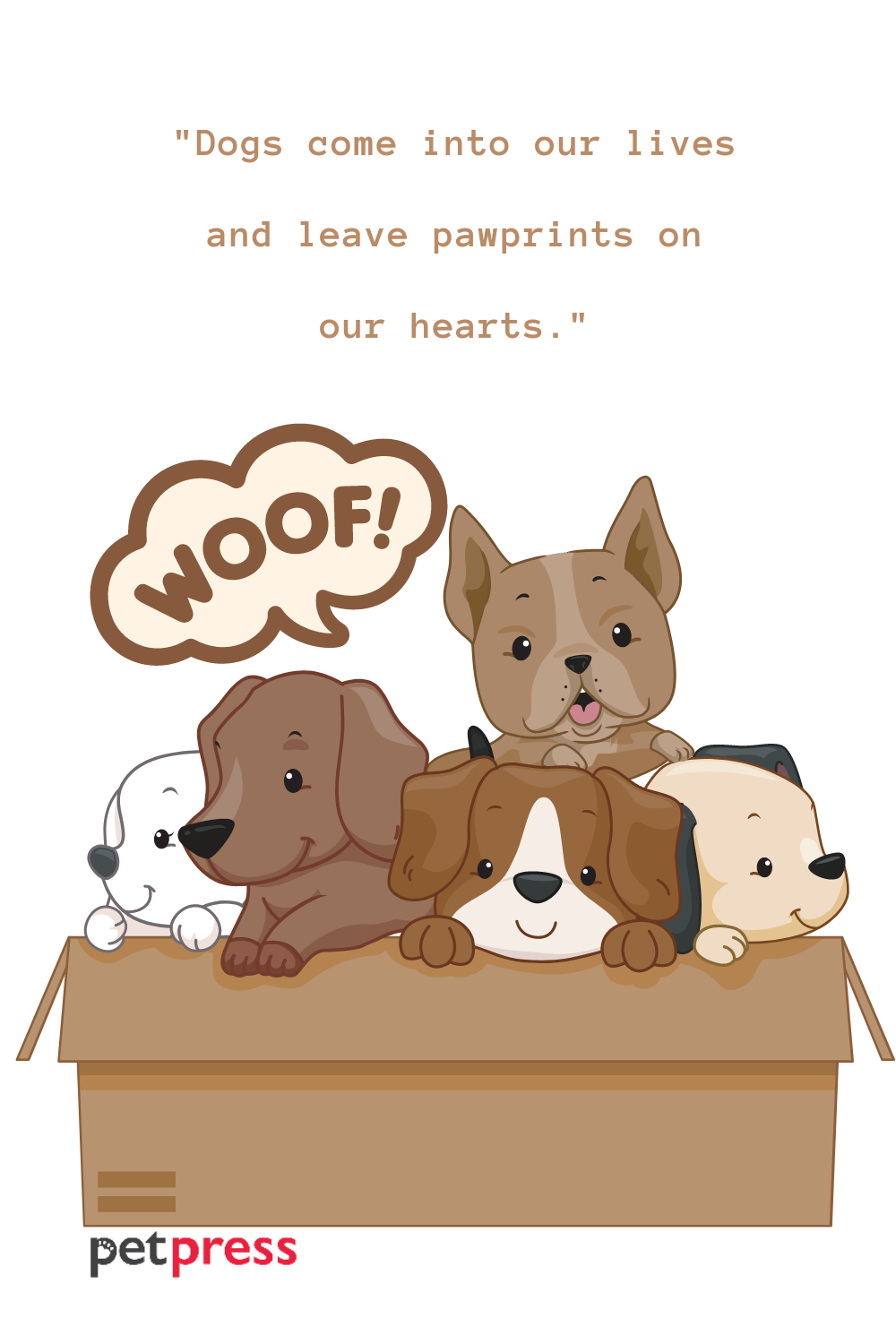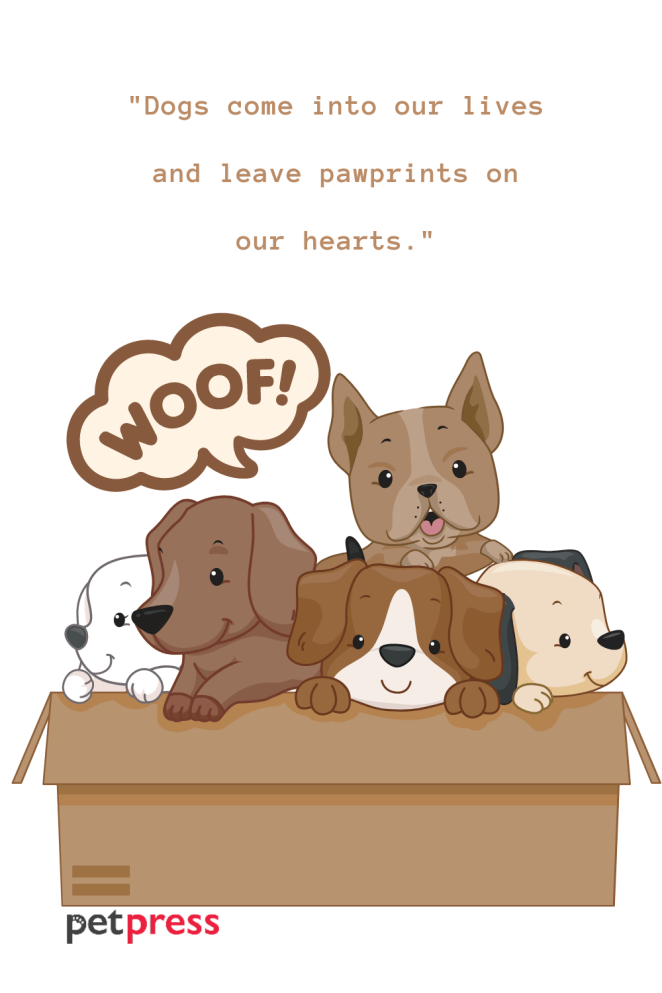 "Dogs come into our lives and leave pawprints on our hearts."
"Run free and pain-free, until we meet again."
"My little dog – a heartbeat at my feet." – Edith Wharton
"You may be gone from my sight, but you are never gone from my heart."
"The bond with a true dog is as lasting as the ties of this earth can ever be." – Konrad Lorenz
"Forever in our hearts and memories."
"A dog will teach you unconditional love. If you can have that in your life, things won't be too bad." – Robert Wagner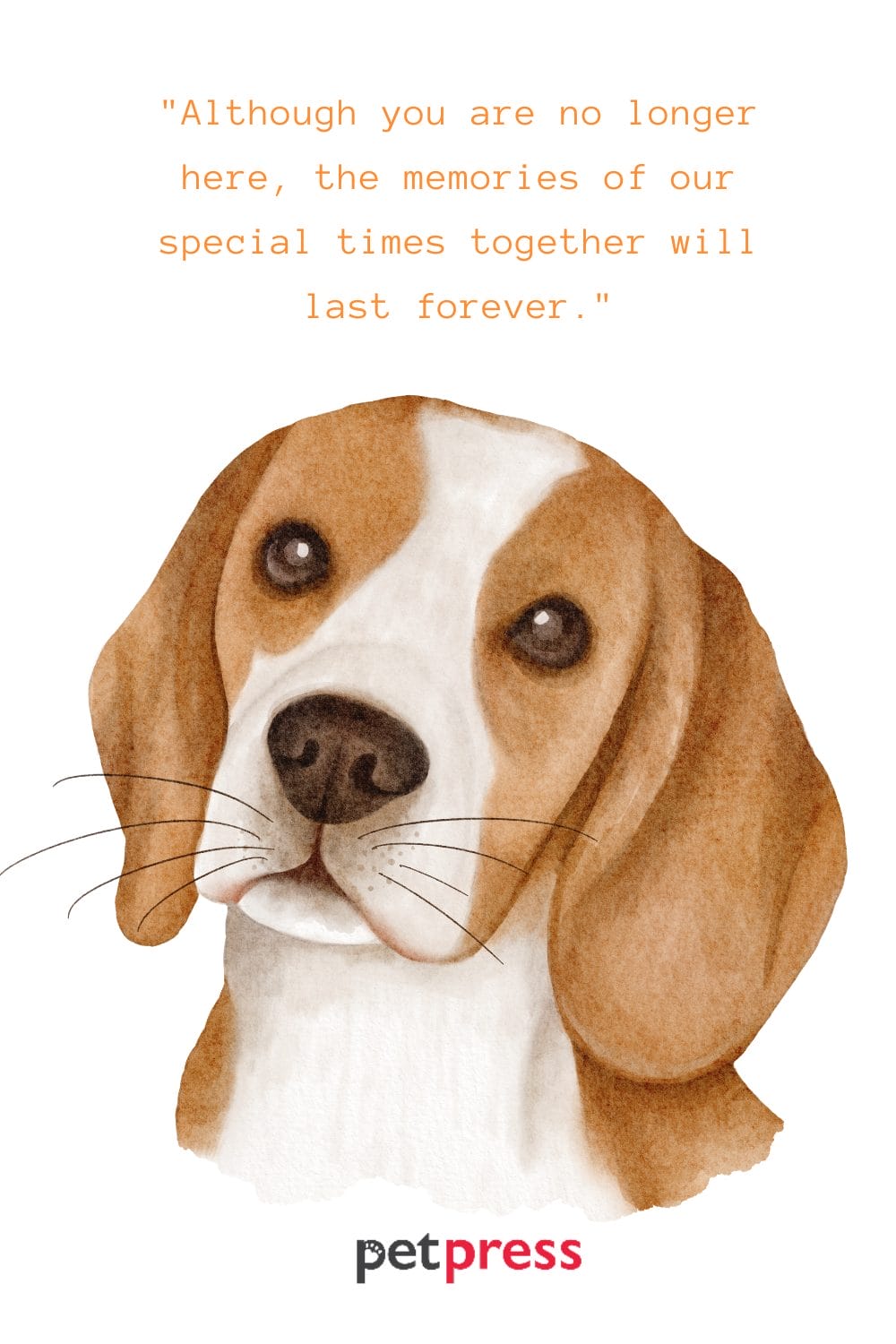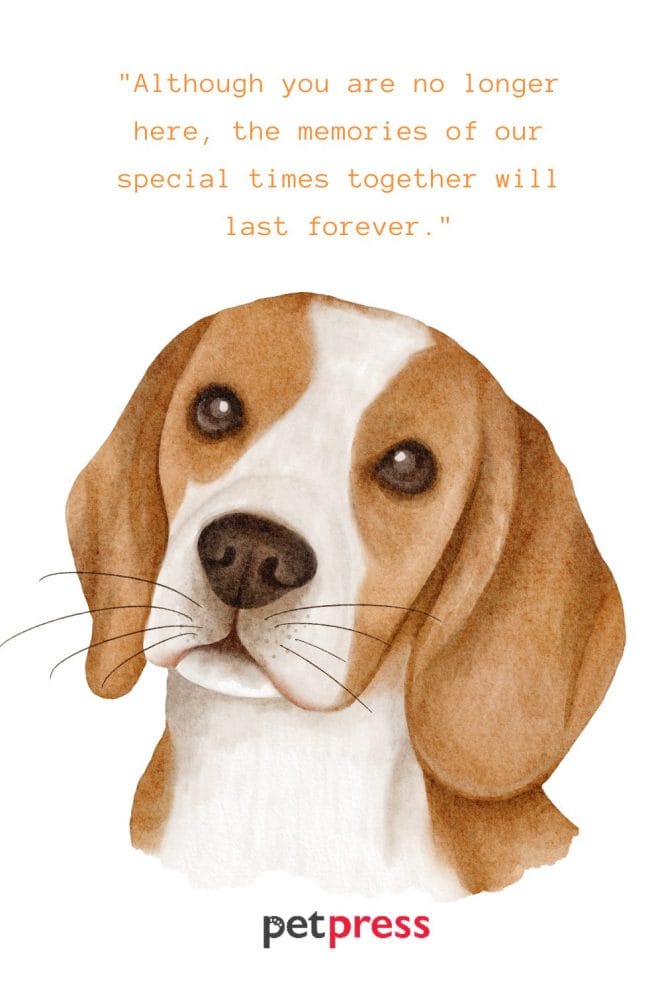 "Although you are no longer here, the memories of our special times together will last forever."
"A dog is not a thing or a concept, but an eternal blast of warmth in the midst of the frozen moments which we call life." – Edward Hoagland
"Gone yet not forgotten, although we are apart, your spirit lives within me, forever in my heart."
"No one appreciates the very special genius of your conversation as much as the dog does." – Christopher Morley
"The love between us is timeless and will stay with us always."
"Dogs are not our whole life, but they make our lives whole." – Roger Caras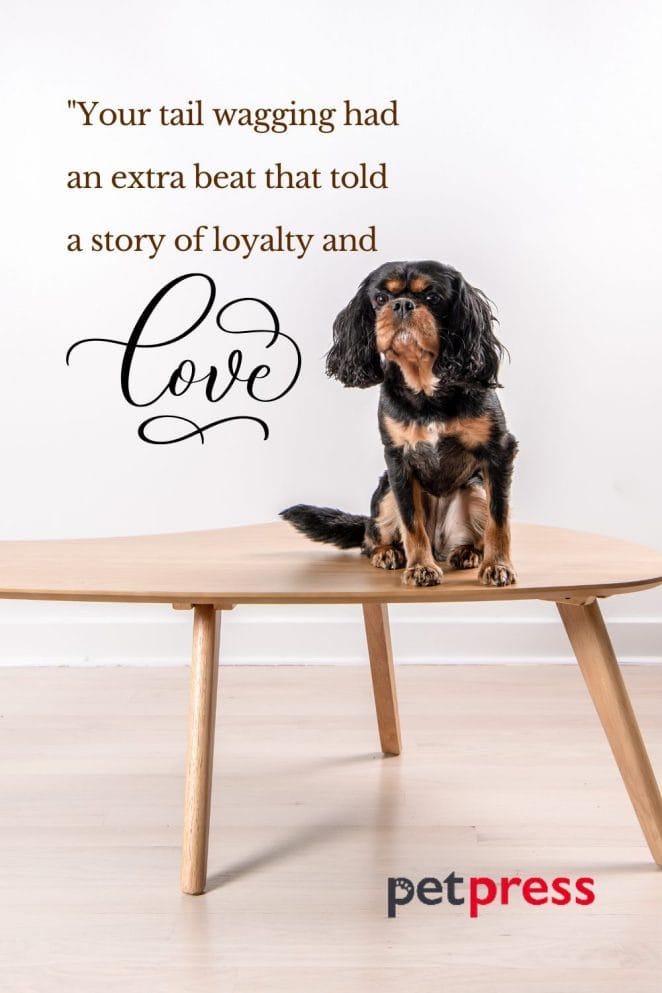 "Your tail wagging had an extra beat that told a story of loyalty and love."
"There is no foot too small that it cannot leave an imprint on this world."
"Time may pass but the memories won't fade."
"We are all connected by love, even if we cannot see you."
"Happiness is a warm puppy." – Charles Schulz
"You will be forever in our hearts and never forgotten."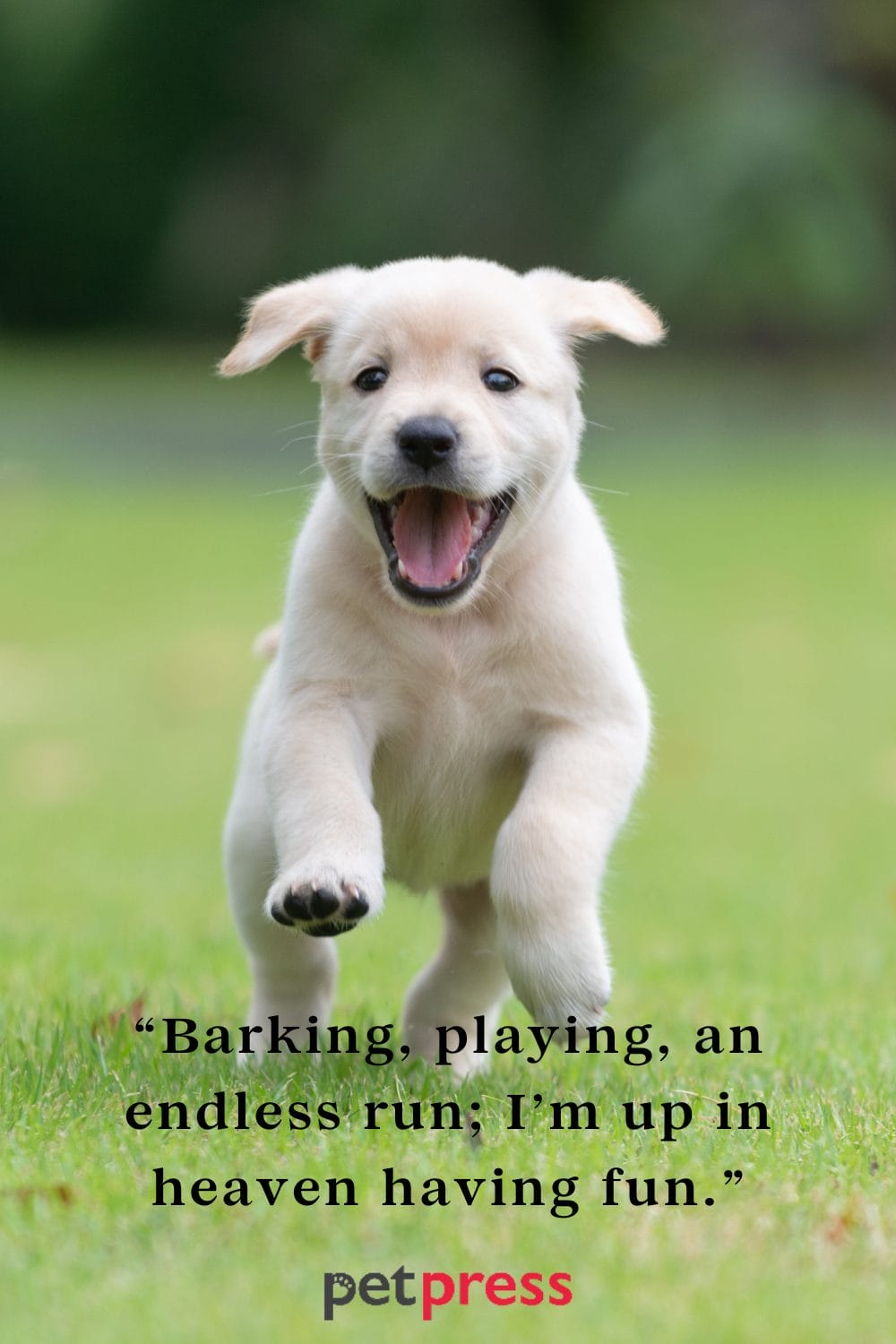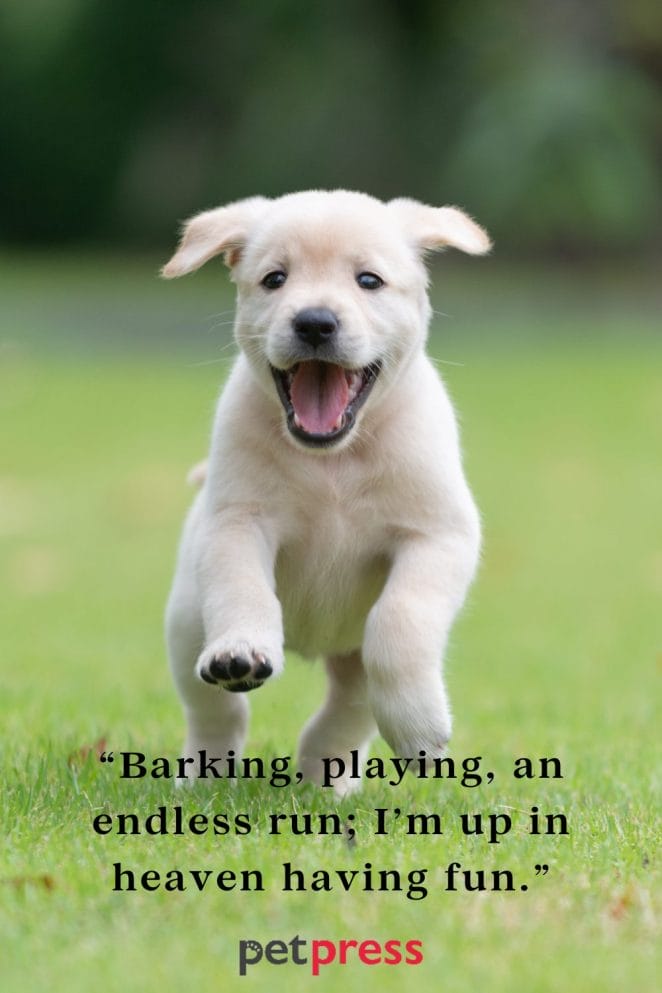 "Barking, playing, an endless run; I'm up in heaven having fun."
"Heaven's the place where all of the dogs you've ever loved come to greet you."
"You left pawprints on the hearts of everyone you nuzzled."
"Until the day we meet again on the Rainbow Bridge."
"The hardest part of having a dog is saying goodbye."
"My best friend and a true hero."
"Sometimes the smallest things take up the most room in your heart."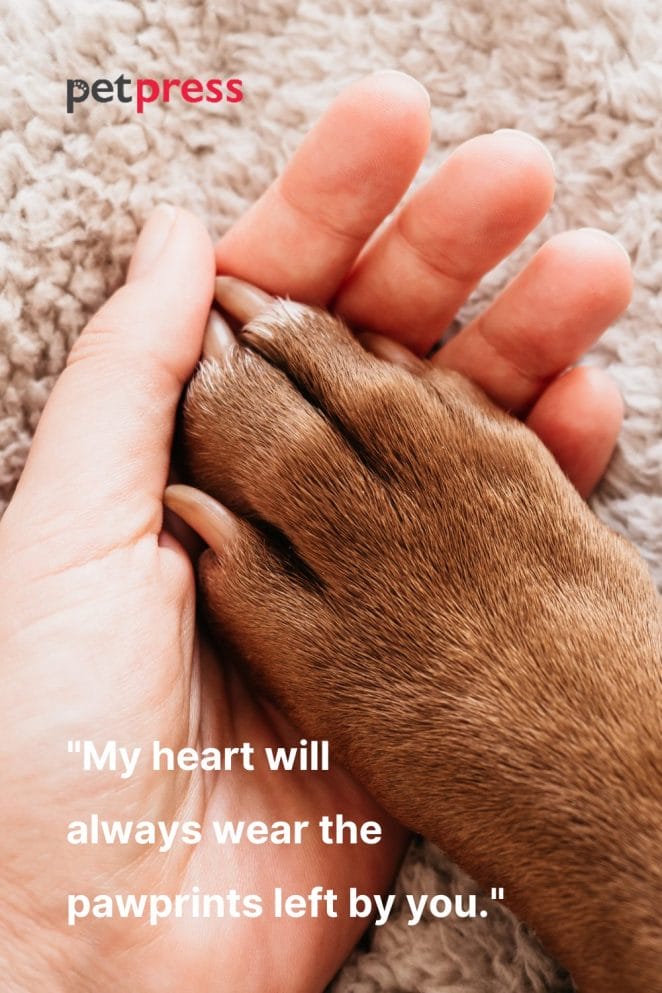 "My heart will always wear the pawprints left by you."
"Don't cry because it is over; smile because it happened." – Dr. Seuss
"A pet is never truly forgotten until it is no longer remembered." – Lacie Petitt
"If there is a heaven, it's certain our animals are to be there. Their lives become so interwoven with our own, it would take more than an archangel to detangle them." – Pam Brown
"Our animal friends teach us more than we could have expected, and love us more than we could have hoped. That's why we miss them more than we could have imagined." – Unknown
"The world would be a nicer place if everyone had the ability to love as unconditionally as a dog." – M.K. Clinton
"Heaven goes by favour. If it went by merit, you would stay out and your dog would go in." – Mark Twain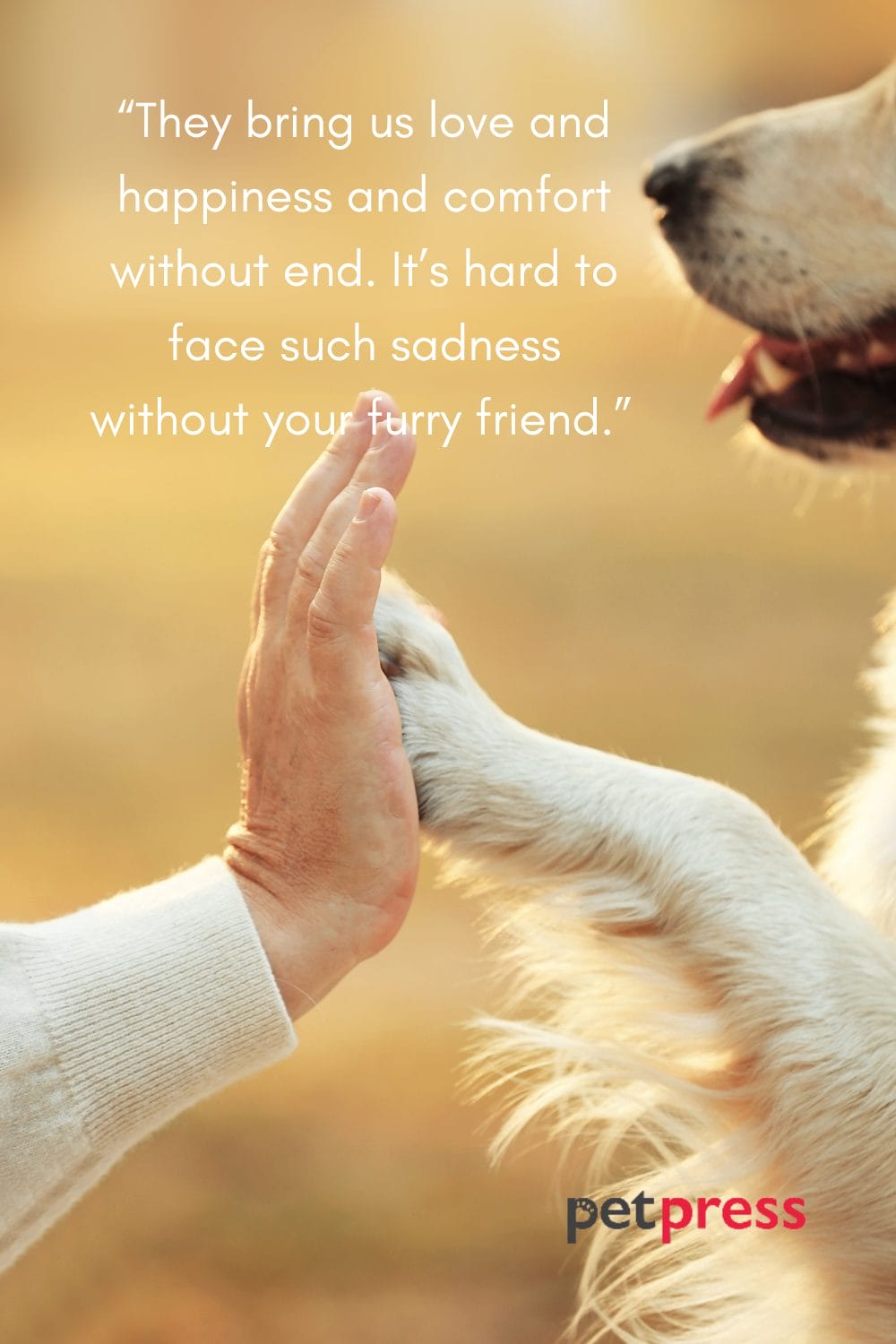 "They bring us love and happiness and comfort without end. It's hard to face such sadness without your furry friend." – Unknown
"Until one has loved an animal, a part of one's soul remains unawakened." – Anatole France 40
"How lucky I am to have something that makes saying goodbye so hard." – Winnie The Pooh
"Pets are humanizing. They remind us we have an obligation and responsibility to preserve and nurture and care for all life." – James Cromwell
"Animals have a much better attitude to life and death than we do. They know when their time has come. We are the ones that suffer when they pass, but it's a healing kind of grief that enables us to deal with other griefs that are not so easy to grab hold of." – Emmylou Harris
When we adopt … any pet, we know it is going to end with us having to say goodbye, but we still do it. And we do it for a very good reason — they bring so much joy and optimism and happiness." – Bruce Cameron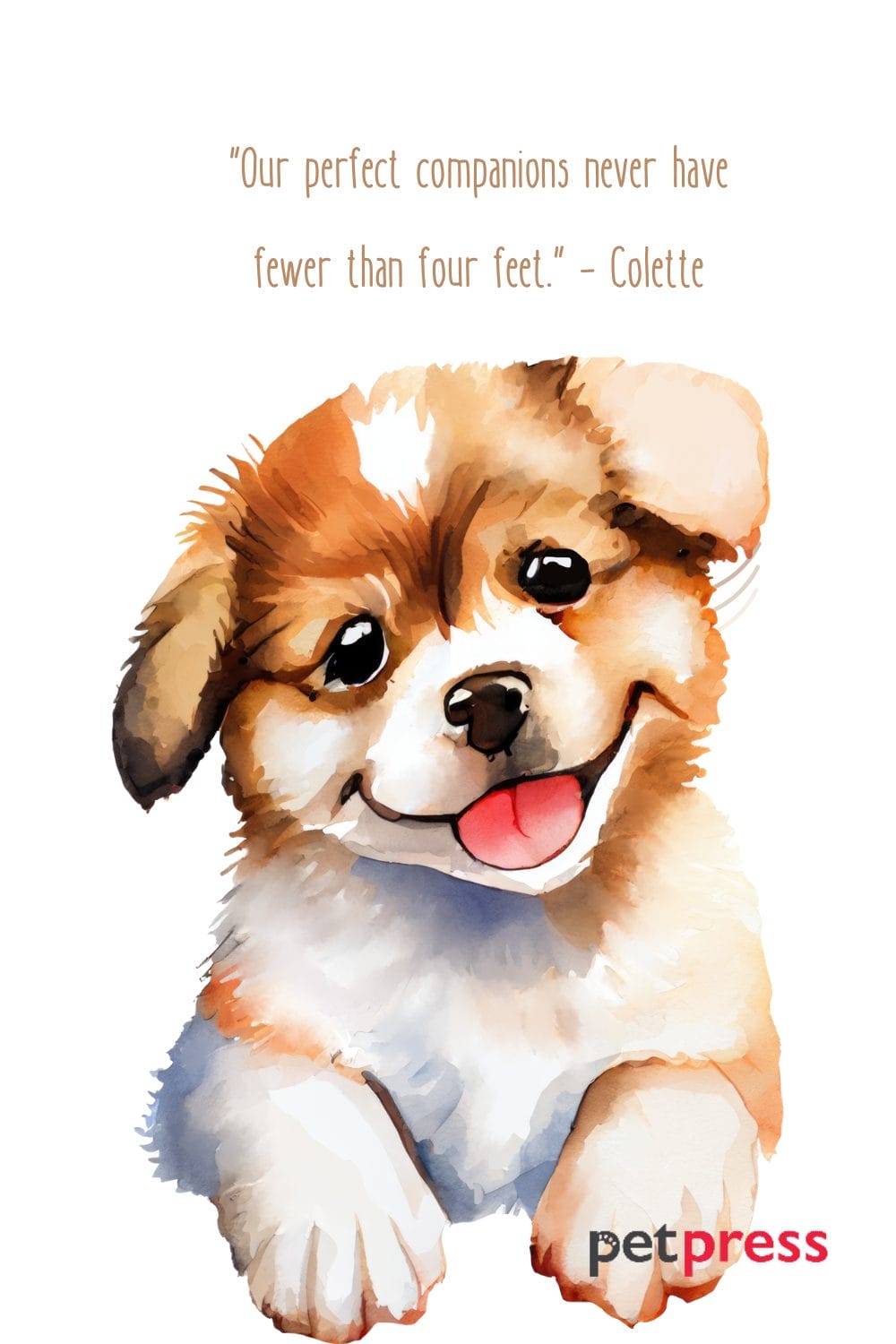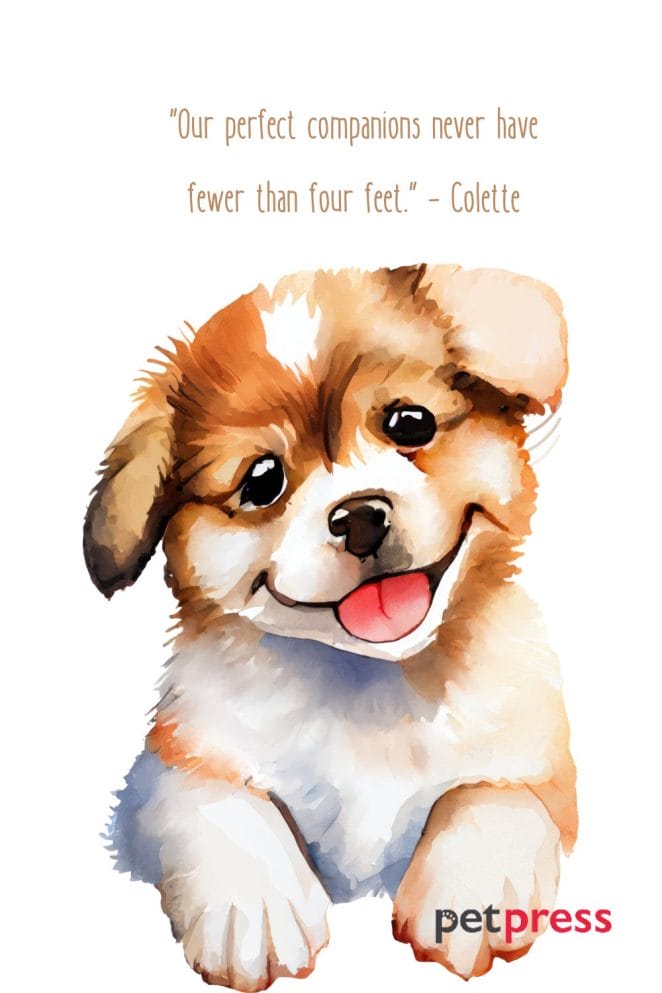 "Our perfect companions never have fewer than four feet." – Colette
"Death ends a life, not a relationship." – Jack Lemmon
"Sometimes losing a pet is more painful than losing a human because, in the case of a pet, you were not pretending to love it." – Amy Sedaris
"Dogs' lives are too short. Their only fault, really." – Agnes Sligh Turnbull
"You don't really own a dog, you rent them, and you have to be thankful that you had a long lease." – Joe Garagiola
"If there are no dogs in Heaven, then when I die I want to go where they went." – Will Rogers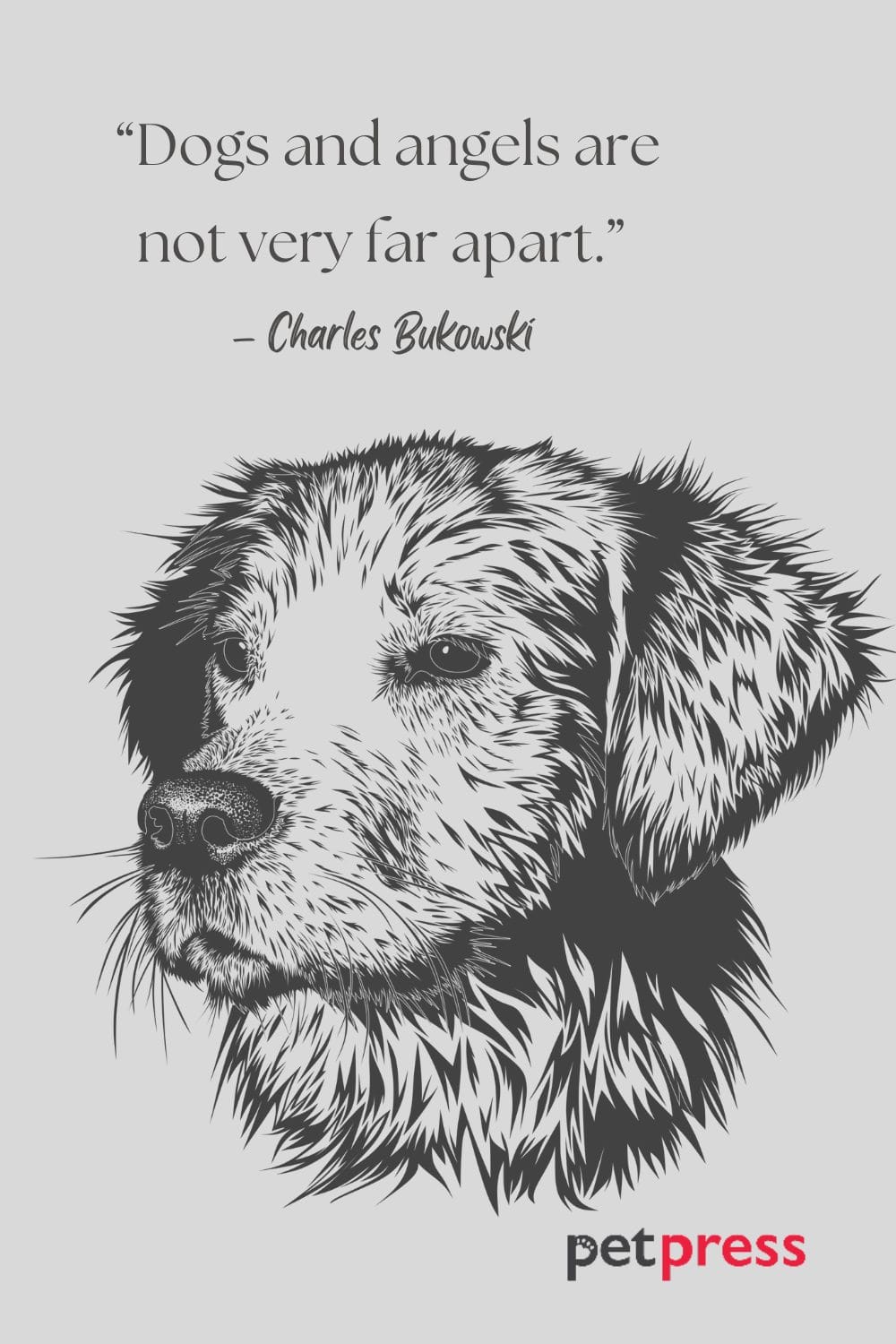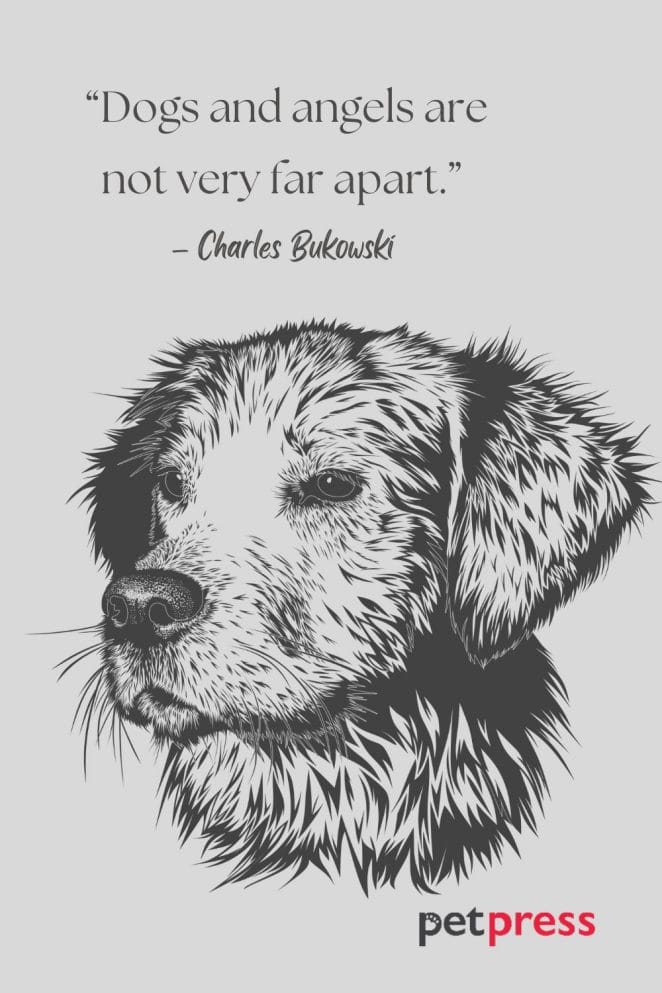 "Dogs and angels are not very far apart." – Charles Bukowski
"Having a dog will bless you with the happiest days of your life and one of the worst days." – Unknown
Bring solace to your grieving heart
These touching dog memorial quotes will help to commemorate your pup's unique spirit and bring solace to your grieving heart. Remember all the beautiful moments you shared with them, and let these comforting words provide comfort during this difficult time. Hold tight to the memories of your beloved pup – they will remain with you always.
We hope that these words of remembrance help you celebrate your four-legged friend's life and honor their memory. May they bring you peace and comfort in the days ahead.
Related Posts:
10+ Best Dog Memorial Tattoo Ideas To Remember Your Furry Friend