Here is our collection of 93 interesting dog name ideas inspired by brown and white coat color. So if you own a brown and white puppy, check our list before choosing a name.
    Taffy
    Mocha
    Sunny
    Foxy
    Muffin
    Kona
    Bacon
    Java
    Sundance
    Caramel
    Reese
    Carob
    Bourbon
    Henna
    Mochi
    Cinnamon
    Nugget
    Snickers
    Sandy
    Chesnut
    Aspen
    Copper
    Brandy
    Summer
    Graham (Cracker)
    Topaz
    Bean (Beans)
    Cheddar
    Bruno (brown bear)
    Cashew
    Sienna
    Whiskey
    Sierra
    Forest
    Coco (a)
    Dusty
    Timber
    Canela (cinnamon in Spanish)
    Cookie
    Champagne
    Winnie
    Honey
    Hazel
    Peaches
    Tootsie
    Kahlua
    Chai
    Toast
    Pumpkin
    Coffee
    Donut
    Waffles
    Autumn
    Goldie
    Maple
    Peanut
    Ember
    Pancake
    Buckwheat
    Chocolate
    Cider
    Espresso
    Tawny
    Guinness
    Toffee
    Oatmeal
    Dunkin (as in donuts!)
    Pinto
    Amber
    Teak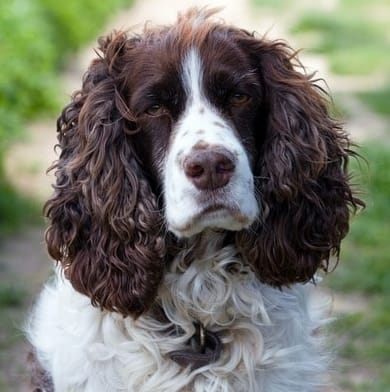 Biscuit
    Pepper
    Bagel
    Cupcake
    Nutmeg
    Penny
    Brownie
    Noodles
    Fudge
    Chewy (Chewie, Chewey)
    Wookie
    Fox
    Mango
    Bear
    Oakley
    Hershey
    Pebbles
    Fawn
    Moose
    Cedar
    Freckles
    Truffles
    Ginger
If you have a girl dog with brown and white color, feel free to check our other list of names for brown and white girl dogs.