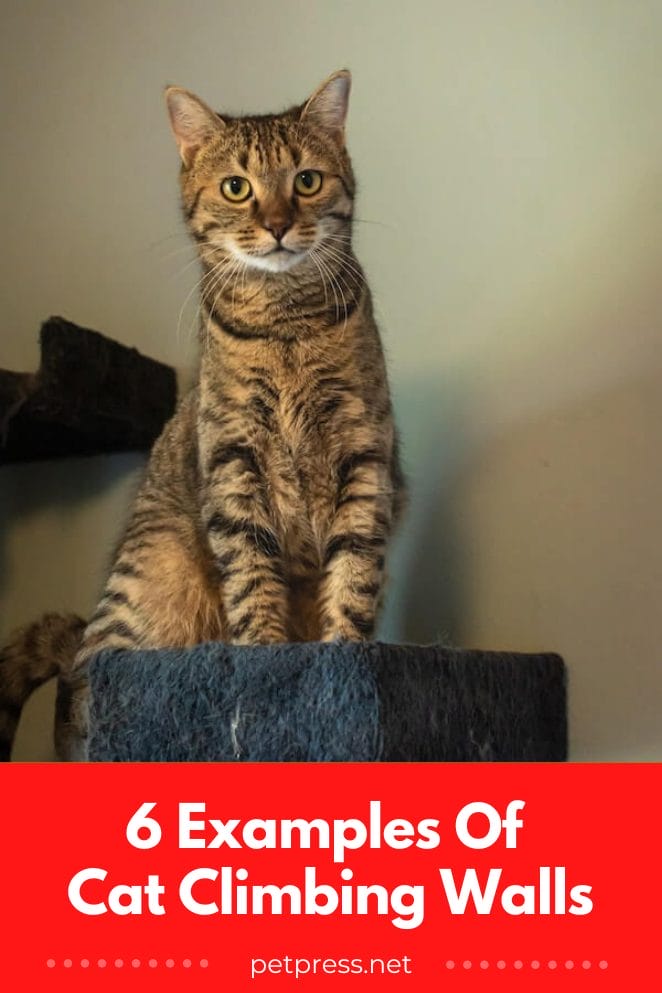 Climbing walls have become an increasingly popular way for cat owners to give their furry friends a stimulating and exciting environment – one that's both safe and fun.
From basic ladder-style designs to elaborate multi-level playgrounds, there is something for every kind of cat.
Whether your kitty loves scratching posts, pouncing on prey or lounging in the sun, these climbing walls provide cats with endless opportunities to explore and express themselves.
To get you inspired, we've rounded up some of our favorite examples of cat climbing walls.
From simple DIY projects to impressive store-bought installations, each provides cats with plenty of room for playtime and exercise while keeping them safely contained within their own space.
So let's take a look at some of the best climbing walls for cats!
6 Examples Of Cat Climbing Walls
All cat owners know how much cats love climbing walls! Here are six of our favorite ideas for cat climbing walls:
1. Hexagon Wall Climbers
These cute hexagonal wall climbers with glass windows are perfect for your adventure feline friends.
Whether your kitty wants to stretch his legs or just lounge around in peace, these wall climbers provide a safe and secure environment. Plus, this design is sure to bring lots of joy into your home!
2. Sisal Rug on the Wall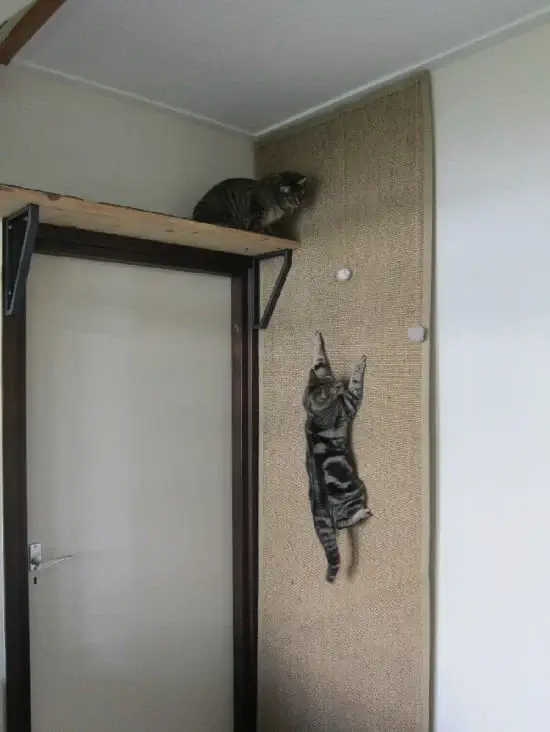 This inexpensive hack for a climbing wall is perfect for people who want a temporary solution. Simply attach a sisal rug to your wall, and voila! Your cat will have their own fun climbing on it.
3. Climbing Wall by the Ladder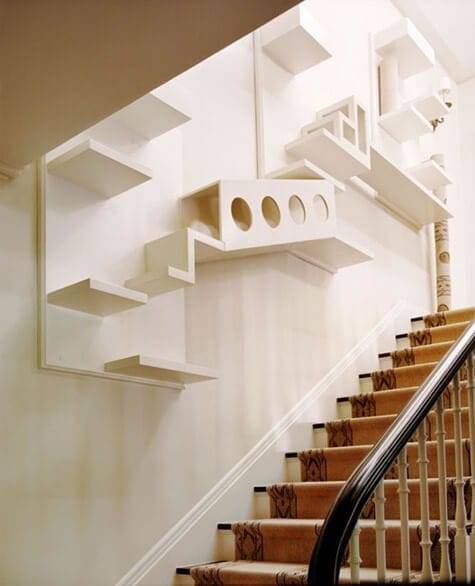 What better way to keep your cat safe and contained than with a fun climbing wall by the ladder?
This design is perfect for cats who love to climb, as it provides plenty of room to explore without the risk of them escaping. Plus, it looks great in any home!
4. Cat Hammock
Adding a cat hammock on a climbing wall is the perfect way to give your feline friend a place to relax and nap. Not only does it look great, but it's also an excellent way for cats to exercise. Plus, you can even add some DIY cat toys on it for extra fun!
5. Wall Divider Climber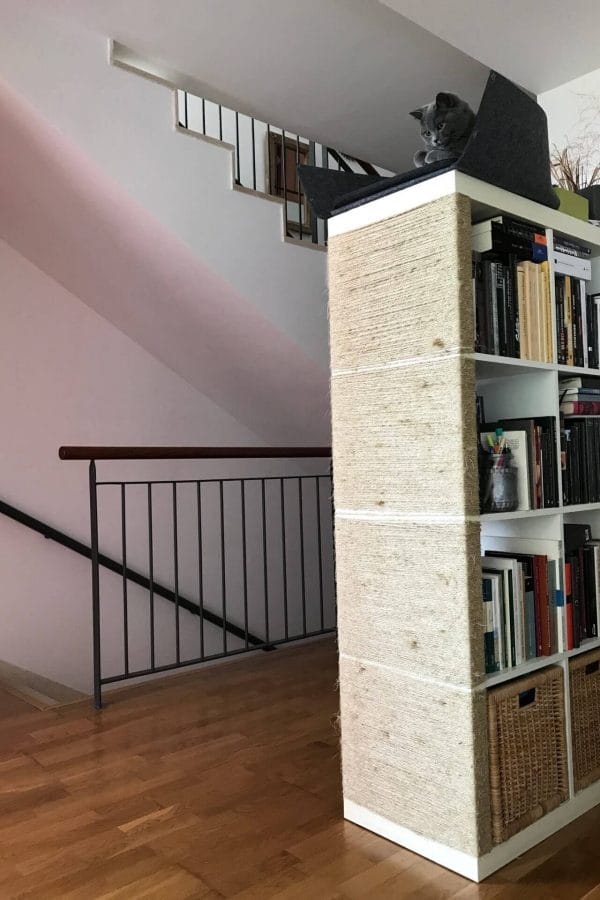 This multipurpose climbing wall for cats is one of a kind structure.
It is a bookcase, cat scratching post, cat climbing wall, and a wall divider all wrapped in one! It's the perfect way to give your cats plenty of stimulation while keeping them safe.
6. Classic DIY Cat Tree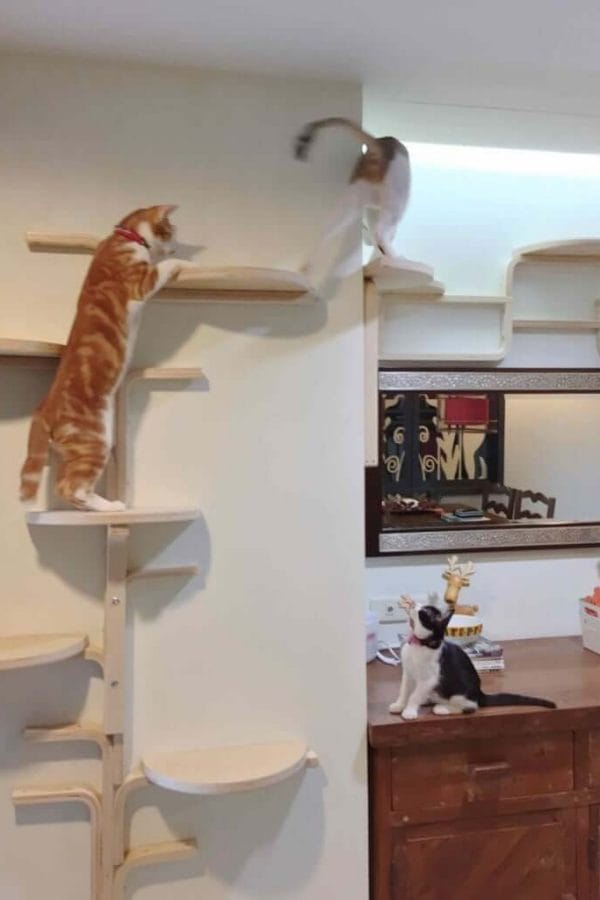 This option for a cat climbing wall is perfect for those who want to make something special for their cats.
With a few simple woodworking tools, you can make an easy and stylish DIY cat tree. Your feline friends will love having their own playground!
Final Thoughts
So whether you're looking for an easy DIY project or want something more elaborate, these are some great examples of cat climbing walls that will keep your feline friends entertained and active.
Also with climbing walls, you can also check out DIY cat shelves to get more inspiration.
Make sure to give them lots of love and affection along the way!
No matter what kind of cat you have or how much space you're working with, there are plenty of great options for creating an enjoyable environment where your feline can play and explore in safety.
We hope this article has provided some inspiration for your next project!
Happy wall-climbing!