Shark Tank has had dozens of pet products featured on the show over its 12 seasons, and the Sharks have invested in many of these companies.
There has been everything from body armor for dogs (to protect them from coyotes while on walks), dog cookies that you bake yourself at home, wine for cats and dogs, and Himalayan dog chews.
One slightly unusual thing I noticed when I was considering all of the pet products that have been featured on Shark Tank, is that they're all for dogs and cats!
That's where the money is I guess, but I was surprised to not see at least one product being pitched for pet turtles, fish keeping, birds, or farm animals. Maybe in an upcoming season, we'll see something?
Here are 3 of our favorite brands that have appeared on Shark Tank – two for dogs and one for cats!
Pet Plate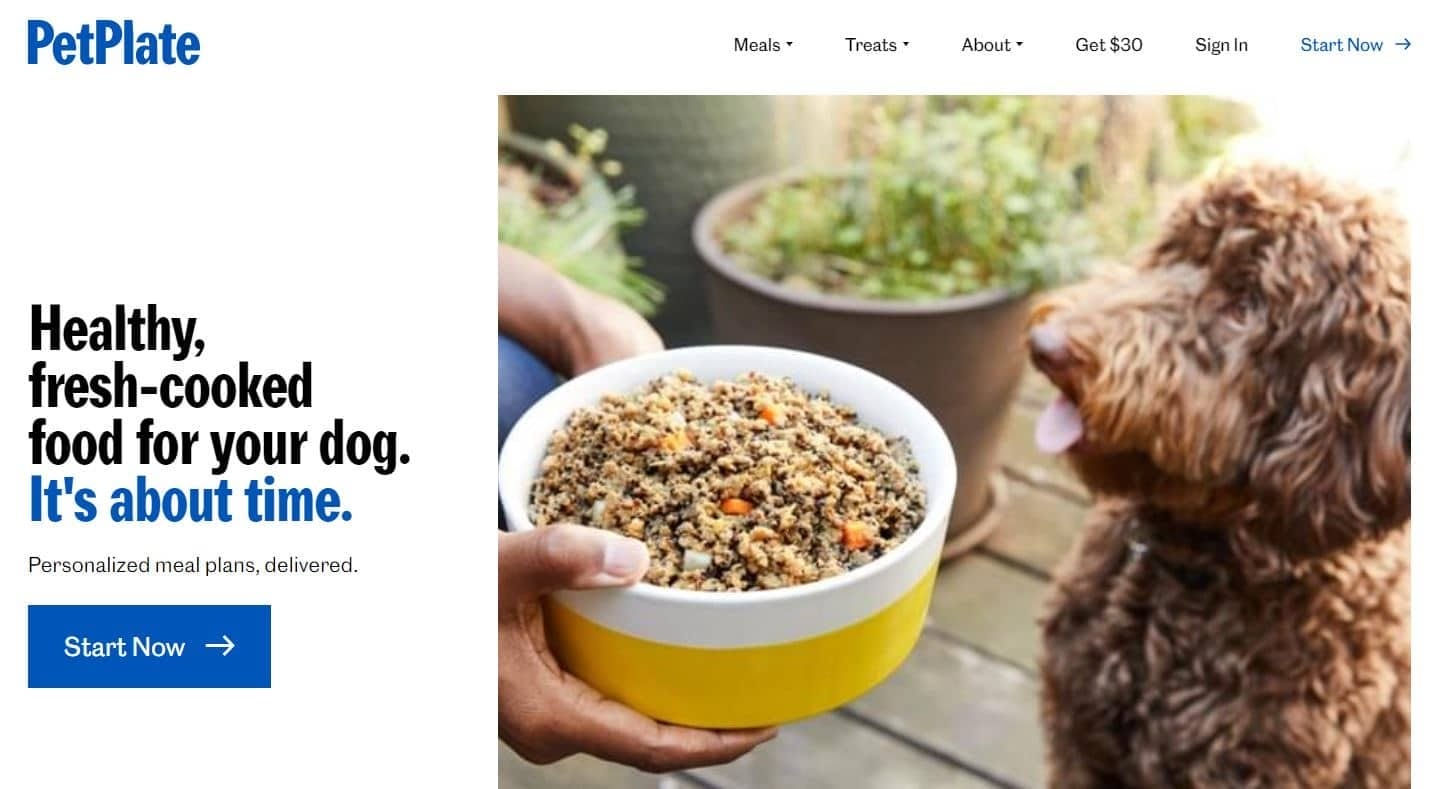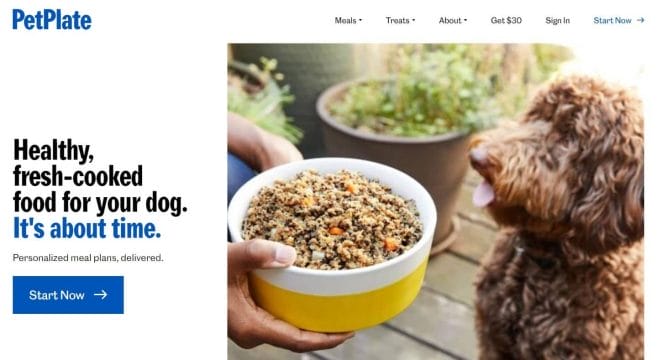 Pet Plate was featured in season 8 of Shark Tank, and quickly became known as the Shark Tank dog food.
What does Pet Plate do?
They create healthy dog meals that are delivered to your door on a subscription basis. Each meal is personalized to each dog's specific needs and takes into consideration their breed, sex, weight, age, and level of activity. The 'food for dogs' only contains healthy, whole food ingredients with none of the nasty stuff.
The whole philosophy of Pet Plate is that by eating healthier, dogs will be more excited at mealtimes (not that my lab needs any encouragement), will be a healthier weight, have shinier coats, fewer allergies, more energy, and require fewer vet visits.
The dog meals are all 'human-grade,' meaning that you can eat them too if you really want to – though we don't recommend it!
When Pet Plate was on Shark Tank, its founder Ronaldo was looking for a $100,000 investment in exchange for 10% of the business. While the Sharks were all impressed with Ronaldo's background and what he had achieved, they ultimately decided not to invest.
However, the huge flood of orders that the business received after the show aired, and the wider name recognition they achieved, made going on the show all worth it.
I said before that Pet Plate was human-grade food, and guess what? The Sharks actually tried the dog meals during the episode! It's a fun one to watch if you can get access to it.
Pandaloon
Pandaloon was featured in season 9 of Shark Tank in 2017, and it has got to be one of the funniest products ever featured on the show.
The business sells pet costumes that look both ridiculous and hilarious. There is a panda suit, a walking teddy bear or unicorn costume, a lion outfit with an amazing mane, a penguin suit, and many more.
They are designed for small to medium-sized dogs, so at this stage, you won't be able to put your labrador or German shepherd into one. But if you have a chihuahua, a French bulldog, pomeranian, or another small breed dog (or you know someone else who does), you can pick them up on Amazon here.
When Pandaloon appeared on Shark Tank, the founder Eugenia Chen was looking for $60,000 in return for 20% of the company. She appeared on stage with her pomeranian in the panda costume and the Sharks curled over with laughter.
After many questions, two of the Sharks made Eugenia an investment offer. Daymond John suggested $60K in return for 35% equity, while Spanx founder Sara Blakely offered $60K for 30% equity.
The Padaloon founder ended up accepting Daymond's offer, even though it cost her more of the company because he has a lot of influence and connections in the pet industry.
Basepaws Cat Health Testing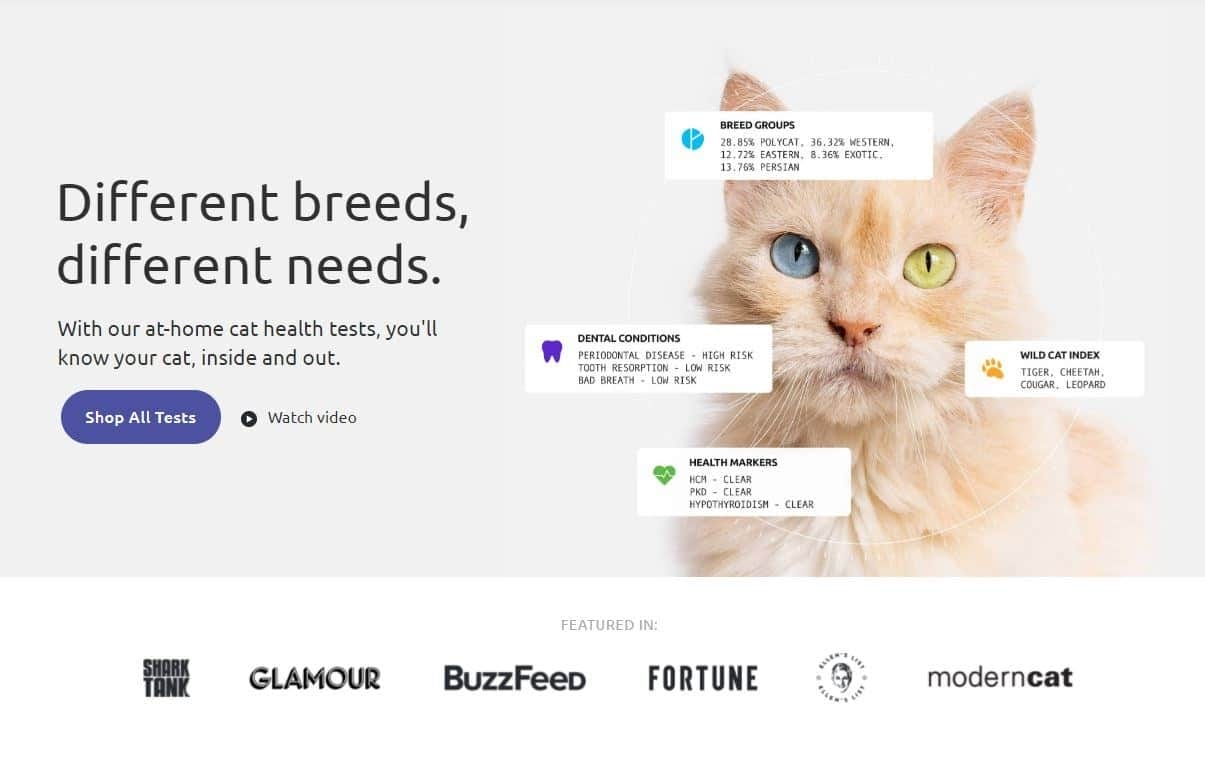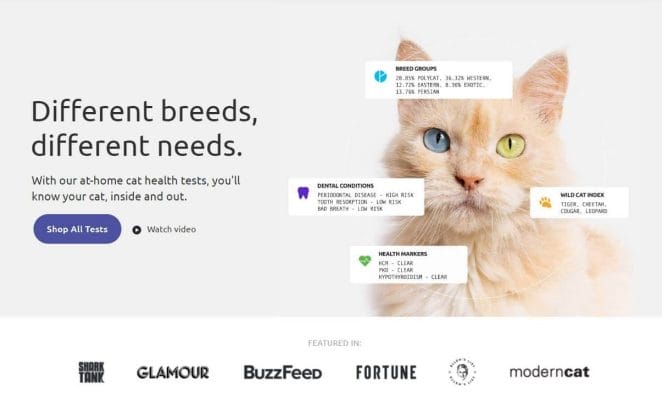 Basepaws was founded by cat lover Anna Skaya and was featured in season 10 of Shark Tank. The business defines itself as 'Affordable at-home cat health testing for every cat parent.'
The types of products they have created and sell include:
Breed and Health DNA Test – to learn more about your cat's breed, health, traits, and habits
Dental Health Test – and claims to be the only screening test for most major cat dental conditions
Whole Genome Sequencing – analyzes a cat's entire genome
All of these checks are easy to perform on your cat as they only require a saliva sample. The idea is that knowing the types of health conditions your cat might be susceptible to will enable you to take action early and avoid costly vet visits down the line.
You send your cat's sample in and within 4 -6 weeks you will be able to check your results online. The whole thing is also just a little bit of fun because you get to learn a bit more about your cat's breed and history (depending on the test you choose).
Anna appeared with a friend dressed in a cat costume before the Sharks to pitch her products to the Sharks. She was looking for $250,000 in exchange for 5% of the company. Kevin O'Leary offered the amount she was asking for in exchange for 10% of the company – a deal which Anna accepted.
Since appearing on the show in 2019, the company has grown by more than 10X. She even appeared on the show again in 2021 to give viewers an update of where they were now and what they'd done to get there.
Pets On Shark Tank
Many of these founders have appeared on Shark Tank along with their pets, something that all three of these pet businesses have in common (though one was a pet only in costume)! It always adds something special to the show when you see a dog or a person in a cat costume, and I'm sure there will be plenty more in the future.
The pet industry is worth over $70 billion per year, so there is plenty of room for new innovative pet products to enter the market. Hopefully, we can also see a range of products and services for other pets on the show in the future as well. Something for our aquatic and farm friends, along with those other easy pets to take care of!