Halloween is always a great time for people to dress up and get creative with their costumes. But what about your new dog? Sure, you can put a pumpkin on its head and call it an adorable Halloween pup, but we recommend going the extra mile this year and picking out the best 200+ Halloween-inspired names!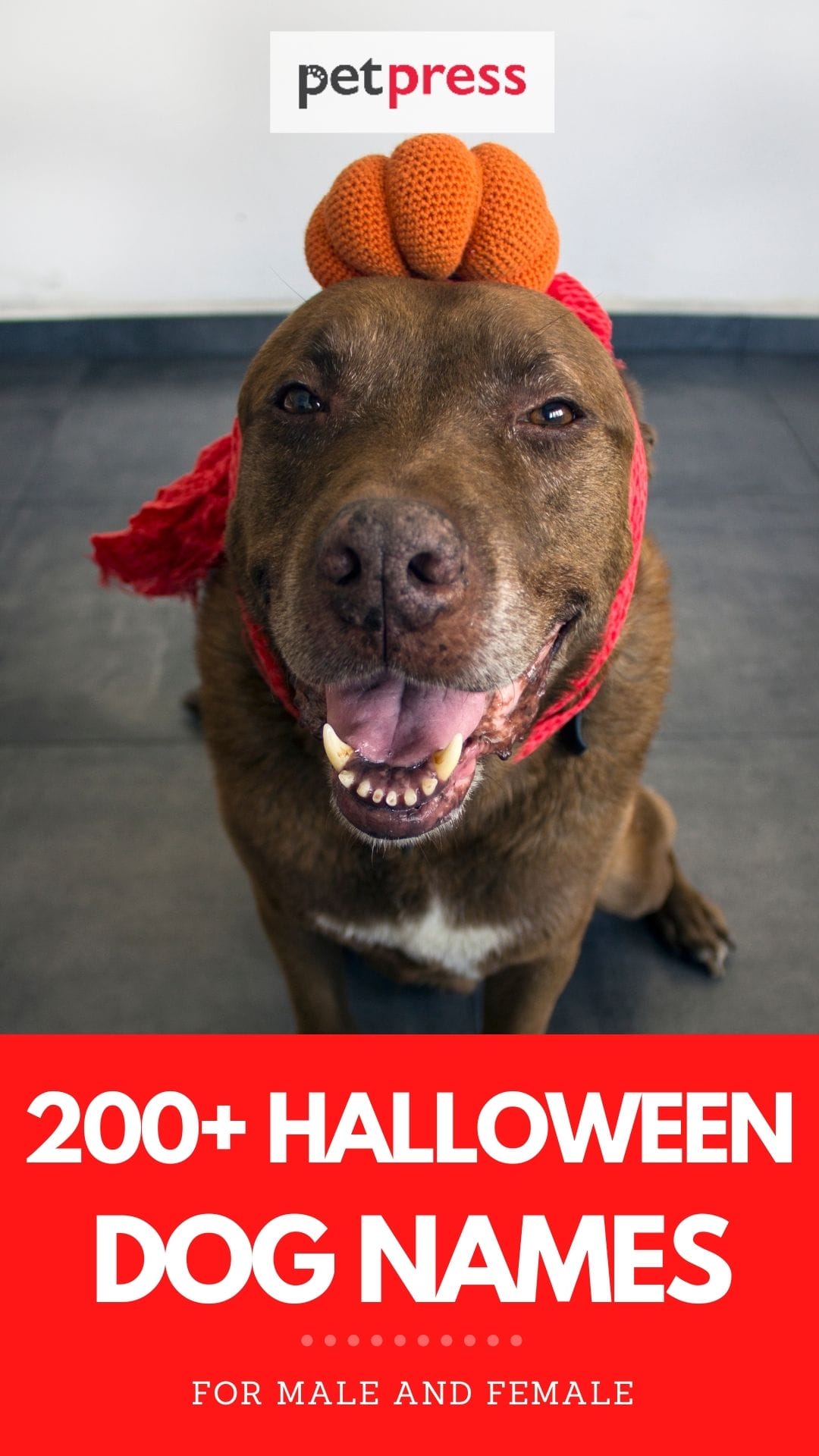 10 Best Halloween-themed Dog Names
| | |
| --- | --- |
| Aidan | Gaelic name meaning "little fire" |
| Angus | Celtic origin meaning "one strength" or "unique power". |
| Brutus | Latin origin – it means strong, powerful, fearless |
| Buffy | is a girl's name meaning "warrior maiden" in English. It was popularized by the character of the same name on TV show Buffy The Vampire Slayer. |
| Coco | French origin – short form or nickname for names beginning with "Co" which means "from the hollow." |
| Dagger | English origin – refers to a short knife or sword. It is also the name of a type of tree and a Swiss river. |
| Fang | it is an allusion to vampires teeth, used as part of many vampire names such as Dracula and Spike from Buffy The Vampire Slayer. |
| Ghostie | A play on "boo" that sounds like ghosty but with more playful connotations for your pup! Great Halloween dog name idea! |
| Goblin | Can make cute nicknames like Gob, Goob or even Gabby if you prefer something less |
| Daisy | it is a girl's name that means "day's eye" in English |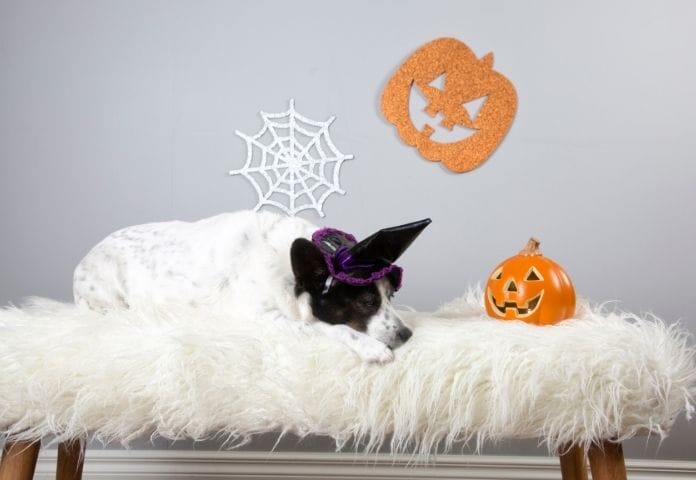 More options for Halloween dog names
Maple
Freddy
Peregrine
Forrest
Trouble
Sorcerer
Bone
Shadow
Amber
Bat
Crispin
Spirit
Goldie
Saffron
Hunter
Sage
Rusty
Rain / Rainy
Orchard
Autumn
Harvest
Whiskey
Red
Sorrell
Hazel
Scarlett
Garnet
Bogey
Magic
Dracula
Cinnamon
Diablo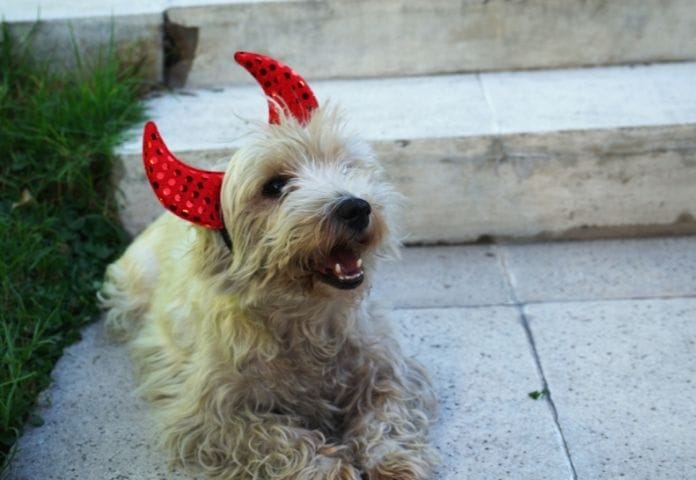 Halloweenie
Bean
Night
Zombie
Nutmeg
Aspen
Trickster
Leaf
Bramble
Topaz
Maize
Sookie
Stormy
Sienna
Vamp
Briar
Clove
Eerie
Persephone
Birch
Eclipse
Cackles
Pocus
Charm
Breezy
Wheatley
Jack
Thunder
November
Tootsie
Wizard
Russet
Halloween Names for Male Dogs
Bane
Sherlock
Freddie
Dexter (or Dex)
Barnabas
Jekyll
Hershey
Casper
Dekker
Jourgensen
Jasper
Malachi
Abel Mort
Wolf
Zuul
Draco
Frankie (short for Frankenstein)
Dante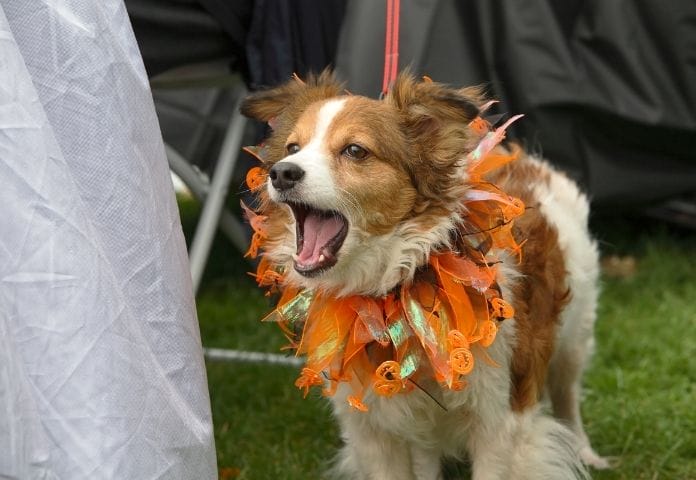 Vades
Lecter
Cull
Merlin
Thanos
Norman
Myers
Malfoy
Gizmo (or Giz)
Broomstick Bob
Albus
Kronos
Yoda
Sirius
Carver
Cujo
Igor
Falcor
Corvus
Poe
Halloween Names for Female Dogs
Wednesday (as in Addams)
Eve
Medusa
Ebony
Sally! (from The Nightmare Before Christmas)
Coraline
Vixen
Candy Corn
Bela
Carrie
Hecate
Andromeda
Luna
Buffy
Rosemary
Baba Yaga
Ripley
Raven
Pandora
Elvira
Clarice
October (or Ocxs)
Eleven
Proxima
Salem
Morticia
Unisex Halloween Dog Names
Hedwig
Hocus
Crescent
Kit Kat
Ember
Zero
Reeses
Noir
Blaze
Pumpkin
Ash or Bruce (from The Evil Dead)
Spider
Midnight
Fang
Rascal
Ripper
Cobweb
Spells
Beast
Capes
Candles
Echo
Hex
Potion
Derry
Tarot
Omen
Snickers
Bates
Gremlin or Gremmels
Twilight
Fog or Foggy
Koontz
Ghost
Licorice
Chopper
Lurch
Skells
Charms
Lanterns
Orbs
Cackle
Boo
Phantom
Phasma
Grimm or Grimms
Whisper
Goblin
Thorn
Amity
Bones
Twix
Scraps
Proton
Charcoal
VHS
Skittles
Bats
Claw
Crow
Onyx
Jinx
Fatale
Xeno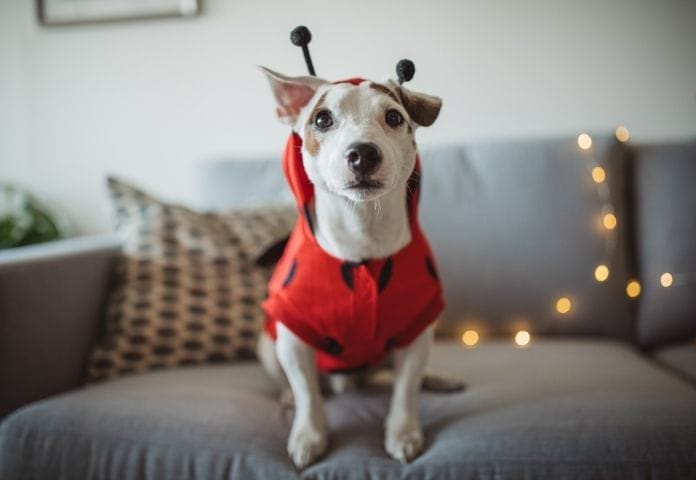 We hope you enjoy our list of Halloween-inspired dog names. If you have any other suggestions, please leave them in the comments below! Whether your pup is a ghostly ghoul or an adorable alligator, they deserve to be given their own special name for this spooky holiday. And if you're looking for more ideas about how to name your new furry best friend, check out our list of 50 scary dog names and 125 evil dog names!