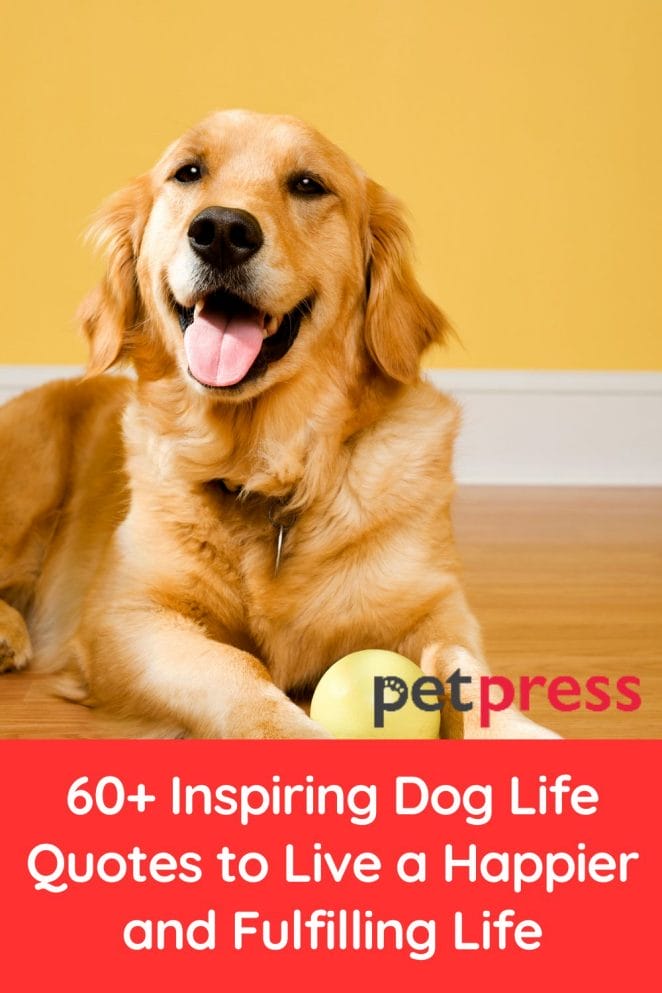 Being a man's best friend, dogs bring so much joy and unconditional love into our lives. From their playful nature to their loyal companionship, there is a lot we can learn from our furry friends. The better way to capture the wisdom of dogs is always through inspiring dog life quotes about loyalty, friendship, resilience, and more.
Why is a dog's life inspiring?
Dogs are truly inspiring as they have a unique way of looking at life and living it to the fullest each day. Their ability to bring delight, love, friendship, and loyalty are some things that we humans often struggle to do for one another.
Dogs are very appreciative. They can live in harmony and able to find happiness even in the simple things. They can be delighted in spending time with family or just going for a long walk together.
Dogs also remind us to show kindness to others and be more adventurous. Their courage and resilience teach us to persevere and stay strong when faced with difficult situations.
Best dog life quotes
Whether you're looking for inspiration or just want something fun to take on, these dog life quotes will surely make you smile!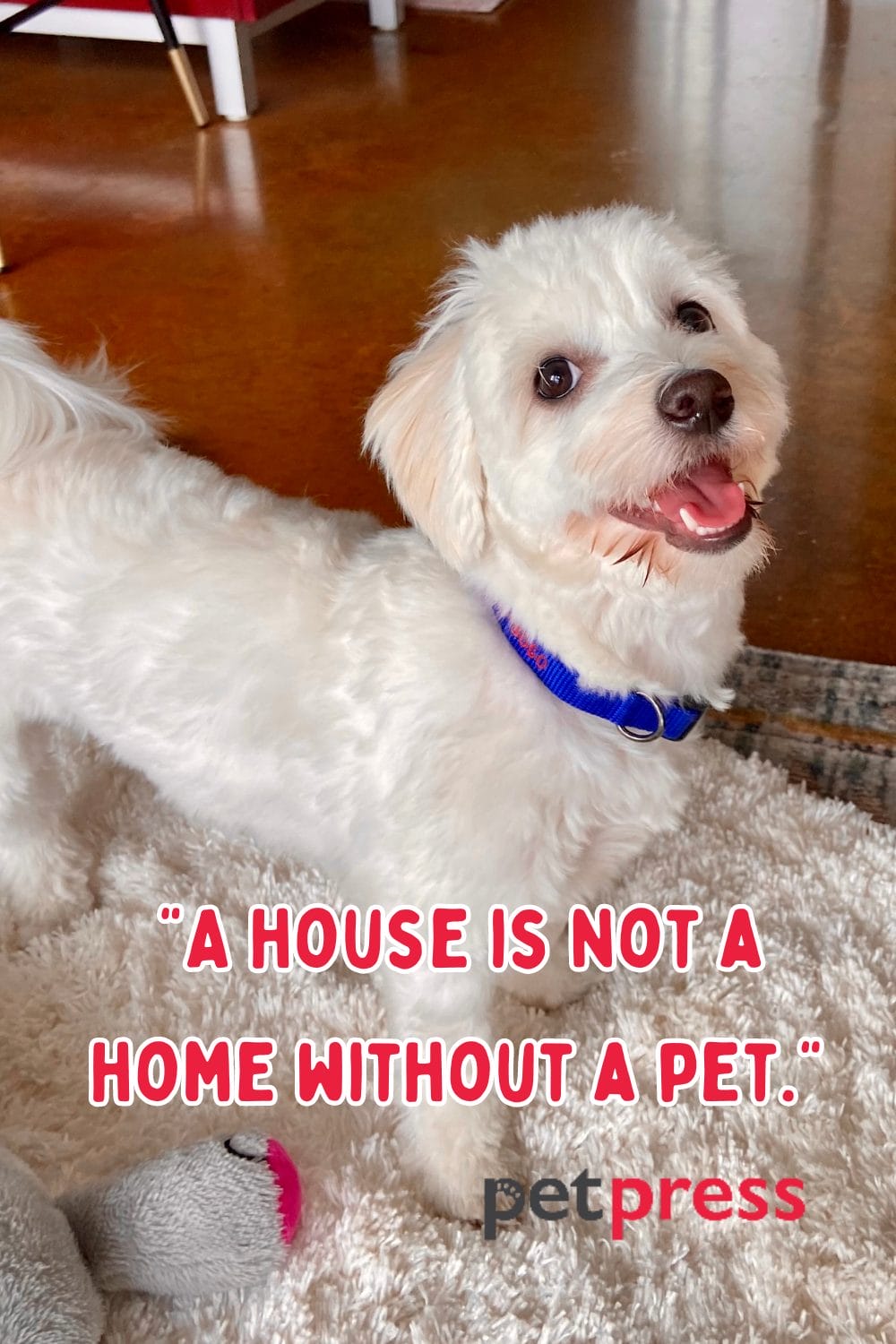 "A house is not a home without a pet."

– Unknown
"One reason a dog can be such a comfort when you're feeling blue is that he doesn't try to find out why."

– Unknown
"The world would be a nicer place if everyone had the ability to love as unconditionally as a dog."

– M K Clinton
"Dogs do speak, but only to those who know how to listen."

– Orhan Pamuk
"Dogs have given us their absolute all They have been ready for all kinds of trouble — eager — willing — prepared to do what we ask of them with no thought of self or conservation"

– Dean William Tinklepaugh
"The greatest pleasure of a dog is that you may make a fool of yourself with him and not only will he not scold you but he will make a fool of himself too"

– Samuel Butler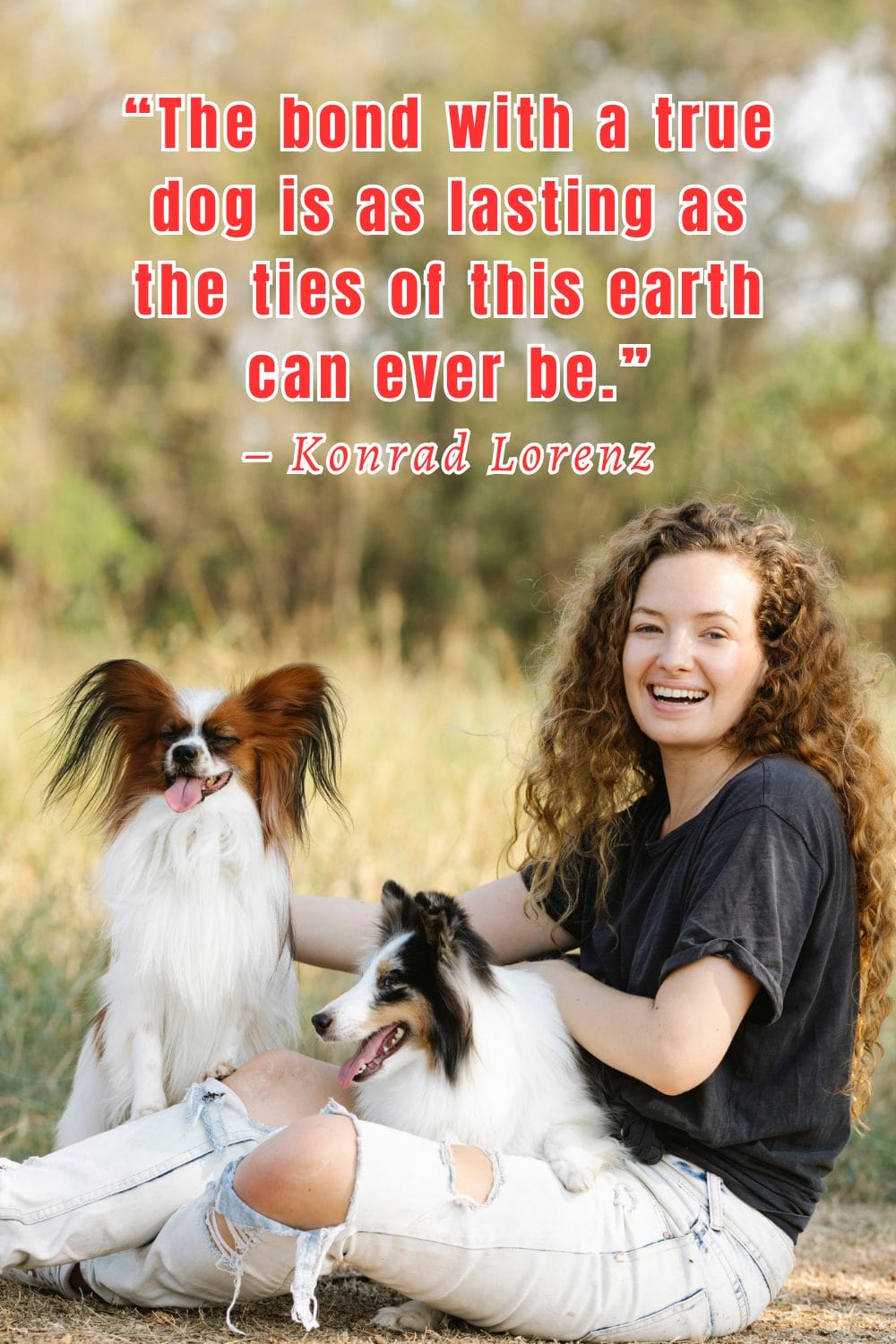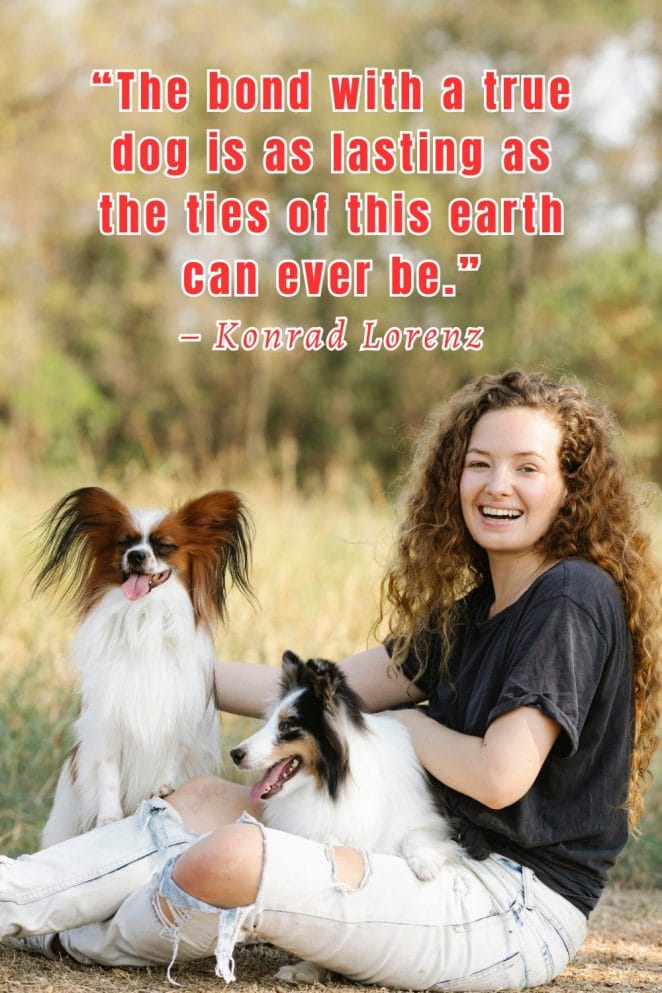 "The bond with a true dog is as lasting as the ties of this earth can ever be."

– Konrad Lorenz
"Dogs don't rationalize; they don't hold anything against anyone; they don't see color or ethnicity; they simply live from moment-to-moment loving life!"

– Robert J Lunte
"Your best friend isn't human…it's canine! He may eat out of your hand …but his loyalty will never waiver!"

– Julianne Victoria
"People come into our lives for seasons and reasons …dogs come into our lives for lifetimes!"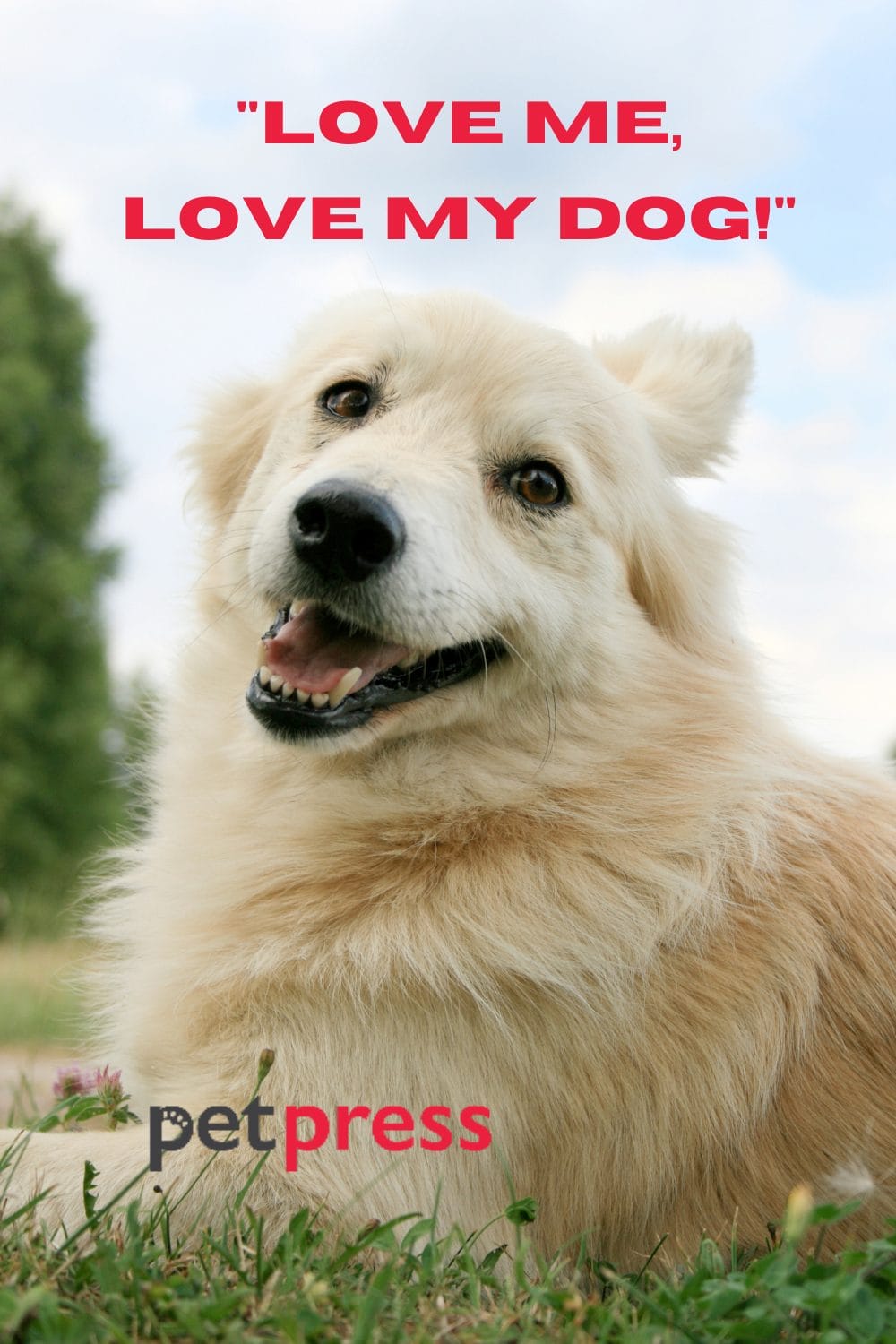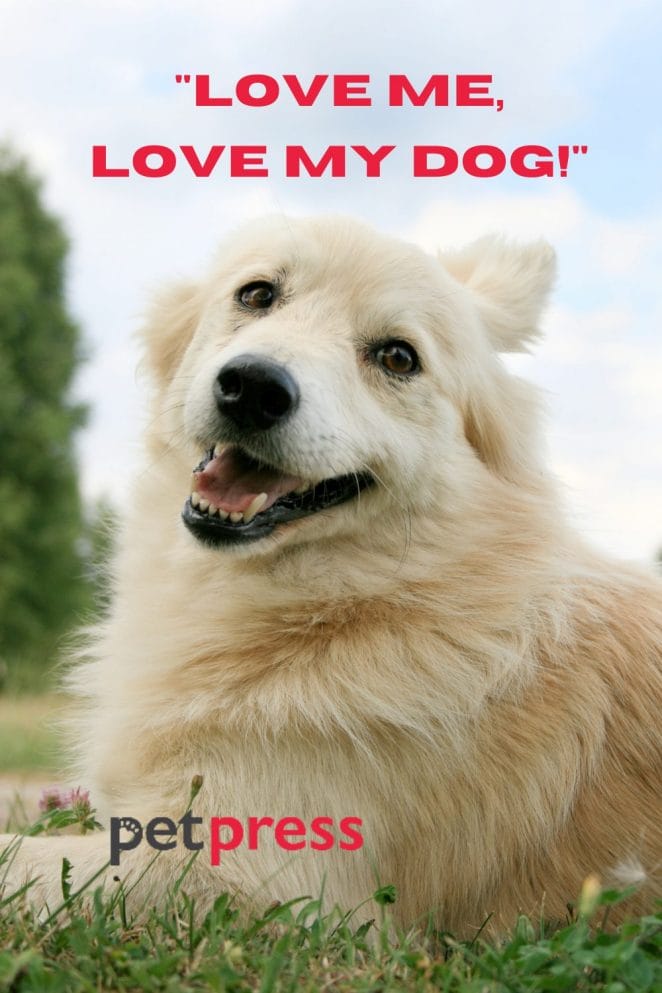 "Love me, love my dog!"
"A retired husband is often like an overgrown puppy — full of energy but without any particular purpose in life."

– Erma Bombeck
"Money won't buy happiness but it can buy more time with my dog!"
"Women and cats will do as they please and men and dogs should relax and get used to living with them!"

– Robert A Heinlein
"My dog gives me unconditional love even when she knows I'm asking too much or have forgotten something."
"A dog teaches us so much about being human — especially how pure we can be at heart."

– Angela Daemmrich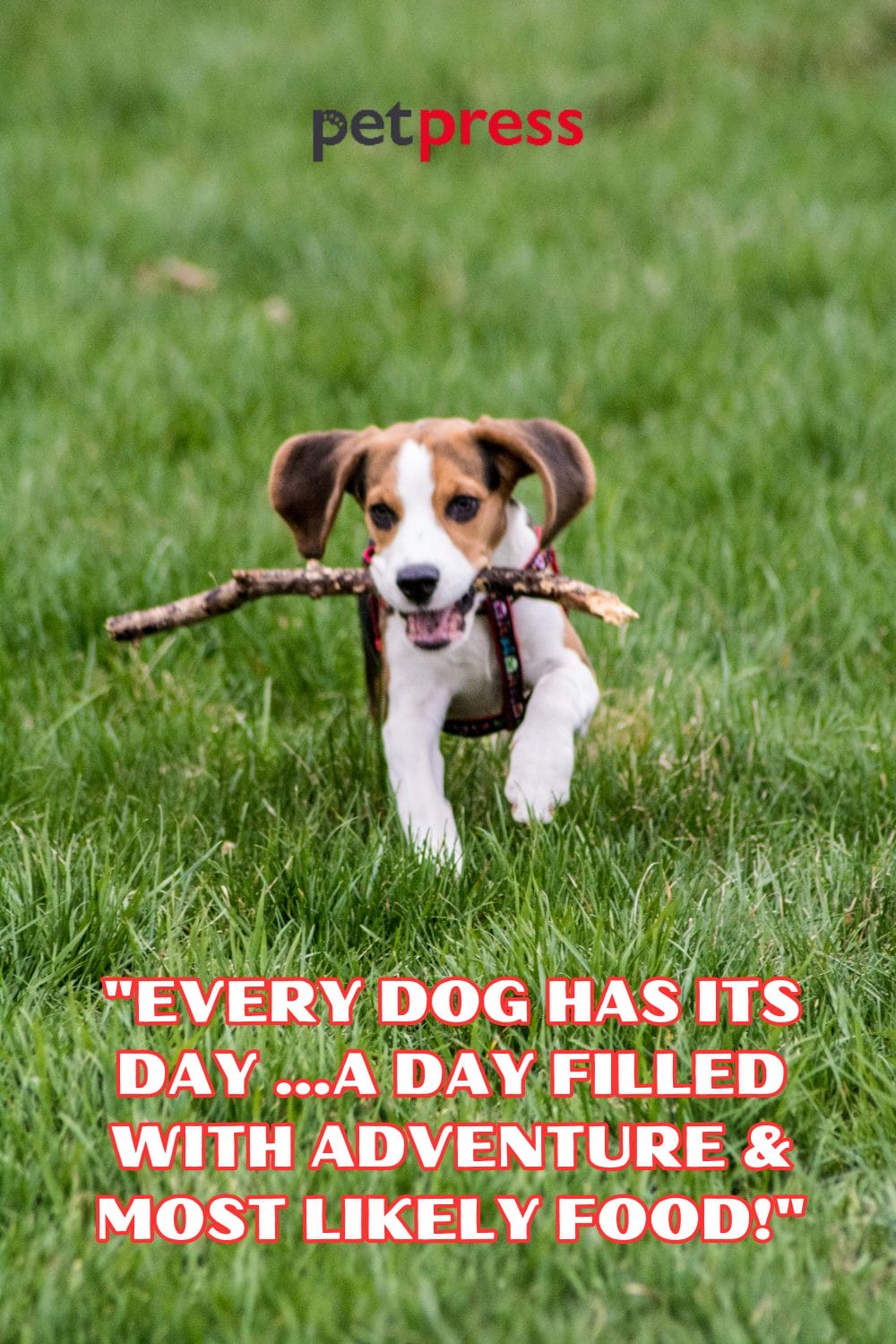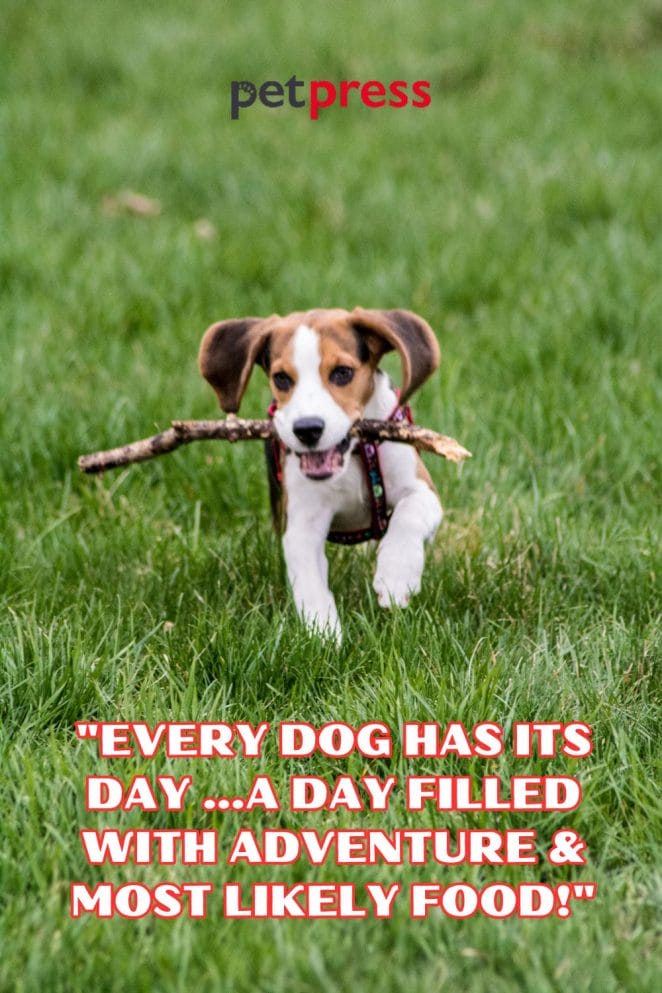 "Every dog has its day …a day filled with adventure & most likely food!"
"One way an animal teaches us is by showing us how we should live in harmony with nature"

– Dalai Lama
"Animals are reliable, many full of love, true in their affections, predictable in their actions, grateful and loyal."

– Jim Henson
"Animals don't worry about tomorrow; they live today and enjoy it."

– Rachel Carlson
"Animals have come to mean so much in our lives; we live in a fragmented and disconnected culture where nature and animals preserve our connection with reality."

Carl Safina
"Dogs do speak but only those who know how to listen understand them."

– Orhan Pamuk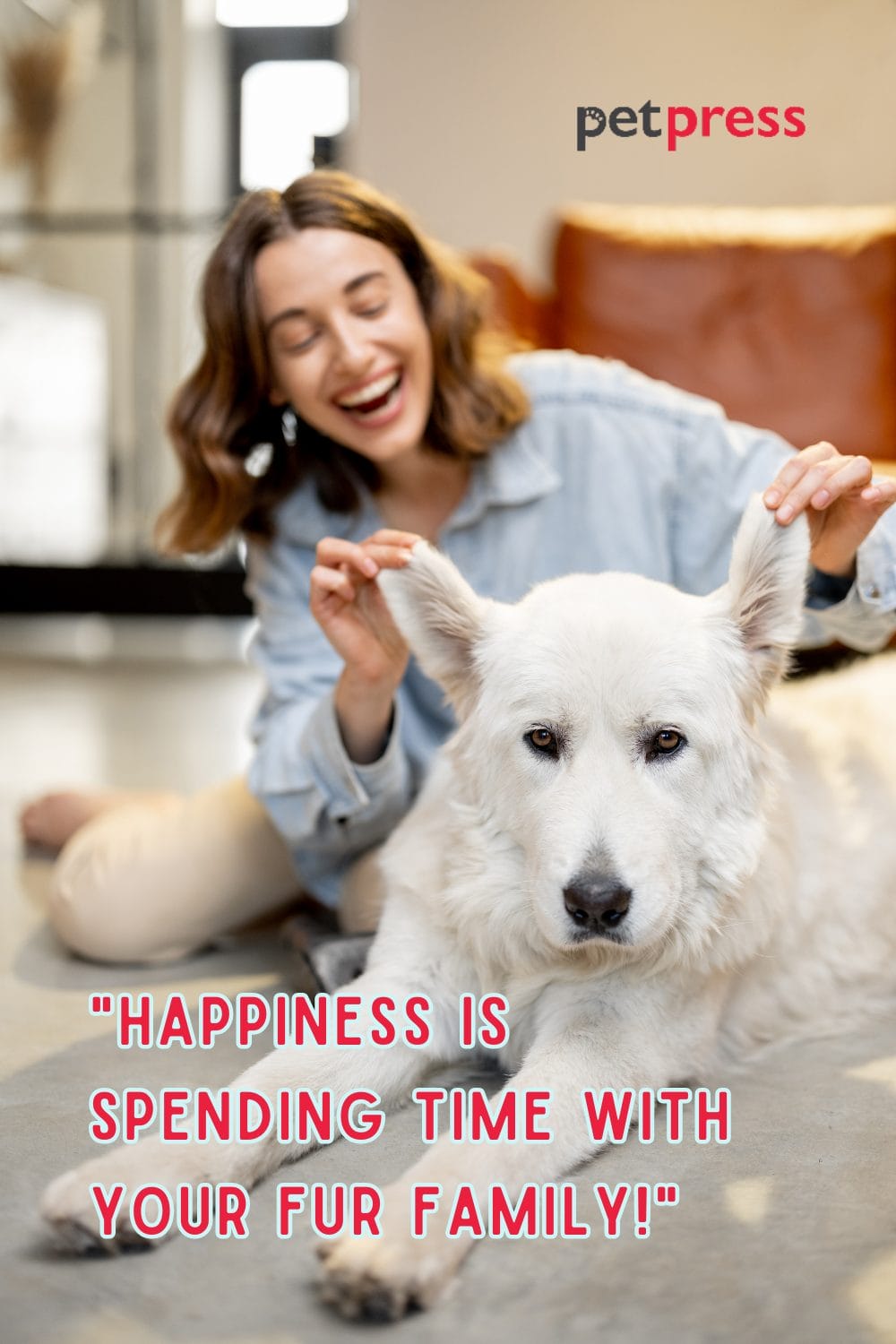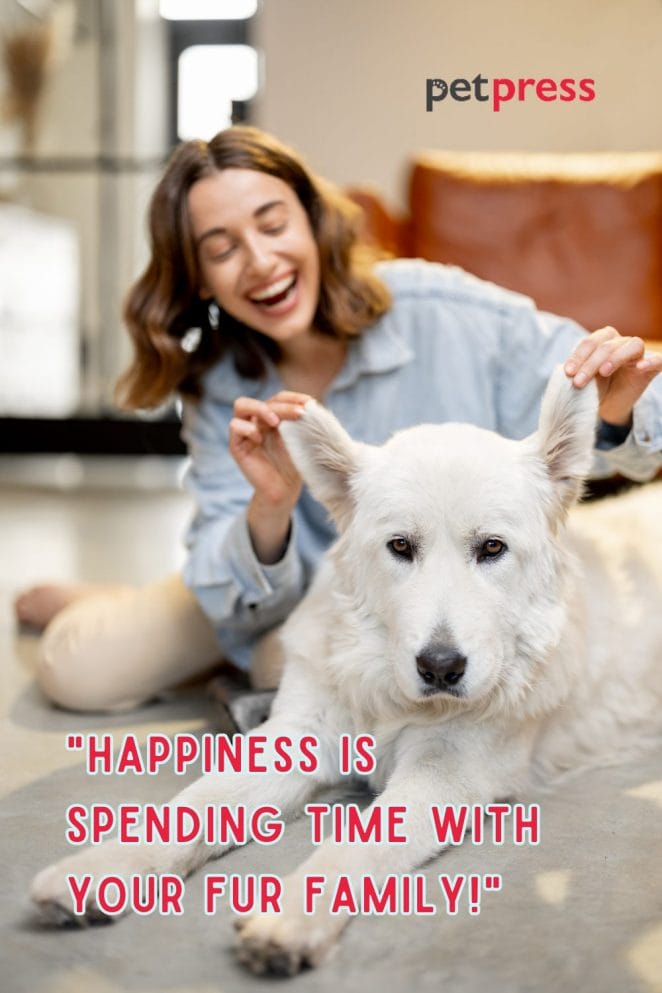 "Happiness is spending time with your fur family!"
"Life without dogs could be so boring …they bring joy every second!"
"My dog gives me unconditional love even when she knows I'm asking too much or have forgotten something."
"Dogs remind us every day how important it is not take ourselves too seriously!"
"Dogs bring out the best version of ourselves because they don't judge!"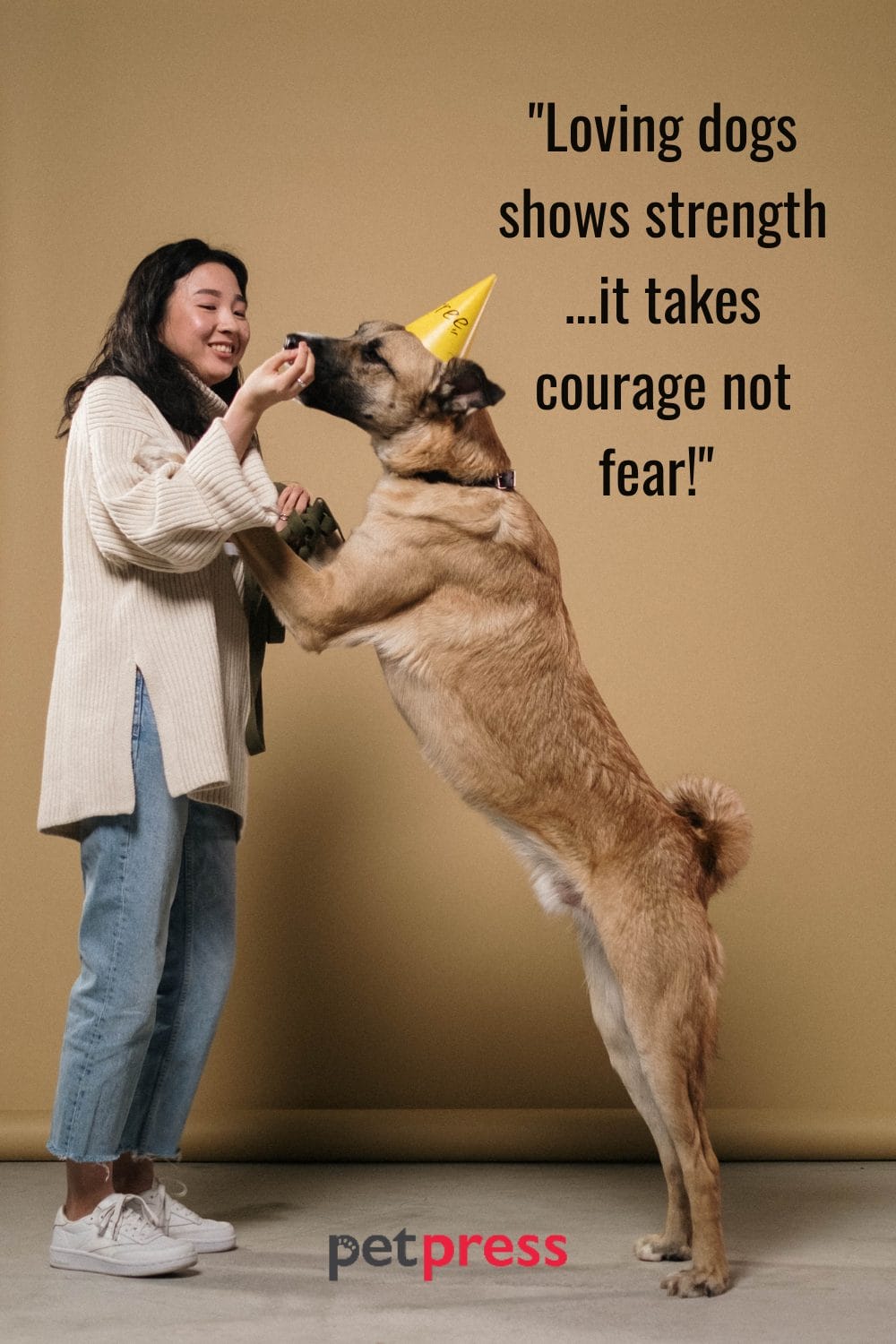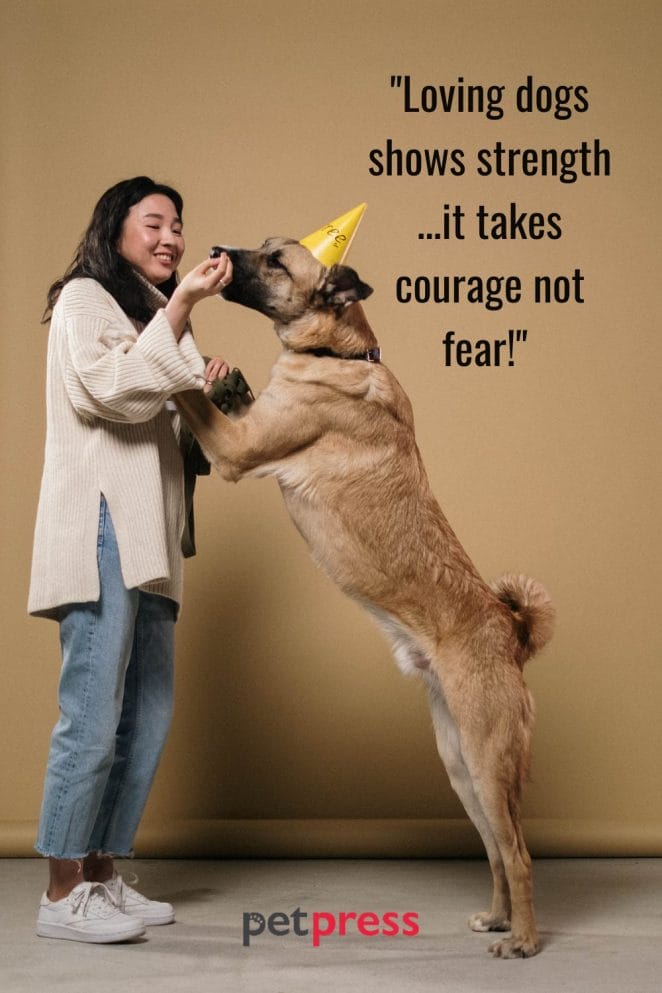 "Loving dogs shows strength …it takes courage not fear!"
"You never saw anyone walking his dog who wasn't smiling …they just make people happy wherever they go! "-Author unknown
"The greatest pleasure of owning Dogs comes from giving them back some measure of what we receive from them daily: friendship & loyalty! "
"A lot can be learned from the way dogs live their lives."

– Cesar Millan
"Life is like a walk with a dog; it doesn't matter where you get to, it's about enjoying the journey along the way!"
"The best way to find yourself is to lose yourself in the service of others."

– Mahatma Gandhi
"Life is what happens when you're busy making other plans."

– John Lennon
"Happiness is a choice that requires effort at times."
"Inner peace begins the moment you choose not to allow another person or event to control your emotions."

— Pema Chodron
"One key to achieving the life fulfillment which leads us toward greater joy and less suffering lies in learning how to let go of the past and focus on the moment."
"Be thankful for what you have; you'll end up having more. If you concentrate on what you don't have, you will never, ever have enough."

-Oprah Winfrey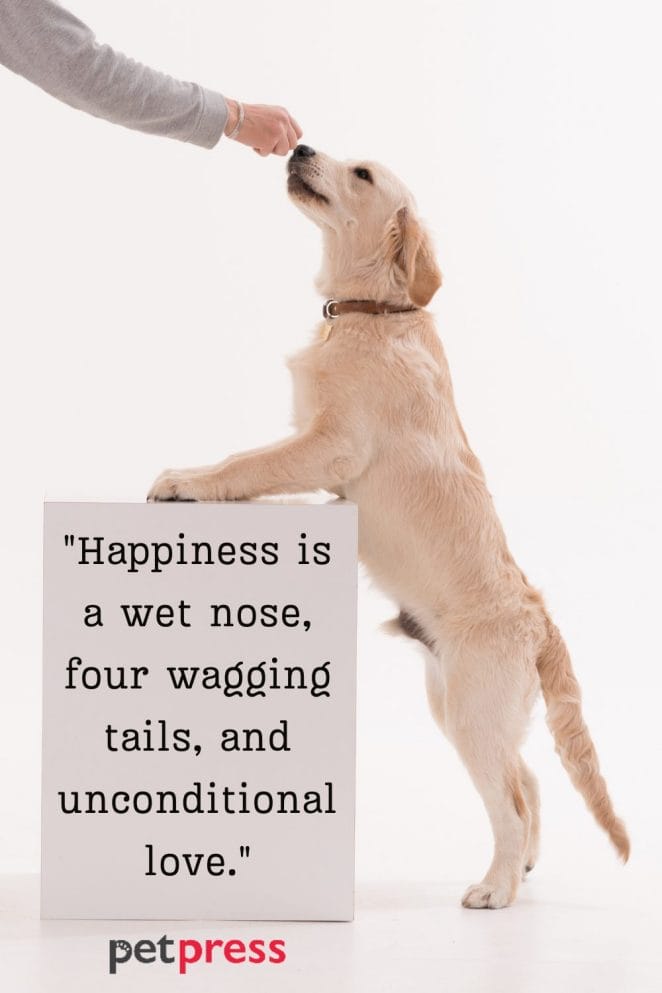 "Happiness is a wet nose, four wagging tails, and unconditional love."

– Author Unknown
"The smallest deed is better than the grandest intention."

– John Burroughs
"When we give cheerfully and accept gratefully, everyone is blessed."

-Maya Angelou
"Dogs have given us their absolute all. They have been ready for all kinds of trouble and baldness. They have never failed us."

-Winston Churchill
"Life is 10% what happens to us and 90% how we react to it."

– Dennis P. Kimbro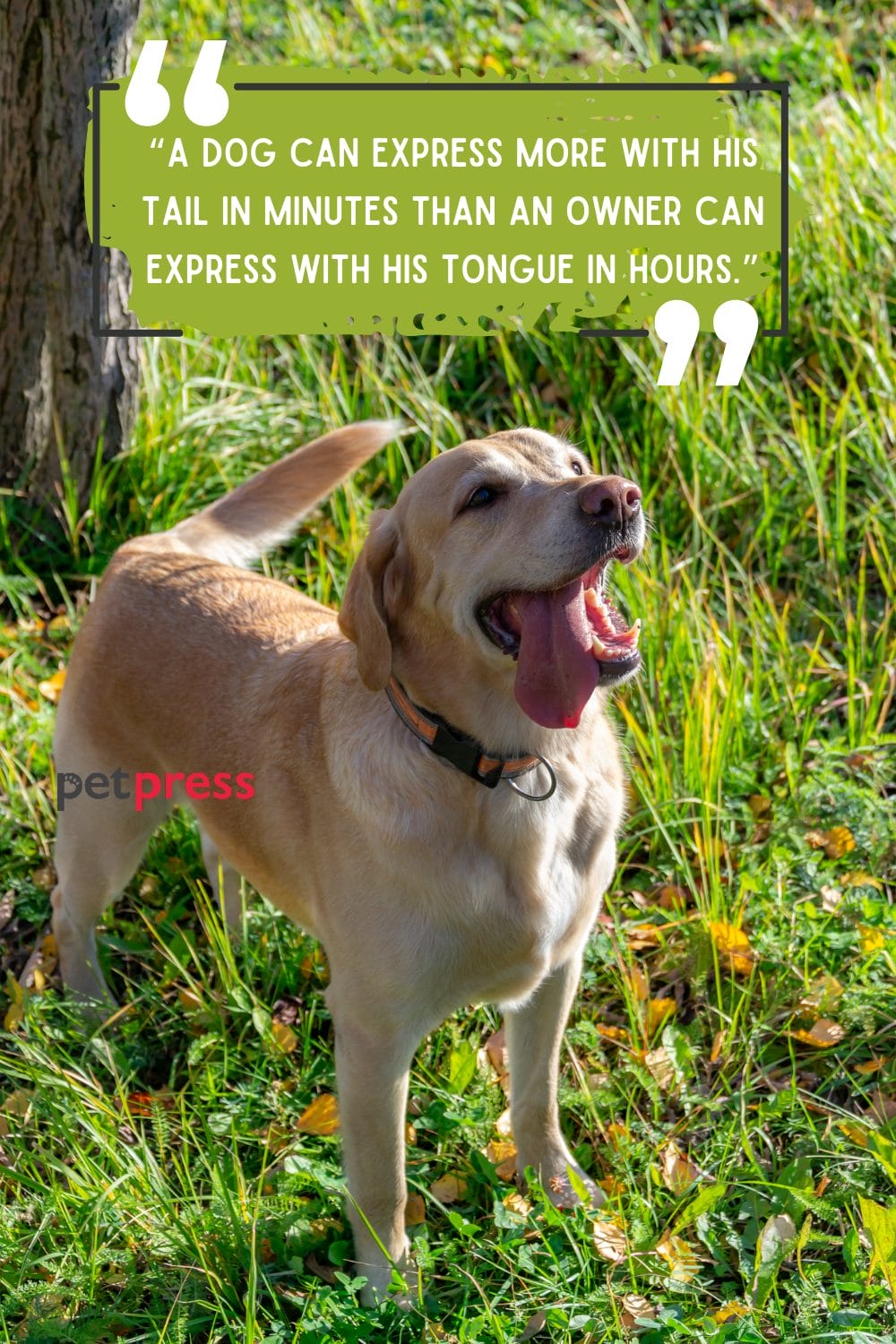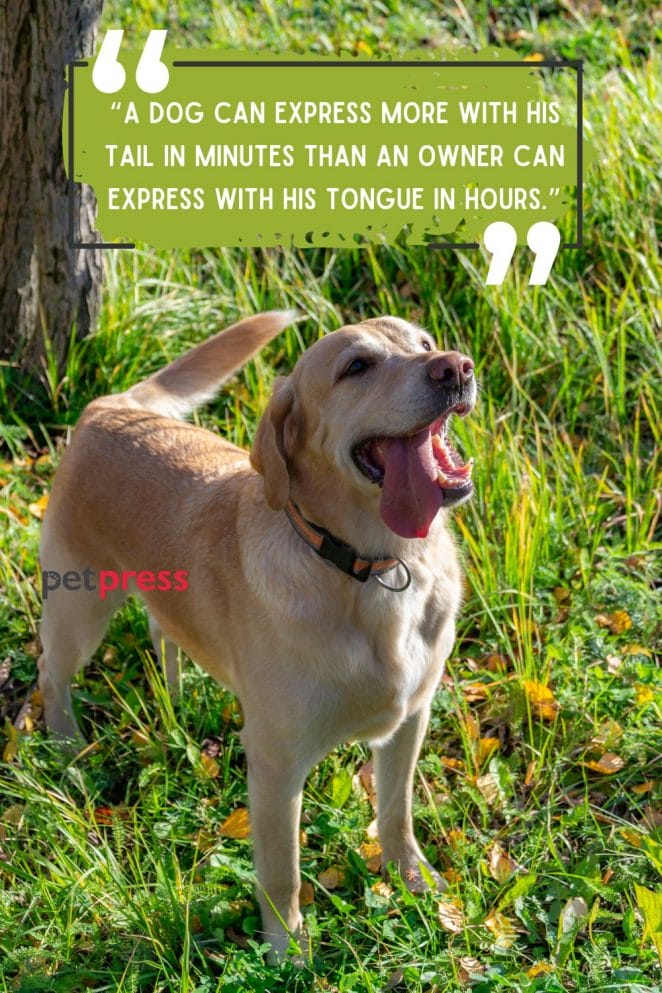 "A dog can express more with his tail in minutes than an owner can express with his tongue in hours."
"The happiness of your life depends upon the quality of your thoughts."

— Marcus Aurelius
"Dogs fill our lives with joy, love and companionship. When we share our lives with them, we always seem to gain something extra special — pure happiness!"

– Heather French Henry
"Owning a pet gives us joy and peace of mind and helps us be more mindful and content in our daily lives – that's true happiness!"

– Dr. Jennifer Coates
"For one creature so small, one being so full of life, has taught me more about love, loyalty, friendship and joy than any other being on this earth could ever give."

– Unknown
"Dogs don't just bring us joy—they actually increase our levels of well-being overall."

– Dr. William Chopik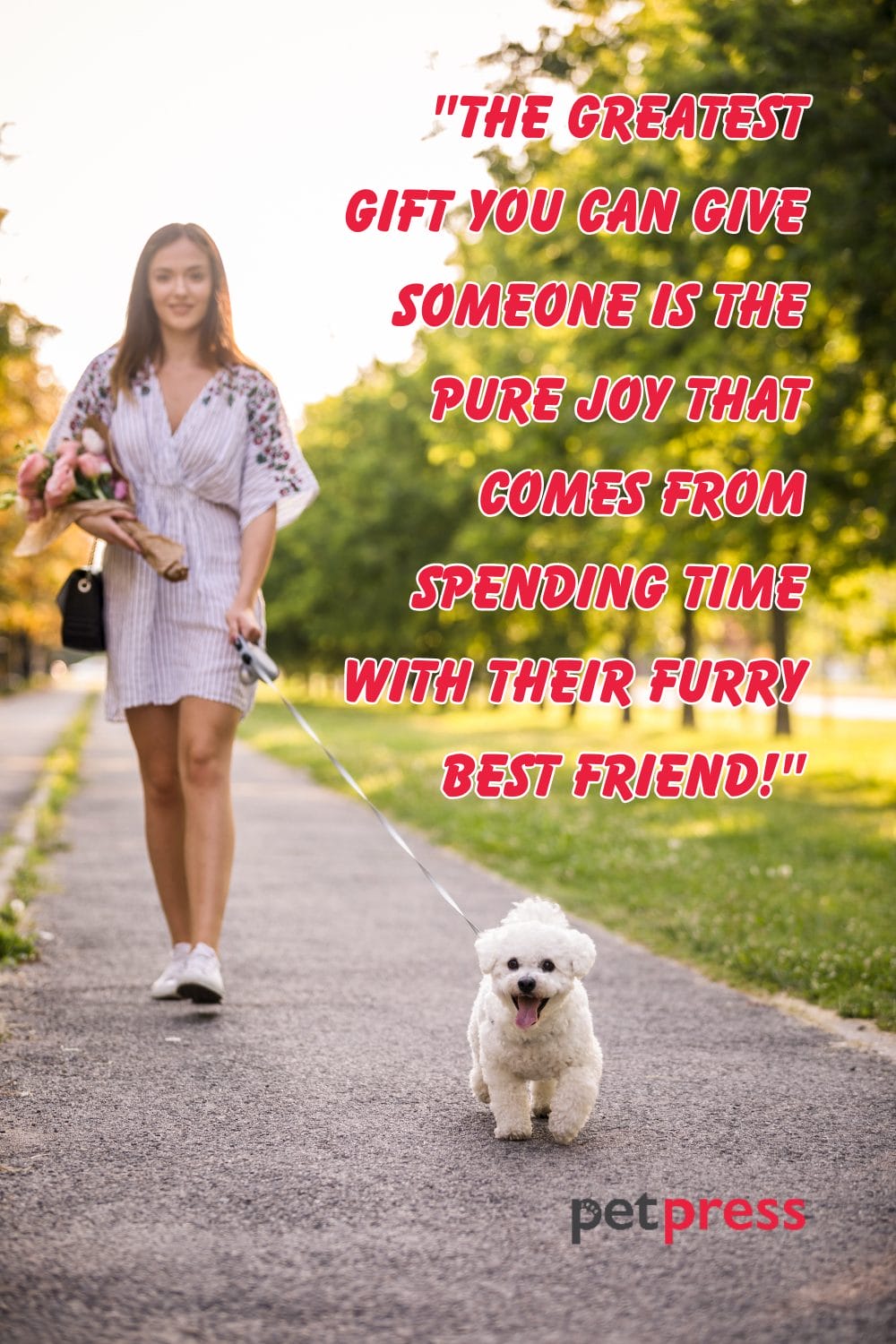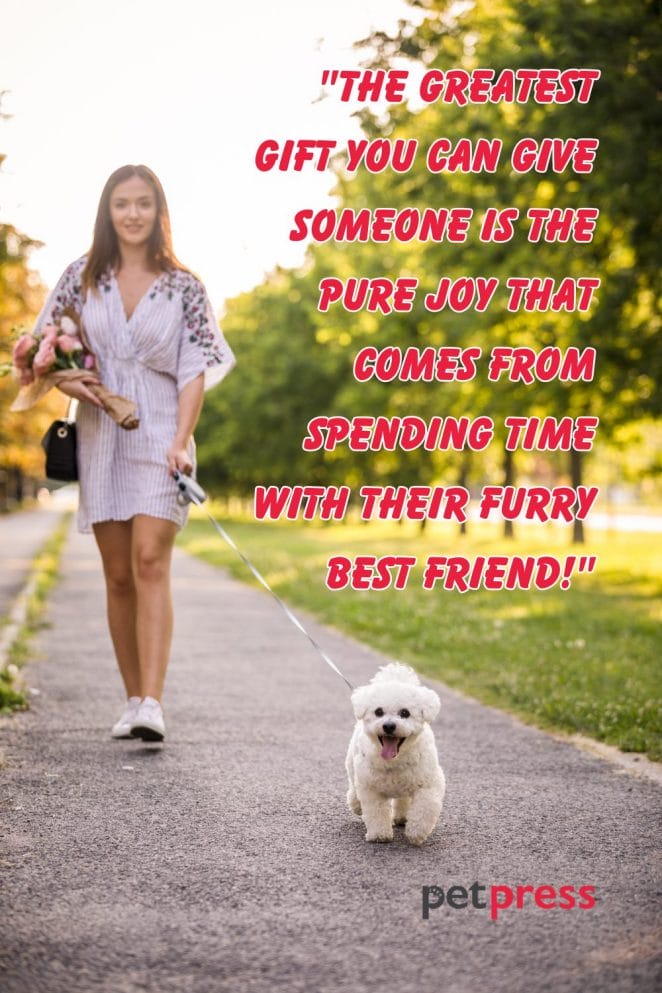 "The greatest gift you can give someone is the pure joy that comes from spending time with their furry best friend!"
Takeaway Lessons from Dog Life Quotes
A dog's life is an inspiration. They make our life happier and positively impact our lives. Their loving characters remind us of the importance of being present in our lives, showing kindness to others, and finding happiness in simple things.
May these wise words have inspired you to be a better man and aim to live life to the fullest. remember to appreciate your dog because they will always be by your side no matter what. After all, it's these little moments of joy that add up in life!
Related Posts:
50+ Dog Best Friend Quotes that Prove Unconditional Love
50+ Dog Mom Quotes to Celebrate Love and Devotion