Rottweiler weighs around 110-130 lbs, has strong and hardy body and disturbing or even scary eyes. Here is the list of male dog names that will definitely fit your Rottie.
Tough Male Rottweiler Dog Names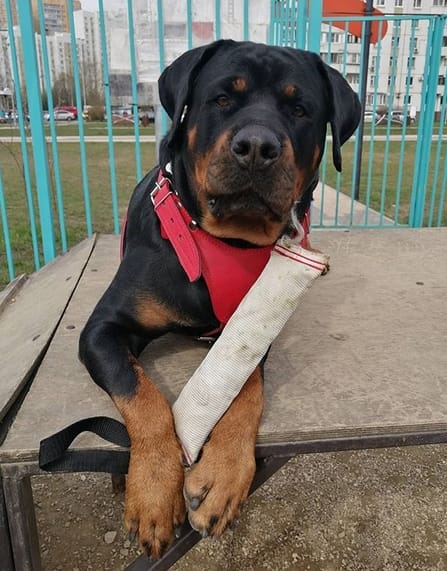 Bear
    Ranger
    Moose
    Gunner
    Vinnie
    Trapper
    Blitz
    Duke
    Goliath
    Brutus
    Rocky
    Sarge
    T-Bone
    Hercules
    Remington
    Diesel
    Bullet
    Fang
Aggresive Male Rottweiler Dog Names
    Avalanche
    Maximus
    Caesar
    Bolt
    Chief
    Mack
    Tito
    Hunter
    Thor
    Crash
    Captain
    Blaze
    Hawkeye
    Hulk
    Trooper
    Rambo
Strong Male Rottweiler Dog Names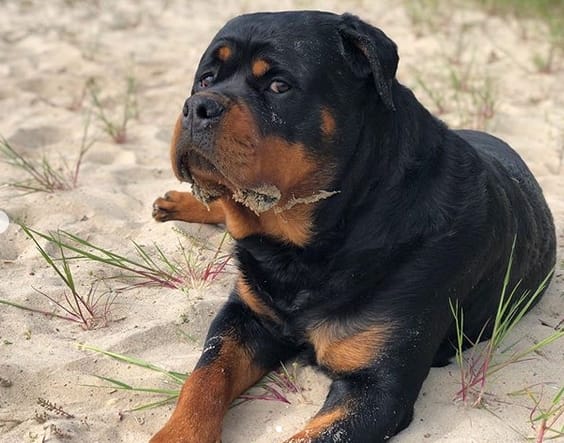 Buck
    Butch
    Maverick
    Justice
    Bane
    Bruiser
    Admiral
    Boss
    Tank
    Spike
    Axel
    Rex
Powerfull Male Rottweiler Dog Names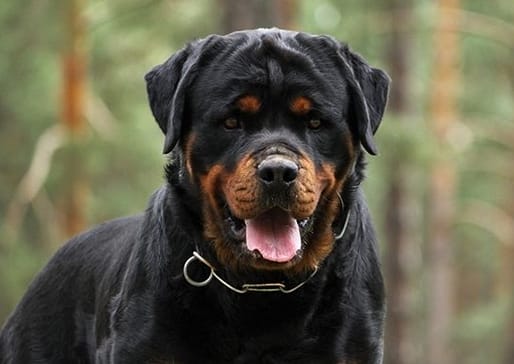 Tito
Dirk – also the people's ruler
August – great, magnificent
Sigmund – victorious protection
Rambo
Albern – white
Duke
Boss
Albrecht – also means noble, bright
Sarge
Captain
Axel – father of peace
Fang
Diesel
Trooper
Arlo – unknown
Ranger
Bach – dweller near the brook
Rolf – famous wolf
Fritz – also peaceful ruler
Gunner
Moose
Hawkeye
Caesar
Gunther – bold warrior
Schwartz – black hair or dark complexion
Trapper
Max – the greatest
Bruiser
Justice
Tank
Maverick
Badass Male Rottweiler Dog Names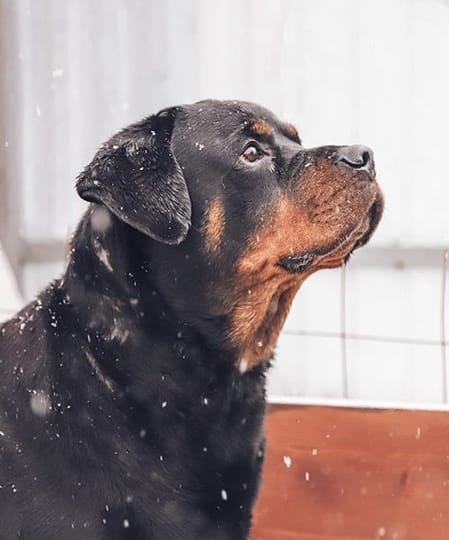 Butch   
Blaze
Hulk
Walter – army ruler
Brutus
Alphonse – noble, ready for battle
Admiral
Vinnie
Bullet
Alger – clever warrior
Leonard – brave lion
Frederik – peaceful ruler
Spike
Adler – eagle
 Stein – stone
Dieter – ruler of the people
Wolfgang – traveling wolf
Otto – wealthy
Blitz
Hercules
Rex
Bruno – brown
Heinz – also home of the king
Mack
If you are looking for more ideas, make sure to check our complete Rottweiler dog names.