Romanian Soccer Players from the Professional Football League (Liga Profesionistă de Fotbal) have been holding stray dogs up before matches to encourage pet adoptions.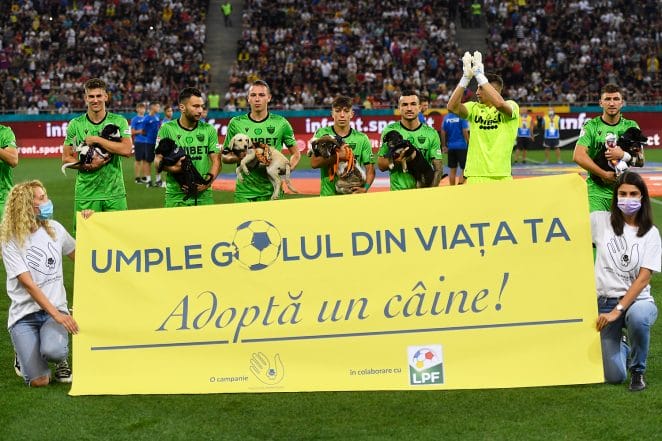 Romanian soccer players are known for their talents on the pitch and their kindness off of it.
The professional football partnered with local shelters and encouraged adoptions by holding dogs up ahead of the games.
Campaign to help a local shelter with pet adoption
Players in Romania happily volunteered to hold up dogs that were up for adoption before the start of the match as part of the "Fill the gap in your life" campaign.
The Professional Football League (Liga Profesionistă de Fotbal) initiative of Romania seeks to help local shelters with pet adoption.
According to a Romanian press release, the first time players from both clubs participated was in a match between Fotbal Club FCSB and Dinamo Bucharest.
How the dogs can get adopted
Each dog was given a name tag and a unique scarf to wear during the soccer games, making it more straightforward for spectators to locate them via the shelter's website, according to The Guardian.
The Ilfovadopta dog shelter also claimed that all dogs are vaccinated, neutered or spayed, dewormed, and ready to be adopted right away.
Long-term cause
The league has chosen to make this a long-term venture, and before each League 1 game, the ceremony will be conducted. Players will enter the field with animals from the local shelter, and fans may adopt them as soon as the game is finished.
This adoption campaign is open to anyone other than the fans too. If you'd like to get a pup from this cause, you can also try and contact the website and ask about dog importation.
11 animals have already been adopted, while 92 others are still looking for a perfect family.
Adopt in local shelters
This is a heartwarming example of the power sports stars have to affect positive change in society. If you've been thinking about adding a new family member but haven't found the right pet yet, check out your local shelters or check on how to buy a puppy online and find your perfect match!
Adopting from a shelter or rescue group not only saves the life of an animal—it also helps keep space at overcrowded shelters.
There are plenty of animals waiting for their forever homes like these players who were rescued before they could be euthanized because no one wanted them.