It is natural for a pet to explore the house and jump or lean towards the windows to see the outside world. It is also sometimes inevitable for some pets to seize the opportunity whenever they see an open door. Fact: more than a million pets get lost or stolen each year and some are even sold in crowded puppy mills or research labs for experimentation. Yikes! There are many options for a pet parent to keep track of their pets but we should also consider how effective each one is.
Tracking methods for pets include:
Personalized Collars
Identification tags
License tags
Rabies tags (required in some states)
Microchip
GPS trackers
TATTOOING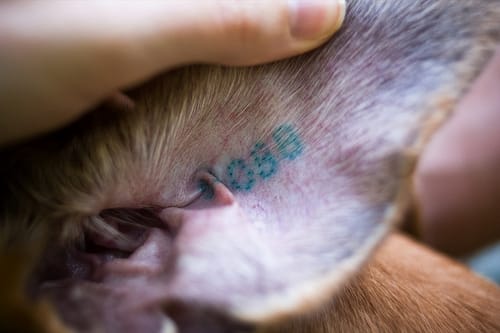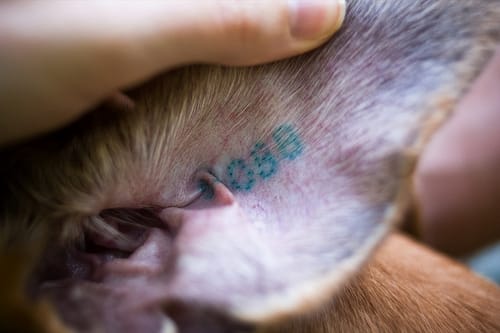 Yup, there are some states that allow dogs to get tattooed to help identify them in case they get lost or stolen.
IS IT ILLEGAL TO TATTOO A DOG?
Not all pet parents know about animal tattooing but in fact, it has been around since the 1960s especially for farm animals and eventually in a few registered animal clinics. Tattooing a pet pup is said to be a permanent means of identification with a series of letters and numbers. Standard tattoos are placed inside the ear, rear leg, or belly and these parts should be shaved for maximum visibility. But before considering tattooing a pup, you may consult your vet, breeder, or local humane society to check if this allowed for your best friend.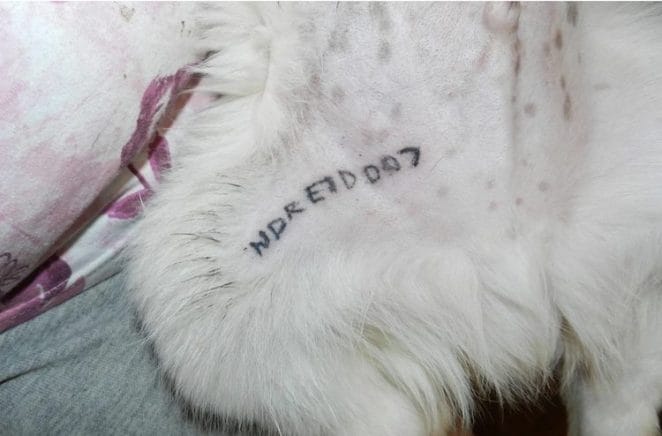 TATTOOING A DOG FOR IDENTIFICATION
Some pet parents are not satisfied with microchips as they sometimes do not work as well as collars with tags since they easily get lost (depending on the dog's behavior). With a dog having a tattoo, it would make life easier for the pet parents as it serves as the 'license plate' and will lead back to the owner since it's registered.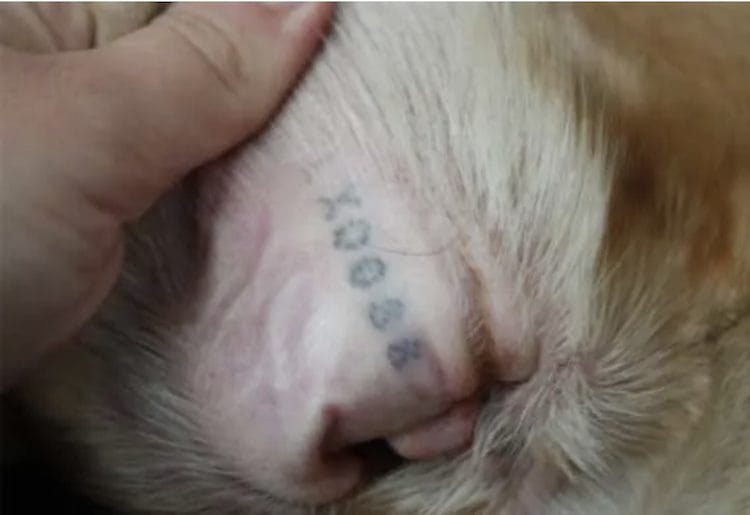 DISADVANTAGES: Not everyone knows about dog tattooing if they come across a lost dog and might as well sell them or find a new home. Local dog shelters can help with this and they will surely know about dog tattoos.
It is recommended to have the pup tattooed properly at the young age of six months when you spay or neuter your puppy. Remember, consult your vet first.
WHY TATTOOING A PET BECAME A CONTROVERSY?
Some people consider tattooing dogs unethical and cruel, but tattoos for dogs are actually painless and cosmetically acceptable when done right by a skilled tattoo artist. However, some pet parents go over the line and put large artsy tattoos on their innocent pets. Here's a clip from one of the episodes in 'The Doctors' about a cat with a lot of tattoos!
Also, back in 2016, there was an uproar on the internet when a man in Brazil gave his bull terrier tattoos on the face. Many have charged the man with animal cruelty after this happened.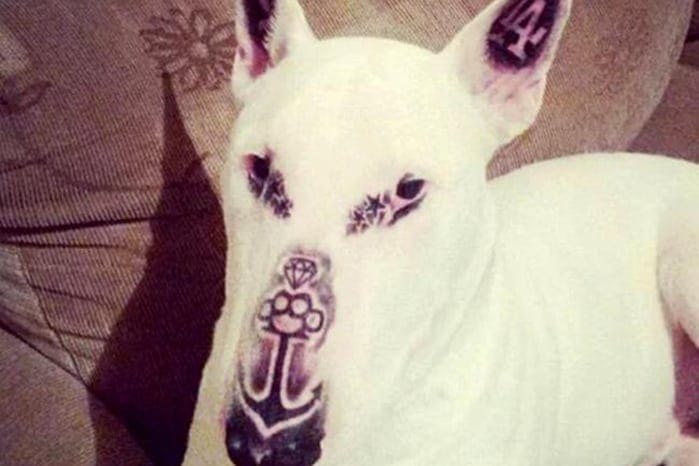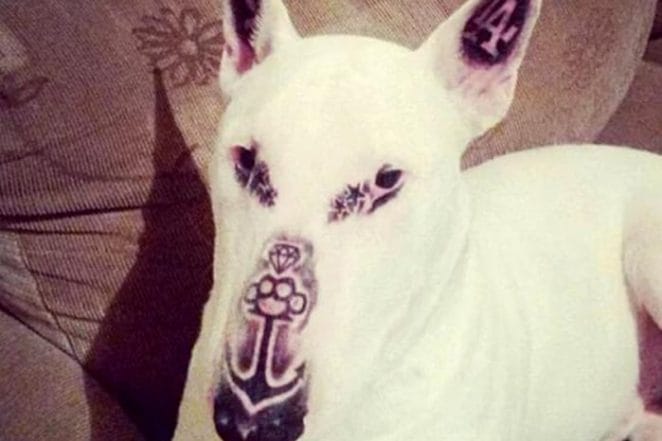 If you consider giving your pet a tattoo for identification purposes, the AKC Companion Animal Recovery (CAR) or the National Dog Registry (NDR) accepts tattoos for pets by a legal registration under the owner's consent and if it is allowed in the area. As one said, it also gives additional breeders peace-of-mind by not having to rely on a new owner to protect the puppy.
HOW MUCH DOES TATTOOING A DOG COST?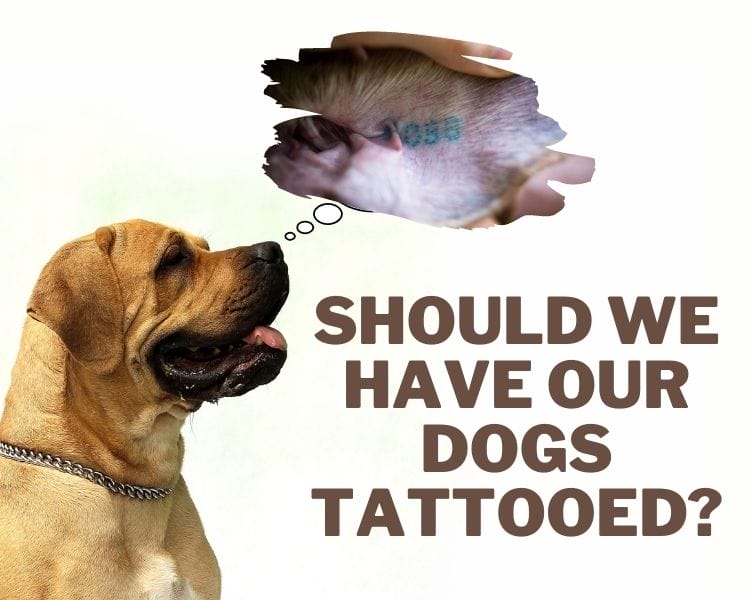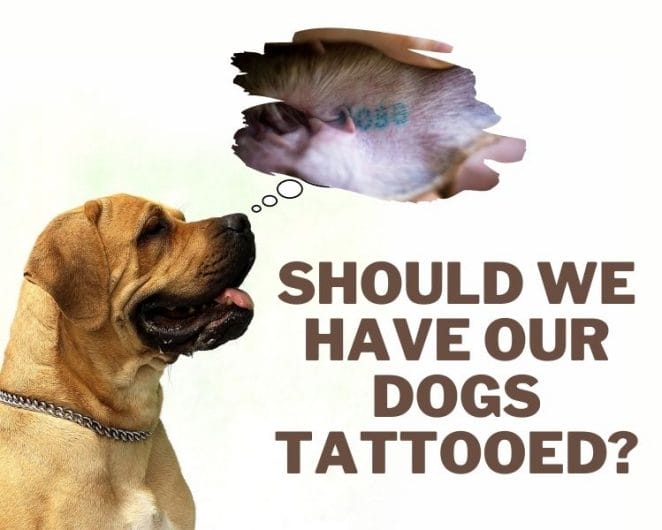 Usually, tattooing a dog has a fee that consists of two parts: application of the tattoo, and registration. The fee for applying the tattoo varies by area of the country and the number of animals being done at one time. Inquire to the AKC, NDR, or even your local shelter about the fees for your particular needs. At the end of the day, registration and identification protection will greatly increase your dog or cat's chances of returning home safely.