The werewolf is one of the most popular mythical creatures in folklore and is wildly used in fictional vampire movies. You may have heard of them and seen what they look like in movies, but of course, they are just a figment of a writer's imagination. A werewolf usually shapeshifts and also has supernatural powers and strength. Believe it or not, there are many werewolf names in books that are also used as wolf names and we thought of creating this list to show the real meaning behind these names.
Check out these 70 powerful werewolf names that you should consider for your tough pet.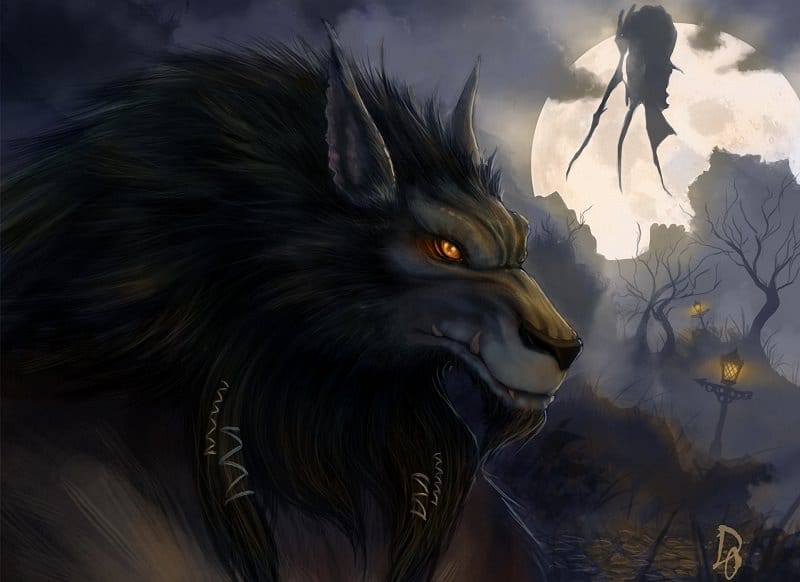 Bigby – from the comic series "Fables"
Vivian – from Annette Curtis Klause's "Blood & Chocolate"
Ginger – after "Ginger Fitzgerald" from "Ginger Snaps"
Grubbs Grady – a protagonist in Darren Shan's "The Demonata"
Belua – meaning "beast"
Aardwolf – Night Thrasher vol 2 (Marvel Comics)
Jacques – after "Jacques Roulet", the "Werewolf of Angers"
Greymark – after "Lucian Greymark" from "The Mortal Instruments"
Evo – Gen 13 (DC Comics)
Claude – sounds a lot like "clawed"!
Fangface – from the animation of the same name
McNair – from "Being Human"
Marcus – after "Marcus Bozeman" from "True Blood"
Meness – meaning "moon" in Latvian
Succubus – the most powerful female demon
Christa – from "Becoming Human"
Chono – meaning "wolf" in Mongolian
Remus – first name of "Lupin" from the "Harry Potter" franchise
Waldemar – after "Waldemar Daninsky" from "Las Noches del Hombre Lobo"
Bestia – meaning "brute" and "beast"
Kasdeya – known as the fifth satan
Corvin – after "Michael Corvin" from the "Underworld" films
Draugluin – From J.R.R. Tolkien's Legendarium
Elena – from the "Women of the Other World" book series
Hayley – after "Hayley Marshalls" from "The Originals"
Nimue – an Arthurian sorceress; making a perfect werewolf name
Ruby – Once Upon a Time (TV Show)
Hecate – Goddess of magic and the underworld
Oz – Daniel "Oz" Osbourne, Buffy the Vampire Slayer
Blaidd – meaning "werewolf" in Welsh
Leah – after "Leah Clearwater" from "Twilight"
Klaus – after "Klaus Mikkelsen" from "The Vampire Diaries"
Moonstone – an ethereal stone that channels the moon
Jacob – werewolf from the "Twilight" franchise
Lilith – from Hebrew meaning "of the night"
Lamento – meaning "howl" in Portuguese
Qarina – a demon from Arabian mythology
Dusk – when werewolves appear
Quist – after "Eddie Quist" from "The Howling"
Gorgon – the personification of female mystery
Jurjack – "wolf" in Croatian
Silvi – from the monster doll series "Monster High"
Angua – after "Delphine Angua von Uberwald" from Terry Pratchett's "Discworld"
Fenrir – a werewolf and Death Eater from the "Harry Potter" franchise
Luna – meaning "moon" in Italian
Embry – one of Jacob's pack in "Twilight"
Lupin – werewolf from the "Harry Potter" franchise
Noir – French meaning "dark" and "black"
Kuu – meaning "moon" in Finnish
Ranulf – from the Old Norse "Reginúlfr" meaning "advice" and "wolf"
Cellica – meaning "Celeste"
Mannaro – meaning "werewolf" in Italian
Black Onyx – a dark gemstone
Pandora – Greek name (the first person to unleash evil on the world)
Wolfie – from "Casper's Scare School"
Selene – Greek Goddess of the moon
Howler – after the sound a werewolf makes at full moon
Captain – Hellsing vol 3 (Dark Horse Comics)
Picolici – meaning "werewolf" in Romanian
Uncle Ted – from "Bad Moon"
Batibat – a demon from Ilocano folklore
Stirba – the werewolf's mother in "The Howling II"
Jeremy – from the Canadian TV series "Bitten"
Lamia – meaning "fiend" in Arabic
Vagor – meaning "howl" in Latin
Lucian – from the "Saga Underworld"
Lawrence – also known as "The Wolf Man"
Céleste – from French meaning "ethereal"
Prosperine – the Princess from Hell
You can't find these werewolf names anywhere else, but if you're looking for some of the other best wolf names, then you can also create a wolf name based on your own preferences with our wolf name generator.