If we're looking for meaningful names for pets, we can turn back the clock and browse through different wolf names from mythology and history. We wouldn't forget every history lesson we studied from gods and goddesses to warriors, Norse mythology, and even mystic locations that can make great names for a wolf.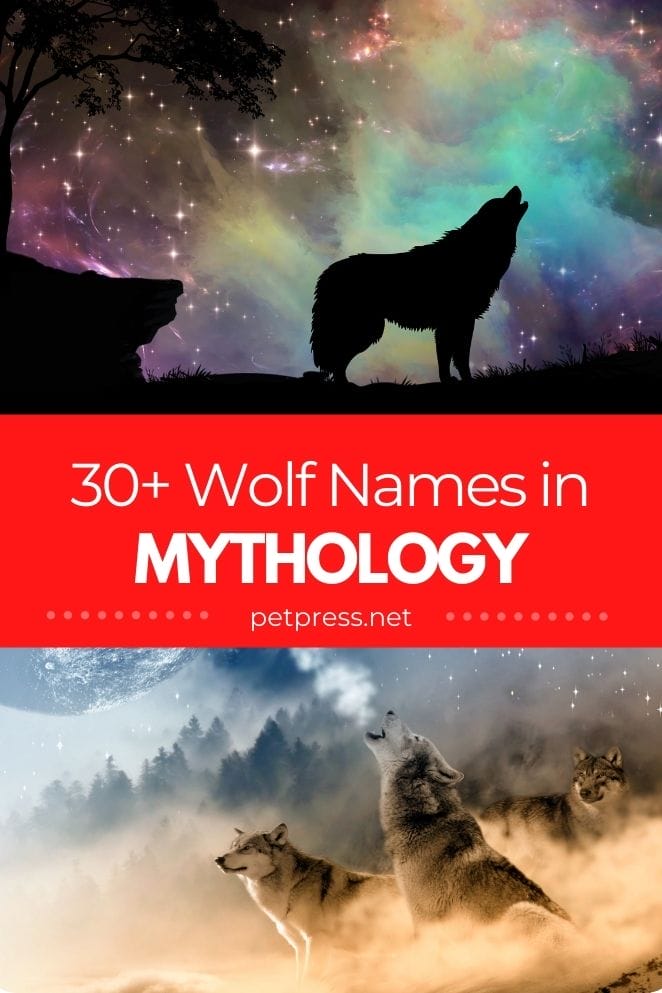 If you're looking for the best wolf names from ancient times, then check this list of over 30 wolf names and their references.
Wolf Names used in Mythology
| | |
| --- | --- |
| Mythological wolf names | References |
| ​Isengrin | ​Ysengrimus latin poem |
| Hugues, the WereWolf | Sutherland Menzies |
| ​Beja, Mathias, Tierney, Murdock | ​The Nocturne |
| ​Brokefang, Frostfur | The Immortals (​Pack leaders​) |
| ​Faolan | ​The Wolves and Beyond |
| ​Huttser, Palla, Khaz, Kipcha, Brassa, Bran, Larka, Fell, Kar, ​Skop | ​Sight​ |
| ​Marta, Calef, Rann, Sula, Annie, and Oldtooth | ​​Hungry for Home: A Wolf Odyssey |
| ​Aragh | ​The Dragon and the George |
| ​Nashoga | ​Redstone |
| ​Lakota | ​A Friend for Lakota |
| ​Baree | ​Baree, Son of Kazan |
| ​George and Angeline | Never Cry Wolf |
More mythological wolf names
Earl
Ruslana
Lark
Rock
Mars
Odin
Lycaon
Diana
Leto
Skadi
Morrighan
Artemis
Titan
Leo
Apollo
Lycia
Badh
Macha
Asena
Amarok
Still not satisfied with these wolf names? No worries! We have a wolf name generator that will help you create the best wolf name based on gender, size, and even color!