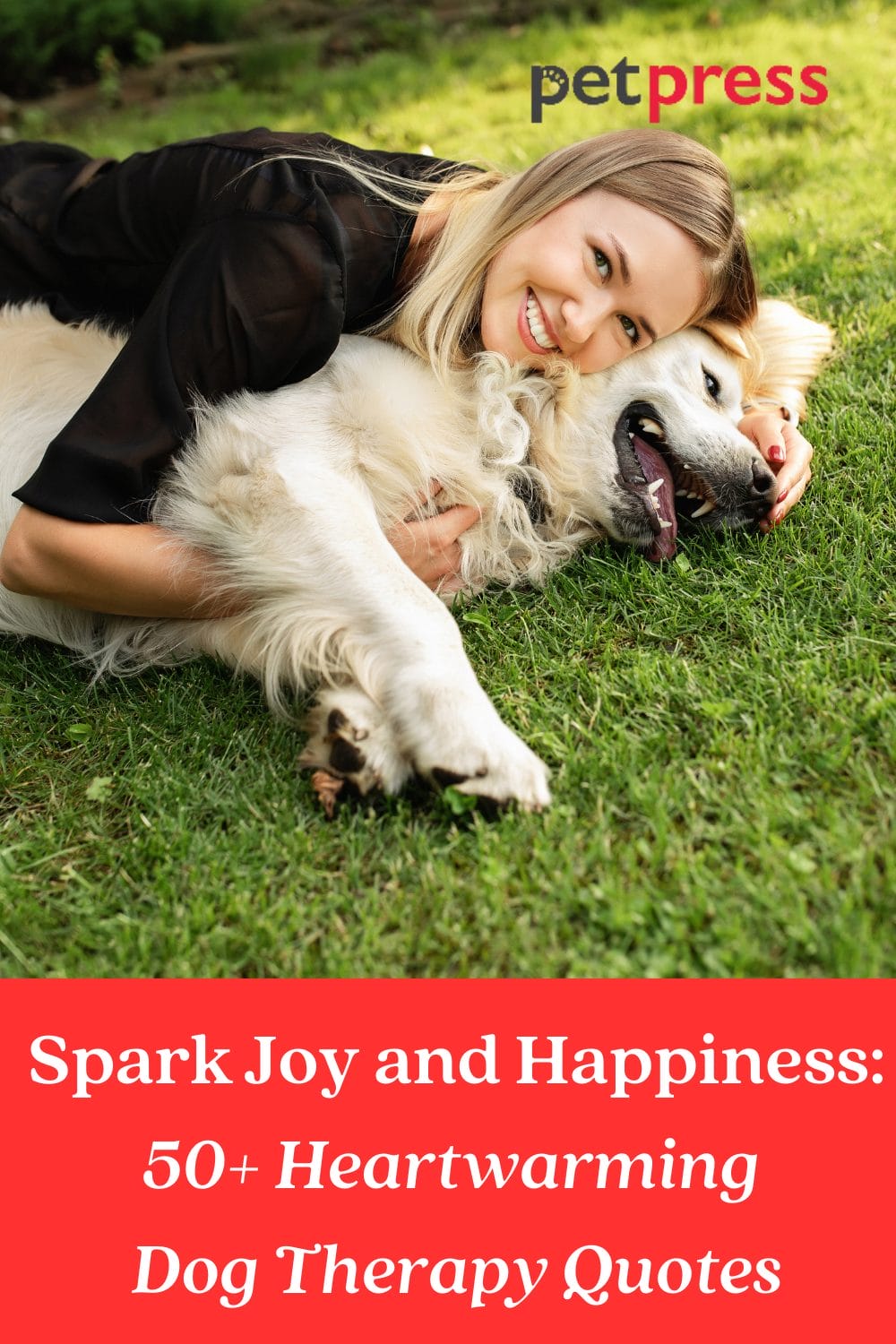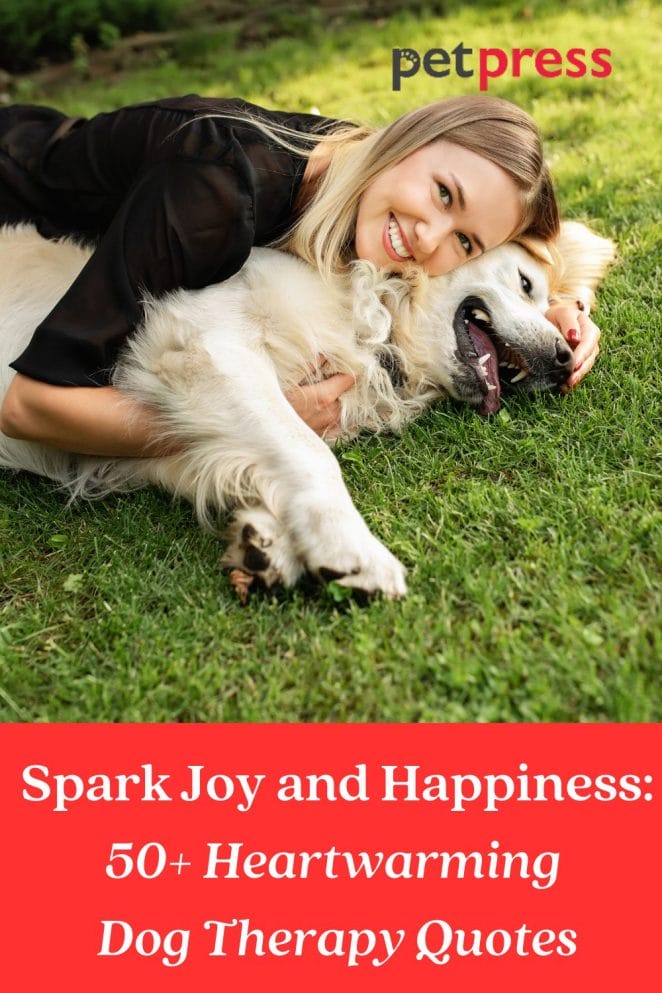 Dogs bring joy, comfort, and happiness into our lives. They can be powerful allies in emotional well-being – making dog therapy a talk nowadays. That is why we will explore these heartwarming dog therapy quotes that capture the unique bond between humans and their canine companions.
What is Dog Therapy and Why It Matters
Dog therapy is used to improve physical and mental health. They help people manage depression, anxiety, PTSD, and other mental health issues. It can also be beneficial for those who are dealing with physical disabilities or chronic illnesses.
Dog therapy encourages empathy and teaches responsibility. It also promotes a sense of calmness and security in humans and their canine counterparts. Comfort, companionship, understanding, and love can make all the difference in managing challenging times.
People use trained dogs to help them with their physical and mental health. Known also as comfort dogs, therapy dogs help people recover from physical and psychological health conditions. They are well-trained by professionals and handlers to provide attention and comfort effectively.
Inspiring dog therapy quotes
To celebrate these therapy dogs and their valuable participation in achieving better well-being, let us explore these dog therapy quotes that can make our hearts warm and appreciate our pups more. These dog therapy quotes capture the unique bond between humans and their furry friends and remind us just how powerful the human-dog bond can be.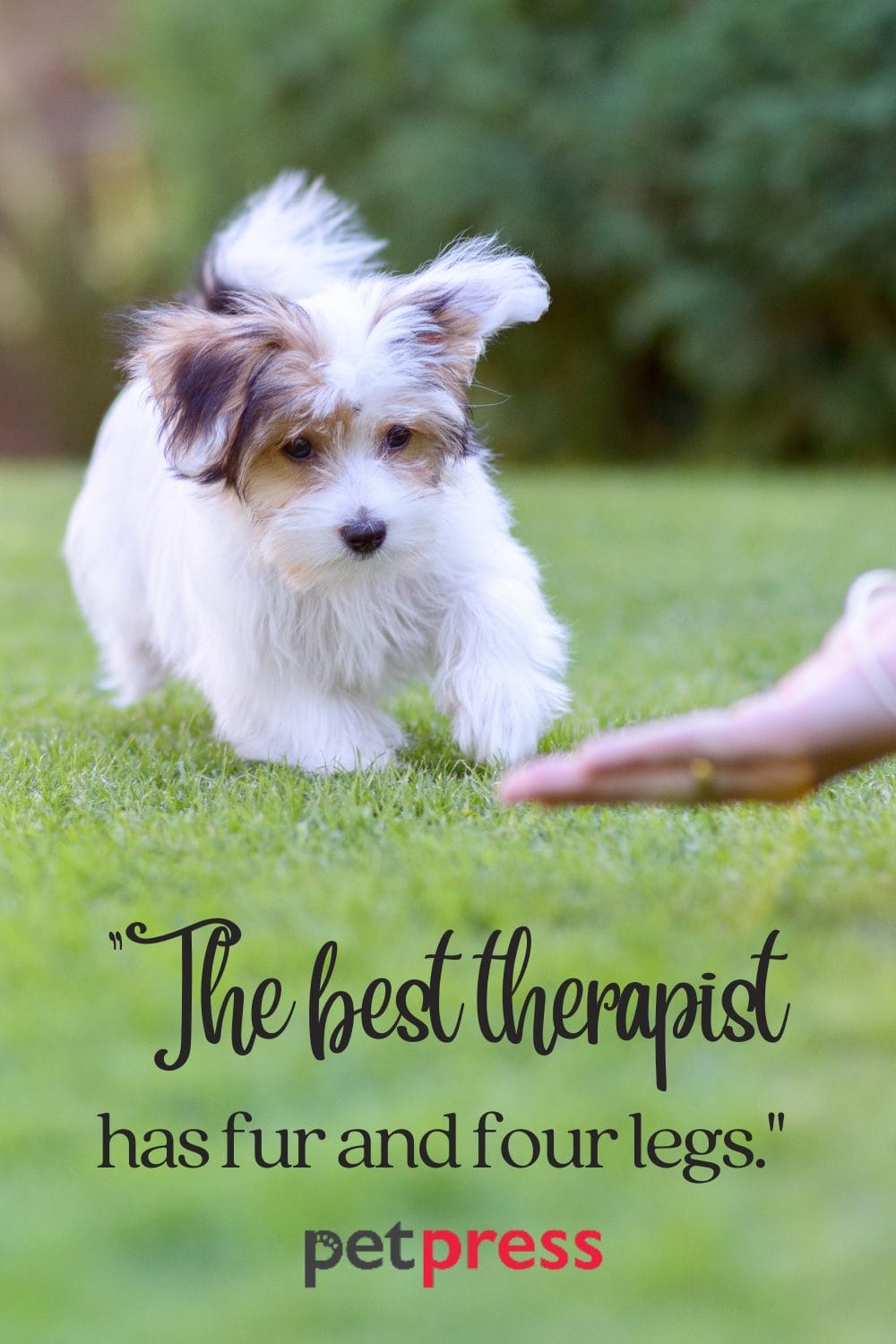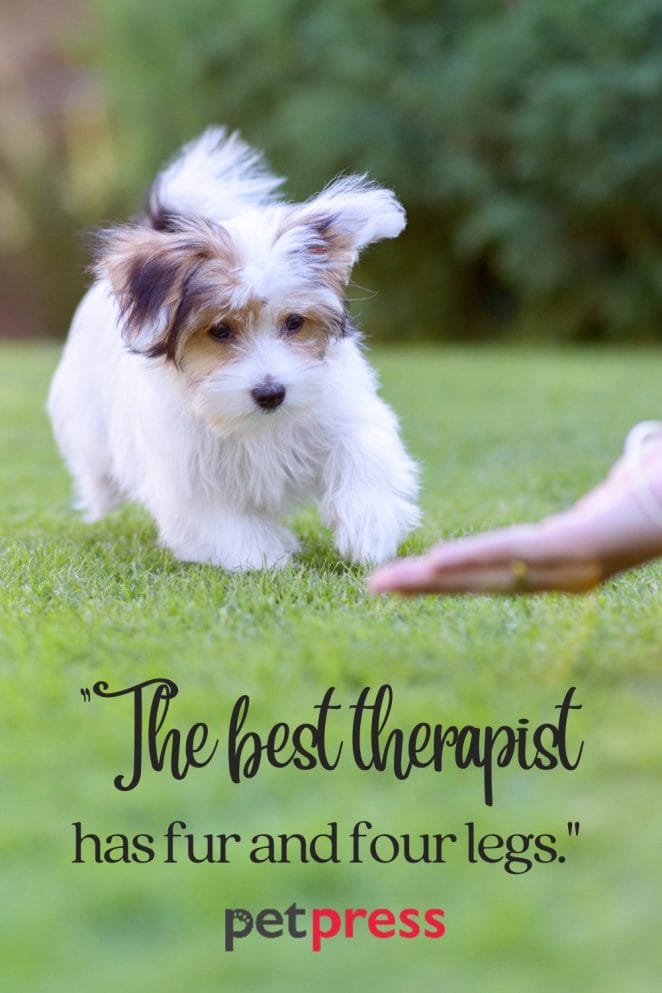 "The best therapist has fur and four legs."

– Unknown
"A dog is the only thing on earth that loves you more than he loves himself."

– Josh Billings
"The better I get to know men, the more I find myself loving dogs."

– Charles de Gaulle
"Happiness is a warm puppy."

– Charles M Schulz
"One way to get the most out of life is to look upon it as an adventure."

– William Feathers
"Dogs never lie about love"

— Jeffrey Moussaieff Masson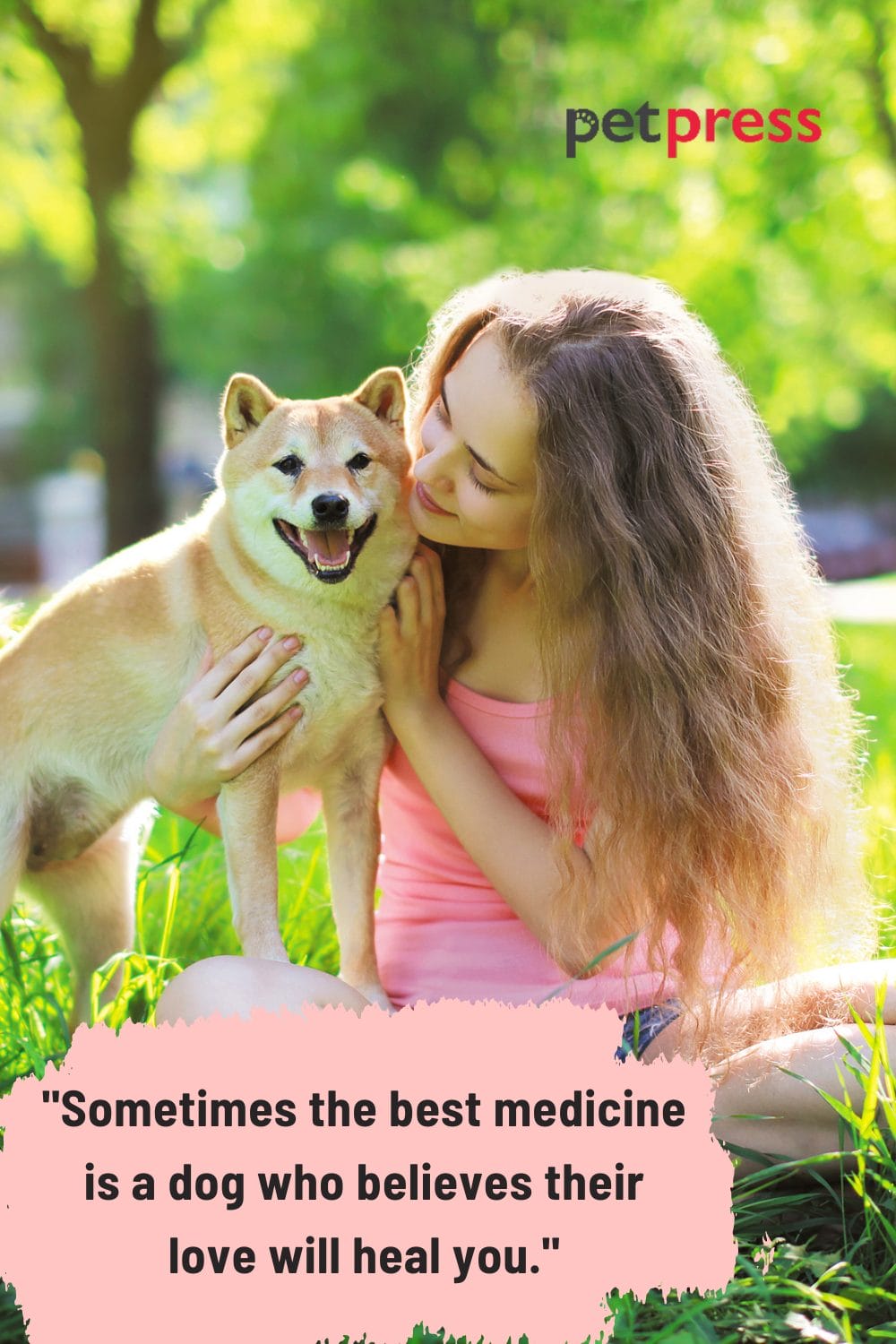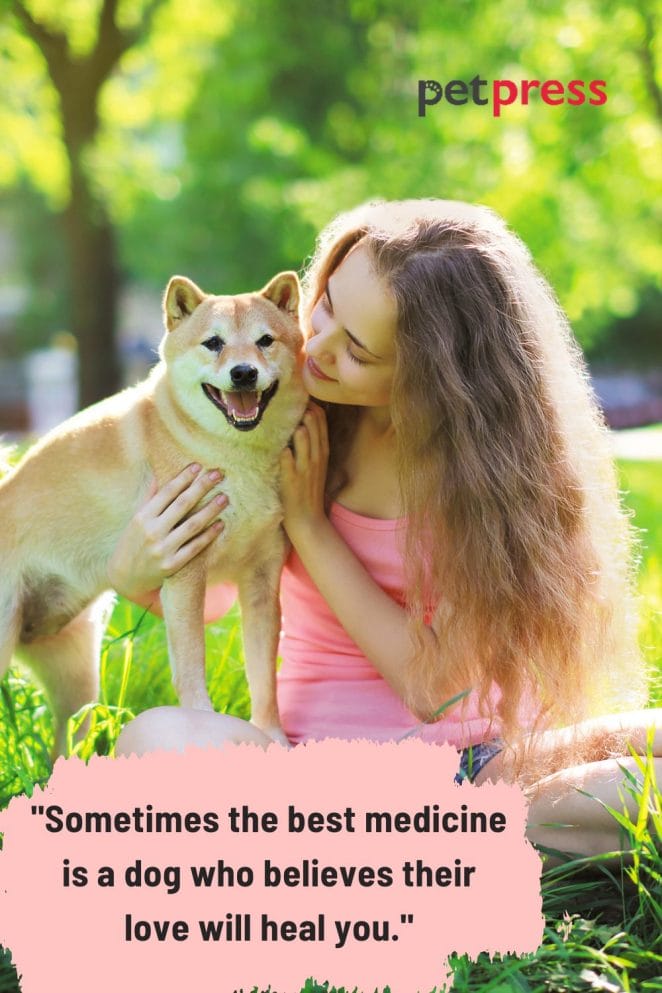 "Sometimes the best medicine is a dog who believes their love will heal you."
"Dogs are our link to paradise. They don't know evil or jealousy or discontent. To sit with a dog on a hillside on a glorious afternoon is to be back in Eden, where doing nothing was not boring—it was peace." – Milan Kundera
"No one appreciates the very special genius of your conversation as much as the dog does."- Christopher Morley
"The world would be a nicer place if everyone had the ability to love as unconditionally as a dog." -M K Clinton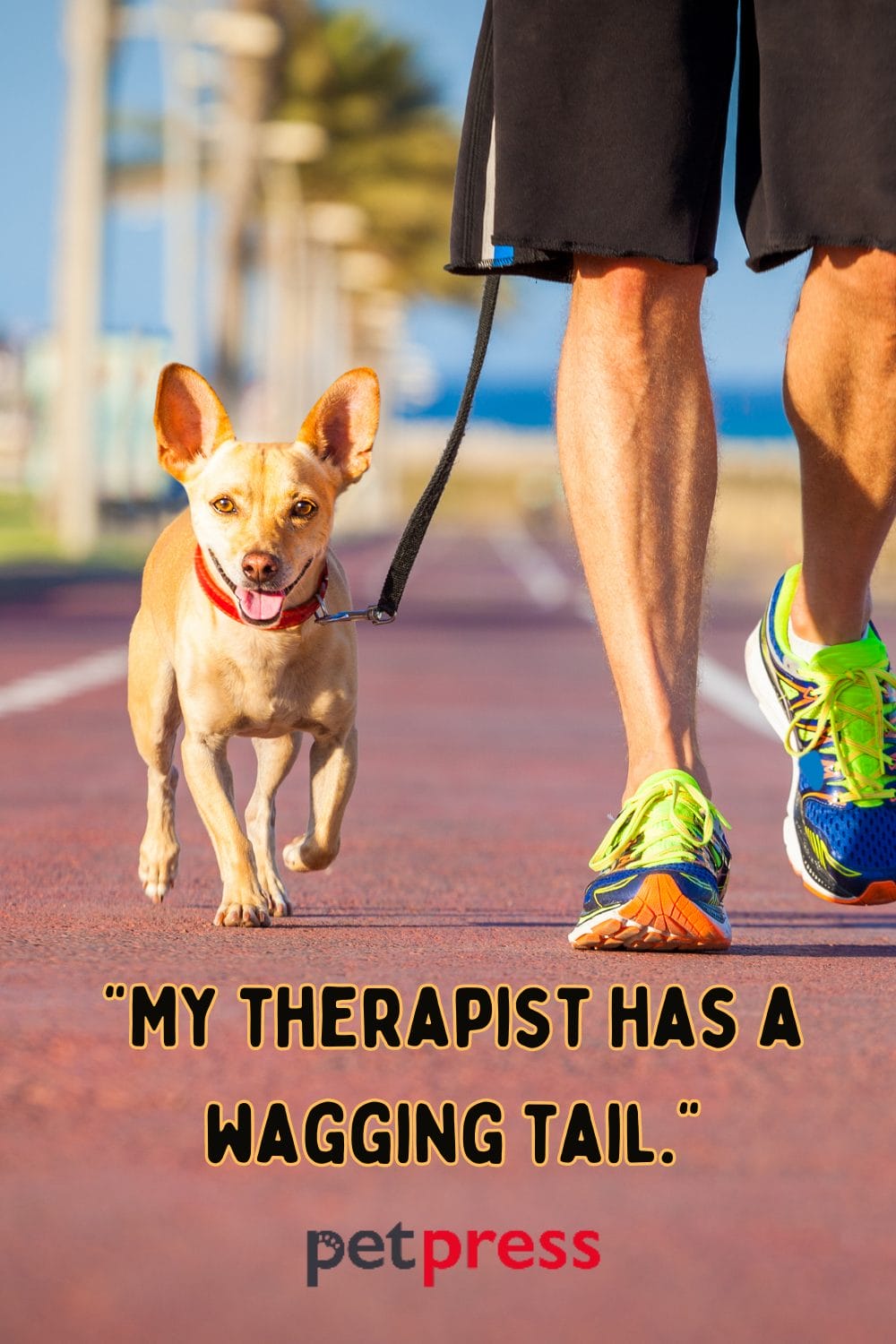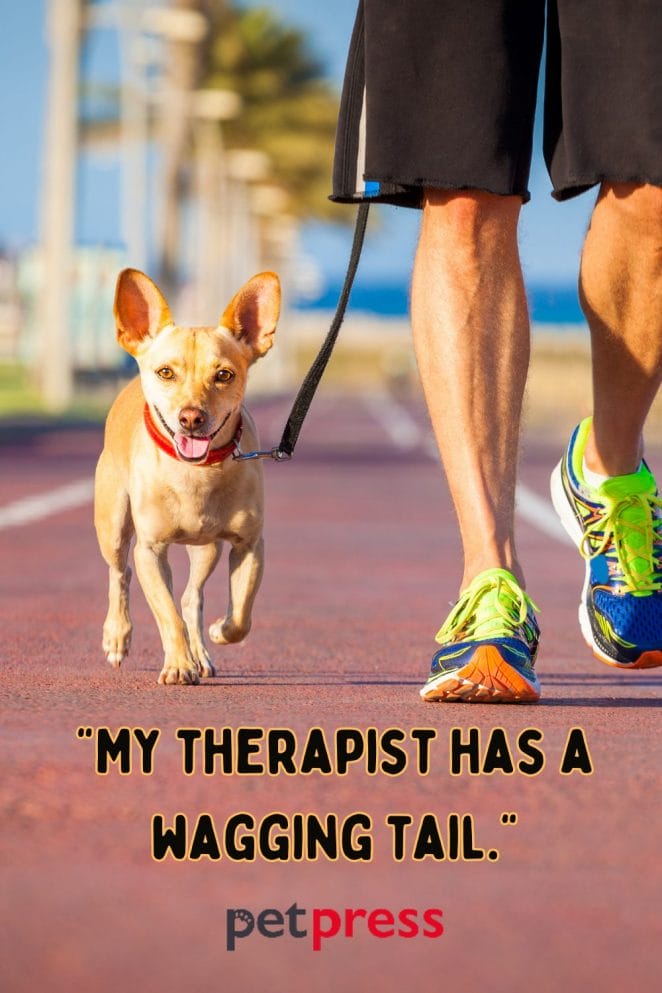 "My therapist has a wagging tail."
"The bond with a true dog is as lasting as the ties of this earth will ever be."

– Konrad Lorenz
"There is no psychiatrist in the world like a puppy licking your face."

– Ben Williams
"Dogs come into our lives to teach us about love, they depart to teach us about loss. A new dog never replaces an old dog; it merely expands the heart. If you have loved many dogs, your heart is very big."

-Eric Hartman
"A person who has never owned a dog has missed a wonderful part of life."

– Bob Barker
A dog will teach you unconditional love. If you can have that in your life, things won't be too bad."

― Robert Wagner
"Petting, scratching, and cuddling a dog could be as soothing to the mind and heart as deep meditation and almost as good for the soul as prayer."

-Dean Koontz
"Whoever said you can't buy happiness forgot little puppies"

― Gene Hill
"Dogs are wise. They crawl away into a quiet corner and lick their wounds and do not rejoin the world until they are whole once more."

― Agatha Christie
"The more I learn about people, the more I like my dog."

― Mark Twain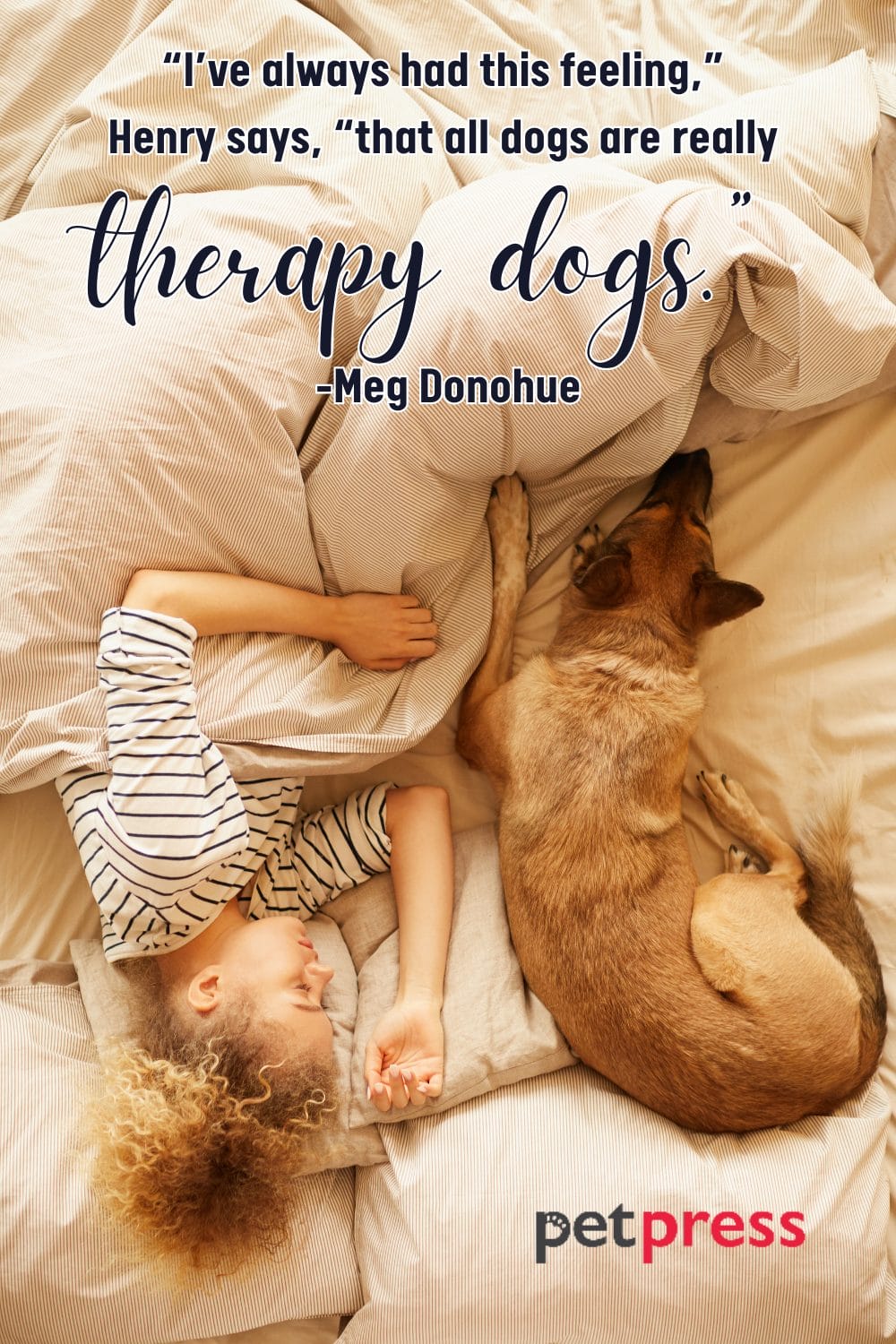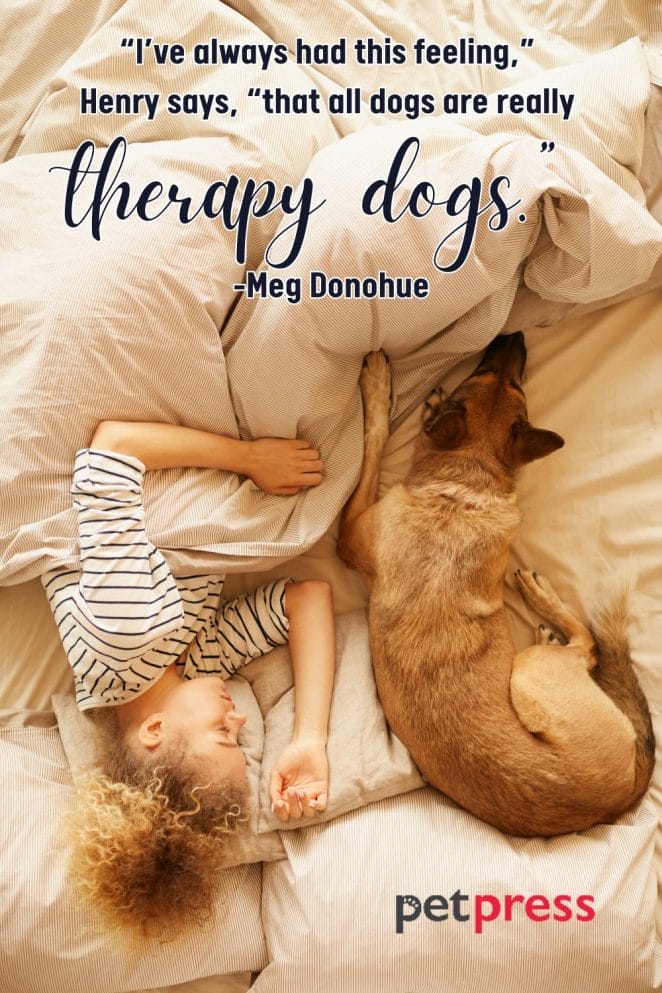 "I've always had this feeling," Henry says, "that all dogs are really therapy dogs." -Meg Donohue
"Old age means realizing you will never own all the dogs you wanted to."

― Joe Gores
"No one can fully understand a dog's joy at being restored to companionship until he has seen it."

– Albert Payson Terhune
"I think dogs are the most amazing creatures; they give unconditional love. For me, they are the role model for being alive."

—Gilda Radner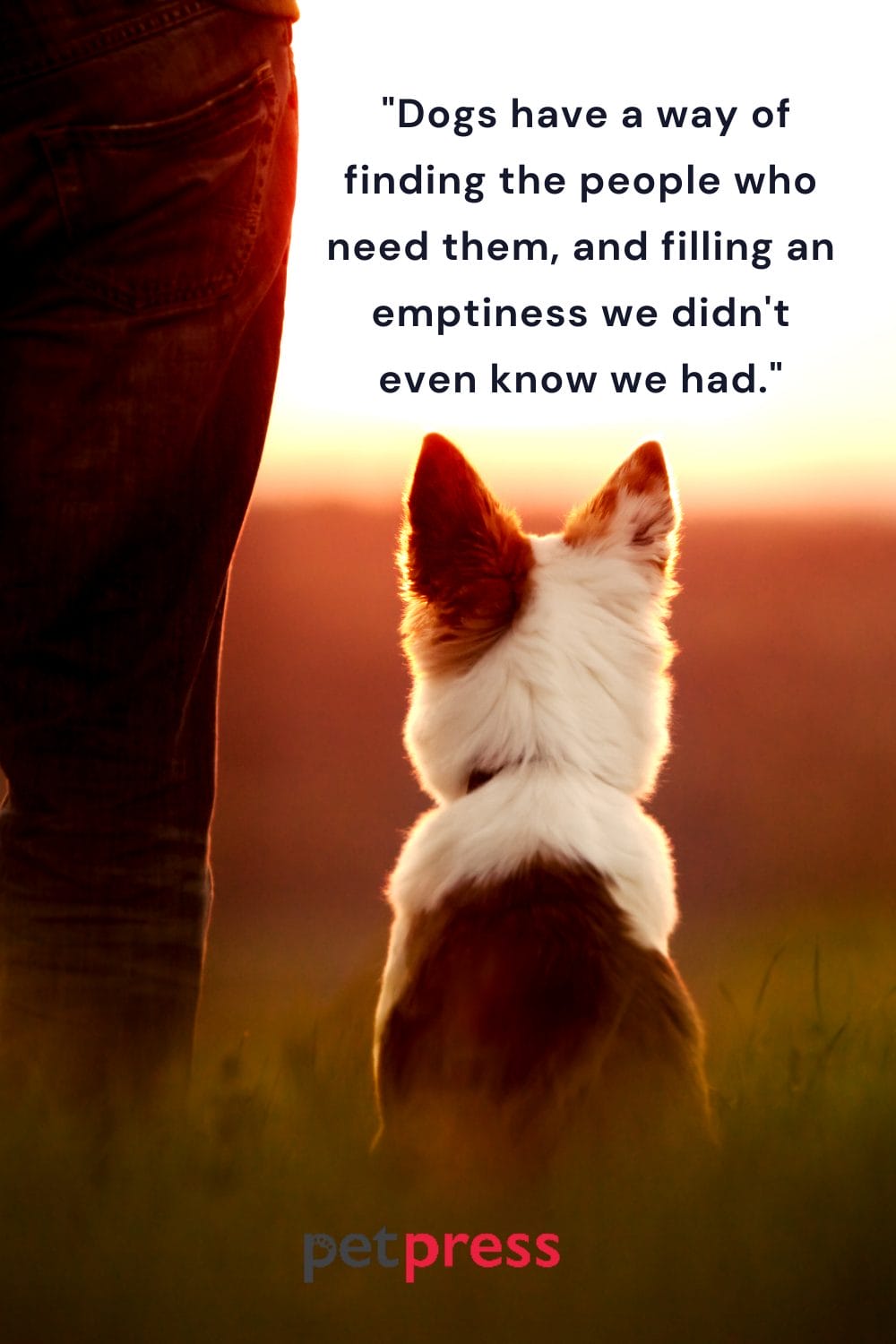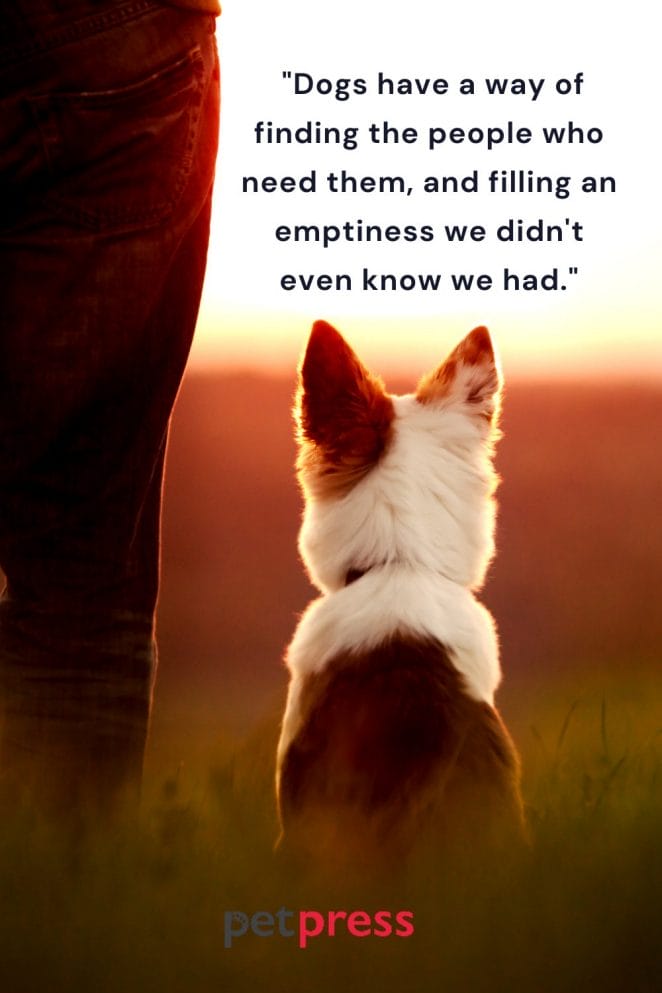 "Dogs have a way of finding the people who need them, and filling an emptiness we didn't even know we had."
"An animal's eyes have the power to speak a great language."

― Martin Buber
"Everything I know, I learned from dogs."

― Nora Roberts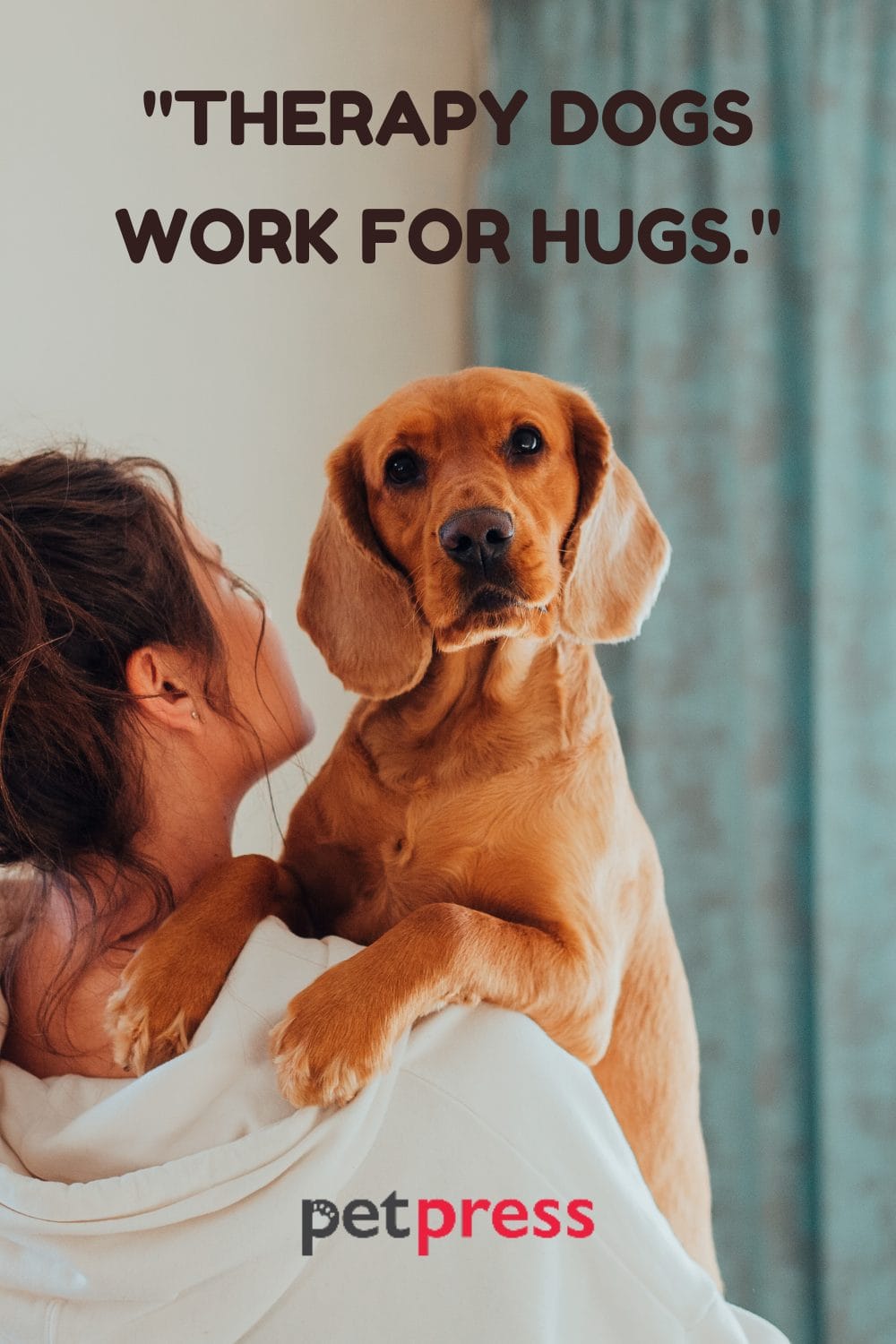 "Therapy dogs work for hugs."
"When you feel lousy, puppy therapy is indicated."
"You can always find hope in the eyes of a dog."

"We don't always need advice. Sometimes, all we need is a hand to hold, an ear to listen, and a heart that understands. Sometimes all we need is a dog."

"I don't understand people who don't touch their pets. Their cat or dog is called a pet for a reason." -Jarod Kintz

"Life is undeniably better with a dog by your side."
"Dogs have boundless enthusiasm, but no sense of shame. I should have a dog as a life coach."

-Mob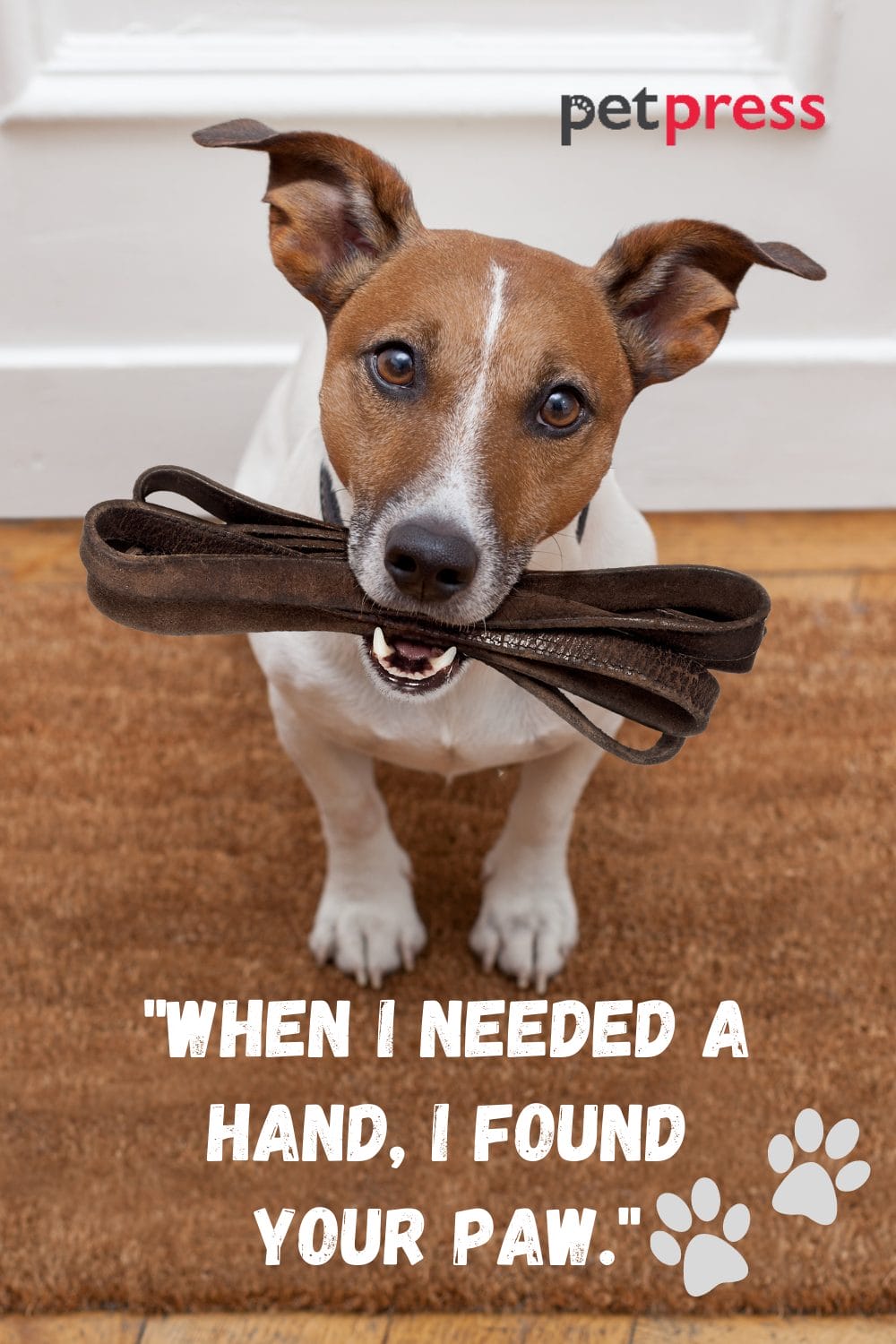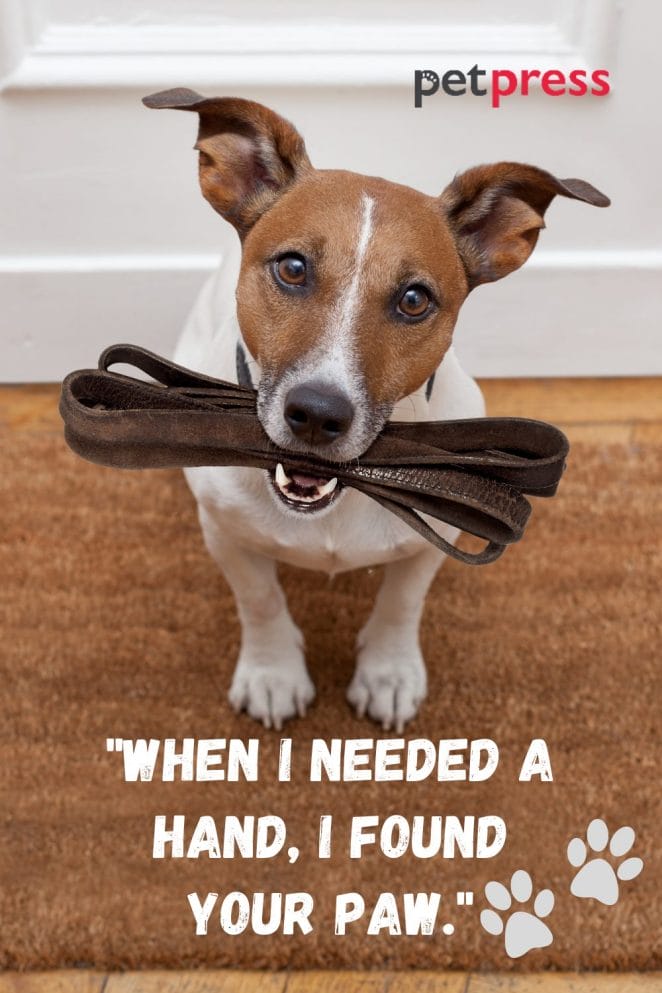 "When I needed a hand, I found your paw."
"They [dogs] never talk about themselves but listen to you while you talk about yourself, and keep up an appearance of being interested in the conversation."

-Jerome K. Jerom
"The psychological and moral comfort of a presence at once humble and understanding—this is the greatest benefit that the dog has bestowed upon man." -Percy Shelley
"It is amazing how much love and laughter they bring into our lives, and even how much closer we become with each other because of them."

-John Grogan
"The difference between friends and pets is that friends we allow into our company, pets we allow into our solitude."
"The best therapist has fur and four legs."


"I have found that when you are deeply troubled, there are things you get from the silent devoted companionship of a dog that you can get from no other source." -Doris Day

"Dogs needed no words to console you. Dogs were the ultimate practitioners of the therapy of touch."

"Dogs knew and accepted the hard realities of life that human beings could not acknowledge until those obvious truths were exhaustively described with words, and even then there was often more bitter acknowledgment than humble acceptance." -Dean Koontz

"No animal I know of can consistently be more of a friend and companion than a dog." -Stanley Leinwoll

"A dog will teach you unconditional love. If you can have that in your life, things won't be too bad." -Robert Wagner

"Thorns may hurt you, men desert you, sunlight turn to fog; but you're never friendless ever, if you have a dog." -Douglas Mallock

"Many of the qualities that come so effortlessly to dogs—loyalty, devotion, selflessness, unflagging optimism, unqualified love—can be elusive to humans." -John Grogan

"There is no psychiatrist in the world like a puppy licking your face." -Ben Williams

"You know, a dog can snap you out of any kind of bad mood that you're in faster than you can think of." -Jill Abramson

-Robert Brault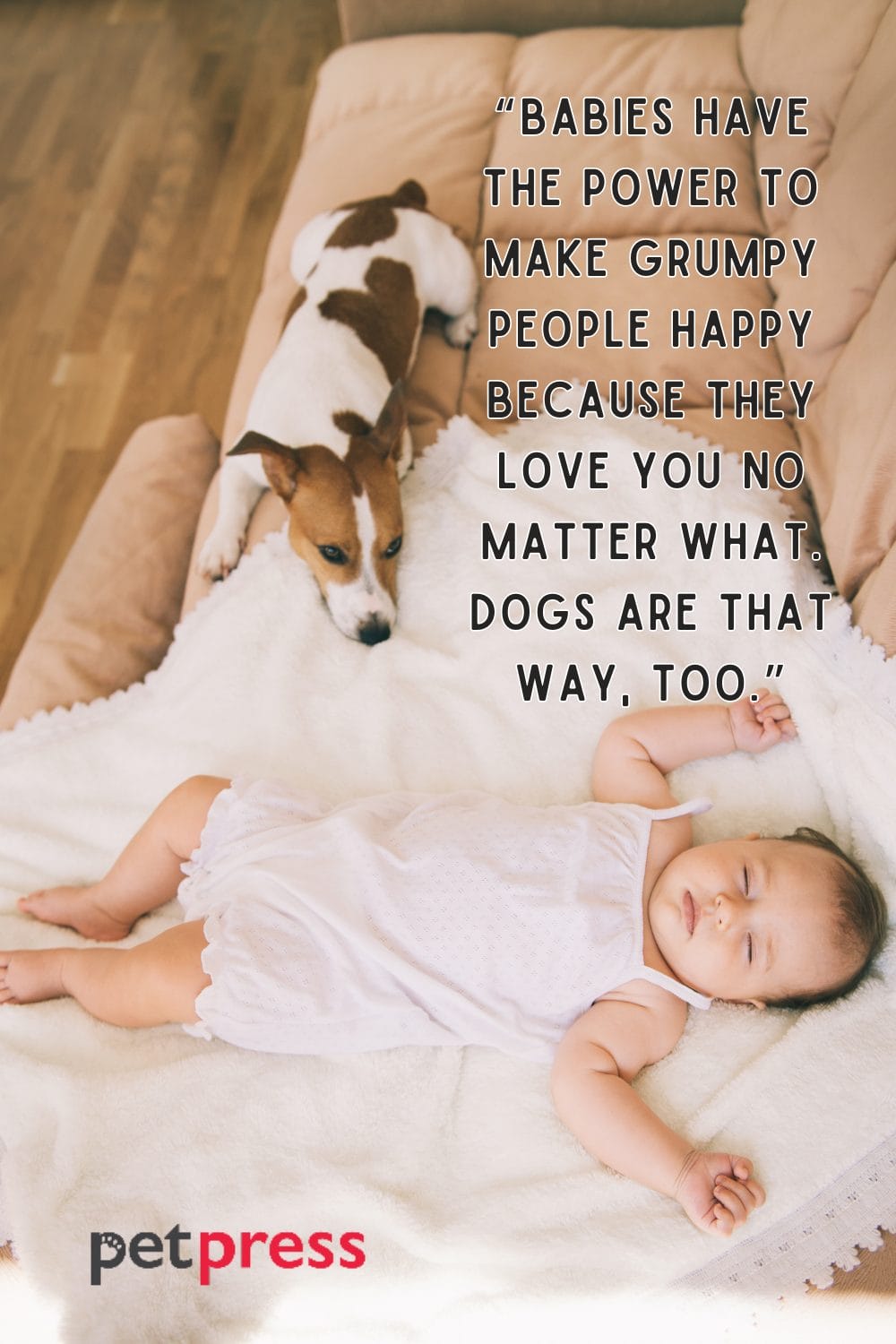 "Babies have the power to make grumpy people happy because they love you no matter what. Dogs are that way, too."

― Mariel Hemingway
In conclusion, dog therapy improves physical and mental health conditions. The human-dog bond's healing power helps stabilize emotions, control daily anxiety, regulate emotional arousals, and improve mood.
We hope these inspiring dog therapy quotes have helped you appreciate the special bond between humans and their canine companions. So take a few moments to appreciate your pooch even more, and remember how much they mean in your life.
Related Posts:
15 Most Inspiring Dog Therapy Quotes That Melt Your Heart