Choosing a black rabbit name can be difficult, other than "Black" or "Shadow"
There are so many names to choose from, and you want one that is perfect for your black rabbit!
Well, look no further because this blog post has over 350 rabbit names for both male and female black rabbits.
Now it's time to start searching through our list of black bunny names until you find one that is perfect for your little furry friend!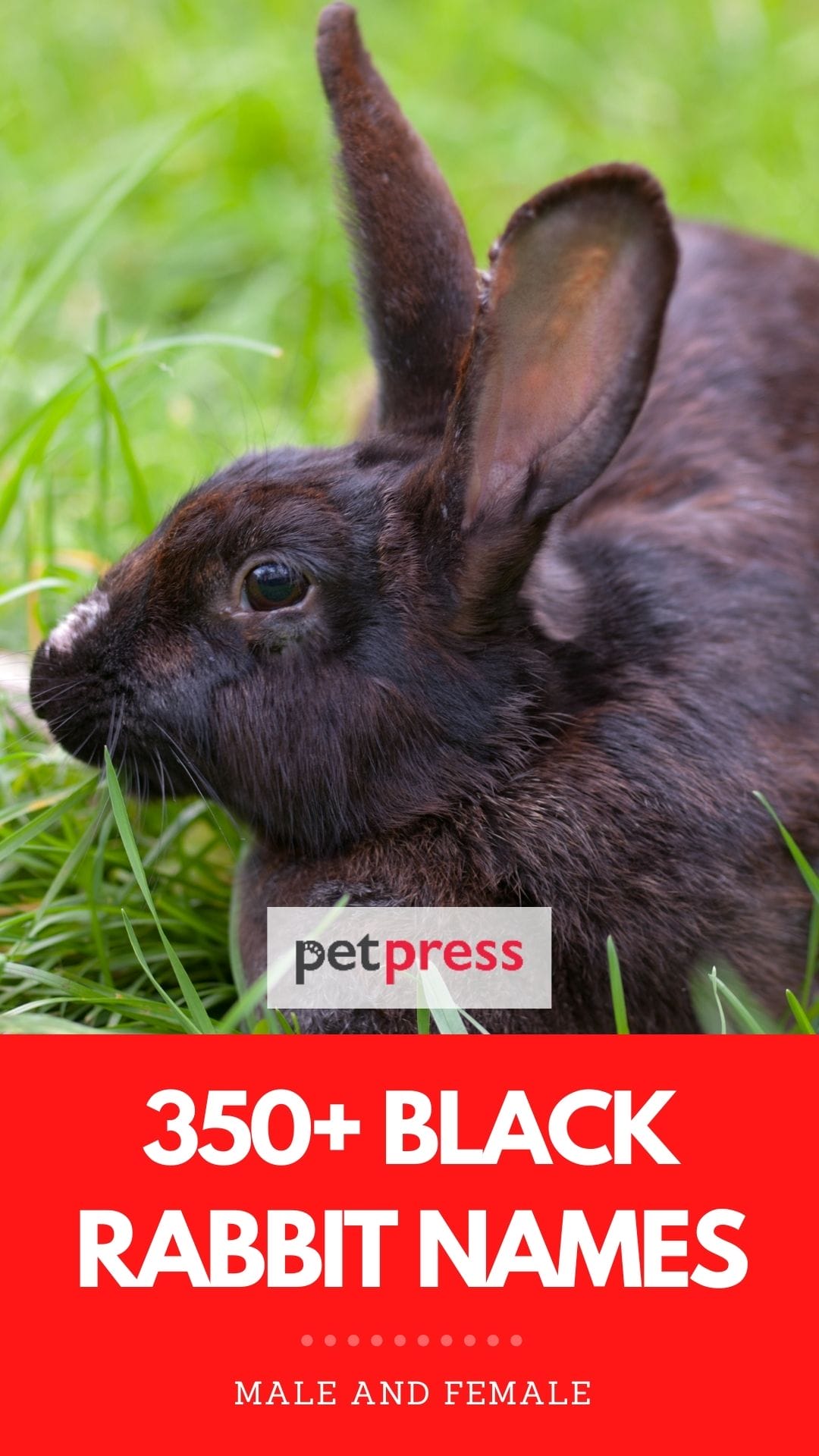 Here are the best black rabbit names to choose from for your new pet black rabbit!
Male Black Rabbit Names
Raven
Pitch Dark
Ash
Grease
Axle
Taz
Hefty
Shadow
Bamboo
T' Challa (King Of Wakanda)
Tint
Spade
Sirius Black (From Harry Potter)
Blackjack
Pepsi
Rogue
Black
Tank
Ashes
Kylo (From Star Wars)
Monkey
Johnny Cash (Man In Black)
Biggie
Zorro
Frankenstein
Knight
Pluto
Foggy
Jesper
Carbon
Sarge
Magic
Wednesday (From The Addams Family)
Grizzly
Thunder
Jaguar
Haze
Vlad
Jet
W' Kabi (From Black Panther)
Bronson
Salem
Swarty
Mr President
Omen
Tupac
Voodoo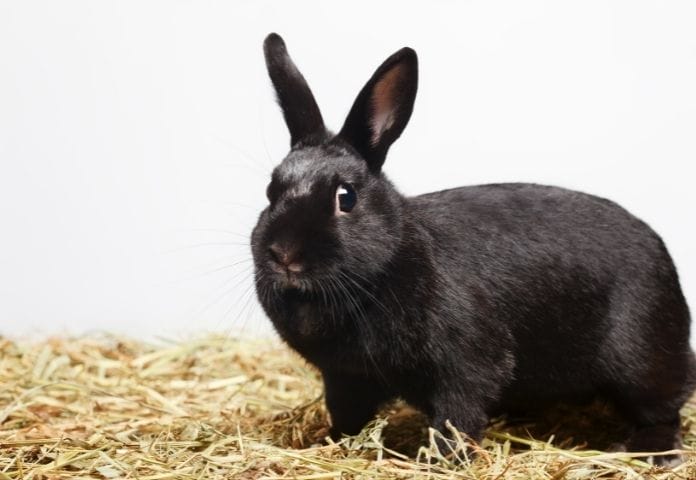 Beetle
Sloe
Enigma
Gabe
Shredder
Blake
Blackfoot
Black Thunder
Leo
Sable
Slate
Judas
Coal
Sneaky
Orpheus
Leopard
Nero (Black In Italian)
Pitch
Poppy
Lucifer
Flint
Poisedon
Puma
Cocoa
Weezy (From Moving On Up)
Godiva
Preto (Black In Portuguese)
Goliath
Ink Blot
Galaxy
Black Jack
Fudge
Dusk
Reaper
Inkblot
Bootleg
Jackal
Spider
Ink
Slater
Black Adder
Ares
Good Natt (Night In Swedish)
Adrian (Black in Latin)
Inkwell
Wizard
Oso (Bear In Spanish)
Zeus
Warlock
Oden
Stallion
Cola
Spooky
Female Black Rabbit Names
Sas (Or Sassy)
Deva (Hindu Moon Goddess)
Ciara
Trinity (From The Matrix)
Black Widow
Nyx
Teina (Black In Maori)
Zuri (From Black Panther)
Cruella
Xena
Storm
Perle Noire (Black Pearl In French)
Cinder
Estella
Starless
Mocha
Stormy
Emery
Za Za
Nova
Midnight
Tika
Bailey
Ebon
Iris
Notte (Night In Italian)
Kat
Calla
Musta (Black in Finnish)
Black Betty
Beau
Bellatrix (From Harry Potter)
Usiku (Night In Swahili)
Ossidiana (Obsedian In Italian)
Truffles
Black Beauty
Dakota
Blackberry
Luna (Moon In Spanish)
Velvet
Ember
Noche (Night In Spanish)
Odie
Dahlia
Ramanda (Queen Of Wakanda)
Cub
Nuit (Night In French)
Bella
Maleficent
Yasmin
Java
Leila (Night In Hebrew)
Jetta (Jet Black in Latin)
Oprah
Brenna / Brena
Misty
Starling (Black Bird)
Stella
Arya
Nisha (Night in Sanskrit)
Bebe
Nerissa
Graphite
Betty Boop
Astral
Kapa (Black in Kazakh)
Sheba (African Queen)
Melanie (Dark Skinned in Latin)
Opie
Rosaleen (Or Rosa)
Alva
Betty
Char
Mystery
Ashley
Zara
Bertha
Noir (Black In French)
Beauty
Denali
Astra
Aubrey
Anise
Sasha
Athena (Goddess)
Hera (Goddess)
Kodiak
Beyonce
Opal
Inky
Ciggy
Keira
Ebony
Ophelia
Amaya (Night Rain in Japanese)
Pearl (as in a black pearl)
Mi Mi
Ava
Bran (Raven in Welsh)
Saskia
Cool Black Rabbit Names
Gucci
Scar
Prince
Dracula
Brutus
Biggie Smalls (Rapper)
Jacob Black (From Twlight)
Bean
Tar
Chase
Tux
Dusky
Bruno
Vortex
Aka (Black in Uzbek)
Yeezy
Black Eyed Pea
Blacksmith
Ninja
Kobe
Artemis (Moon Goddess)
Vader (From Star Wars)
Binx
Legend
Neo
Coco
Fia (Dark in Gaelic)
Teddy
Hex
Bartholomew (Bart)
Liquorice
Twilight
Charcoal
Diesel
Titan
Phantom
Zwart (Black In Dutch)
Guinness
Elvira
Pepper
Godzilla
Hocus Pocus
Kanye
Jett
Lewis Black
Cosmos
Cookie
Indigo
Corbin (Dark In French)
Regulus Black (From Harry Potter)
Rorschach (Test)
Bat
Indigo (Or Indie)
Usher
Beelzebub
Merlin
Batman
Shady
Kona
Schwarz (Black In German)
Ego
Fifty Cent
Azur (Black in Egyptian)
Rainy
Abracadabra
Eve
Snape (From Harry Potter)
Panther
Blackie
Blackbeard
Nemesis
Bear
Latte
Bullet
Stout
Ace
Banshee
Olive
Eclipse
Espresso
Atticus
Coffee
Crow
Obsidian
Raisin
Black Pearl
Ursula
Kuro (Black In Japanese)
Orson Welles
Granite
Angus
Dingy
Voldemort (From Harry Potter)
Albert (Fat Albert)
Captain Sparrow
Boots
Dusty
Boomer
Zulu
Yaz
Damien
Goth
Morpheus (From The Matrix)
Bandit
Sooty
Onyx
Smokey
Hulk
Apollo
Witchy
Selene (From Underworld)
Night
Moon
Rex
Jellybean
Orion
Black Panther
Dee (Dark in Welsh)
Black Bean
Nakia (From Black Panther)
Satin
Pooh Bear
Hitchcock
Morticia (From the Adams Family!)
Asher
Friday
Snoop Dogg
Silhouette
Jethro
Coven
Chocolate
Darth Vader
Falcon
Cosmo
Beetle Juice
Gypsy
Rebel
Demon
Baa-Baa Black Sheep
Billy Black (From Twilight)
Black and White Rabbit Names
Snoopy
Cup cake
Sushi
Puffin
Osprey
Boggle
Aurora
Retro
Lamur
Dotty
Rebel
Ambar
Sasha
Paws
Marble
Panda
Butler
Barcode
Stinky
Patch
Droopy
Lucky
Coco
Chaplin
Pea body
Penguin
Audrey
Taper
Whaley
Mittens
We got more of these black and white rabbit names that would surely help you pick the right one!
Black Lionhead Rabbit Names
Pookie
Mother Rabbit
Bigwig
Buffy
Killer
Domino
Pepsi
Raven
Buster Baxter
Nesquick
Dolly
Dewey
Eyebright
Bonbon
Sky
Cleo
Hip Hop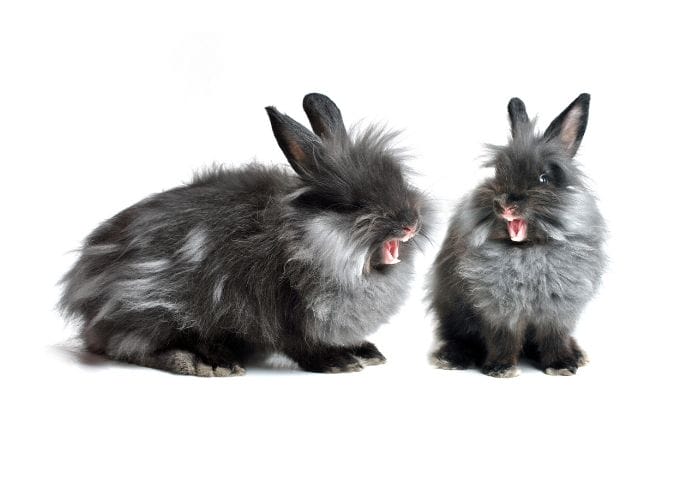 We hope this list of black rabbit names has helped you find the perfect name for your new pet.
There are so many creative and funny options to choose from, we know it can be tough!
If you're looking for more help with naming a bunny with another color, also check out our other list of other rabbit names by color.