Pet rabbits come in different colors these days! Red, brown, black, white, and grey rabbit names can be hard to find.
Thankfully we've compiled a list of over 300 pet rabbit names by their color that will surely suit your bunny's personality.
Whether you're looking for a name that is serious and elegant or one that is fun and playful there should be something on this list for you.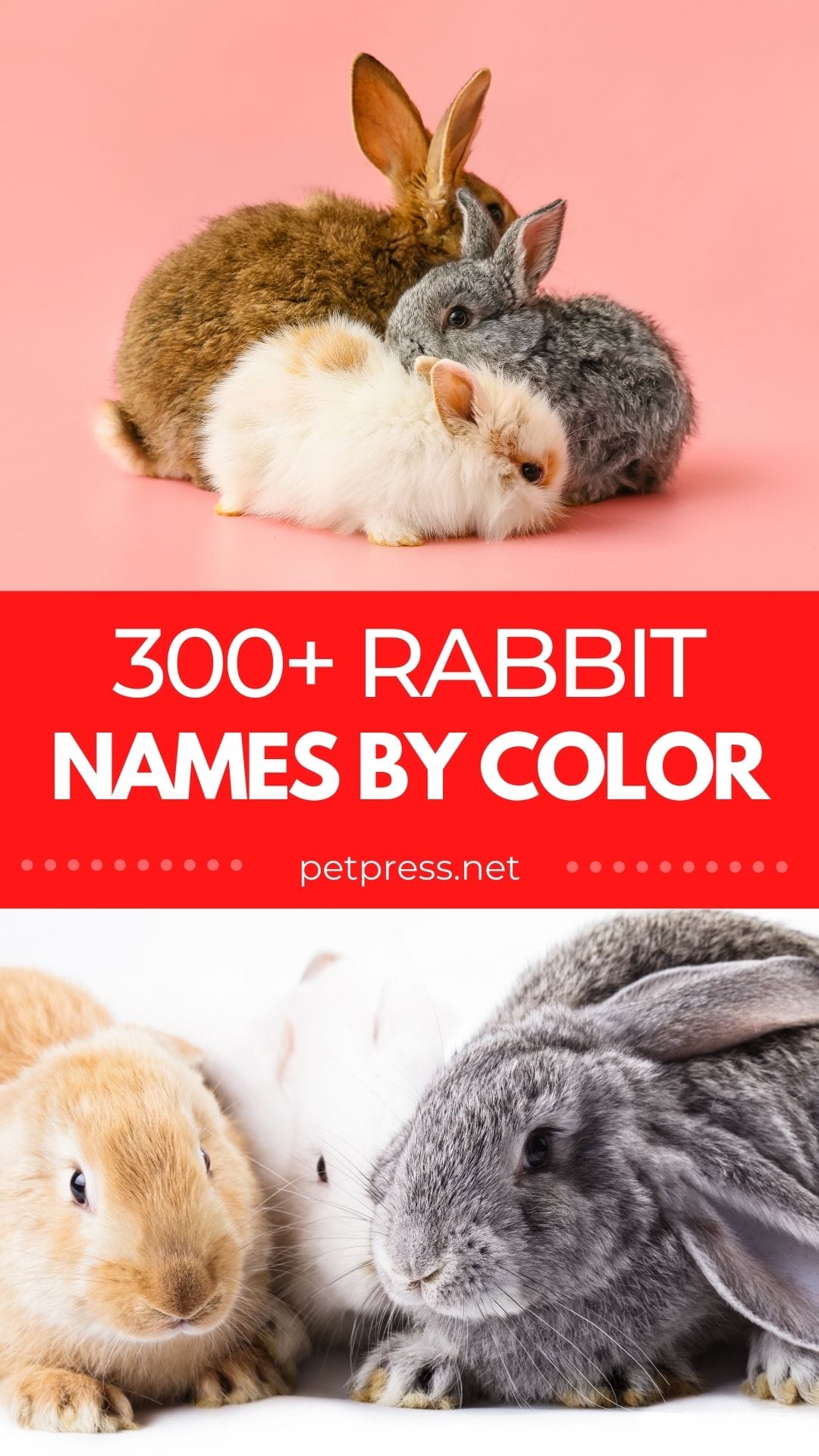 Here are the best rabbit names based on any color that you could check for naming your pet bunny.
Black Rabbit Names
Gypsy
Shady
Obsidian
Boomer
Indigo (Or Indie)
Titan
Cruella
Snape (From Harry Potter)
Spade
Beau
Elvira
Salem
Deva (Hindu Moon Goddess)
Spooky
Nyx
Angus
Coffee
Beetle Juice
Leo
Usiku (Night In Swahili)
Starless
Jet
Dee (Dark in Welsh)
Poppy
Black Panther
Black Adder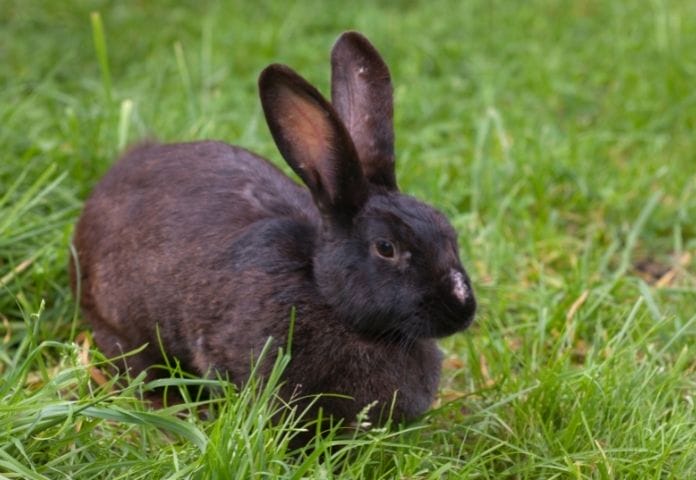 Ava
Dracula
Satin
Biggie
Bailey
Arya
Ebon
Preto (Black In Portuguese)
Sirius Black (From Harry Potter)
Blake
Jaguar
Lucifer
Graphite
Adrian (Black in Latin)
Opal
Ego
Boots
Pepsi
Schwarz (Black In German)
Leila (Night In Hebrew)
Kona
Nemesis
Tar
Mocha
Reaper
Betty
Keira
Rainy
Tint
Ink
Coal
Damien
Moon
Voldemort (From Harry Potter)
If you need more ideas to name your new pet black rabbit, check our complete list of over 350 black rabbit names.
White Rabbit Names
Snowboard
Sands
Puck (From Shakespeare)
Artic
Sailor
Dahlia
Blanche
Vintern (Winter In Swedish)
Mammoth
Snow
Sno (Snow In Swedish)
Sapphire
Monochrome
Savvy (Sauvignon Blanc)
Moonflower
Gray Wind (From GOT)
Crispin
Royal
Yogurt
Pilly
Rocky Top
Iceman
Misty
Iceland
Fog
Tiffany
Furby
Icy
White House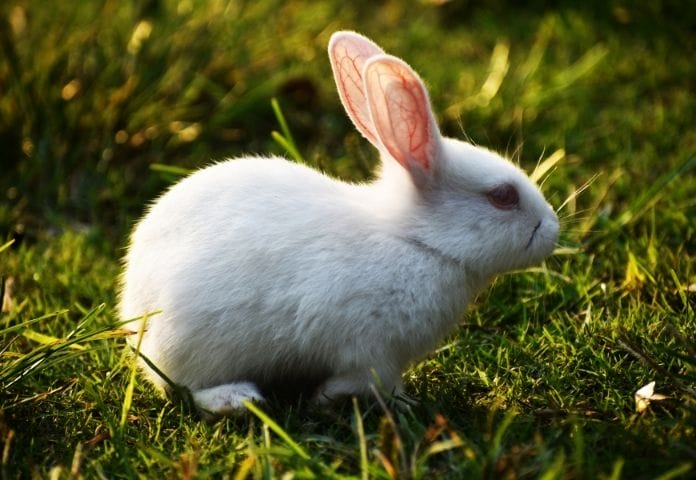 Blanca
Hibiscus
Noelle
Magnolia
Reggie White (NFL player.)
Cotton
Greenland
Talcum
Ivory
Altoid
Aspen
Diamond
Polar
Icing
Marbles
Becky
Tinker Bell
Dr. Emmett Brown (From Back To The Future)
Everest
Sugar
Allie Baster (Alabaster)
Moonlight
Harmony
Vapor
Berg (Iceberg)
Milkshake
Snowy
Tundra
Ice T
Snow White
Raja
View more name ideas in our complete list of white rabbit names too. Some of the names have meanings too!
Brown Rabbit Names
Tapir
Whiskey
Ember
Carob
Chocolate Chip
Mochi
Hazelnut (Hazel for short)
Landra
Fawn
Hickory
Sparrow
Chai
Canela (Cinnamon In Spanish)
Wonka
Champagne
Dunkin
Buckwheat
Auburn
Java
Pinto
Cinnamon
Rusty
Cupcake
Twink
DeCaf
Donut
Coffee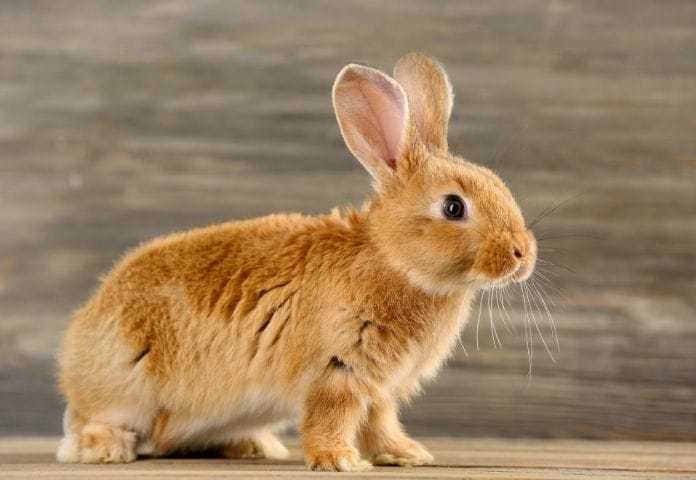 Brun
Mugs
Pebbles
Saddle
Waffles
Harry Pawter
Tanner
Sierra
Truffles
Barna
Pumpkin
Oakley
Nutmeg
Donagh
Brunella
Freckles
Amber
Puce
Reese
Kopi
Radagast
Café Noir
Count Chocula
Pine
Rufous
Aklark
Caramel
Bailey Cream
Cocoa
Oak
Cappuccino
Pancake
Sunny
We have more name ideas from our complete list of brown rabbit names to give you more options.
Black and White Rabbit Names
Comet
Jeeves
Mickey
Rocky
Tuxedo
Nixie
Bo
Vega
Frankie
Snoops
Pirate
Top Hat
Chester
Shorty
Retro
Raven
Boggy
Betty Boop
Lucky
Pepper
Vera
Meezer
Patches
Inky
Jack
Magic
Buster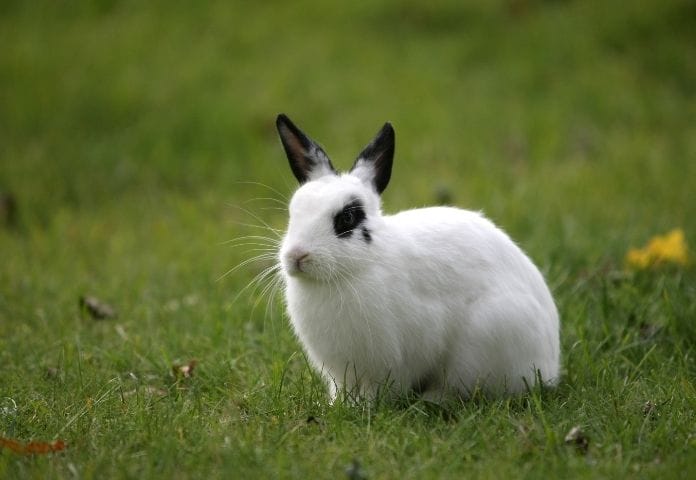 Orca
Skipper
Payton
Smarty
Apollo
Jazz
Sirius (From Harry Potter)
Calvin
Kip
Roxy
Junior Mint
Tux
Zigzag
Vesta
Binky
Pascal
Cookies n' Cream
Rorschach
Batman
Almond Joy
Ying-Yang
MooMoo
Sprinkles
Magpie
Phantom
Marceline
Marge
Skid Mark
Nyx (God Of Night)
Dottie
Galaxy
Boots
Mack
These awesome names are just some suggestions from our complete list of black and white rabbit names for you to also check out.
Grey Rabbit Names
Gunnar
Disco
Slater
Rocky
Flint
Moon
Storm Front
Dusk
Everest
Gra (Gray In Swedish)
Skye
Cloudy
Jennifer Grey
Silver
Willow
Evie
Jazz
Wisp
Windy
Lyra
Graphite
Sage
Orion
Mercury
Phoenix
Nebula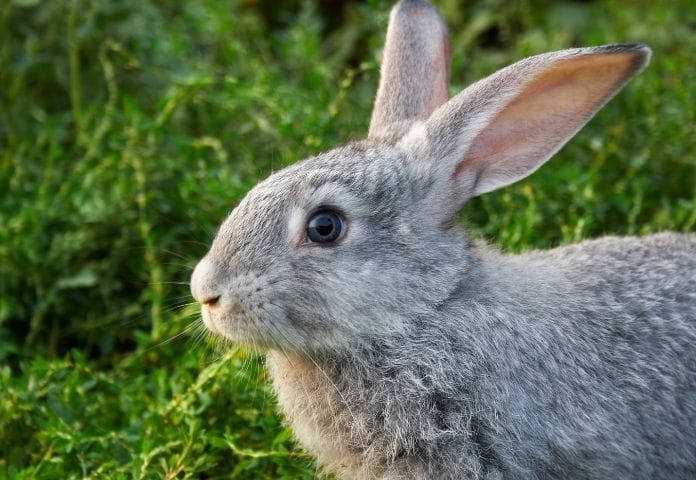 Silverbell
Sterling
King Grayson
Rain
Lacy
Clay
Gandolf
Grey
Lord Gray
DIrewolf
Pebbles
Sunrise
Cosmos
Perse
Onyx
Tinsel
Mond (Moon In German)
Astra
Kijivu (Grey In Swahili)
Alexander the Gray
Winter
Silverman
Sky
Ashton
Halo
Charcoal
Sparrow
Cindra
Grayson
Granite
Stone
Grey Gatsby
Nora
Atlas
Check more name ideas from our list of over 150 grey rabbit names.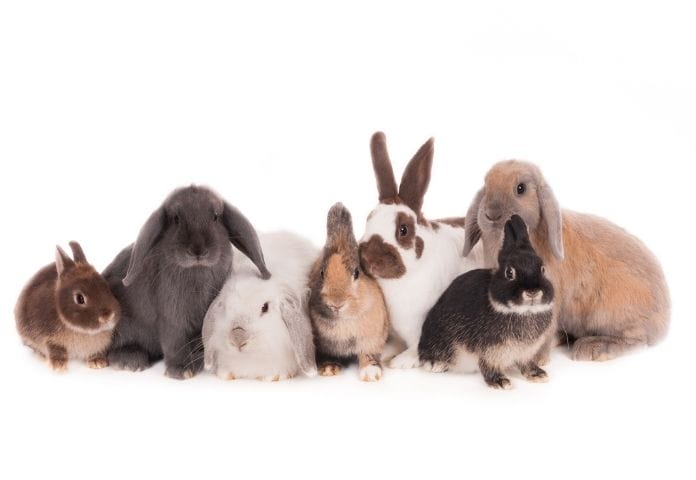 The name of your rabbit depends on his/her color.
You can also include references to their breed like Holland Lop, Flemish Giant, American Chinchilla Rabbit, and other varieties you might find at a pet store.
We hope you found a perfect rabbit name for your furry friend.
If not, you could try our rabbit name generator to help get the best name based on your preference.
Check out our other blog posts about different types of pet rabbits or share this post with friends that are looking for a new bunny buddy.