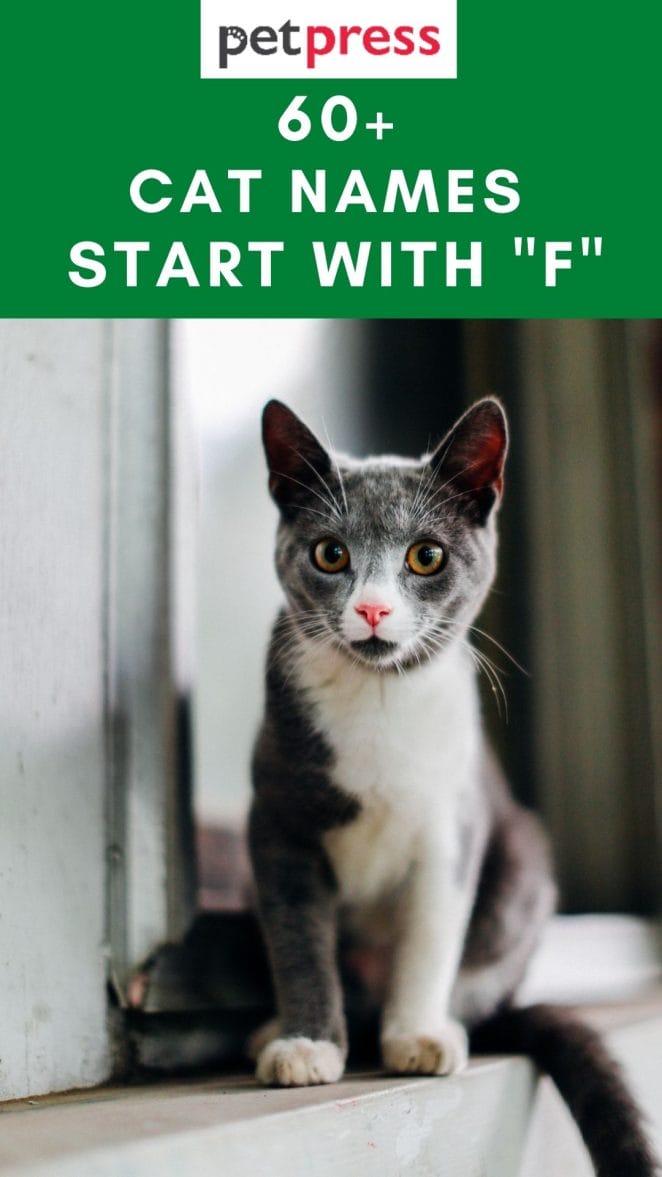 If you're one of those people with a cat, you know that coming up with a name for your feline friend can be difficult.
You don't want something too common, but you also don't want something too strange. So where do you start?
Well, if you're looking for ideas, why not consider names that start with the letter F? There are plenty of great options to choose from!
So if you're stuck on a name for your new kitty, take a look at this list and see what strikes your fancy!
Male Cat Names Start With F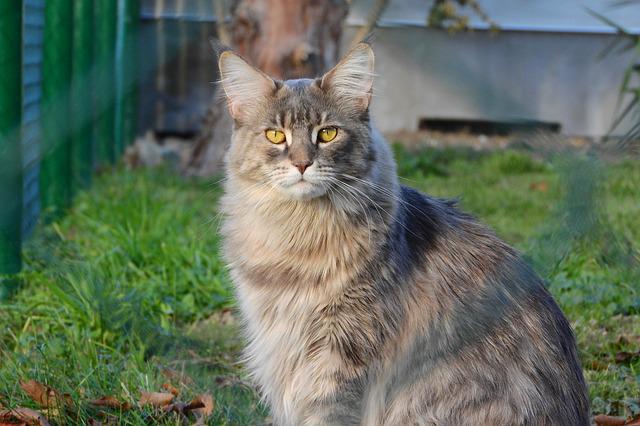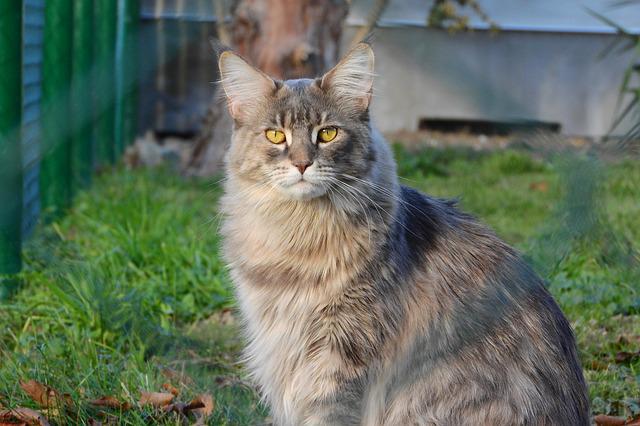 | | |
| --- | --- |
| Names | Notes |
| Fenway | A cat who'd feel right at home at storied Fenway Park |
| Foggy | Pawfect for a gray cat, such as a Russian Blue. |
| Forrest | If you're lucky enough to be owned by a Norwegian Forest Cat, this name would describe your kitty's size and courage. |
| Farina | Your cream-colored feline is a deliciously smooth and warm cuddle bug, just like their comfort food namesake. |
| Fraser | The popular Outlander books and TV series used this Scottish family name for its beloved characters Jamie and Claire. |
| Flynn | Inspired by the gymnastic feats of actor Errol Flynn |
| Furrito | This would be a tasty name for a Mexican Hairless cat. Keep this little morsel warm. |
| Floof | Like a cozy, fuzzy sweater or a pair of pink fur slippers |
| Fisher | Fisher might be a good name for the cat that is fascinated by the aquarium |
| Fudge | Who doesn't like creamy chocolate fudge? |
| Ferrari | Sleek and swift, the cat named after this fast car will turn heads everywhere they go. |
| Fuzz | Kittens are almost always fuzzy, and they often grow into large, fluffy breeds. |
| Fabio | A photogenic cat, Fabio might have long, blonde, silky locks and blue eyes. |
| Ferdinand | Ferdinand in pop culture was a scary giant bull with a big heart. |
| Finn | Huck's last name in the Mark Twain novel, "The Adventures of Huckleberry Finn." |
| Fluffaluffagus | The fluffy elephant of the cat world, Fluffaluffagus is curious and large |
| Franz | Cat-lovers who enjoy music will love the name Franz, as in Liszt |
| Felipe | This cat will be regal and independent like the multitudes of tame, stray cats of Barcelona. |
| Fennel | A cat named Fennel will spice up your life. |
| Feisty | This name needs no explanation – feisty felines abound! |
| Falko | German for "falcon or hawk," your feline may be more apt to snuggle in your lap than hunt. |
| Finnegan | James Joyce's character sleeps like the dead |
| Fang | Does your new kitten like to chew on your fingers during play? |
| Fergus | This fur baby's name hales from Scotland and means, "man of force." |
| Farfalle | Farfalle is a great name for a cat that likes to go "formal" in a bowtie. |
| Fonzie | Reminiscent of the handsome pompadoured character in Happy Days |
| Frodo | The pawfect name for a diminutive, good-natured, Hobbit-like kitty |
| Felix | Felix the Cat is believed to be the world's first animated TV star. |
| Fingers | Some cats are born with extra "fingers" on their paws |
| Falafel | This name is pawrfect for your Abyssinian with its origins in the Egyptian temple cats. |
Female Cat Names Start With F
| | |
| --- | --- |
| Names | Notes |
| Franny | Short for Frangipani, this symbol of enduring love and a strong bond |
| Feather | The lightest, most graceful kitten in the litter should be named Feather. |
| Frieda | This chatterbox's name would fit a furry who meows and twitters constantly, and loves keeping their fur pawfect. |
| Frou-Frou | A cat named Frou-Frou is very feminine and looks furtacular dressed in a pink bow or ruffled dress. |
| Fria | The word fria means cool or cold in Spanish |
| Fala | Fala means "speech" in Portuguese. Marvelous for the verbal cat in your life. |
| Frankie | Like Lily Tomlin's role in Grace and Frankie, this cat is a bit off-beat, spiritual, and incredibly entertaining. |
| Frita | Havana treasure is the Cuban Brown cat who is a deep chocolate color with bright green eyes. |
| Flokati | For a kitty who is soft, white and looks like a rug when lying on their back on the floor. |
| Fenna | Any peaceful, laid-back feline fur baby will enjoy being named Fenna which means "white." |
| Fia | Giving this Irish name meaning, "deer" to your laid-back kitten personifies their sweet and calm demeanor. |
| Fujiko | Your Japanese Bobtail is certainly a "child of treasured beauty." |
| Feta | Greek Isle cats, or personifies the sweet, lively, and talkative Aegeans, this food name may be just right. |
| Fluffy | Simple and to the point for a cat who's got the fuzz! |
| Fergie | Sarah Ferguson, Duchess of York, has a reputation as a spirited, loyal, slightly impetuous person. |
| Fleur | The French word for "flower," Fleur is a pretty name for a pretty, delicate cat |
| Fiesta | To this cat, life is a party! Seldom still, their favorite toy is a laser pointer, and they love chasing flying insects. |
| Fig | Small and sweet, this fruit's name could describe a loving kitty gal. |
| Farrah | Like the beautiful actress Farrah Fawcett |
| Flan | The color of creamy custard and warm caramel, the caramel-point Siamese cat is rare. |
| Fizz | Much like soda fizz, a cat with this name may be lying in wait |
| Fuji | This beautiful, serene feline might burst like a volcano if they are not stroked the way they want to be. |
| Filomena | Means "to sing" in Greek and Italian. |
| Floppy | Floppy describes that kitty purrfectly! |
| Friday | Friday is the name of a cat who can do it all: play, leap, cuddle, purr, and perch. |
| Faith | A white cat with blue eyes is the vision of a heavenly cherub |
| Faberge | The renowned jewelry maker and sculptor who produced the sought-after Faberge eggs |
| Freesia | The fragrant freesia grows in several colors, including yellow, white and lavender. |
| Frejya | Frejya was the beautiful goddess of Norse mythology |
| Flamme | This name is for the cat that burns bright with curiosity |
So there you have it, a comprehensive list of cat names starting with F. If you're still looking for the perfect moniker for your new feline friend, be sure to check out our other posts on cat names from A to Z.