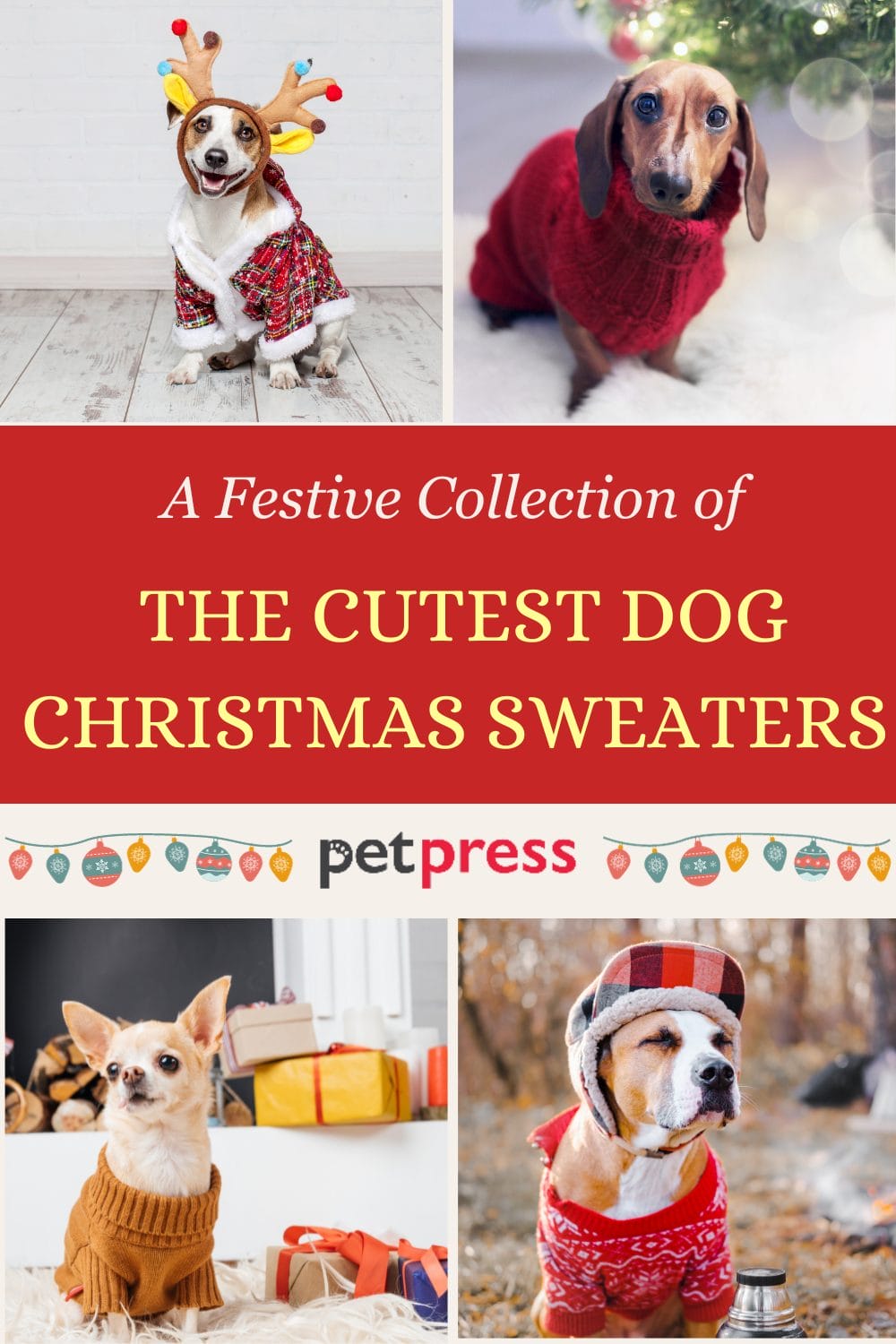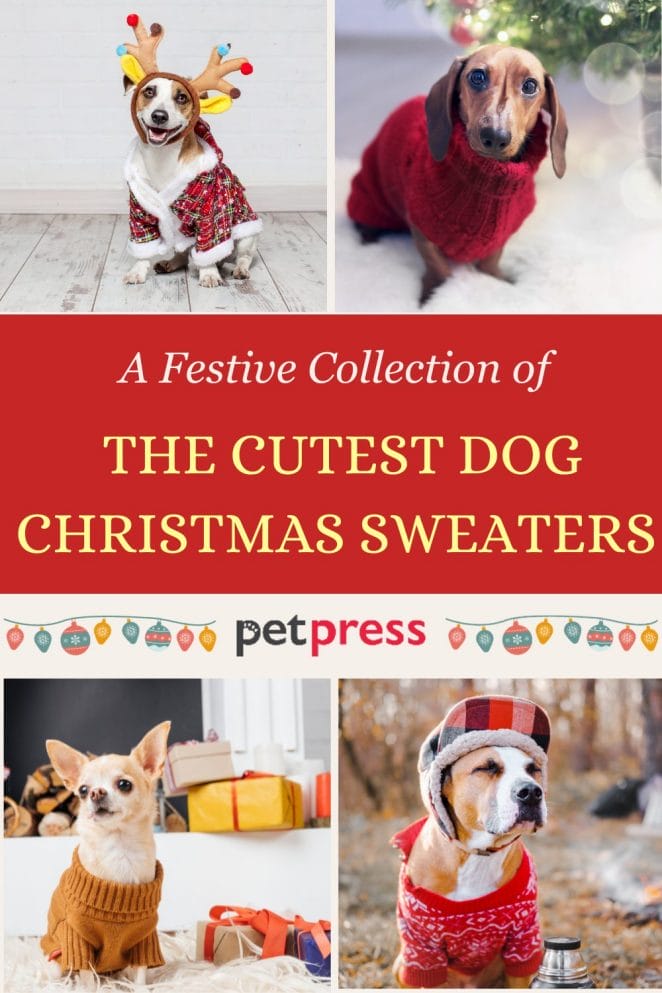 Welcome to our festive corner, where we're all about spreading holiday cheer! If there's one thing that gets tails wagging and hearts melting, it's the sight of our dogs donning their finest attire for the season. And what better way to kick off the holiday spirit than with the beloved tradition of the dog Christmas sweaters?
In this blog, we'll be diving into a merry world of canine couture, showcasing the cutest, coziest, and most charming Christmas sweaters that are sure to make your pup the star of every holiday gathering.
So, grab a cup of cocoa, snuggle up with your fur baby, and let's embark on a festive fashion journey together!
The popularity of dog Christmas sweaters
Dog Christmas sweaters have become a beloved tradition for many pet owners around the world. These charming, festive garments have gained immense popularity in recent years, with pet owners eagerly adorning their furry companions in colorful and adorable sweaters during the holiday season.
The joy of dressing up pets for the holidays
Dressing up pets, particularly dogs, for the holidays brings immense joy and warmth to both pet owners and those who encounter these festively attired pups. It's a delightful way to spread holiday cheer and create heartwarming memories with our beloved four-legged family members.
The primary objective of this article is to share a curated selection of the most charming and endearing dog Christmas sweaters available in the market. By presenting this collection, we aim to inspire pet owners to embrace the tradition of dressing up their dogs for the holidays, enhancing the festive spirit in their homes and communities.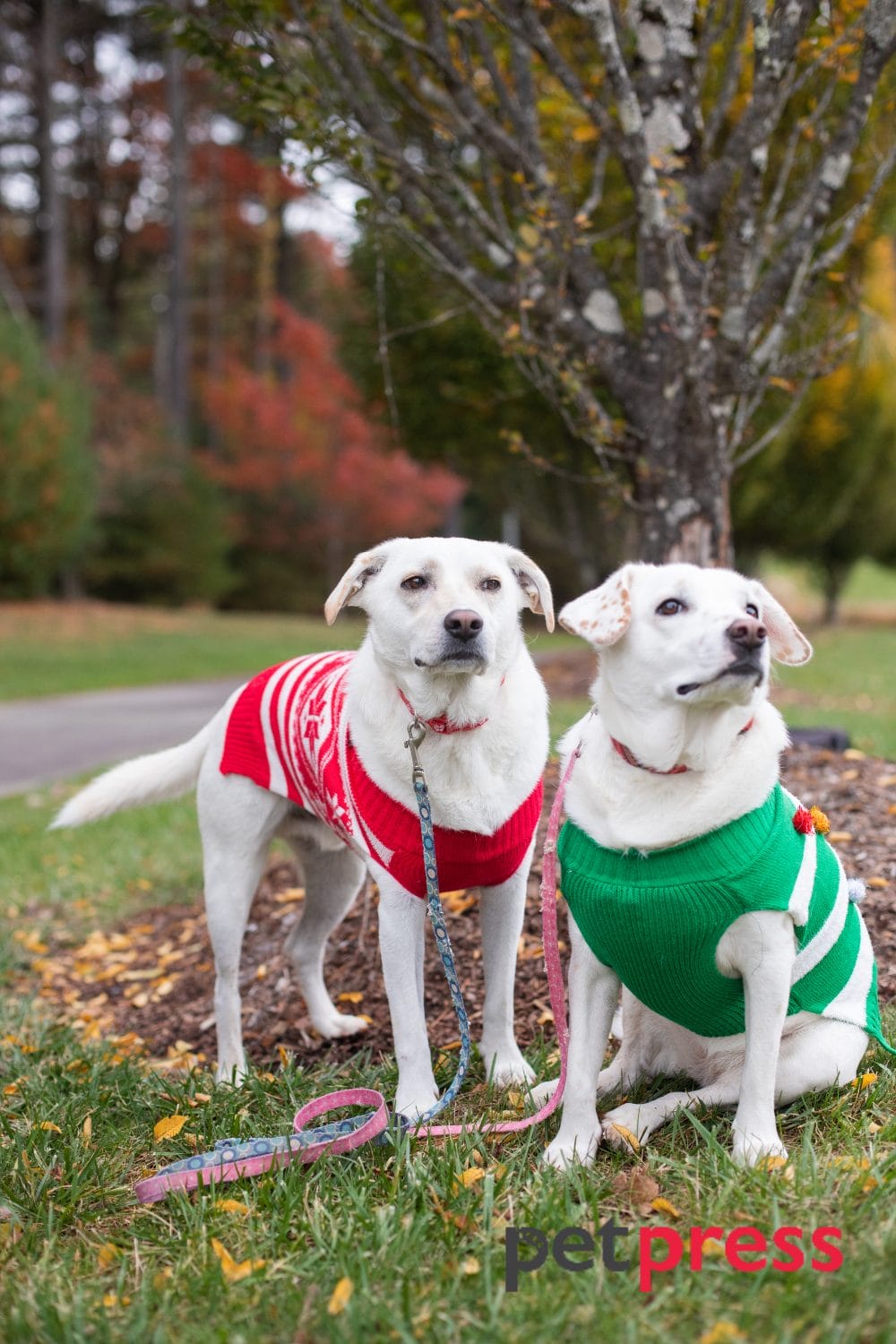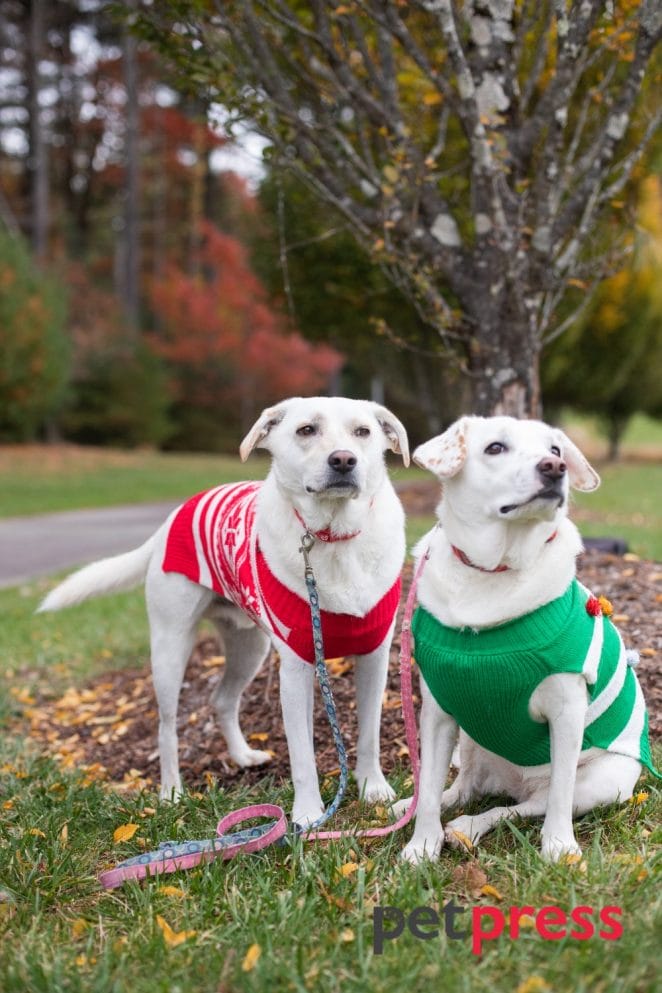 The Tradition of Dressing Up Dogs for Christmas
Historical background of pet clothing during holidays
The practice of adorning pets, including dogs, with clothing during holidays dates back centuries. It can be traced to various cultures and regions, where pets were often dressed in special attire to mark significant celebrations. This tradition has evolved, becoming more elaborate and creative with the availability of a wide range of pet clothing options.
The evolution of dog fashion in recent years
In recent years, there has been a significant surge in the pet fashion industry, and dogs have become bona fide style icons. The availability of diverse and stylish clothing options, including Christmas sweaters, reflects the growing trend of treating pets as cherished members of the family, deserving of their own festive attire.
The importance of including dogs in holiday celebrations
Dogs hold a special place in our hearts, and including them in holiday celebrations allows us to share the joy and festivities with them.
Dressing up our dogs in Christmas sweaters not only adds a touch of whimsy to the holiday season but also strengthens the bond between pet and owner. It provides an opportunity for families to come together and create lasting memories with their beloved pets during this special time of year.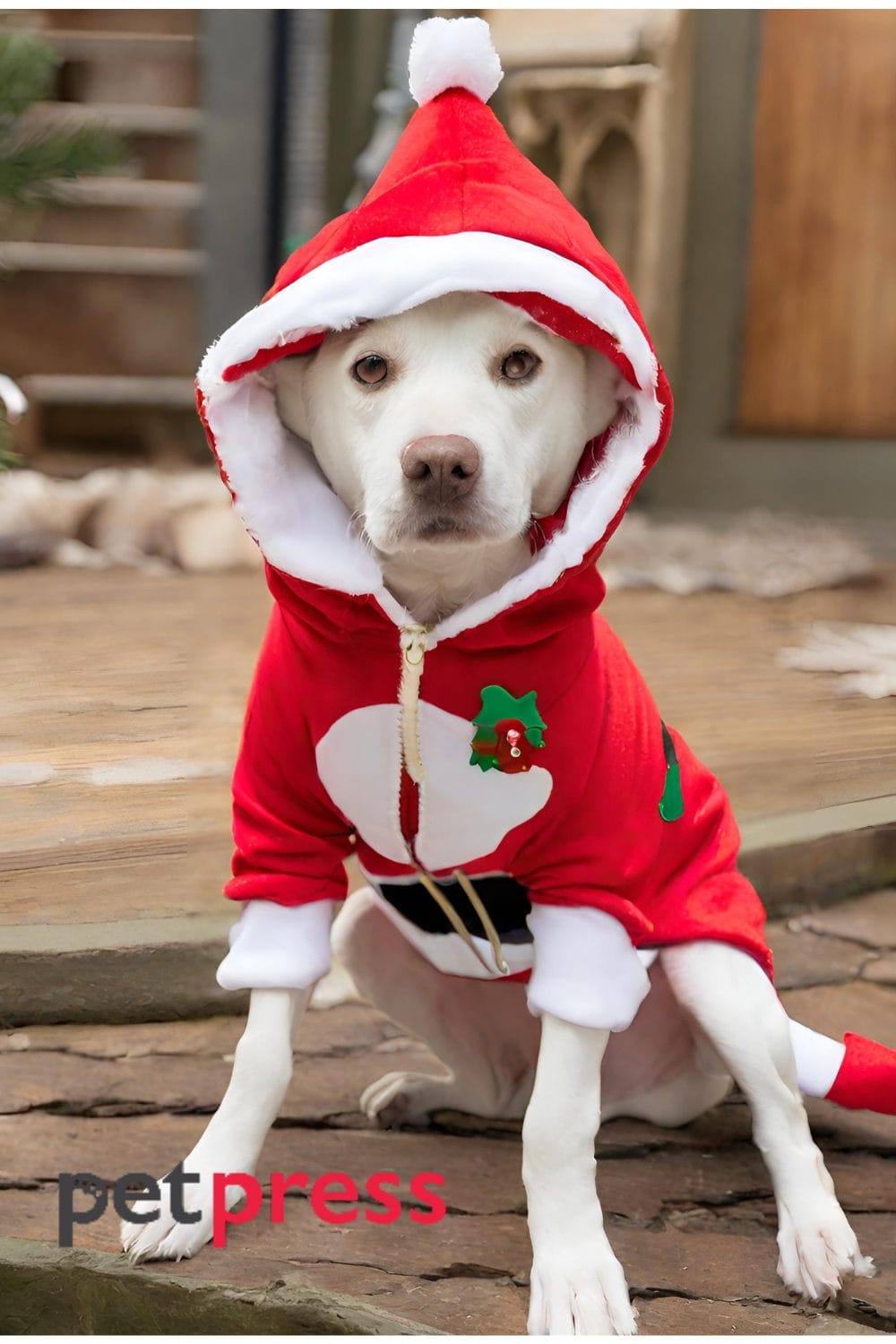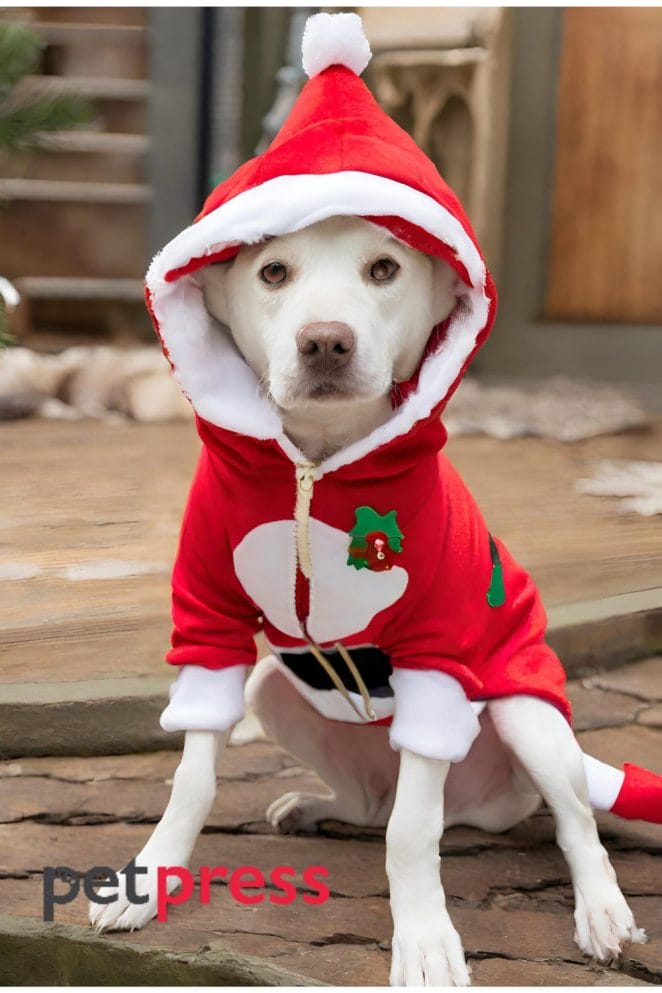 15 Most Adorable Dog Christmas Sweater Designs
Here's a sample list of 15 adorable dog Christmas sweater designs that are expected to be trendy this year, along with a brief discussion of each:
Classic Fair Isle Knit Sweater:
Design Description: This timeless design features intricate patterns in multiple colors, giving off a cozy and traditional holiday vibe. It often includes snowflakes, reindeer, and other festive motifs.
Trend Notes: Classic Fair Isle designs continue to be a popular choice, as they evoke a sense of nostalgia and warmth.
Santa Paws Hoodie:
Design Description: Complete with a faux-fur trimmed hood and a jolly Santa Claus appliqué, this hoodie is perfect for pups who want to channel their inner Santa Claus.
Trend Notes: Hoodies are a versatile and comfortable option, and the Santa theme adds an extra touch of holiday magic.
Ugly Christmas Sweater Print:
Design Description: This playful design mimics the famous "ugly sweater" trend with bold, mismatched patterns, complete with bells, bows, and more.
Trend Notes: Embracing the "ugly sweater" aesthetic has become a fun and lighthearted way to celebrate the holidays.
Candy Cane Striped Turtleneck:
Design Description: This sweet and simple sweater features red and white stripes reminiscent of candy canes, with a cozy turtleneck for added warmth.
Trend Notes: Classic candy cane stripes are a perennial favorite, offering a cheerful and festive look.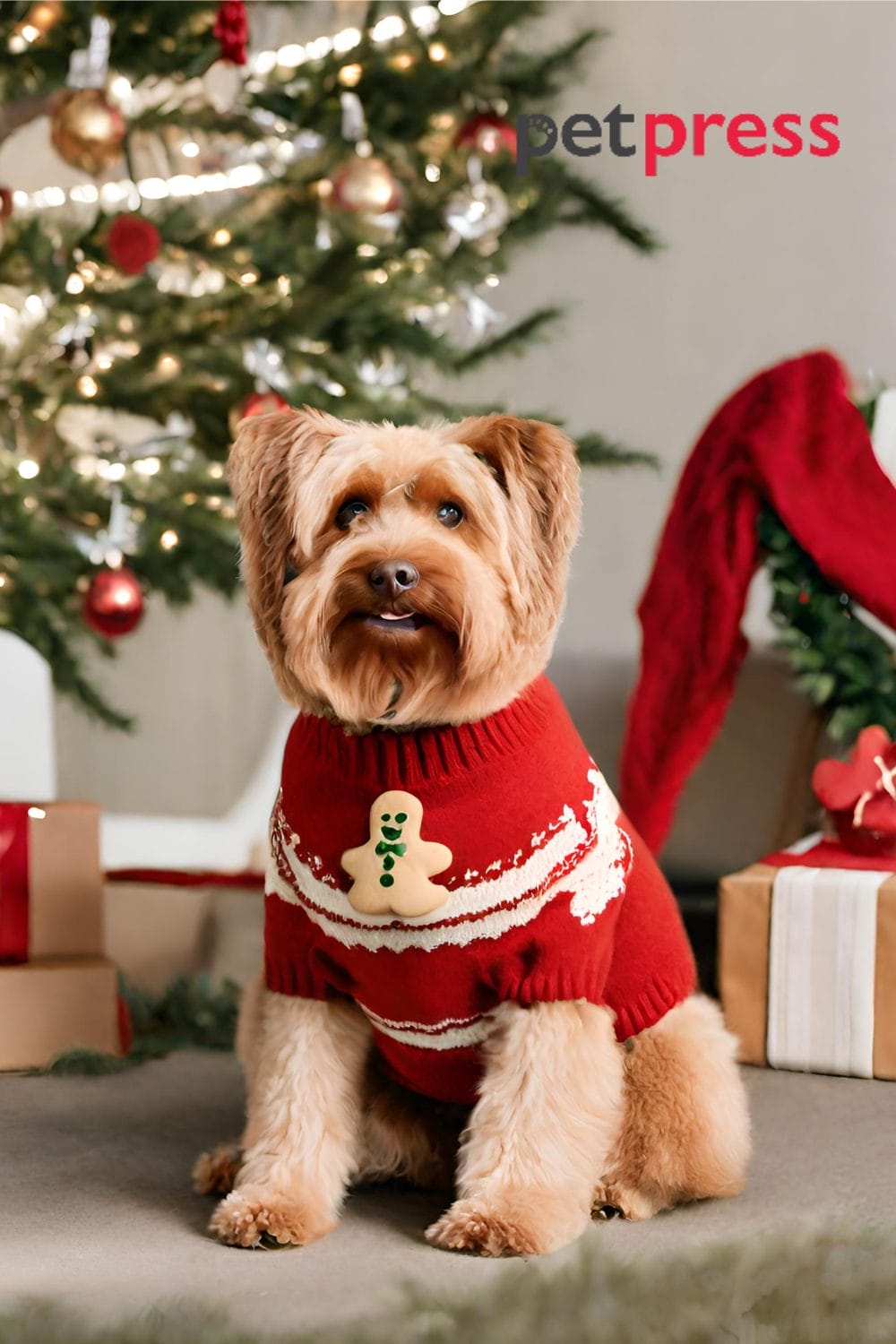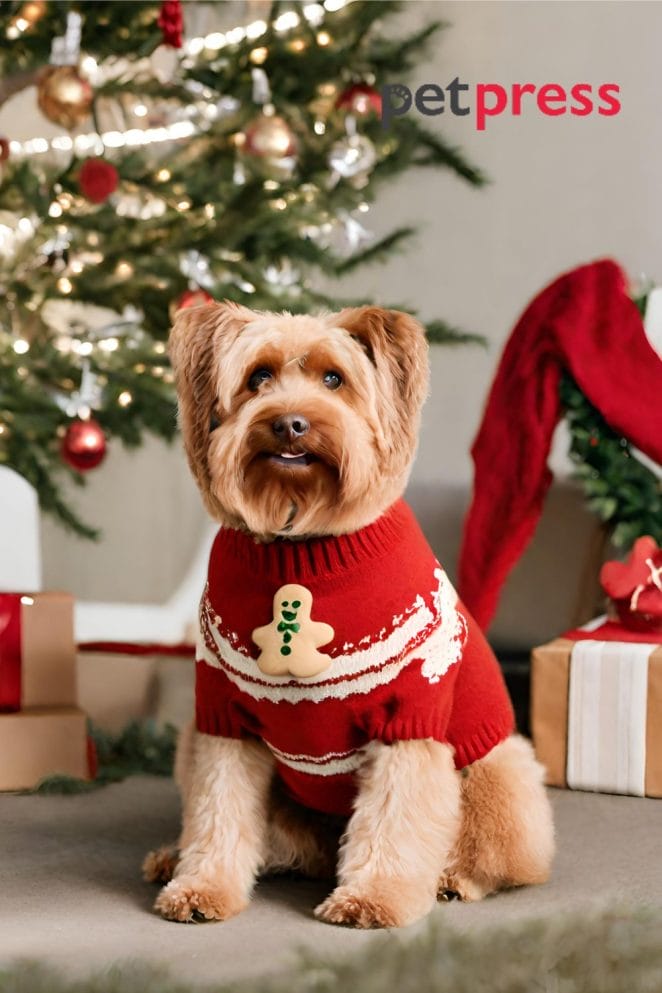 Gingerbread Man Appliqué:
Design Description: Adorned with a plush gingerbread man, this sweater adds a touch of whimsy and charm to your pup's holiday ensemble.
Trend Notes: Gingerbread-themed designs are gaining popularity for their adorable and playful appeal.
Reindeer Antler Hoodie:
Design Description: This hoodie features a 3D reindeer face with attached antlers, turning your pup into a festive and endearing holiday reindeer.
Trend Notes: Transforming dogs into reindeer is a delightful and trendy way to celebrate the season.
Festive Plaid Flannel:
Design Description: This classic plaid pattern in holiday colors exudes a rustic and cozy vibe, perfect for fireside gatherings.
Trend Notes: Plaid patterns never go out of style, and they remain a popular choice for a timeless holiday look.
Elf Costume Sweater:
Design Description: With green and red stripes, a jester-style collar, and bells, this sweater transforms your pup into Santa's little helper.
Trend Notes: Elf-themed sweaters are a playful and whimsical choice for adding extra holiday cheer.
Snowman Appliqué Cardigan:
Design Description: Featuring a cute snowman appliqué, this cardigan-style sweater is both cozy and festive, perfect for chilly winter days.
Trend Notes: Snowman motifs are a perennial favorite, embodying the magic of a winter wonderland.
Penguin Print Sweater:
Design Description: This sweater showcases adorable penguin graphics, evoking images of waddling through a snowy landscape.
Trend Notes: Penguin-themed sweaters offer a cute and endearing winter aesthetic.
Sequin Sparkle Sweater:
Design Description: This glitzy sweater is adorned with sequins or metallic threads, adding a touch of glamour and holiday sparkle.
Trend Notes: Sequin accents provide a festive and eye-catching element to your dog's holiday attire.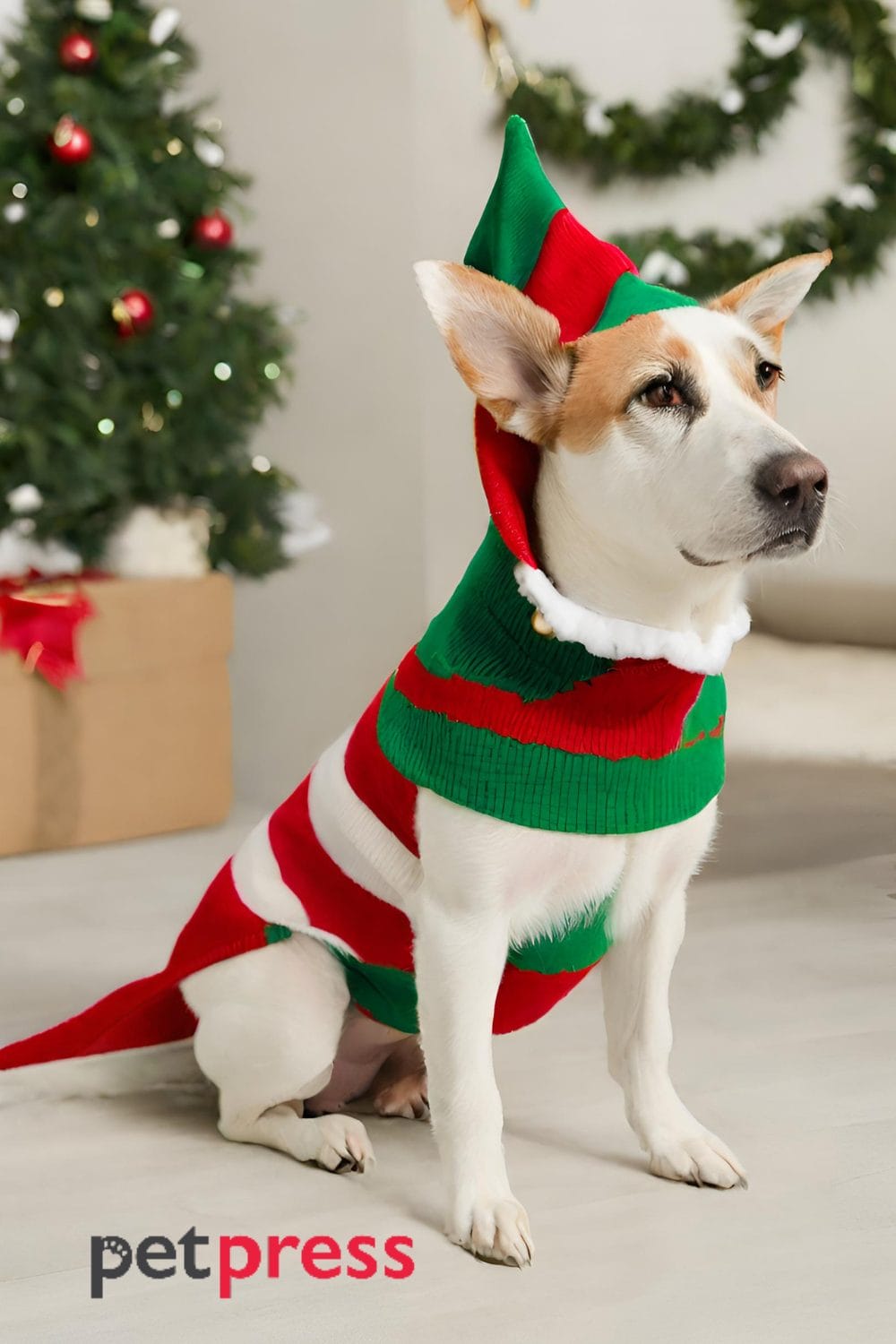 Cozy Cable Knit:
Design Description: This textured sweater features intricate cable patterns, providing a classic and luxurious look for the holiday season.
Trend Notes: Cable knit sweaters exude timeless elegance, making them a popular choice for special occasions.
Faux Fur Trimmed Cardigan:
Design Description: This cardigan-style sweater is embellished with faux fur along the collar and cuffs, providing an extra layer of warmth and sophistication.
Trend Notes: Faux fur accents add a touch of opulence and luxury to your pup's holiday ensemble.
Hanukkah-themed Sweater:
Design Description: Celebrate the Festival of Lights with a sweater featuring Hanukkah-themed patterns and motifs, such as menorahs and dreidels.
Trend Notes: Hanukkah-themed sweaters offer a meaningful and inclusive way to celebrate the holiday season.
Personalized Name Embroidery:
Design Description: Add a personal touch to your dog's sweater with custom embroidery featuring their name or a festive message.
Trend Notes: Personalized sweaters are a unique and cherished way to make your pup feel extra special during the holidays.
Each design offers a delightful way to celebrate the holiday season with your furry friend. Whether you prefer a classic look or want to embrace a playful and whimsical style, there's a dog Christmas sweater for every pup and owner to enjoy.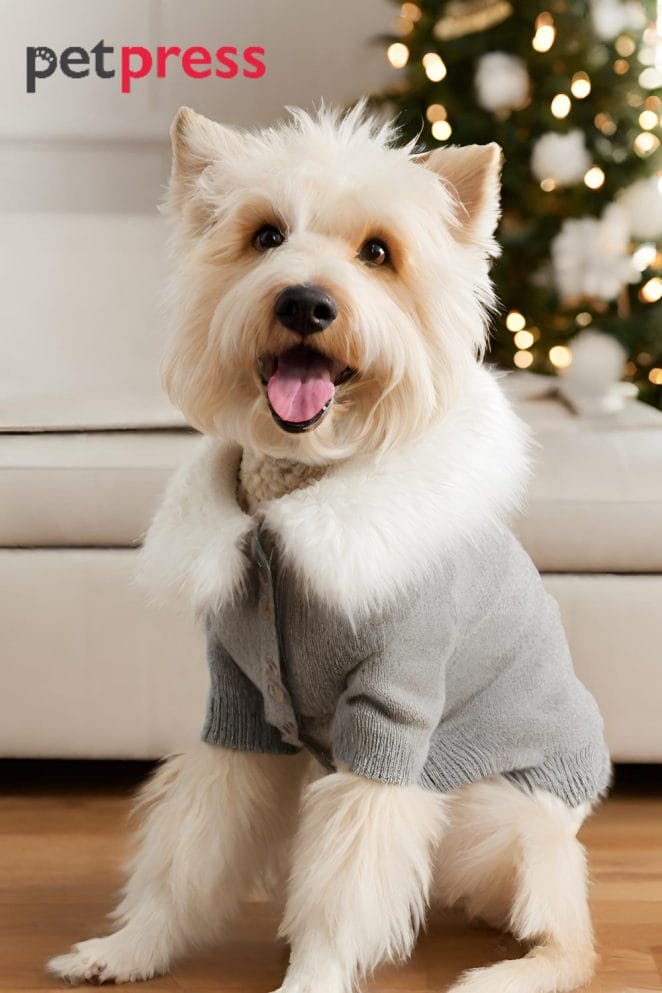 Ensuring Your Dog's Comfort and Safety
Importance of monitoring your dog while they wear a sweater:
It's crucial to keep a watchful eye on your dog while they're wearing a sweater. This ensures they are comfortable and not experiencing any discomfort or restricted movement. Regular checks also help identify any potential issues early on.
Signs of discomfort or irritation:
Look out for signs such as excessive scratching, fidgeting, or attempts to remove the sweater. These may indicate that the sweater is causing discomfort. Pay attention to any redness or irritation on your dog's skin, and be proactive in addressing it.
Tips for introducing your dog to wearing a sweater:
Gradual introduction is key. Start with short periods of wear, and gradually increase the time as your dog gets accustomed to the sensation. Use positive reinforcement and treats to create positive associations with wearing the sweater.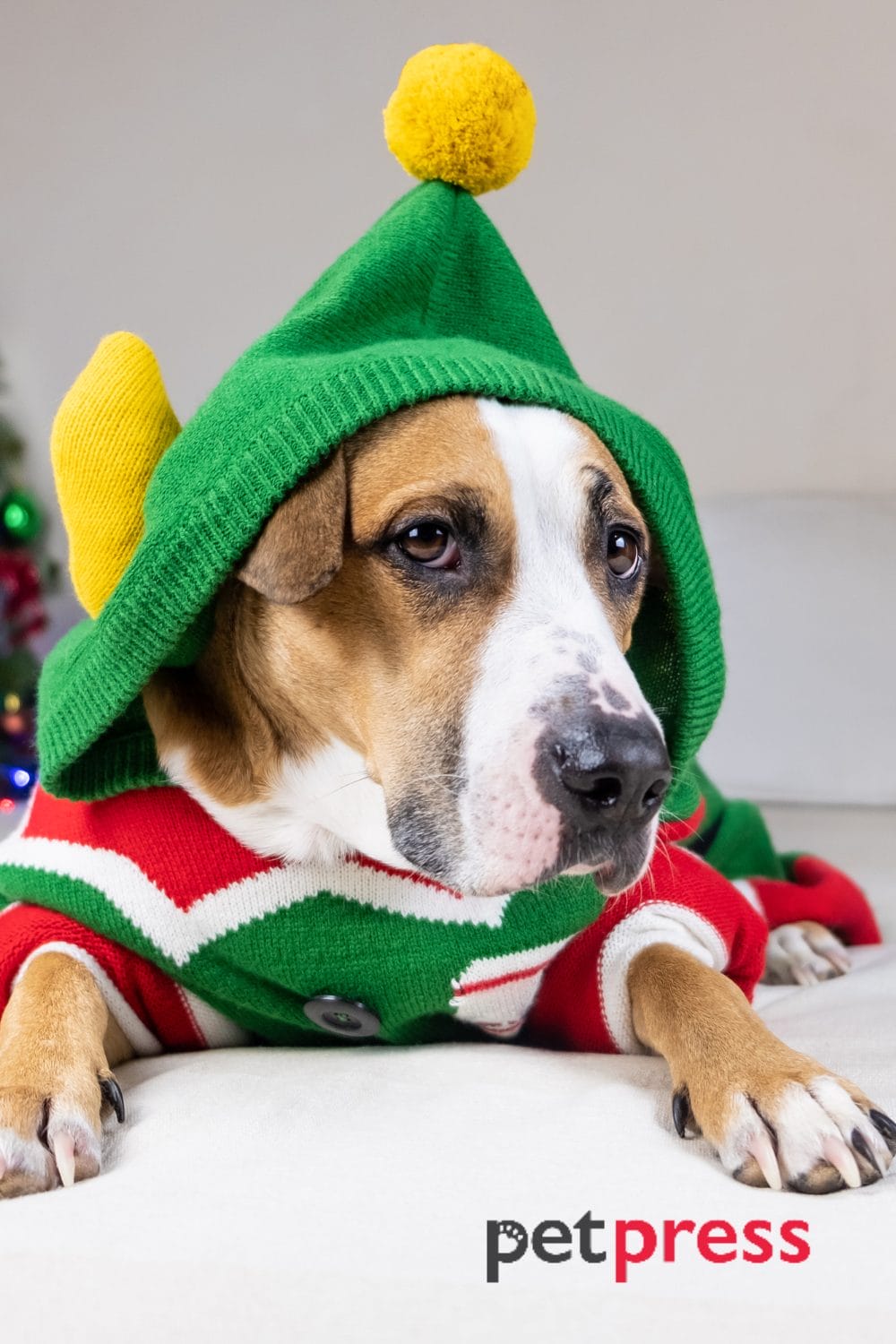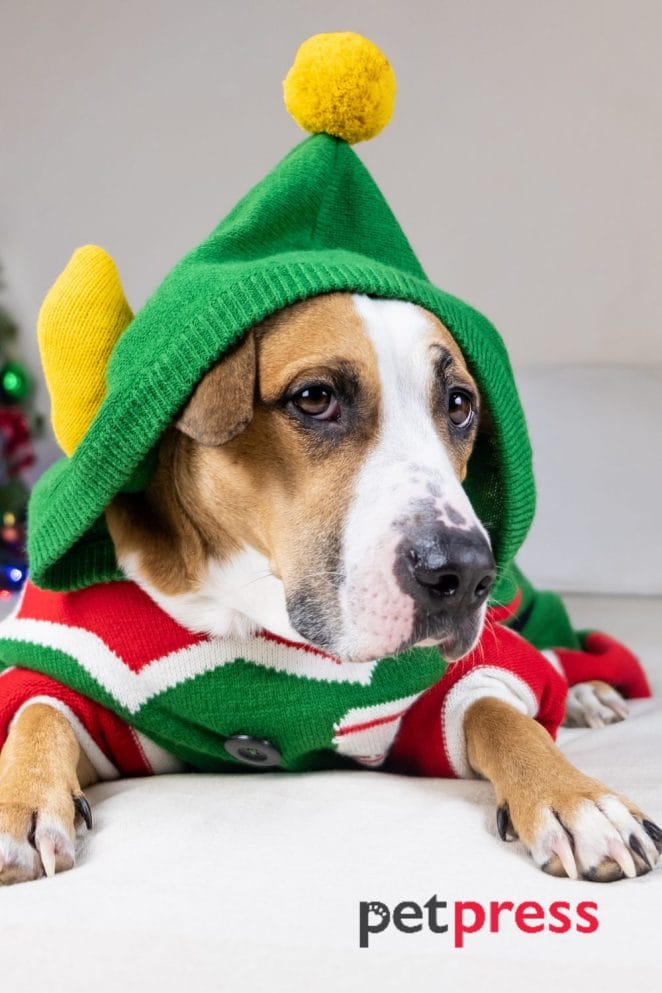 Wrapping Up the Festive Fun
Let's take a moment to revisit the charming dog Christmas sweaters we've highlighted. Each one brings its own unique style and holiday spirit, giving you plenty of options to choose from for your furry companion.
Dressing up our dogs for Christmas is not just a fun tradition; it's a way to share the holiday spirit with our furry family members. Seeing them in their festive attire brings immense joy and creates lasting memories.
We'd love to see how you've dressed up your pup for the holidays! Share photos of your dog in their festive attire on social media and tag us. It's a wonderful way to spread the holiday cheer and inspire others to get creative with their own furry friends.
Including our dogs in holiday celebrations bring an extra layer of joy and warmth to the season. The memories created with our four-legged companions are truly special and add a unique dimension to our holiday traditions.
From our hearts to yours, we wish you and your beloved pets a holiday season filled with love, laughter, and cherished moments. May the festivities bring you closer together and create memories to treasure for years to come.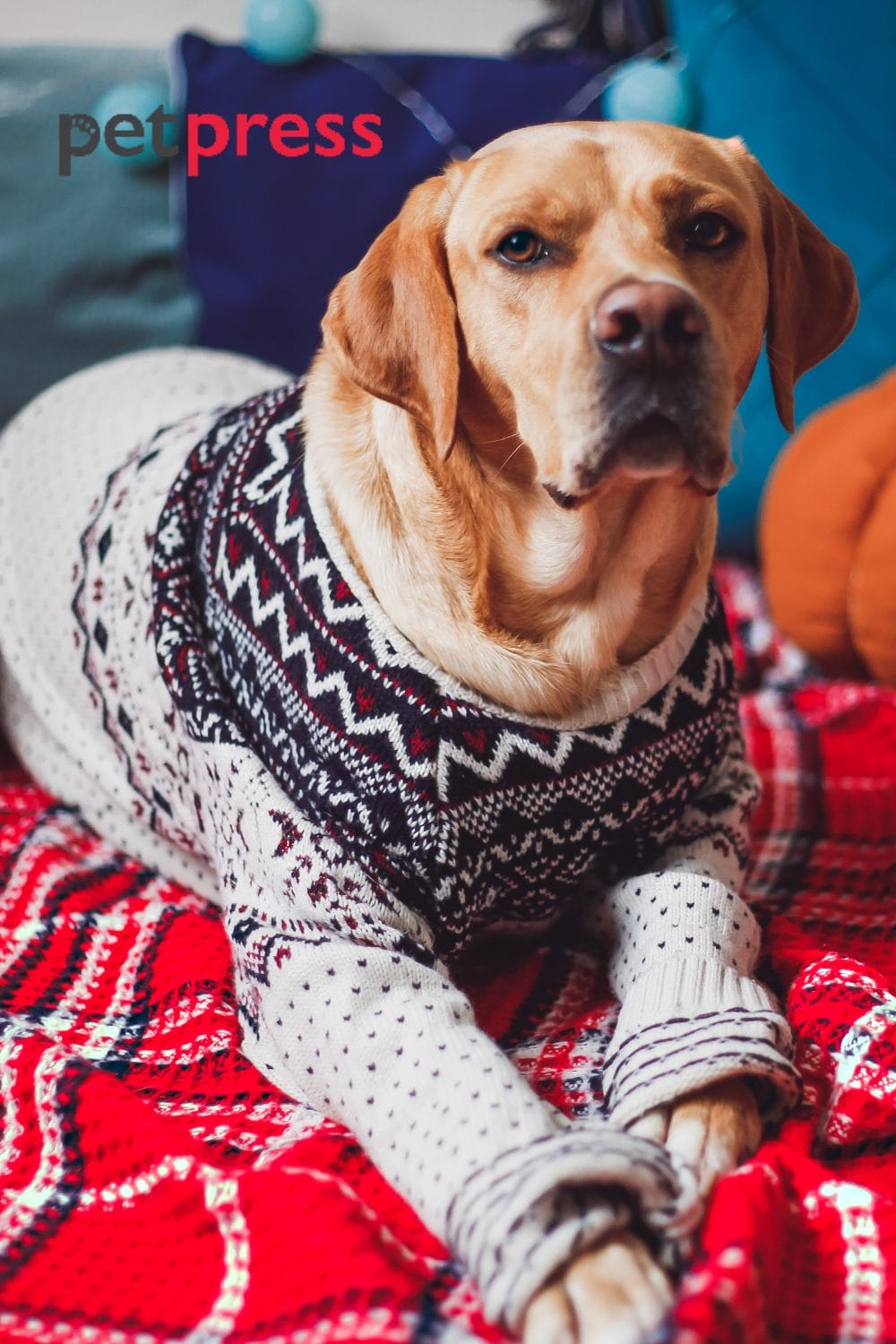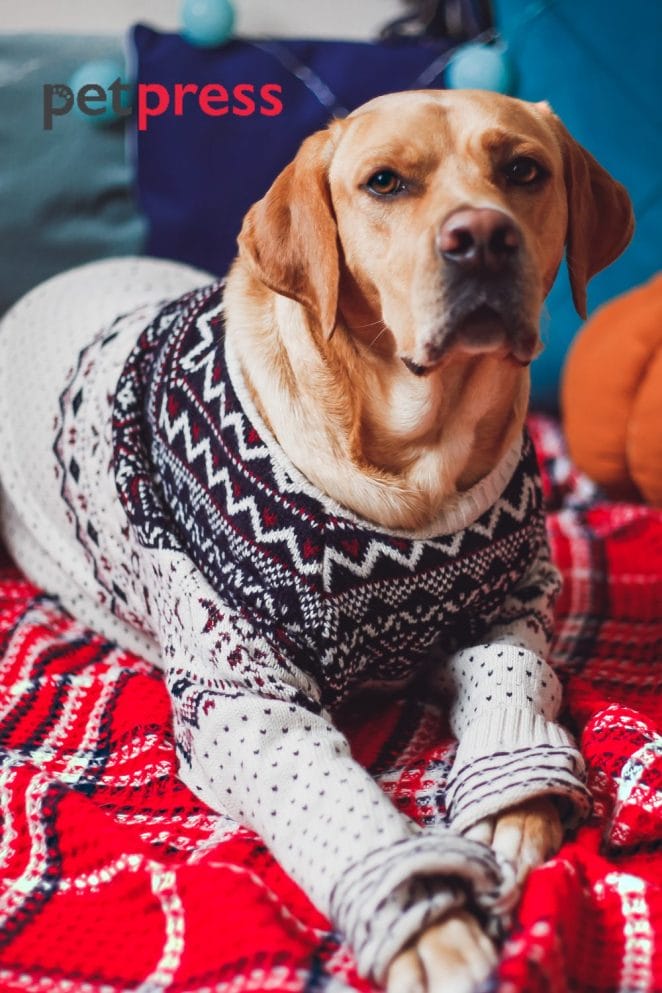 FAQs about Dog Christmas Sweaters
Can I customize a dog Christmas sweater with additional decorations or accessories?
Yes, you can add some personal touches to a dog Christmas sweater, but be cautious. Avoid using small, detachable pieces that could pose a choking hazard. Always ensure any additional decorations are securely attached.
How can I make sure my dog enjoys wearing a Christmas sweater?
Start by introducing the sweater gradually and use positive reinforcement with treats and praise. Pay attention to your dog's body language and remove the sweater if they seem uncomfortable.
Can I leave my dog in a Christmas sweater all day?
While it's okay for short periods, it's recommended to remove the sweater for breaks and overnight. This allows your dog's skin to breathe and prevents any potential discomfort.
What materials are best for dog Christmas sweaters?
Natural fabrics like cotton or wool blends are often comfortable for dogs. Avoid materials that may irritate, such as rough or scratchy textures.
Are there any safety considerations for puppies wearing Christmas sweaters?
Puppies may not be accustomed to wearing clothing, so it's important to introduce the sweater slowly. Monitor them closely, and ensure the sweater fits well without any loose parts that they could chew on or get tangled in.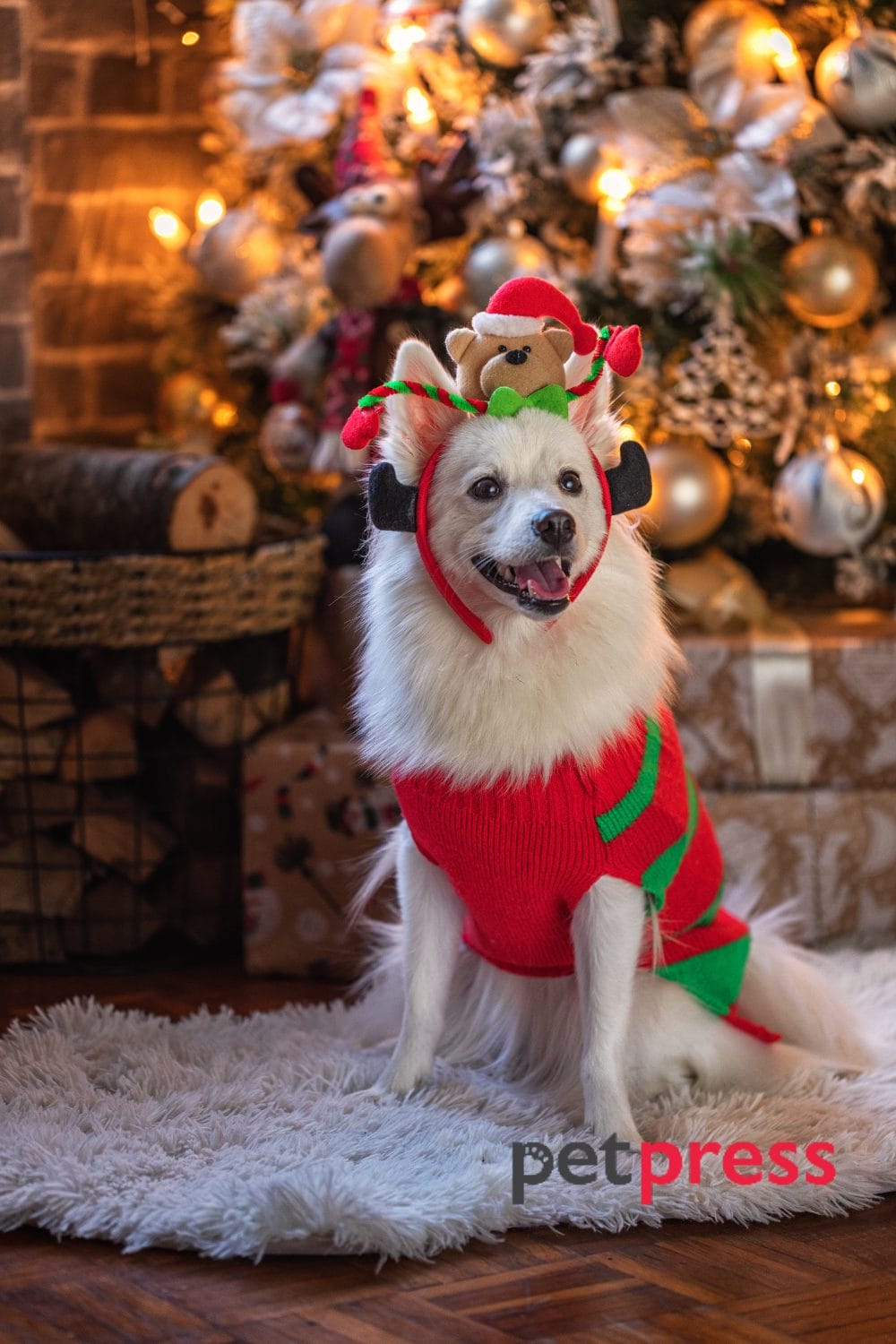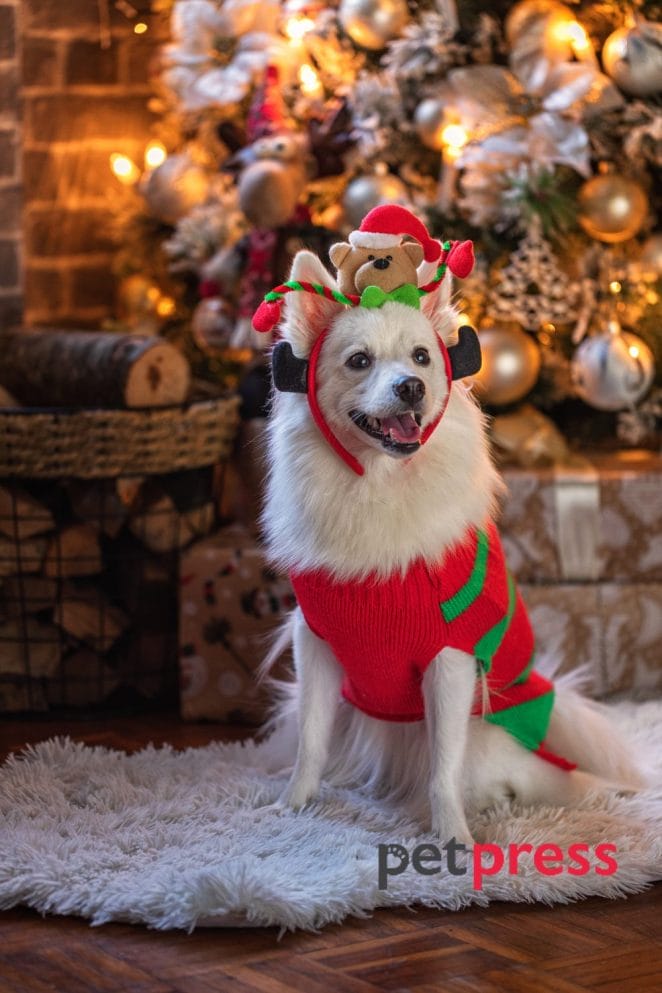 Discover more awesome content!
Best Dog Christmas Outfit Ideas: Making Your Pooch More Festive
Dog Christmas Jumper: The Best Guide for Dog Festive Fashion
50+ Best Christmas Dog Quotes to Unleash the Yuletide Cheer