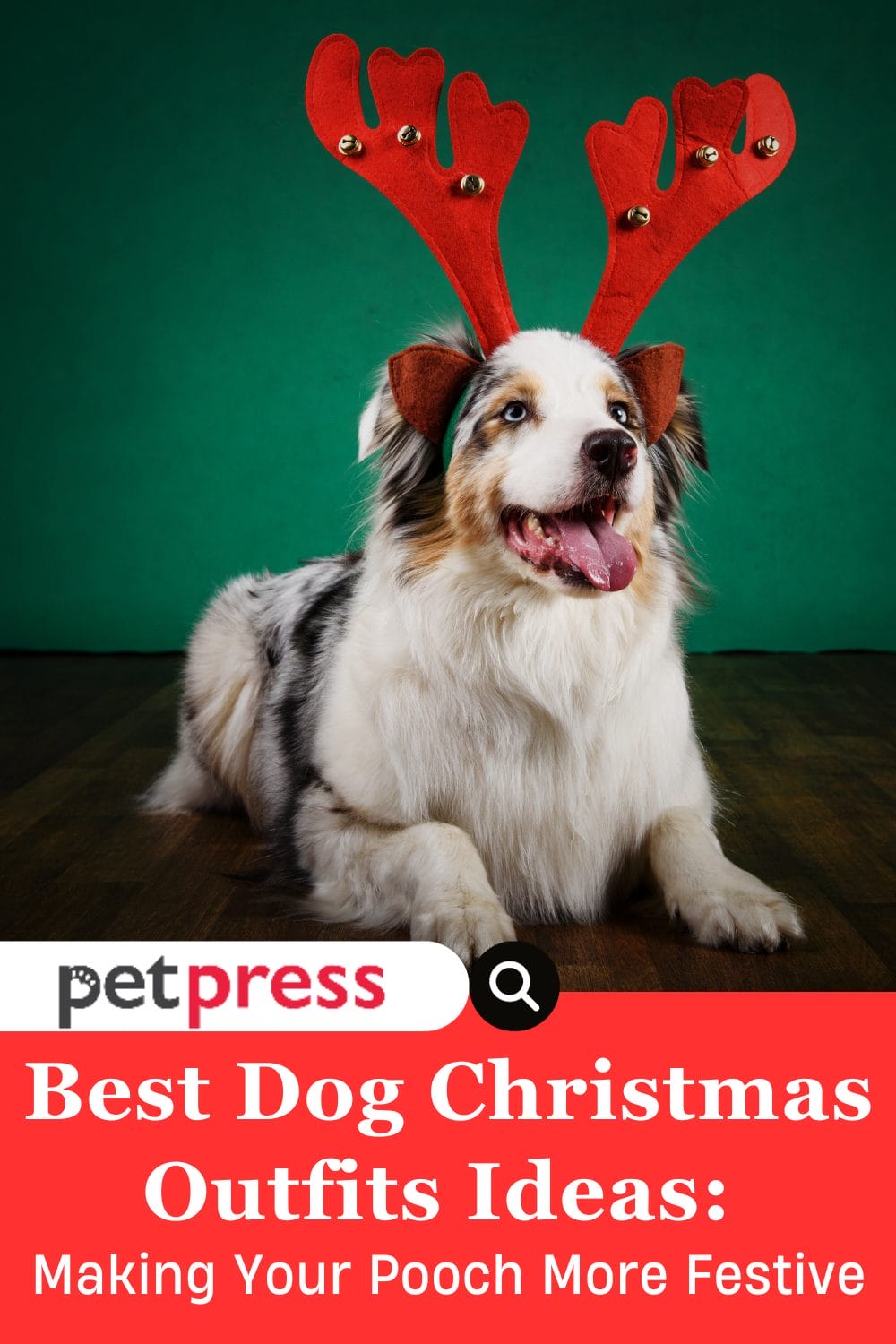 With Christmas around the corner, it is time to think about how to make this holiday special for our furry companions. And what better way to involve them in the festive spirit than with a delightful dog Christmas outfit?
Yes, you heard that right. Pet fashion is a rapidly growing trend, and Christmas outfits for dogs are at the forefront of this movement.
In this blog post, we'll explore the wonderful world of dog Christmas outfits. You'll learn why it's a fantastic idea to dress your pets for the occasion, how to select the perfect outfits, some of the best Christmas outfit ideas, and tips on caring for these extra pieces of dog apparel.
So buckle up and get ready for a sleigh ride through the world of pet fashion. By the end, you'll be well-equipped with the knowledge and inspiration you need to get your pup ready for those adorable Christmas photos. Let's turn this Christmas into a truly bark-tastic celebration!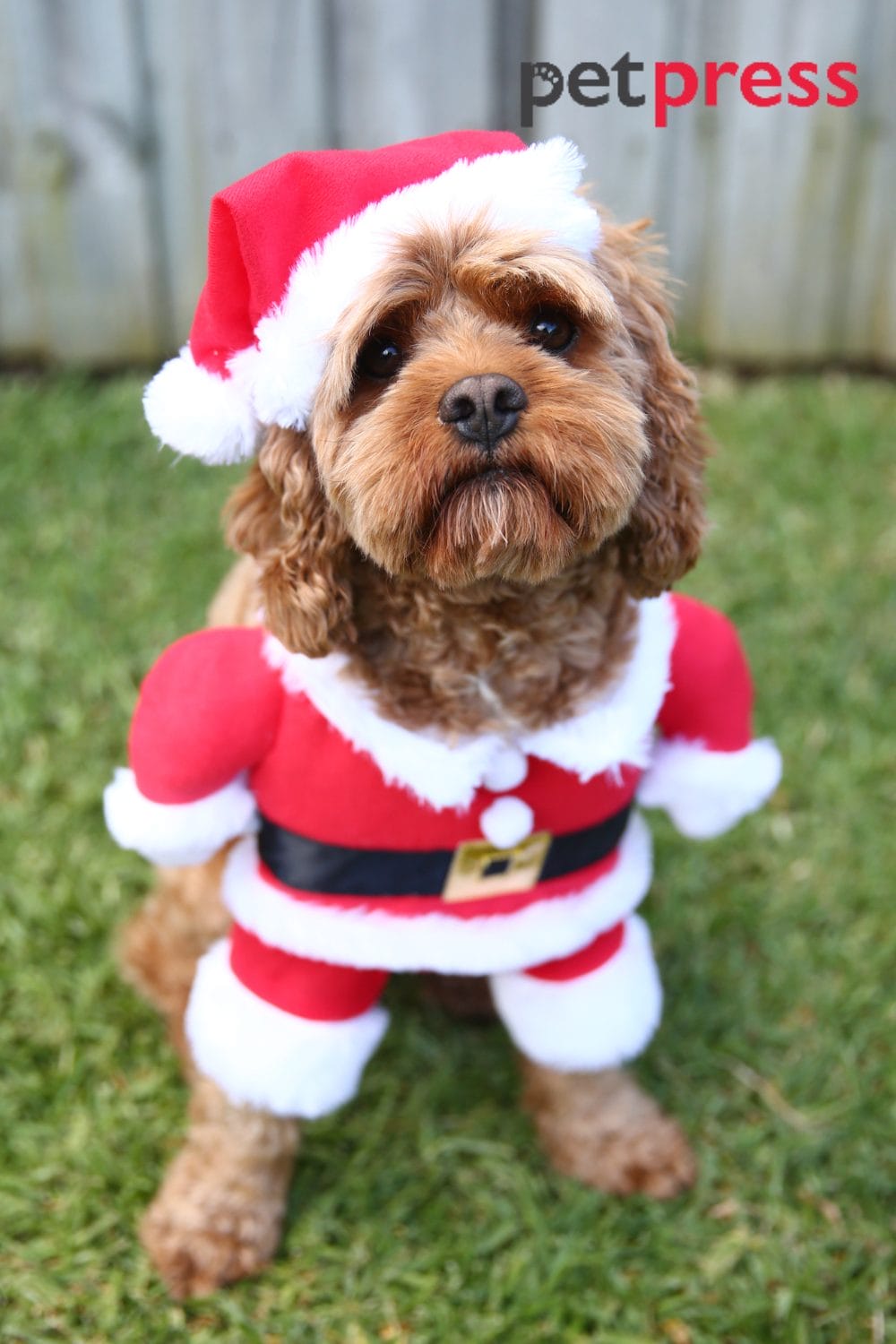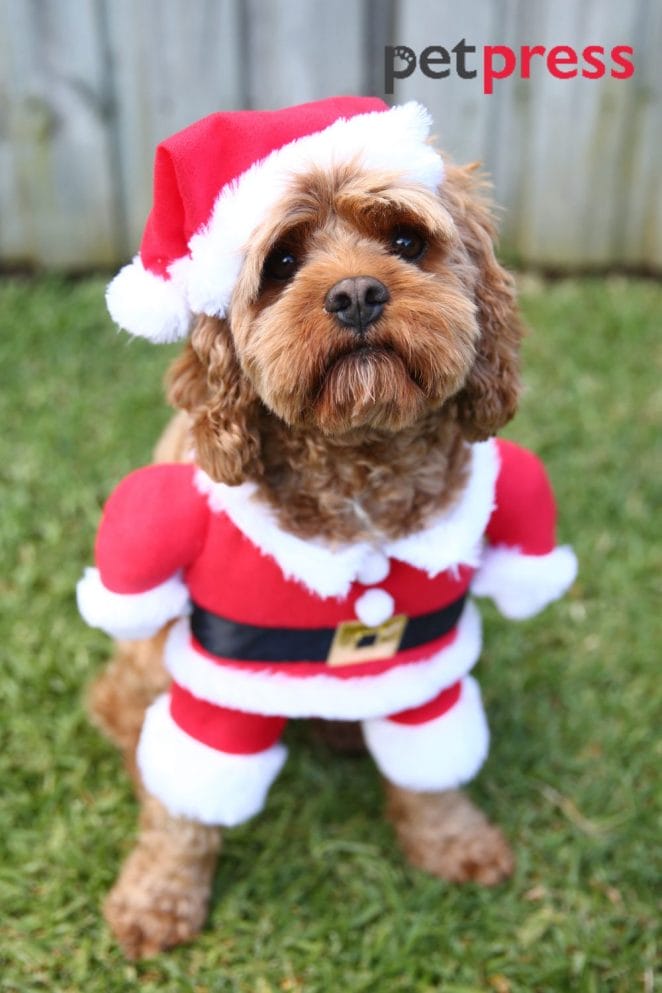 Why dress up your dog for Christmas?
Celebrating Together
As pet owners, we cherish our dogs as family. They bring us unconditional love, companionship, and an endless source of joy. So, including them in the Christmas holiday is a delight for both you and your pooch.
By dressing them in a themed outfit, we allow them to participate more visibly in the holiday spirit. It's not just about taking cute photos (though that's certainly a bonus!), it's about sharing our celebrations and traditions with our four-legged friends.
A festive dog outfit enhances the overall joyful ambiance of the house, making Christmas more fun and inclusive. Let's spread the Christmas cheer to every family member, including our beloved dogs!
Creating Memories and Photo Ops
In the age of social media, we love capturing and sharing special moments. And let's be honest, nothing steals hearts quite like a dog dressed in a cute outfit.
Dressing up your dog for Christmas opens up a world of adorable photo ops. Imagine your furry friend dressed as a little Santa Paws, sitting proudly by the Christmas tree. Or consider the heart-melting cuteness of your dog in elf ears playing with Christmas decorations. These photos can make holiday cards, family portraits, or social media posts that garner countless likes and shares.
Including your dog in a Christmas outfit not only spices up your social feeds but also lets you create lasting memories. Every year, as you unpack the decorations and find that little dog outfit, you'll recall the joy and laughter from the previous years.
Nothing can replace these heartwarming, festive memories. So, let's make your dog the star of the show this Christmas!
Choosing the Right Christmas Outfit for Your Dog
As much as we are excited about dressing up our dogs for Christmas, it's crucial to pick the right outfit that ensures their comfort and safety. Let's explore how to do just that!
Size Matters
Choosing the right size for your dog's Christmas outfit is essential. An outfit that's too tight can restrict your dog's movements and make them uncomfortable, while a loose outfit can cause tripping hazards.
Start by taking accurate measurements of your dog. Measure their length from the neck to the base of the tail, their chest at its broadest point, and their neck's circumference where the collar would normally sit. Remember, each manufacturer's size chart may vary slightly, so always refer to it before making a purchase.
Also, consider the breed and hair volume of your dog. Some breeds may require a larger size due to their body shape or hair volume. If your dog falls between two sizes, it's often safer to go with the larger size for added comfort.
Comfort and Safety
While choosing a dog Christmas outfit, never compromise your pet's comfort and safety for aesthetics. Choose materials that are soft and non-irritating, like cotton, fleece, or soft polyester.
The outfit should not restrict your dog's movements or interfere with their normal activities such as walking, running, or going to the bathroom.
Avoid outfits with small, detachable parts that could be choking hazards, like buttons, sequins, or bows. Also, steer clear of outfits with long strings or cords that your dog might get tangled in.
Consider the weather and your dog's tolerance for it. If you live in a cold area, a warm and cozy sweater could be a great option. For warmer climates, go for lightweight fabrics that don't cause overheating.
Remember, an uncomfortable dog isn't a festive dog. Your dog's happiness and comfort should always be a top priority.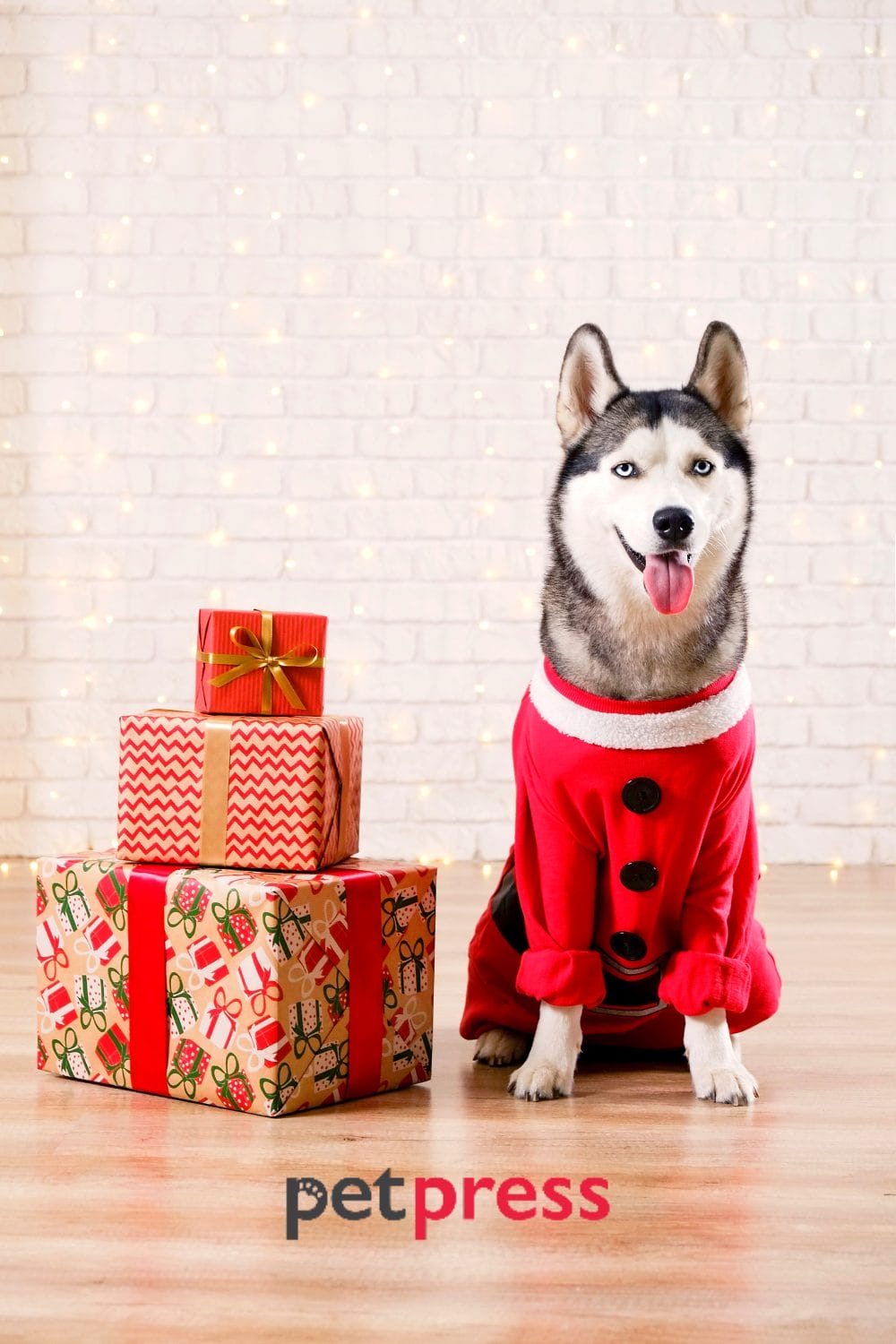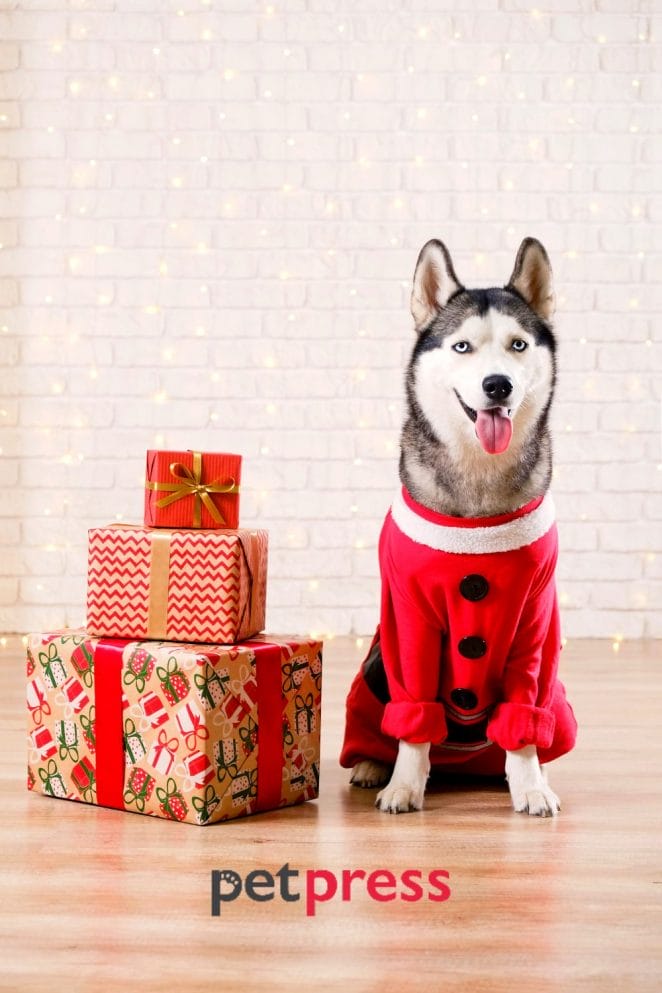 Top 10 Dog Christmas Outfit Ideas
Seeing your beloved pooch dressed up in a festive outfit can add the perfect touch to your Christmas celebrations. It not only brings a smile to everyone's face but also makes for fantastic holiday photos. Here are our top 10 ideas for dog Christmas outfits that will make your pet the most adorable furball this festive season.
Santa Claus:
Nothing says Christmas like Santa himself. Dress your dog in a jolly red Santa suit with a matching hat. The white fur trim adds a touch of authenticity, making your dog ready to hand out gifts from his sack.
Elf:
Transform your pooch into Santa's cutest helper with an elf outfit. The rich green and red colors, along with the pointy hat and tiny elf shoes, can make your dog the center of attention.
Reindeer:
A reindeer outfit can be a perfect fit for dogs who enjoy playing around while looking adorable. The cozy hoodie, with soft antlers and a red nose, will make your dog part of Santa's team.
Christmas Lights Sweater:
The brightness of Christmas lights captured in a cozy sweater is a festive and functional outfit choice. It'll keep your pup warm while looking like a walking Christmas decoration.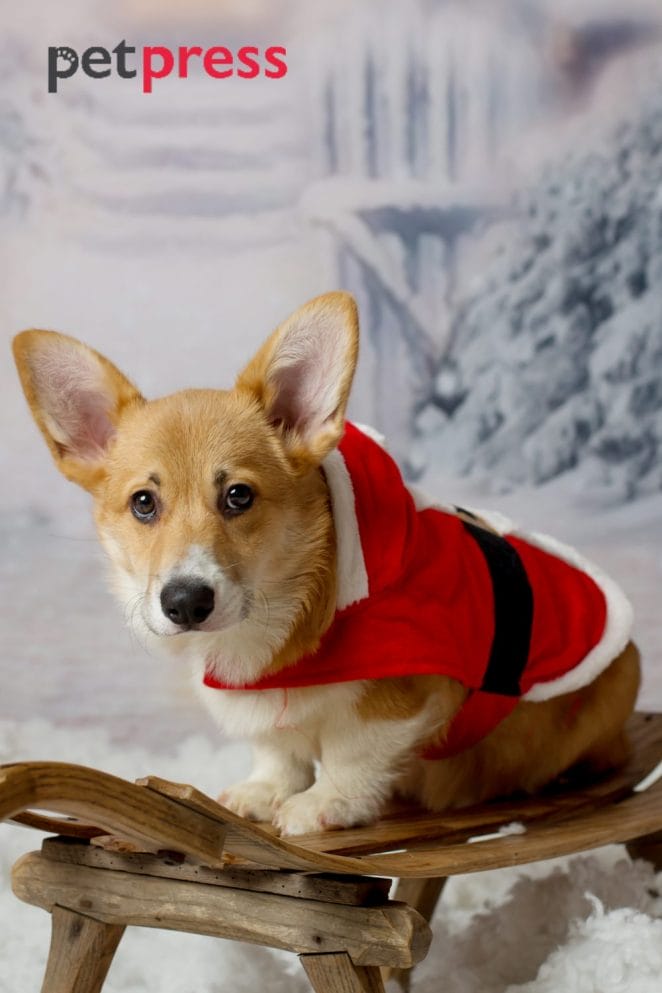 Christmas Pajamas:
Comfy and cute, Christmas-themed pajamas are an excellent choice for a relaxed yet festive look. They feature traditional Christmas motifs and are perfect for a cozy Christmas morning.
Snowman Suit:
Dress your dog as a charming snowman. The suit, complete with a carrot nose, coal buttons, and a little scarf, will look picture-perfect.
Christmas tree outfit:
Turn your dog into the star attraction with a Christmas tree outfit. With faux ornaments and a star on top, your furry friend will be a hit.
Angel Wings:
Add a heavenly touch to your dog's Christmas outfit with a pair of angel wings. It's a simpler look, but just as festive and endearing.
Gingerbread Man Costume:
A gingerbread man costume is a fun, festive outfit that's sure to be a conversation starter. It's quirky, cute, and embodies the Christmas spirit.
Mrs. Claus Dress:
For female dogs, a Mrs. Claus dress can be a wonderful choice. It's festive, feminine, and sure to make your dog look like a Christmas queen.
Remember, the best outfit is the one your furry friend feels most comfortable in. Enjoy selecting the outfit that best captures your pet's personality and happy holidays!
Care and Maintenance of Dog Christmas Outfits
Choosing the perfect Christmas outfit for your furry friend isn't where the journey ends. It's equally important to know how to care for and maintain these special items so they can bring joy for many Christmases to come.
Cleaning Tips
Your dog's Christmas outfit can get messy with all the holiday activities. Keep it in top condition with regular cleaning. Always check the care label on the outfit for instructions. Most outfits can be hand-washed in cold water using a pet-friendly or mild detergent. Avoid harsh bleaches or chemicals that could fade or damage the material or harm your pet's skin.
For stubborn stains, pre-soak the outfit before washing. Never wring out the outfit to dry; instead, gently squeeze out excess water and lay it flat to air dry. Regular cleaning will not only keep the outfit looking fresh but also ensure your dog stays clean and healthy when wearing it.
Storage Solutions
Storing your dog's Christmas outfit properly can prolong its lifespan and keep it in perfect shape for the next holiday season. Once the outfit is clean and completely dry, place it in a breathable fabric bag to protect it from dust and moisture. Avoid plastic bags, as they can trap moisture, leading to mold.
Store the outfit in a cool, dry place away from direct sunlight. If the outfit has any detachable parts or accessories, store them separately to prevent damage. Proper storage not only maintains the outfit's quality but also makes it easy to find everything when the next Christmas rolls around.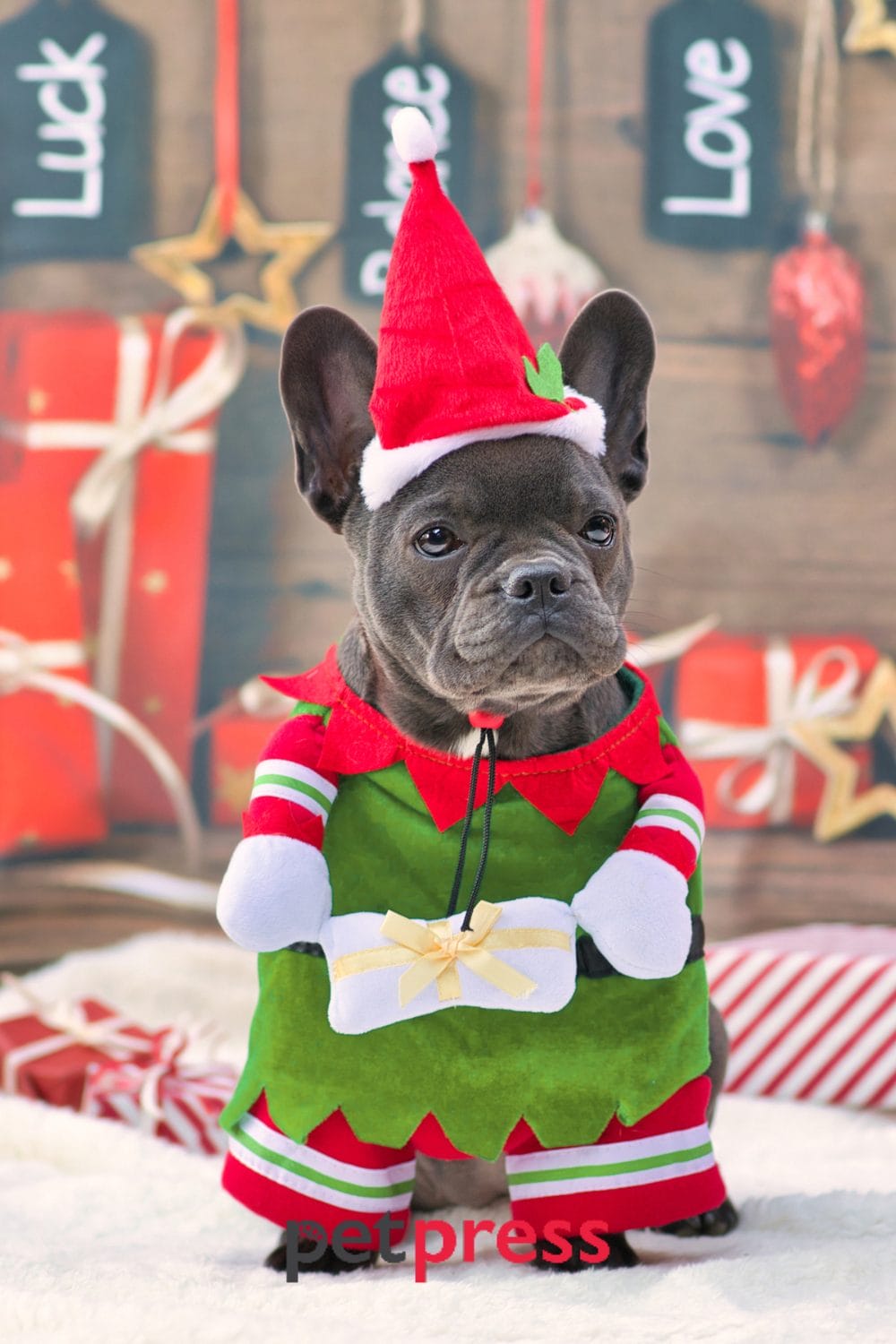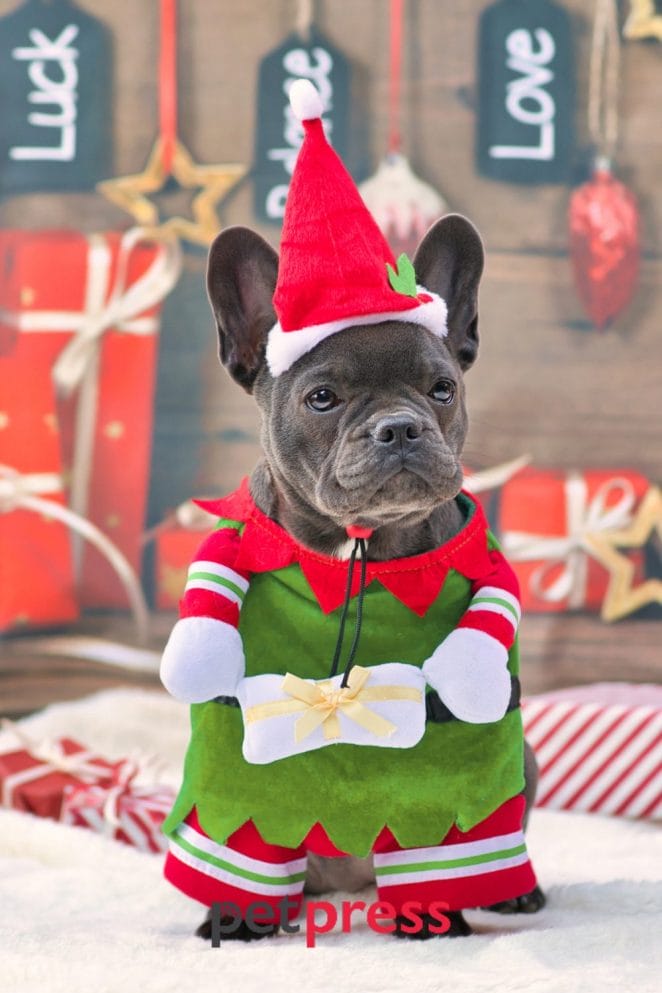 Let's get festive!
Christmas is a magical time of the year, filled with joy, laughter, and lasting memories. With just a little bit of effort, our loyal companions, our dogs, can join in the fun and festivities. Dressing them up in a Christmas outfit does more than make for adorable photos—it symbolizes their inclusion in our family celebrations.
But, remember, the most important consideration when choosing a dog Christmas outfit is your pet's comfort and safety. The right outfit is not necessarily the most elaborate, but the one your dog feels happiest and most comfortable in.
So, let's spread the festive spirit to our furry friends this Christmas. Go ahead and embrace the delightful world of dog Christmas outfits and make this holiday season one to remember!
Don't let your adorable, dressed-up pup steal the show alone! Share the festive fun with your friends and family. Take wonderful pictures of your decked-out dog and share them on social media using the hashtag #DogChristmasOutfit.
FAQs about Dog Christmas Outfits
Are dog Christmas outfits safe?
Yes, dog Christmas outfits are safe, provided they're chosen with care. Ensure they're the correct size and free from small parts that could pose a choking hazard. The outfit should not restrict your dog's movements or their ability to relieve themselves.
Where can I buy a Christmas outfit for my dog?
Dog Christmas outfits can be found in pet stores and online marketplaces like Amazon, Etsy, or specialized pet fashion retailers. Always check reviews and buy from reputable sources.
My dog doesn't like the outfit. What do I do?
If your dog appears uncomfortable or anxious, remove the outfit immediately. Some pets may need time to adjust, while others simply don't enjoy wearing clothes. Try other festive alternatives, such as a themed bandana or bow tie.
What are some easy dog Christmas outfit ideas?
Simple ideas include a festive bandana, a Christmas-themed collar, or a cute holiday sweater. These are often more comfortable for dogs and can still add a festive touch.
How can I get my dog used to wearing outfits?
Gradual exposure is key. Let your dog sniff and explore the outfit first. Try it on for short periods, offering treats and praise to associate the outfit with positive experiences.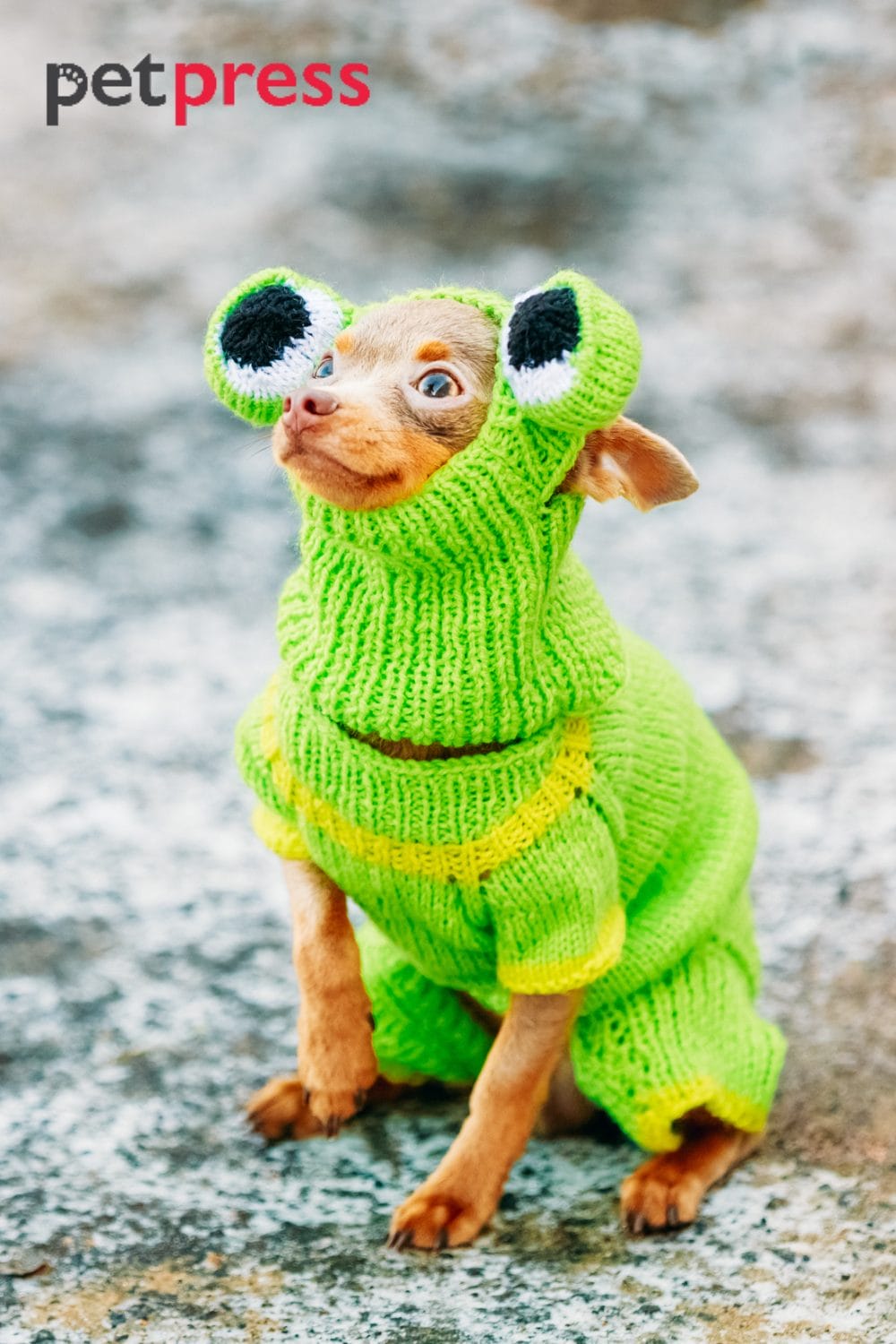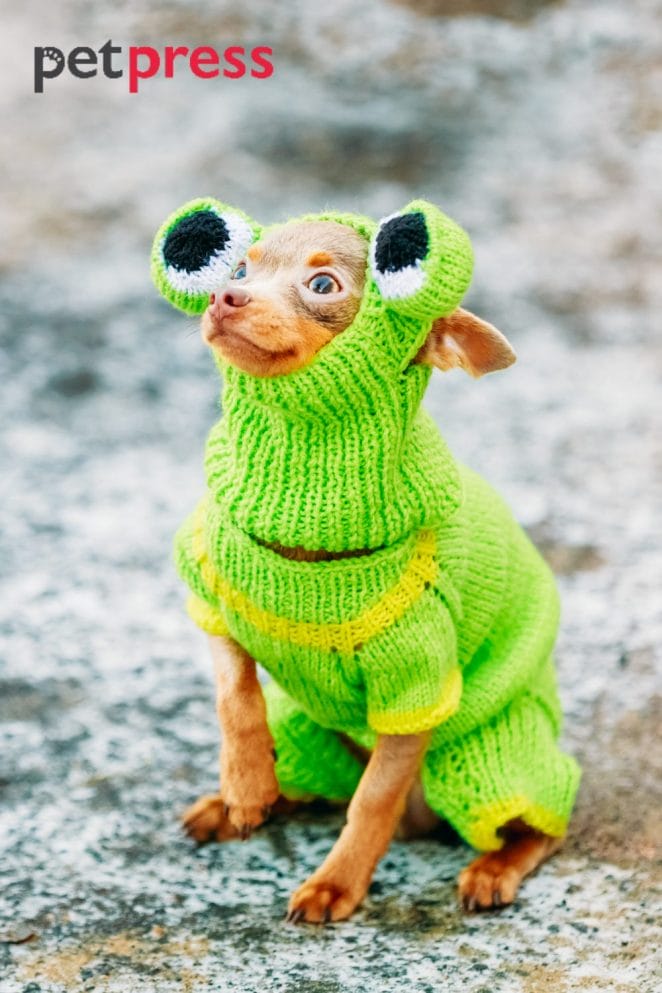 Explore more paw-some content!
Can't get enough of our pet-friendly content? Don't miss out! Dive into our other articles for more delightful tips, tricks, and insights into the wonderful world of pets.
50+ Best Christmas Dog Quotes to Unleash the Yuletide Cheer
Top 10+ Christmas Dog Treats You Can Buy As A Present for Your Pup
12 Best Christmas Dog Songs: The Pur-fect Holiday Playlist