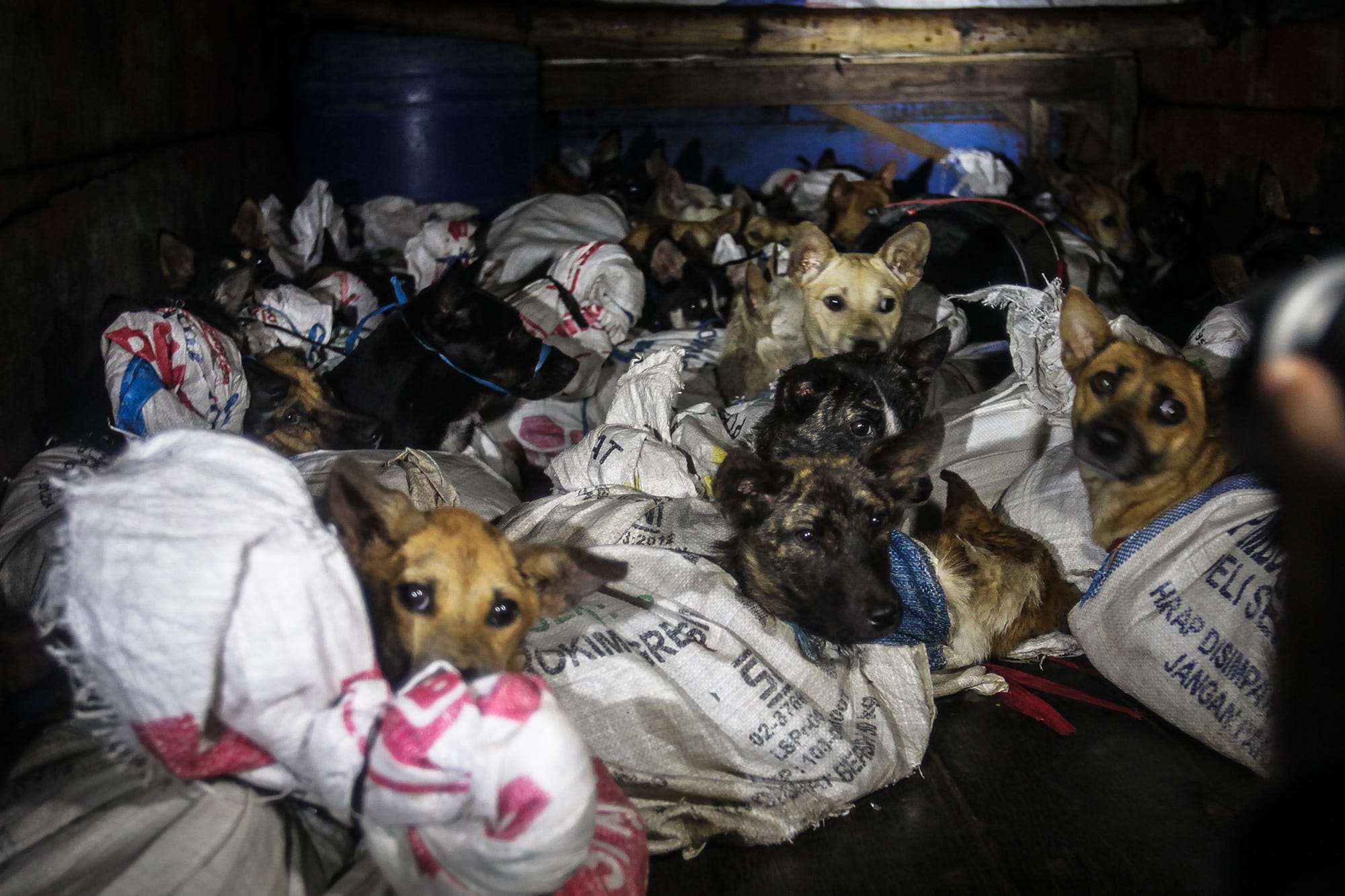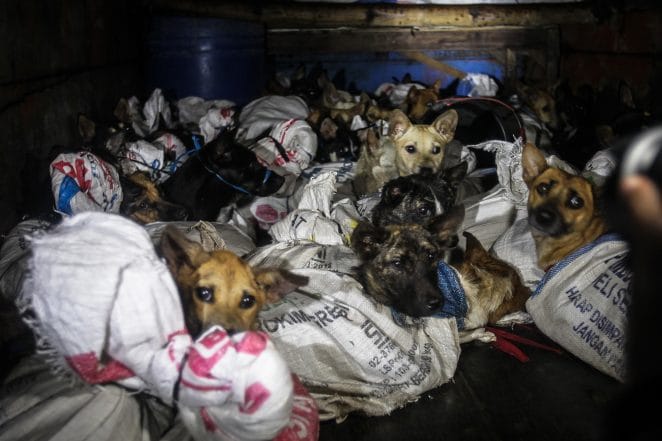 Thanks to the actions of a group of quick-thinking rescuers, over 50 dogs are getting a second chance at life.
According to a statement from FOUR PAWS, police officers and animal rescue workers from Dog Meat-Free Indonesia intercepted a delivery truck carrying 53 dogs destined for an unlawful slaughterhouse.
The dogs' saviors discovered the pups trapped in bags with their mouths bound. According to the release, almost all of the dogs were malnourished and under one year old.
This rescue operation is Indonesia's first large-scale raid on an illegal dog meat processing plant, resulting in the capture of a suspect alleged to have worked in the slaughterhouse.
Four paws, an international organization devoted to ending animal suffering, believe this rescue is a "turning point" for Indonesia's illicit dog meat industry.
This is a major step in raising awareness and putting a stop to the illegal dog meat trade. We commend the police for acting quickly after receiving our tip-off, but our focus now is on providing veterinary care for these poor animals

Dr. Amir Khalil, FOUR PAWS President
FOUR PAWS had released a report documenting the horrors of Indonesia's illegal dog meat trade.
The egregious and criminal actions we have witnessed, as well as the good initiatives, are taken by Sukoharjo authorities, must be a watershed moment in the fight against this illicit, outdated, and cruel trade.
The benefits we may extract from this terrible situation are that law enforcement agencies and anti-trafficking organizations are working diligently to bring an end to the dog meat trade as well as to rescue dogs in peril.
The raid on the slaughterhouse is a hopeful sign for the animals, but much work still needs to be done.
FOUR PAWS is currently working with local authorities to provide veterinary care for the rescued dogs and plans to support them until they can be rehomed.
You can help by donating to the organization's campaign to end the dog meat trade in Indonesia.
FOUR PAWS' Ending the Dog and Cat Meat Trade campaign's Southeast Asia head, Dr. Karanvir Kukreja, said in a statement that there will be no place left to hide for criminals to continue their illegal practices in the near future.
This February, FOUR PAWS completed its own dog meat rescue operation; successfully saving 28 dogs from a slaughterhouse near Yulin, China.
The thirty dogs that were saved and brought to FOUR PAWS' shelters in Cambodia are still recuperating.
This will soon be aided by a substantial contribution from Pawthereum, a cryptocurrency charity project, which will match donations up to $50,000 for Giving Tuesday (Nov. 30).