Who doesn't love funny donkey names? I know we do. It's funny how people can get so attached to their pets.
They'll name them, dress them up in funny costumes, and even make sure they are always fed.
But one pet that may not be named as often is a donkey!
With this article, we're going to change that by giving you 140 funny names for your pet donkey.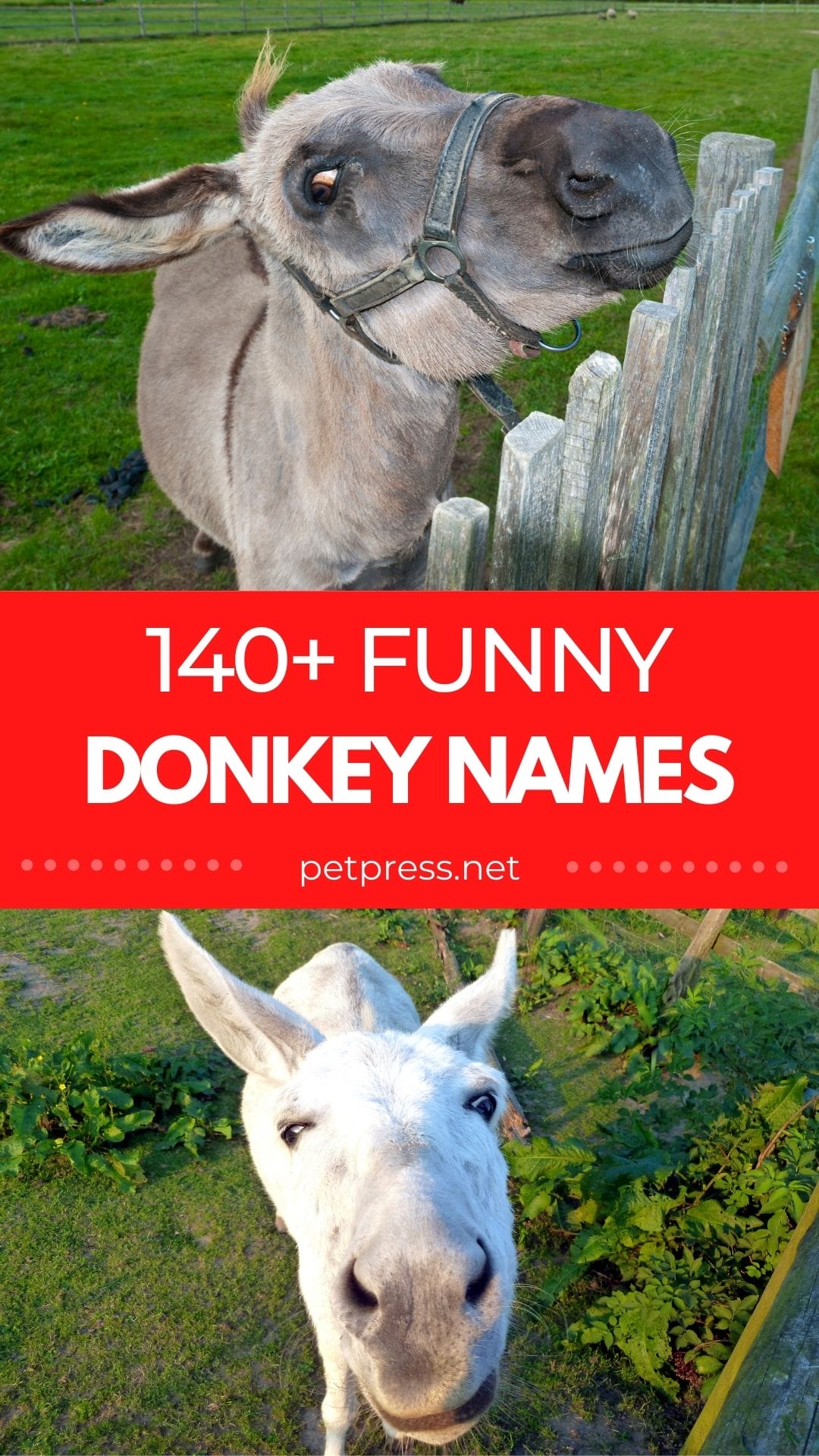 Here are the funniest donkey names that include both male and female names.
Funny Male Donkey Names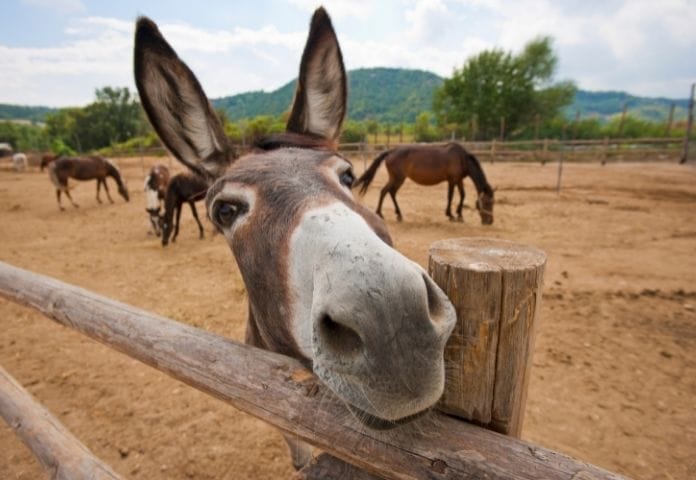 Apollo
Scooter
Ace
Flinn
Blue
Kobe
Bandit
Jack
George
Jasper
Mr. Small
Peanut
Harley
Gizmo
Bonner
Hank
Jax
Romeo
Brody
Bo
Funny Female Donkey Names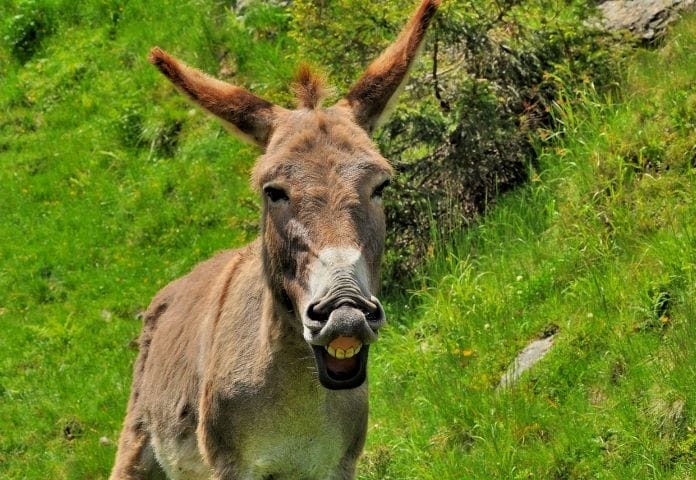 Tesa
Amber
Tessy
Layla
Roxy
Jo
Minnie
Gracy
Nova
Irene
Willow
Sasha
Lulu
Angela
Sophie
Nala
Zoey
Stella
Sas
Mimi
Cute Donkey Names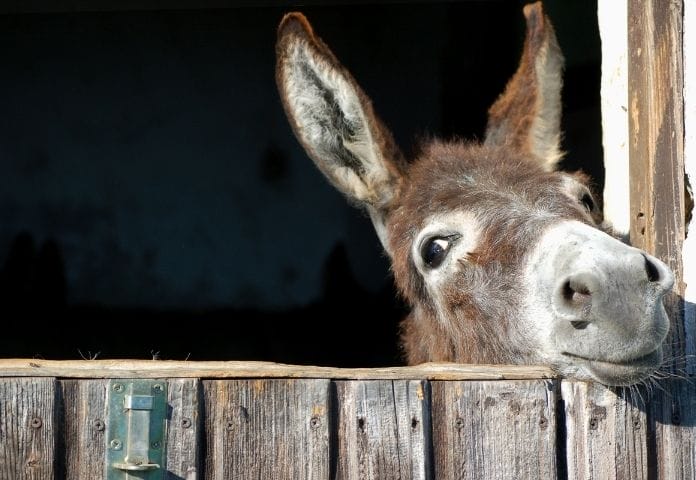 King
Millie
Dobby
Brandy
Sausage
Charming
Bailey
Beans
Apple
Bear
Hoops
Fiesta
Mocha
Floss
Beauty
Sparkle
Twiggy
Petal
Quiver
Yoshi
Caramel
Crinkle
Pearl
Sandy
Hercules
Spice
Coco
Mosaic
Biscuit
Nutmeg
Iggy
Bobby
Cuddles
Tess
Pear
Wilber
Elvis
Valentine
Angel
Clover
Peanut
Gypsey
Puzzle
Willow
Pixie
Glitter
Snickers
Nala
Pickles
Dinky
Other Funny Names For A Donkey
Dolorass
Fergass
Nestor
Wonky (the Donkey)
Dynamo the Donkey
Weirdo
Lady Asster
Tobiass
Asstyn (Martyn)
Wonky
Eeyore
Hee-Haw
Texass
Jonass
Chewy
San Dimass
Dalass
Murphy
Wookey Dookey
Ferris Mueller
Jenny
Kong
Donkey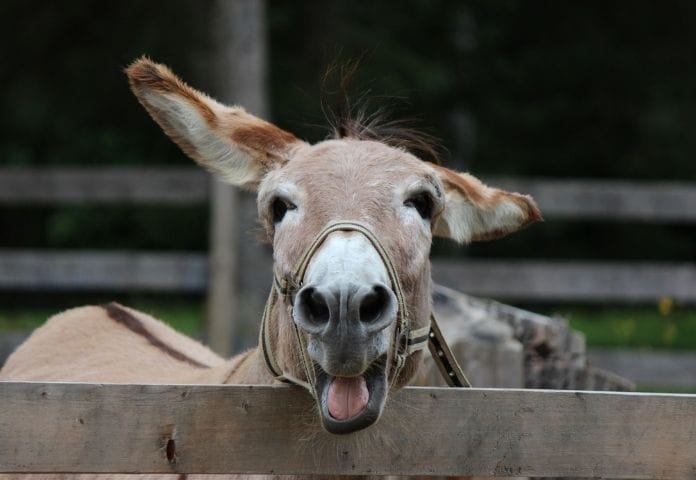 Dougie Donkey
Cassanova
Honkey (the Donkey)
Eliass
Pony
Lucass
Duchass
Gasston
Heirass
Nicholass
Kassy
Barnabass
Dumbo
Mr. Donkey
Thomass
Dingbat the Donkey
Wookey Donkey
Hassle
Endurro (the Burro)
Donkey Wonkey
Atlass
Dongo
Brutass
Poncho
Douglass
Classy
Churro (the Burro)
If you're thinking of naming your donkey, but can't think of anything funny or witty to name it, we've compiled a list that should help.
We hope this helps and if not, we also have a list of cool donkey names that are unique.
Which funny donkey name is your favorite?