In the mountain wilds, there are a lot of gorillas that live to survive and provide for their family groups. Aside from that, gorillas can be found in local zoos too. They have around 98% of the same DNA as humans and they can eat all day long! Check out these cool pet gorilla names for you to consider for your pet.
If you actually have a gorilla, you must be careful as they have caused harm to humans when disturbed. Yikes! These primates should always be kept in a huge cage and taken utmost care of.
View our list of the best gorilla names for both male and female gorillas.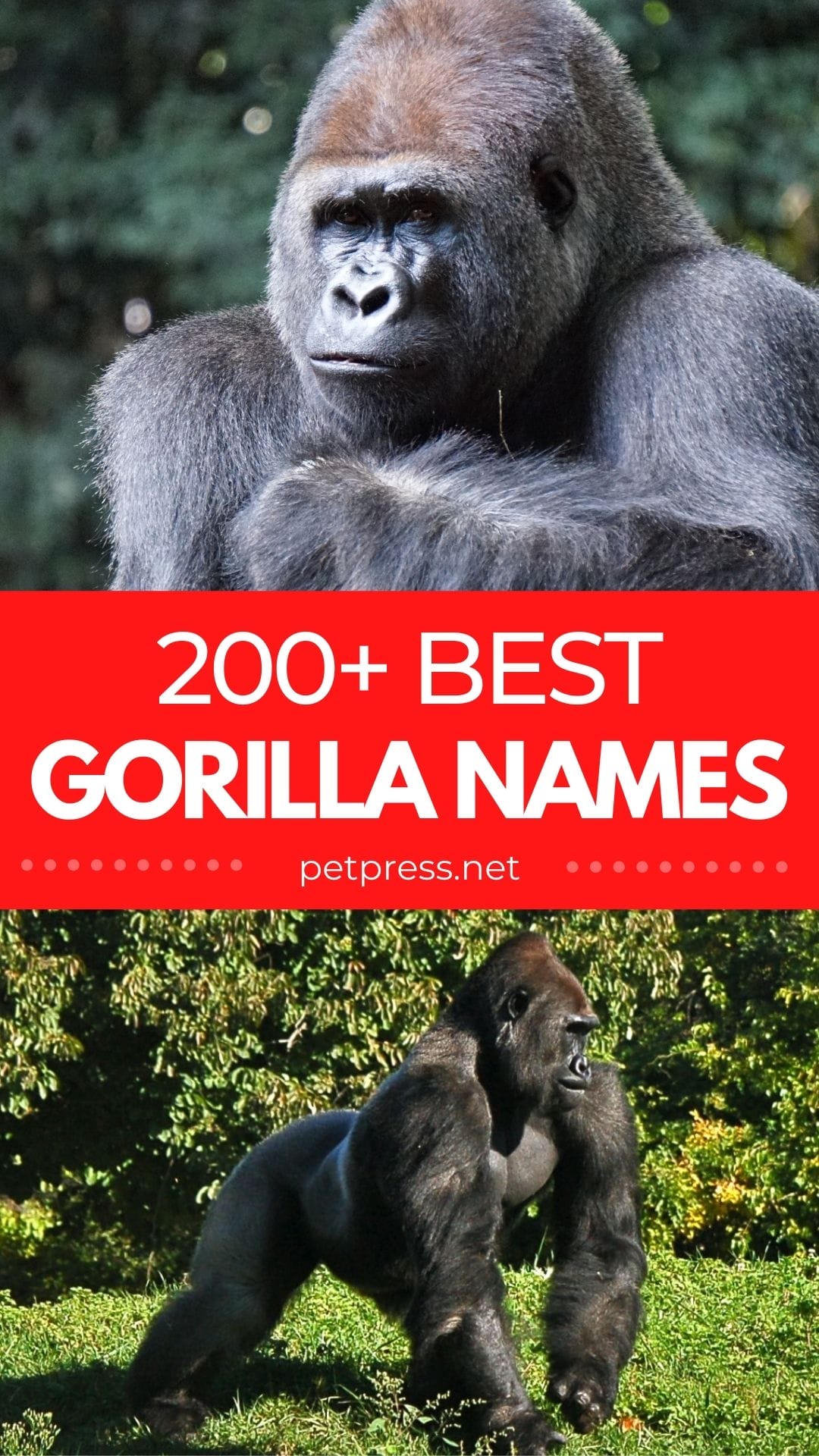 ---
Best Gorilla Names
JoJo
Cornelious
Matsumura
Jimmy
Butters
SpeakNoEvil
Matsuoo
Knuckles
Justin
Murdock
Eggo
Kenhira
Igawa
Lokaap
Koko
Avalanche
Monkey
Lugnut
BrassMonkey
Clyde
Bones
Kenhira
Boots
Claw
Moptop
TheSituation
FunkyMonkey
Truffles
Nostradamus
SpeakNoEvil
Couch
BigSteve
Linus
FuriousJorge
JarJar
Sakiko
Clide
Motewnawr
Tiny
Infernape
Bonzo
Ginhon
Iflingpoo
Chuckapoo
Bones
Dejen
Fred
Kawakita
TinyTim
Banzai
TrunkMonkey
iFlingPoo
Worrawrowr
Waffles
Pimple
Fred
Bobo
Darwin
Kep
Zawaoo
African Gorilla Names (With Meanings)
| | |
| --- | --- |
| Ukuri | meaning "truth' |
| Mudahinyuka | meaning "truthful and reliable" |
| Ubwiza | |
| Mitimbili | means "hill" |
| Mahirwe | |
| Urugano | |
| Nsanganira | |
| Imirasire | |
| Isuku | |
| Inkesha | meaning "star" |
| Ubudasa | |
| Inkingi | |
| TemberoRwanda | |
| Iyamarere | |
| Inyange | meaning "handsome and smart" |
| Ikoranabuhanga | meaning "information technology" |
| Uruyange | |
| Iriba | |
| Tamu | |
| Umutware | |
| Arakaza | |
Gorilla Cartoon Character Names (With Disney Characters)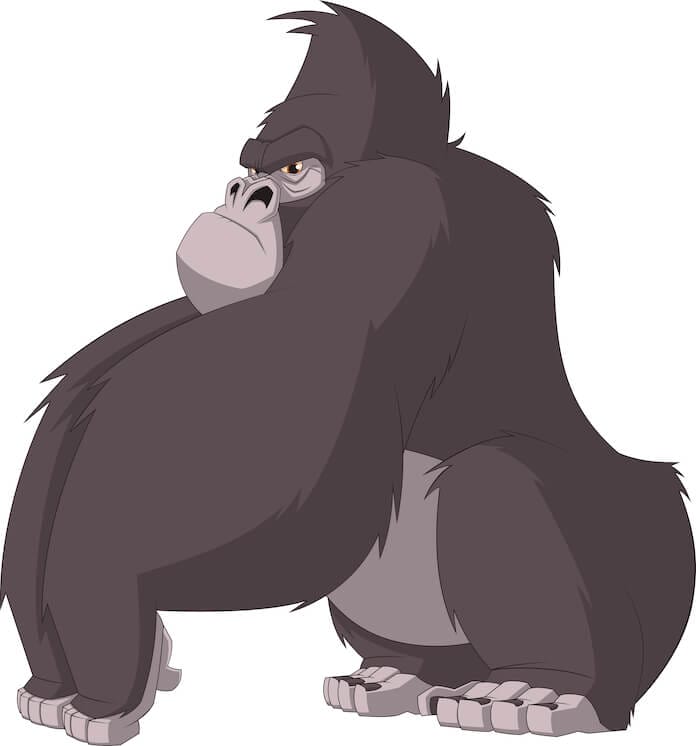 | | |
| --- | --- |
| Uto | one of the characters from the animation 'Tarzan II' |
| Kala | the gorilla mother who took care of Tarzan from the movie 'Tarzan' |
| Ajax | a character from the cartoon 'Donald Duck And The Gorilla' |
| Hafifu | a character from the Disney cartoon series 'The Lion Guard' |
| Dr Sliverback | a playable character from the popular superhero game 'Champions Online'. |
| Kerchak | a character from the movie 'Tarzan' |
| Ape | is from the movie parody 'George Of The Jungle'. |
| Kong | from the popular movie franchise 'King Kong' and 'King Of Kong Island' |
| Kago | a character from 'Tarzan II' |
| Shujaa | from the Disney cartoon series 'The Lion Guard' |
| Congorilla | a character from the DC comics |
| Winston | from the game 'Overwatch' |
| Paul | the gorilla friend of Jane of the Jungle from the TV show 'The Electricity Company'. |
| Ranko | a character from the comic 'The Adventures Of Tintin: Black Island'. |
| Gor | 'Captain Simian & The Space Monkeys'. |
| Armored Gorilla | from the manga 'One Punch Man |
| Terk | Tarzan's adopted brother in the animation 'Tarzan' |
| Solovar | the nemesis of Grood from the DC comic series |
| King Sokwe | from the Disney cartoon series 'The Lion Guard' |
| Grodd | the supervillain from the animated DC Comic 'The Flash' |
| Zugo | a character from the animation 'Tarzan II' |
| Tublat | a character from the animation 'Tarzan' |
| Mama Gunda | a character from the animation 'Tarzan II' |
| Momo | a gorilla from an episode of the cartoon 'Class Of 3000' |
| Majinuni | from the Disney cartoon series 'The Lion Guard' |
Cute Gorilla Names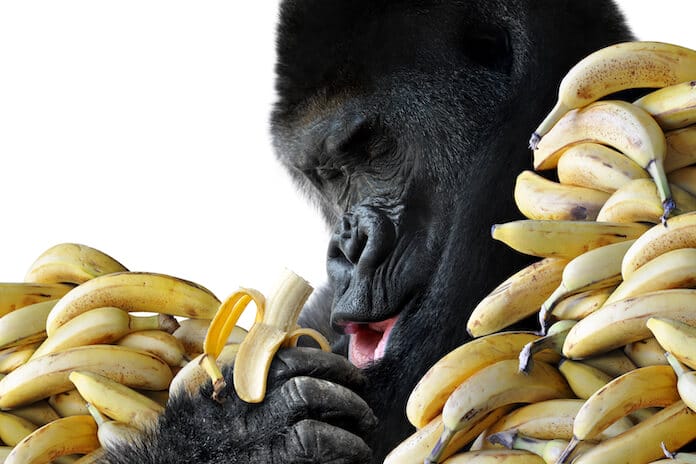 Trudy
Gilligan
Colo
Jim
Joanne
Monroe
Chimes
Gargantua
Azizi
Mara
Chewie
Jade
Dolly
Massa
Koko
Katie
Ozzie
Kokamo
Jenny
Snowflake
Imani
Samson
Kamilah
Morida
Judy
White Gorilla Names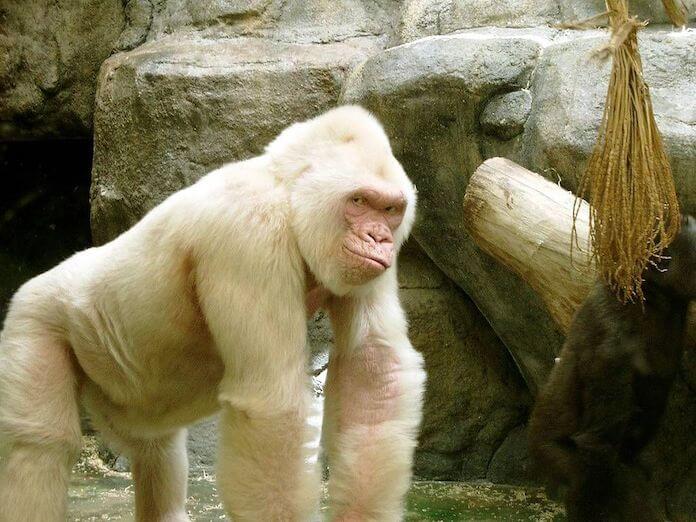 Opal
Beluga
Chalky
Moonshine
Polar
Cloudy
Acadia
Blanco (Means "white" in Spanish)
Milky
Jack Frost
Daisy
Chardonnay
Kaya (Means "pure" in Greek)
Magnolia
Snowflake
Nimbus
Egret (A tall, lanky white bird)
Creamer
Quartz
Flakey
Anjo (Means "angel" in Portuguese)
Bingo
Gardenia (Beautiful flower)
Glacier
Ghost
Diamond
Eggy
Coconut
Jasmine
Bianco (Means "white" in Italian)
Comet
Everest (Mount Everest)
Sandy
Foggy
Buttermilk
Bolt (After the character from the Disney movie Bolt)
Winter
Vanilla
Lightning
Snowball
Sparkle
Mushroom
Coco
Vapor
Alaska
Icy
Atlas
Whitey
Phlox (A flower)
Starlight
Nova
Marshmallow
Champagne
Lily
Swan
Misty
Dove
Blaze
Whisper
Blondie
Casper
Marzipan
Flash
Luna
Avalanche
Ermine
Dazzle
Iceberg
Diva
Tofu
Siberia
Gelo (Means "ice" in Portuguese)
Snowdrop
With so many options to share, you can use these names for any pet and monkeys that are usually smaller. We have a list of the best ape names as well as pet monkey names that is worth having a look at.
If you still cannot choose a name, then you create one instead using our monkey name generator where you will be asked a few questions.