Cats are quite aggressive by nature and they need aggressive names to match their personality.
Whether you have a new pet cat or already have one, you can use this list of aggressive cat names for naming your fierce feline friend.
We have compiled over 250 aggressive cat names that should cover all types of personalities from sweet cats to savage felines!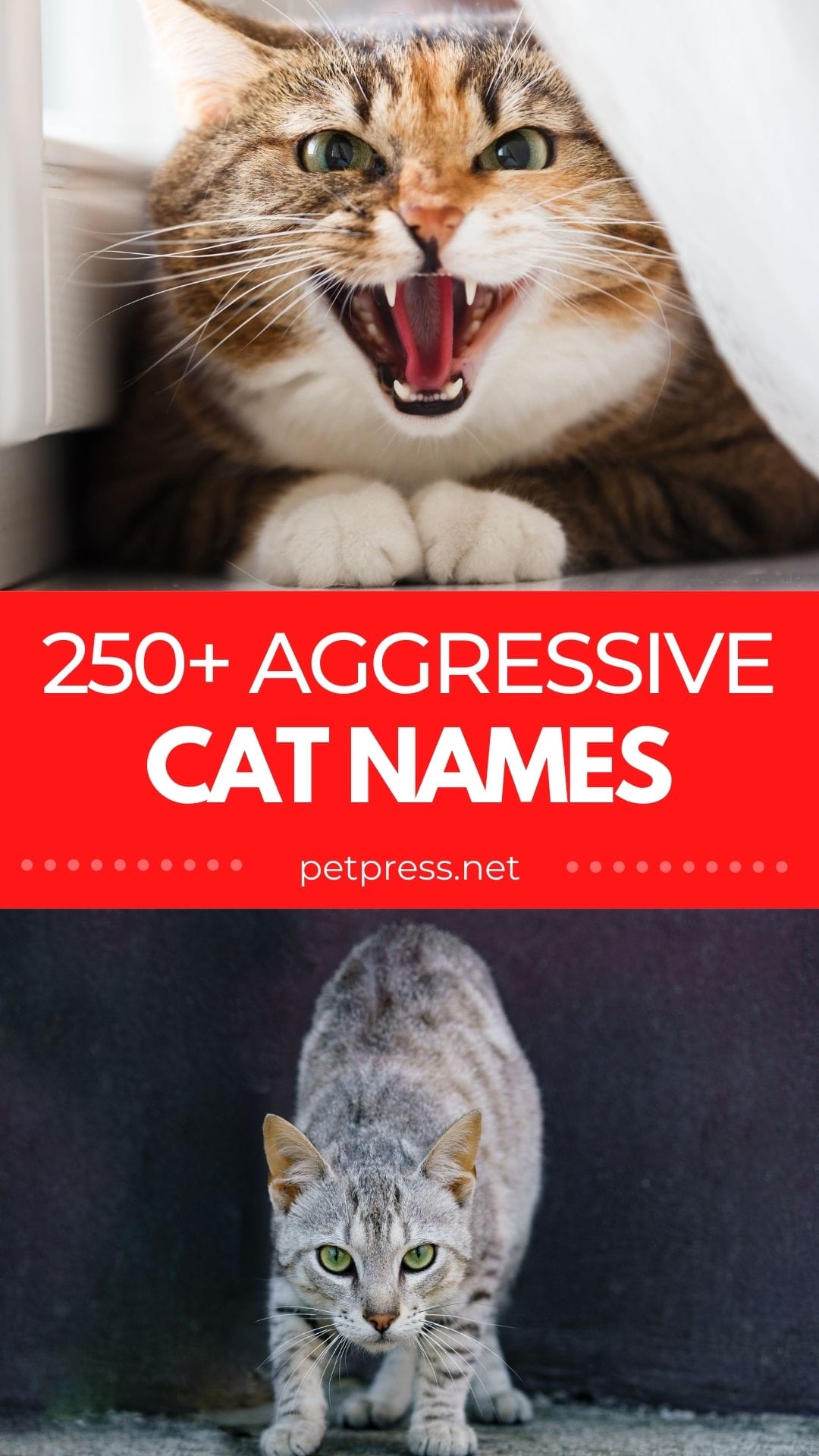 Here are the best aggressive cat names that include name ideas for different types of cats!
Aggressive Male Cat Names
Bruiser
Doctor Lobotomy
Grinder
Tremor
Wild Whiskers
Nimbus
Prodigy
Odin (Norse War God)
Ronan
Fender Bender
Crusher
Nitro
Bouncer
Bronx
Annihilator
Ripper
Roadkill
Stone
Toughie
Rooster
Whiskey
Tombstone
Helios (Greek Sun God)
Rampage
Zeus
Doctor Hell
Invictus (Latin for "Unconquerable")
Ammo
Scar
Magnus
Anthrax
Flex
Scandal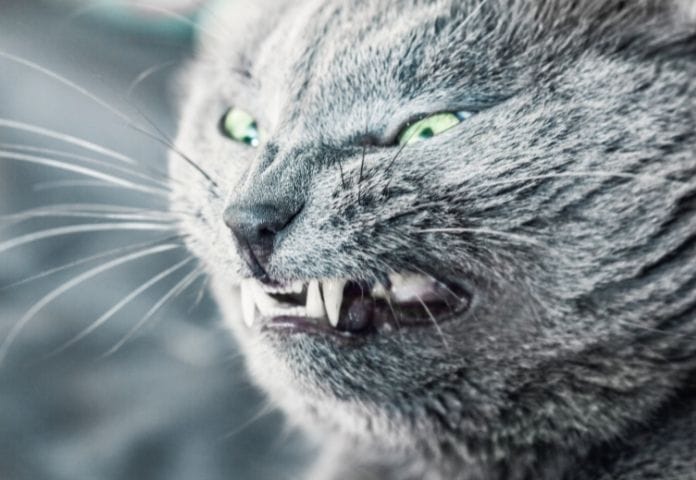 Axel
Meathook
Bone Cruncher
General Razor Claw
Icarus
Hail
Bear
Flint
Blake
Nightmare
Demolition
Ares (Greek God of War)
Kevlar
Zephyr
Brute
Metal Fang
Rock
Warlock
Razor
Ripley
Alpha
Sniper
Brawn
Scrapper
Hercules
Apocalypse
Corinthian
Steel
Maverick
Lockjaw
Dozer
Hit Kitty
Holt
Johnny Rotten
Mister Splinter
Mr. Sharp
Beefcake
Buck
Juggernaut
Reaper
Aggressive Female Cat Names
Valkyrie
Sabotage
Arya (Hebrew for Lioness)
Evanescence
Juno
Marilyn
Minx
Destiny
Sabretooth
Reno
Tijuana
Rogue
Brawny Paws
Stiletto
Inari
Odessa
Electra
Spirit
Kahlan (Strong Leader)
Alaska
Savannah
Banyan
Nala
Bastet (Egyptian Cat God)
Ophelia
Sedona
Khaleesi (Game of Thrones)
Zelda
Daiquiri
Pandora
Venus
Darla
Expresso
Dakota
Angelina
Cairo
Athena
Aphrodite (Goddess of Beauty)
Strangler
Artemis (Goddess of Hunting)
Nabisco
Cleo (Cleopatra)
Alyssa
Man Killer
Notorious
Brooklyn
Snapdragon
Himalaya
Climax
Sekhmet (Egyptian Lion Goddess of War)
Avril
Katniss
Rebel
Banshee
Narcissus
Siren
Baroness
Sumo
Storm
Taboo
Kimbra
Vodka
Astra
Godzilla
Utah
Titania
Jezebelle
Cyanide
Amber
Huntress
Adara
Godiva
Nikita
Karma Chameleon
Madonna
Names for Aggressive Cats
The Terminator
Gauntlet
Mauler
Sabre Tooth
Ogre
Mercenary
Punk
Zombie
Hellion
Spite
Vandal
Skinner
Hammer
Maniac
Scythe
Killer
Poison
Doom
Spook
Iron heart
Gremlin
Cobra
Brute
Goblin
Ghost
Beast
Fiend
Masher
Rage
Slammer
Wrath
The Furry Villain
Sergeant Shredder
Mutant
Ghoul
Smasher
Hatchet
Assassin
Savage Paw
Venom
Rowdy
Fang
Torpedo
Mamba
Avenger
Basher
Dementor
Torment
Buckler
Barbarian
Aggressive Names For Black Cats
Voodoo
Diablo
Nightshade
Demon
Damien
Hades (Greek God of the Underworld)
Phantom
Salem
Sirius (Brightest Star in the Sky)
Hecate (Goddess of Witchcraft)
Charcoal
Eclipse
Blackout
Deception
Magic
The Soul Sucker
Carbon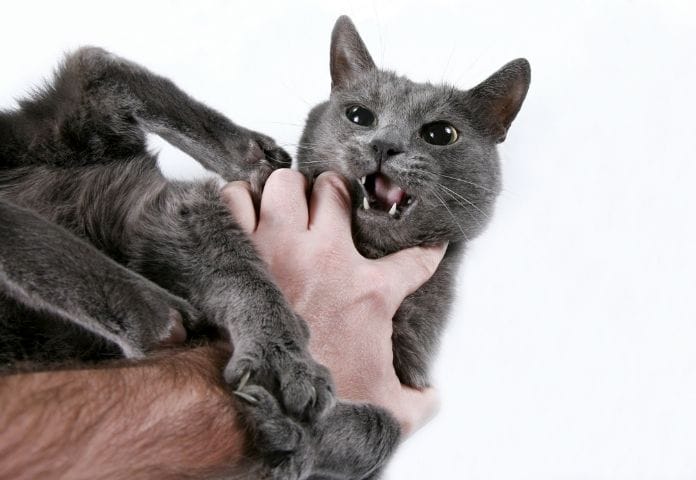 Guinness
Menace
Dark Matter
Conjurer
Satan
Spectre
Labyrinth
Cinders
Beelzebub (Prince of Demons)
Abracadabra
Enigma
Tarot
Lucifer
Midnight
Black Hole
Panther
Ebony
Necromancer
Eight Ball
Raven
Psyche
Crypt Keeper
Fate
If you need more options for your fierce black cat, try checking out our other list of badass black cat names too.
Aggressive Names For Orange Cats
Pyro
Tang
Ignis (Latin for fire)
Daredevil
Arson
Lucifurr
Ginger Spice
Dynamite
Big Red
Flamethrower
Infurrno
Paprika
Firecracker
Ember
Rusty
Scorcher
Volcano
Crush
Ferrari
Blazer
Sizzler
Skyflare
Hot Stuff
C4
Lava
Death Valley
Brick
Flambe
Nevada
Ignition
We know you want to name your new kitten something fierce, but there are so many names out there!
You can find a list of over 250 cat names for naming an aggressive pet here.
If none of the ideas in this article suit you, feel free to check out our list of 130+ feisty cat names where you'll get more name ideas from.