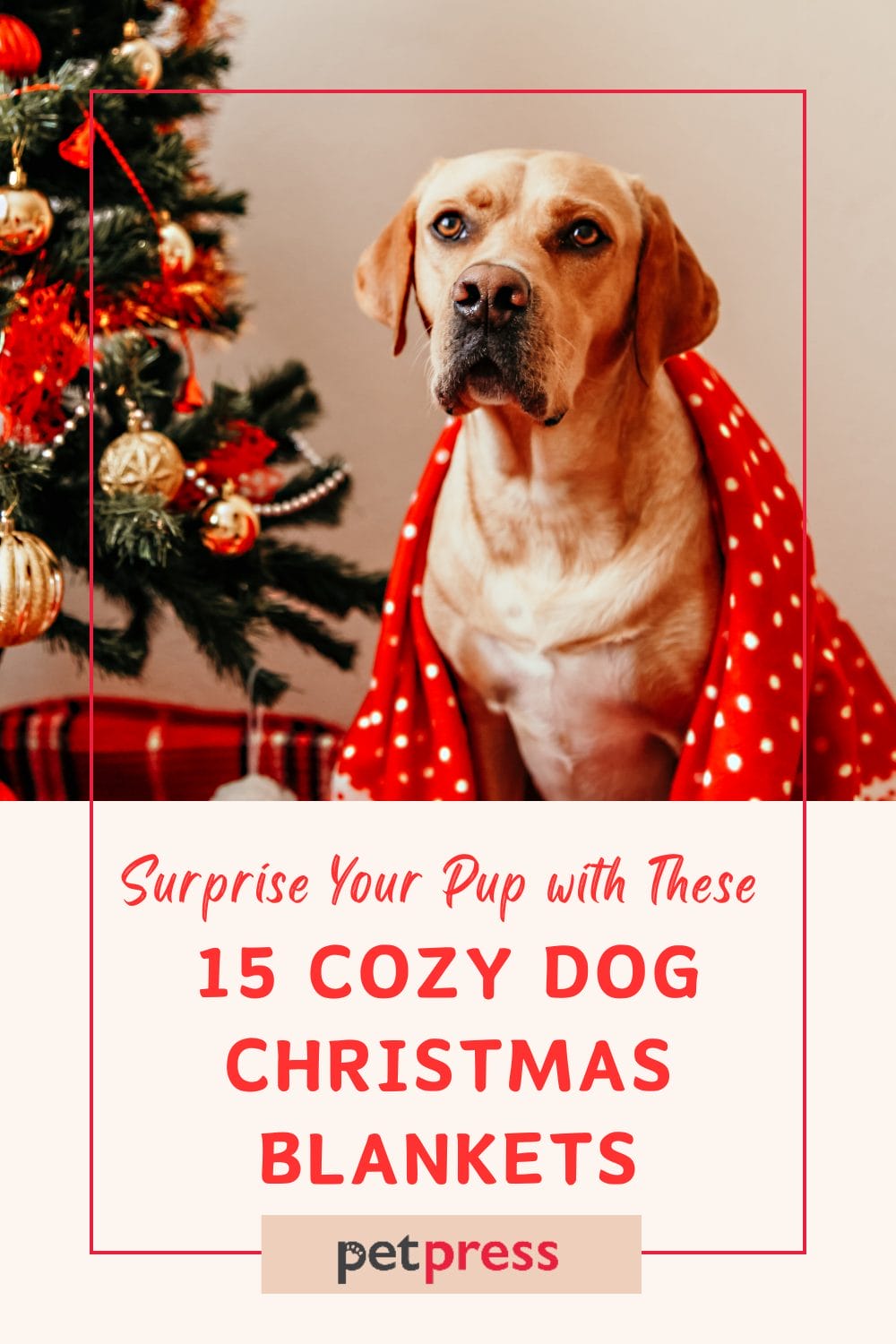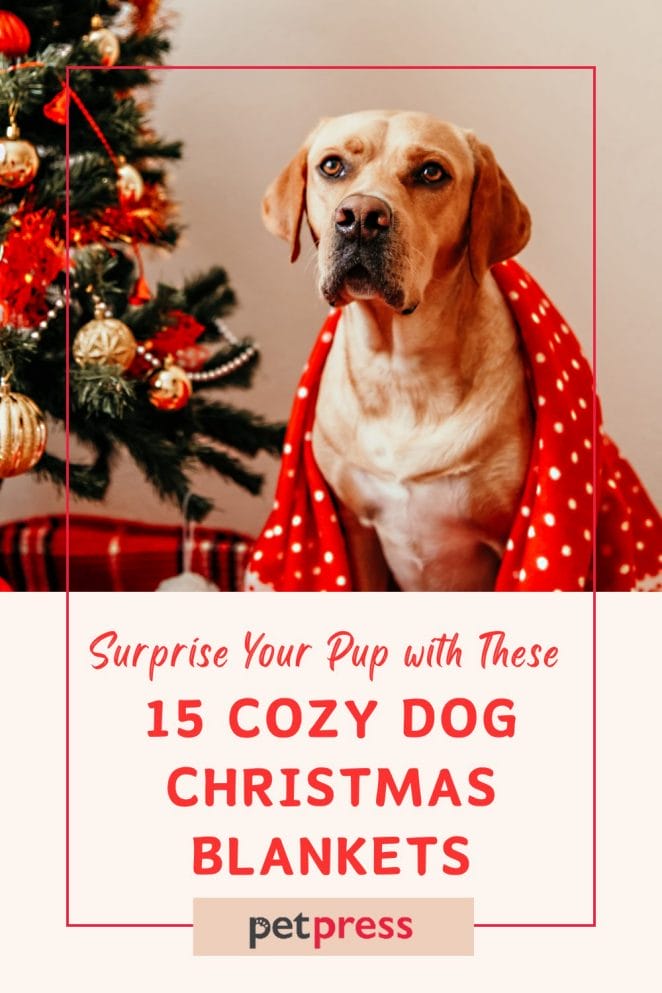 As the snow gently falls and the festive season approaches, it's time to think about your furry friend. You've probably spoilt them with various pet toys, treats, and more. But have you ever considered a cozy dog Christmas blanket? Not only will it keep them warm, but it will also add a hint of holiday spirit to their nook.
Why does your dog need a Christmas blanket?
When you think of Christmas, numerous joyous images come to mind: families gathered around the tree, opening presents, savoring a festive feast, and, of course, comfortably snuggling on the couch while watching holiday movies.
But what about your four-legged family member? Have you ever thought about how they might enjoy the season? Here's where a dog Christmas blanket comes into play.
Firstly, blankets provide our beloved dogs with a sense of comfort. Just like humans, dogs associate blankets with warmth, relaxation, and safety. It gives them their own space and can be part of their den-making instinct.
Speaking of warmth, as temperatures drop during the Christmas season, a cozy blanket can be your pet's best friend. This is particularly true for small breeds, short-haired dogs, puppies, and seniors who might need extra heat.
The safety aspect shouldn't be underestimated either. Blankets protect your dog's skin from cold surfaces and prevent potential injuries from rough materials, such as certain types of pet beds or furniture.
Lastly, a dog Christmas blanket can offer therapeutic effects. The softness and warmth of a blanket can have calming effects on anxious dogs, help soothe joint pain in older dogs, and even improve a puppy's transition into a new home.
Types of Dog Christmas Blankets
Just as there are many dog breeds, there is a wide variety of blankets you can choose for your pet. Each type offers unique benefits to help your dog feel secure, comforted, and adored.
Thermal blankets are designed with materials that help retain body heat. These are ideal for breeds that struggle with colder temperatures or for outdoor settings.
Weighted blankets provide a sense of security and help reduce anxiety in dogs—very much like how weighted blankets work for humans. These are great for dogs that experience separation anxiety, fireworks fear, or general nervousness.
Electric blankets can be a godsend for older dogs suffering from arthritis or any other conditions that cause joint pain, as the gentle heat can soothe their discomfort.
Remember: safety first. Only choose electric blankets specifically designed for dogs, and always follow the usage instructions.
Plush blankets are the epitome of comfort. They're soft, luxurious, and perfect for any dog that loves a good cuddle. Plus, they look adorable draped over your dog's bed or your living room couch.
Top 10 Cozy Dog Christmas Blankets
The festive season is all about celebrating warmth and love with your loved ones. Why should your furry best friend miss out? Here, we've curated the top 10 cozy dog Christmas blankets perfect for helping your pup feel the Christmas cheer while ensuring they stay warm and comfy.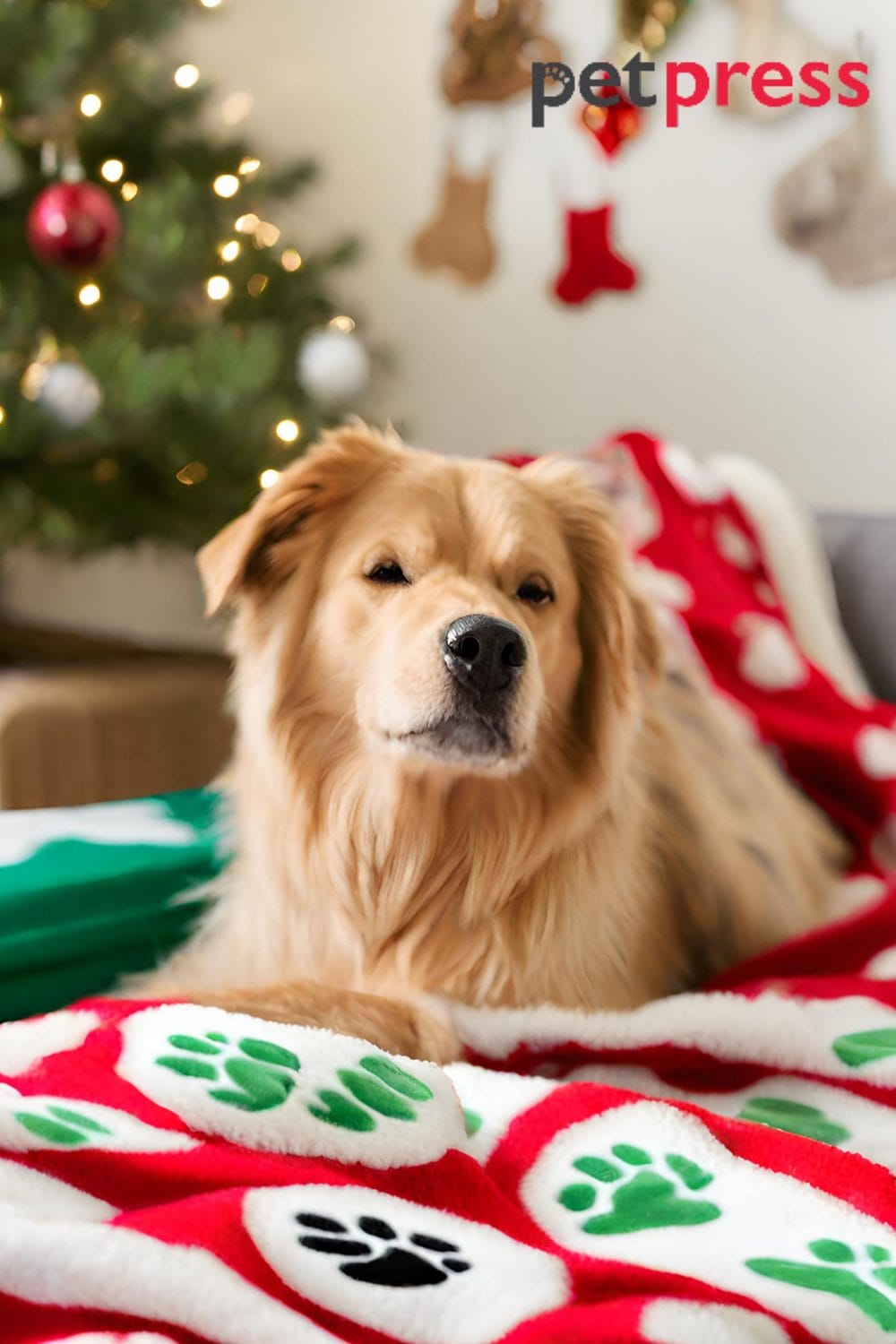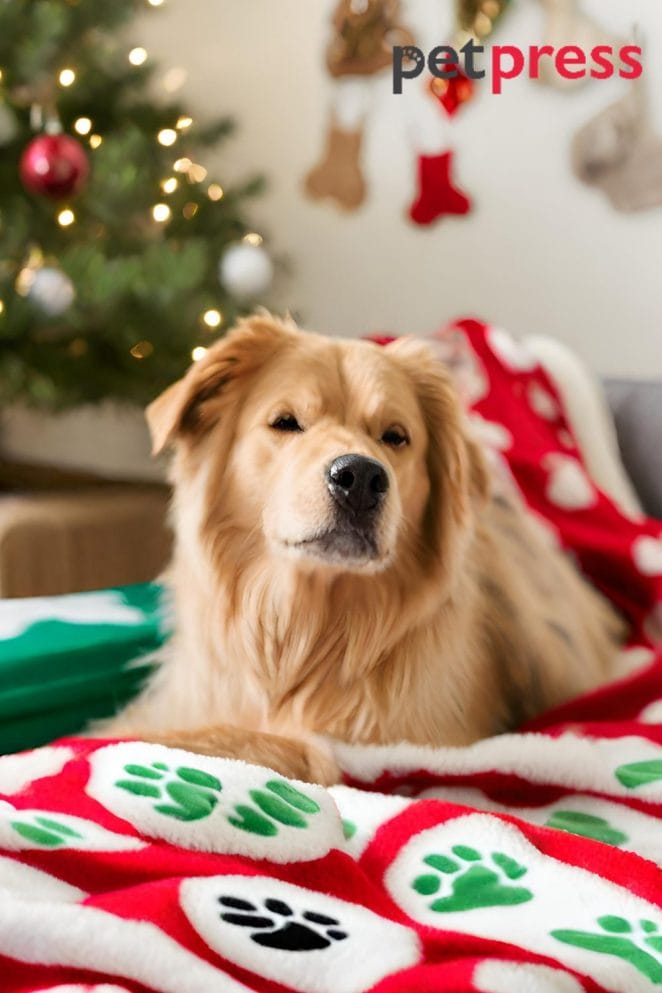 Snuggly Paws Plush Dog Blanket:
Wrapped in an adorable paw print design, this blanket is crafted from premium-quality fleece. It measures 40″ x 30″, providing ample coverage for small to medium-sized dogs. Its softness keeps your pet warm and cozy.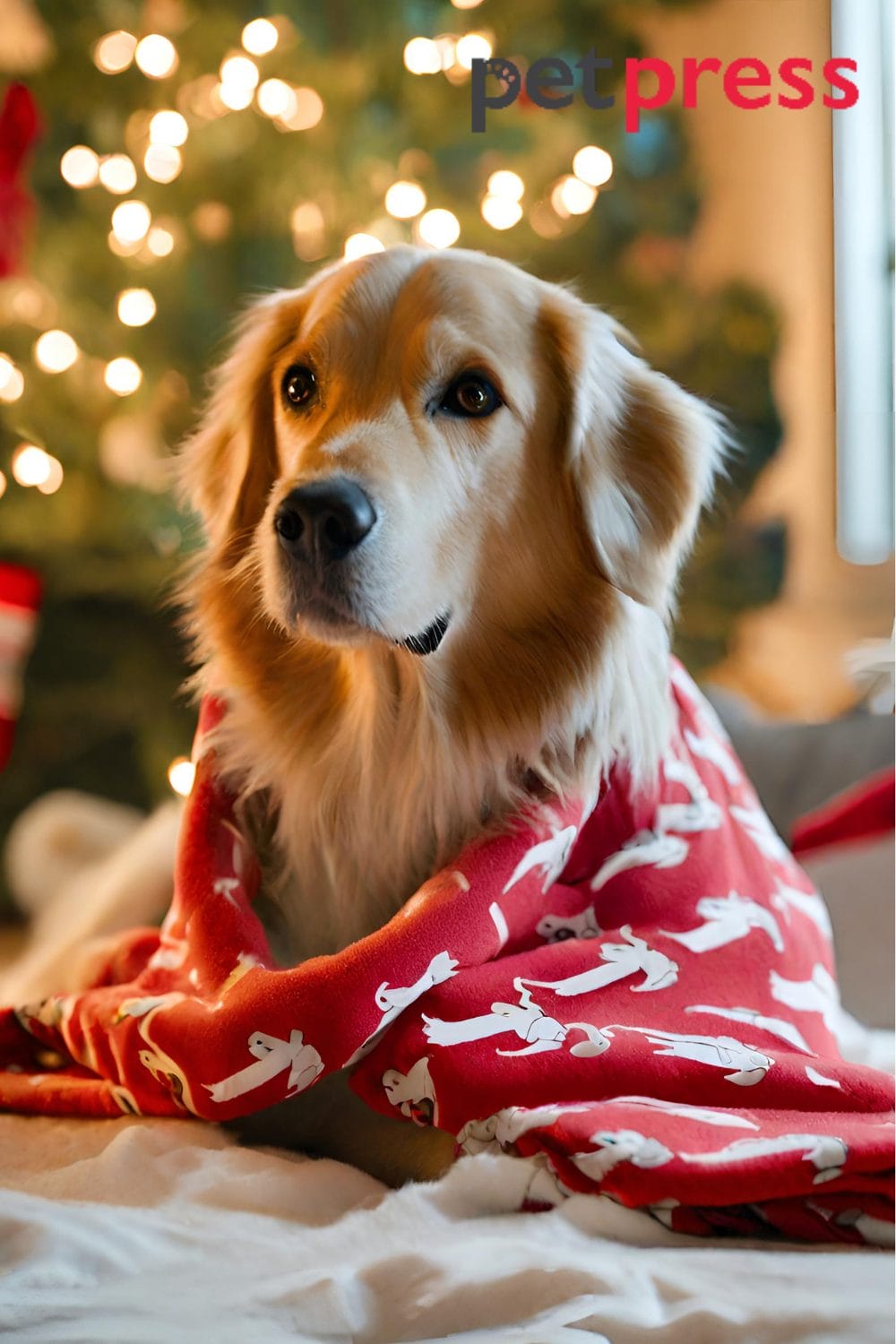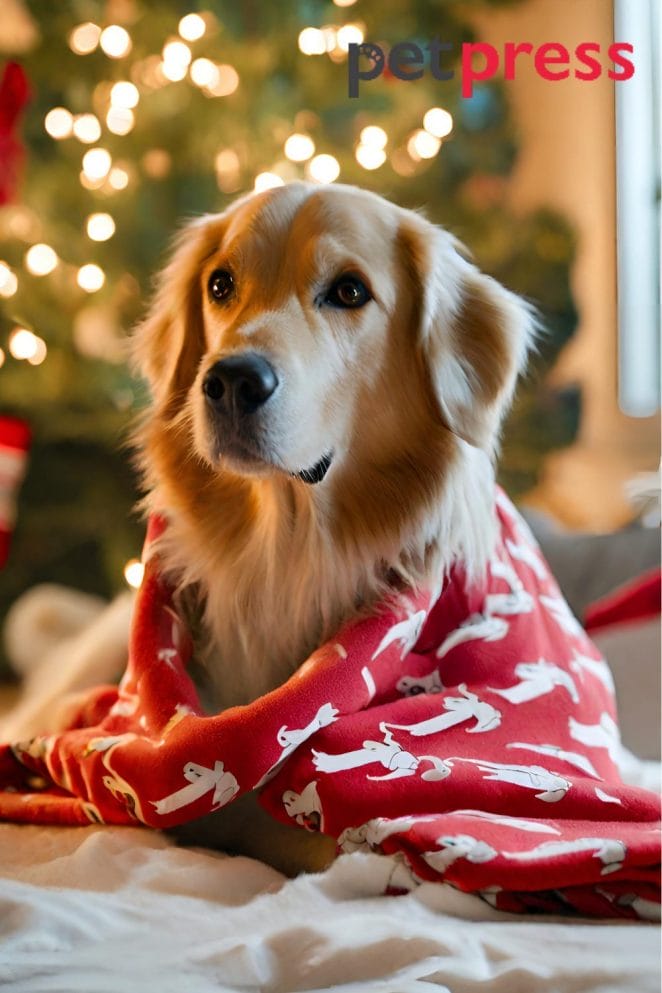 Bone Appetit Thermal Blanket:
This thermal blanket measures 30″ x 40″ and features an endearing bone pattern that your dog will love. It helps retain body heat, making it perfect for chilly winter nights.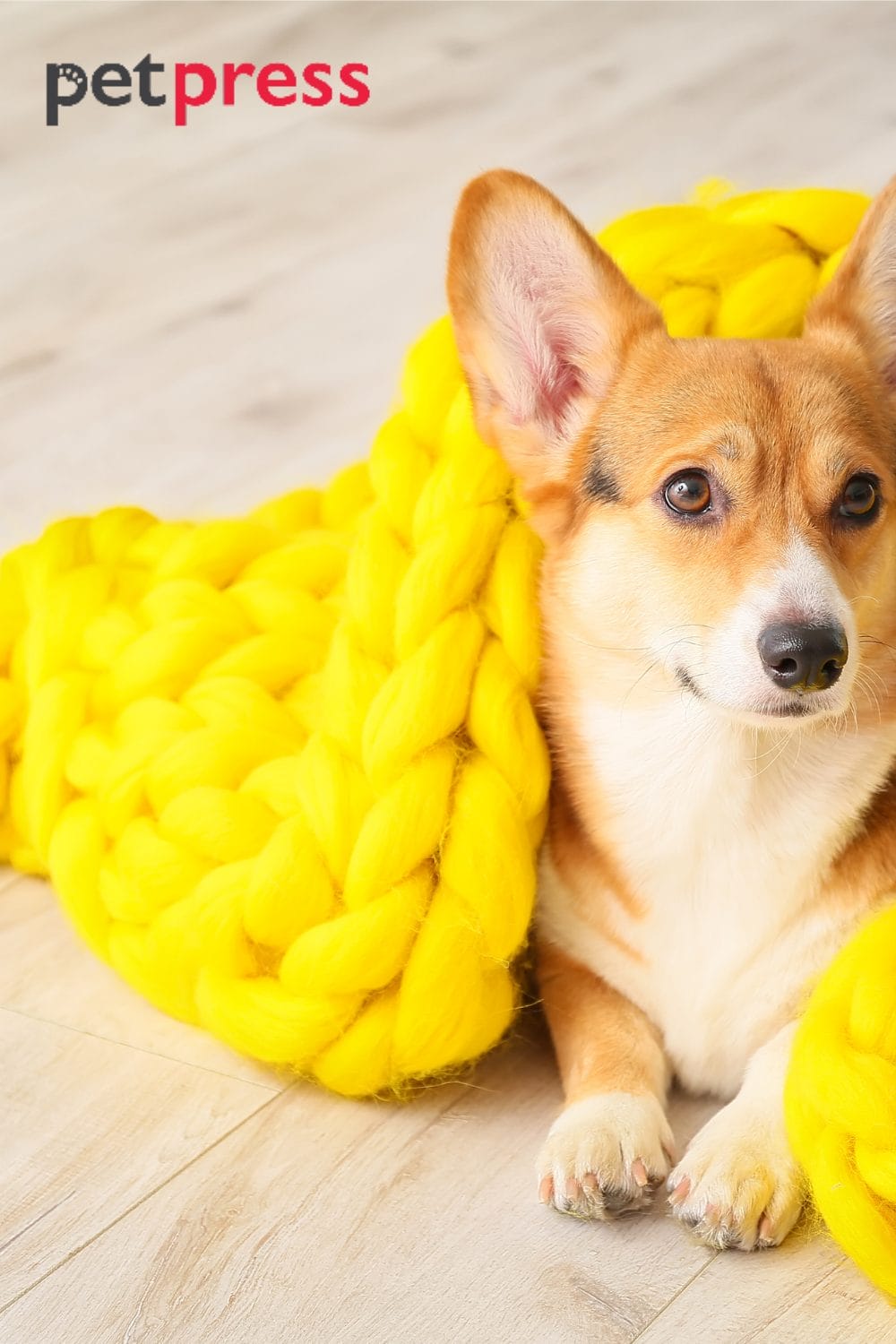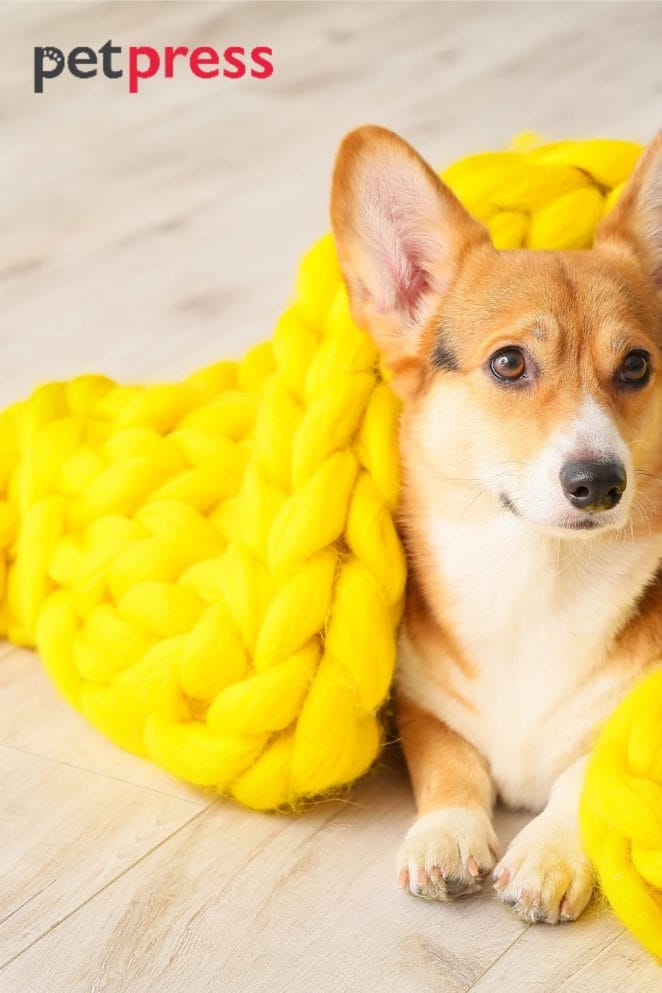 Dreamy Pup Weighted Blanket:
The Dreamy Pup blanket is designed to wrap your pet in calming comfort. Measuring 36″ x 48″, this weighted blanket is ideal for large dogs and provides soothing pressure to ease anxiety.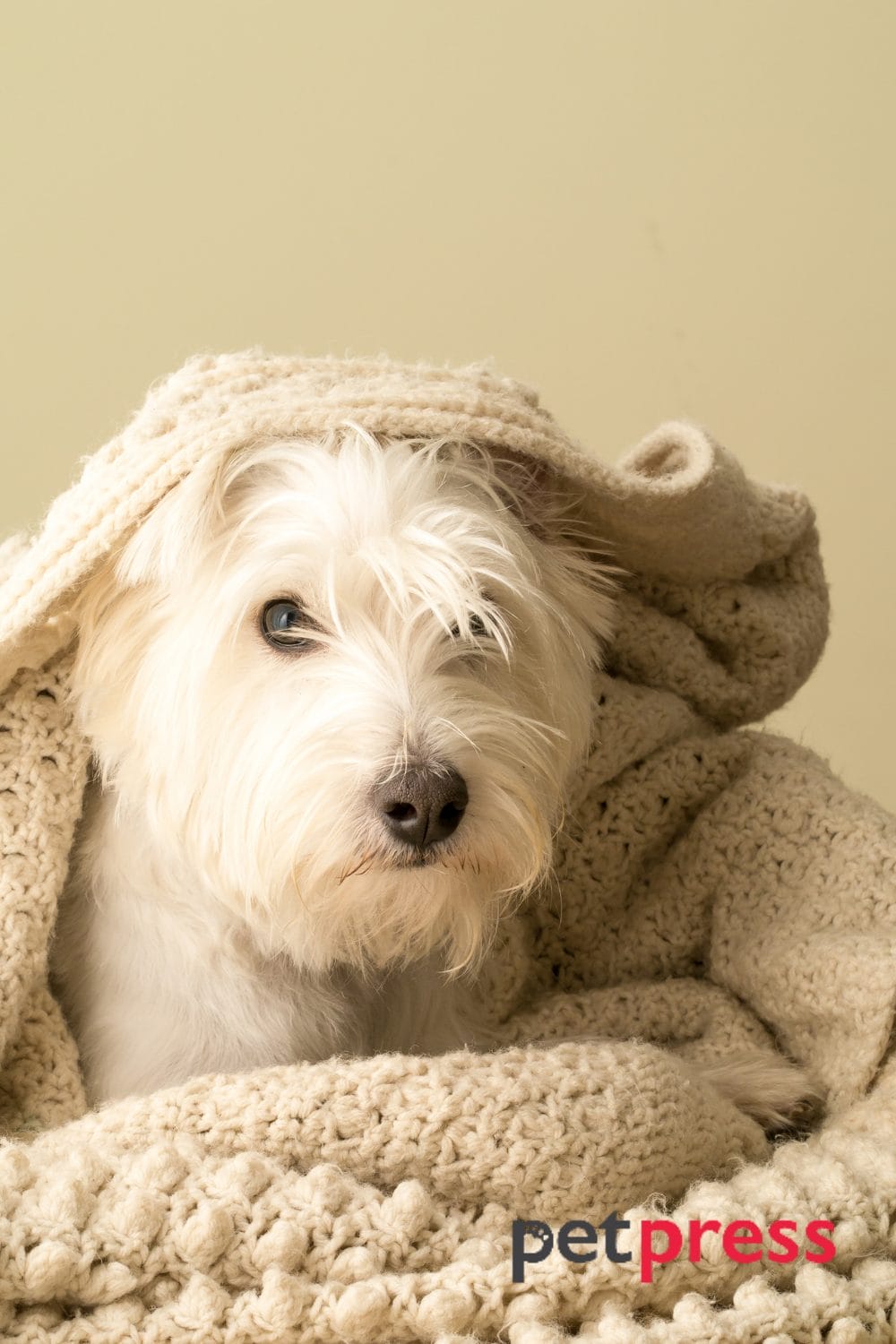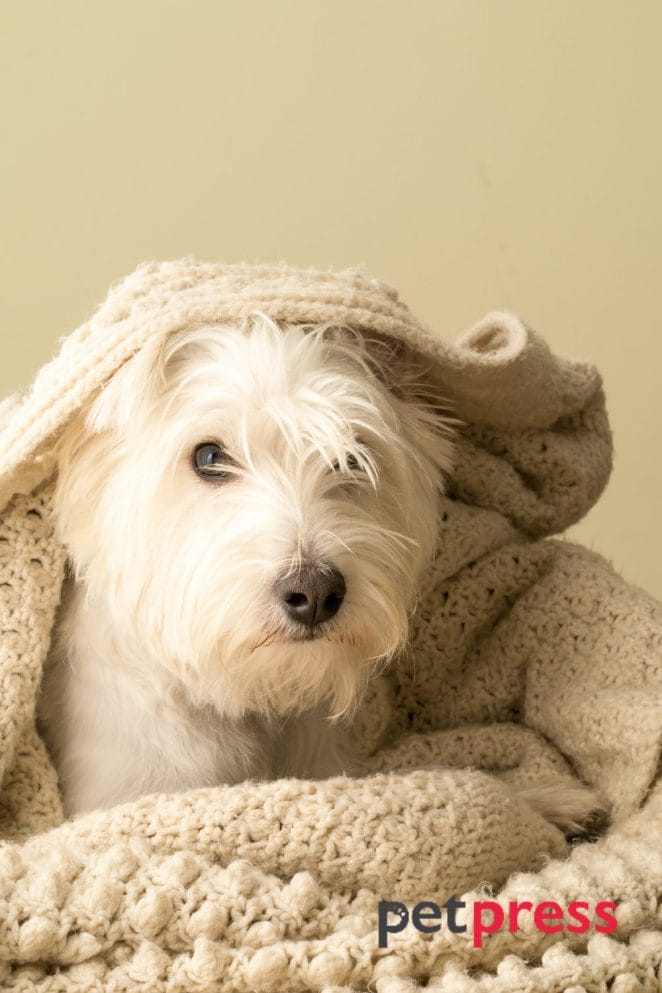 Pawfect Comfort Electric Dog Blanket:
Sized at 25″ x 36″, this electric blanket not only keeps your pet warm but also eases physiological ailments like arthritis. Made with safety features to protect your furry friend.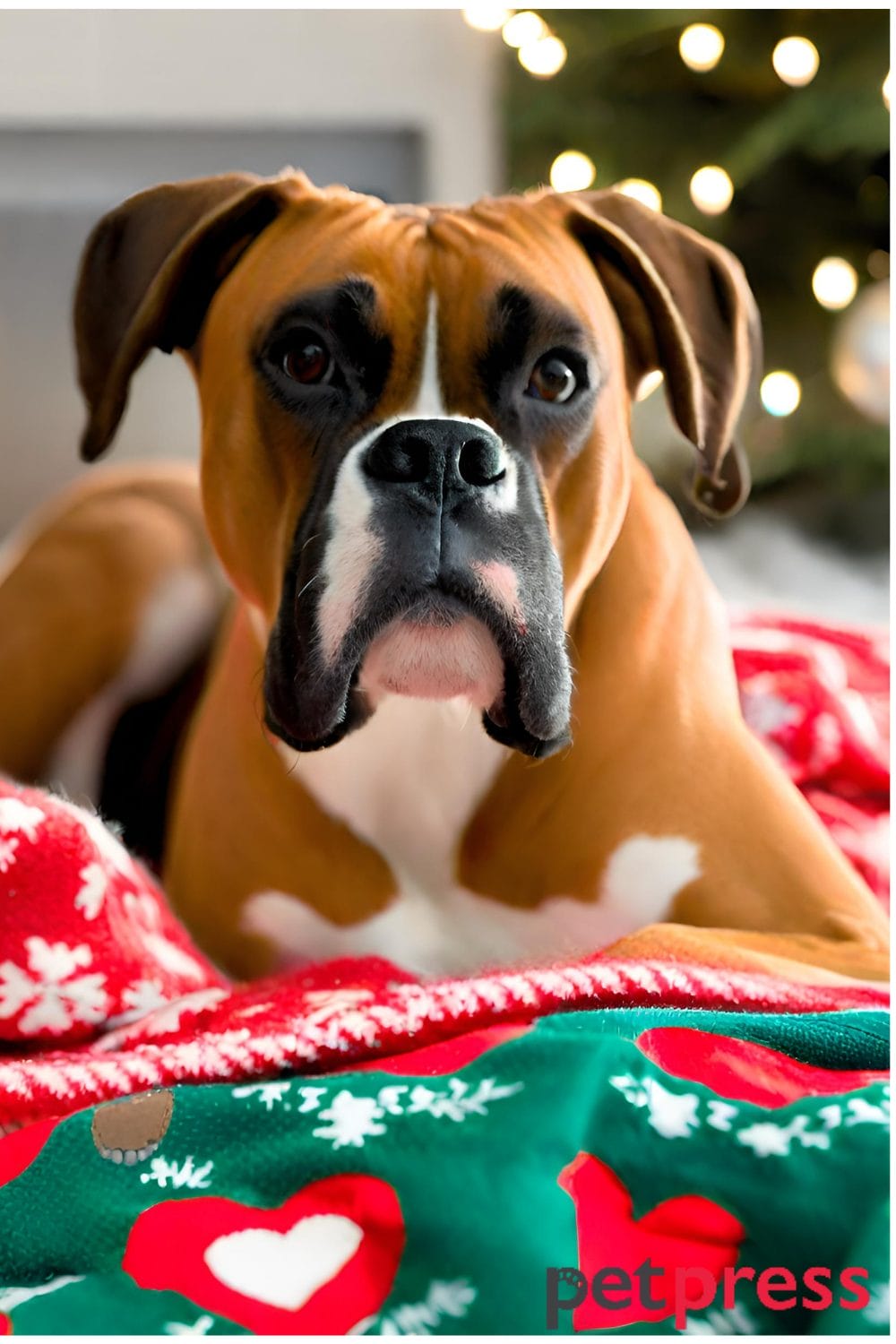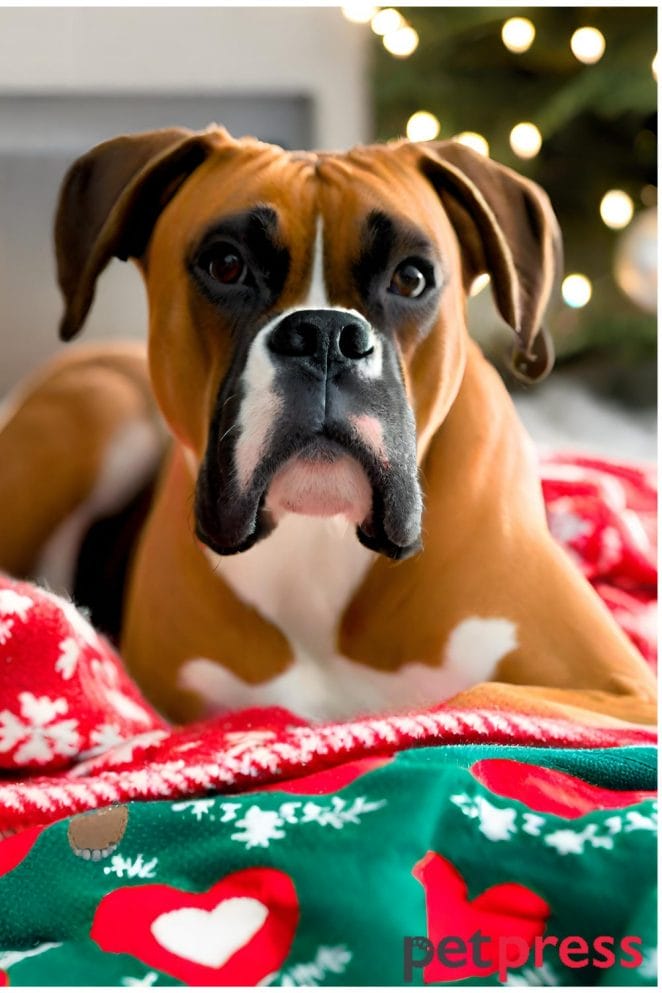 Fur-Ever Love Plush Blanket:
This luxurious 40″ x 50″ blanket offers an extra layer of plush comfort. Its heart and paw pattern demonstrates your forever love for your pet.
First Snow Thermal Blanket:
Capture the magic of winter with this snowflake-patterned thermal blanket. Measuring 32″ x 40″, it provides cozy warmth for those cold winter nights.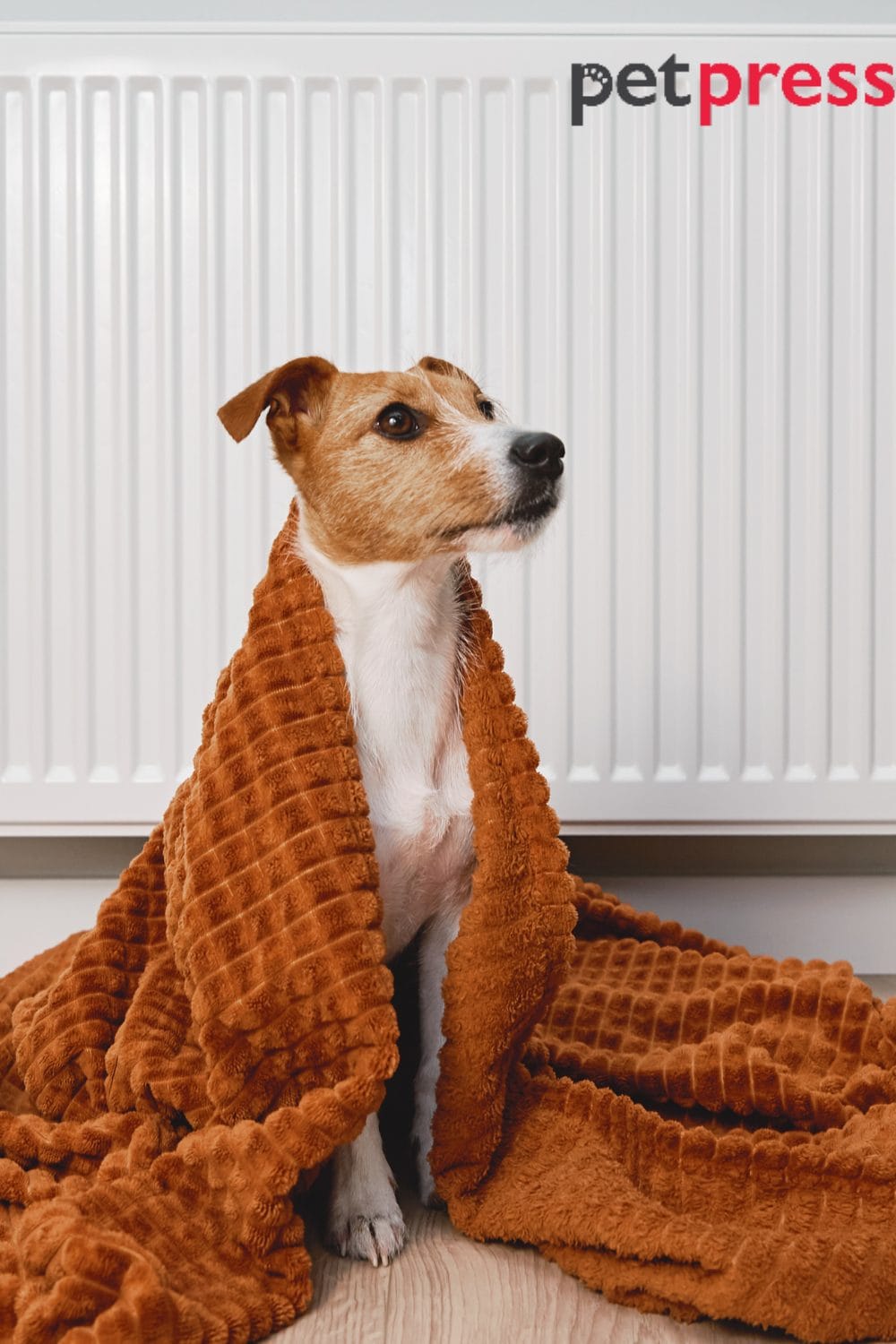 Santa Paws Weighted Blanket:
With its festive Santa paws pattern, this 34″ x 42″ weighted blanket offers security and comfort to your dog amidst the excitement of the holiday season.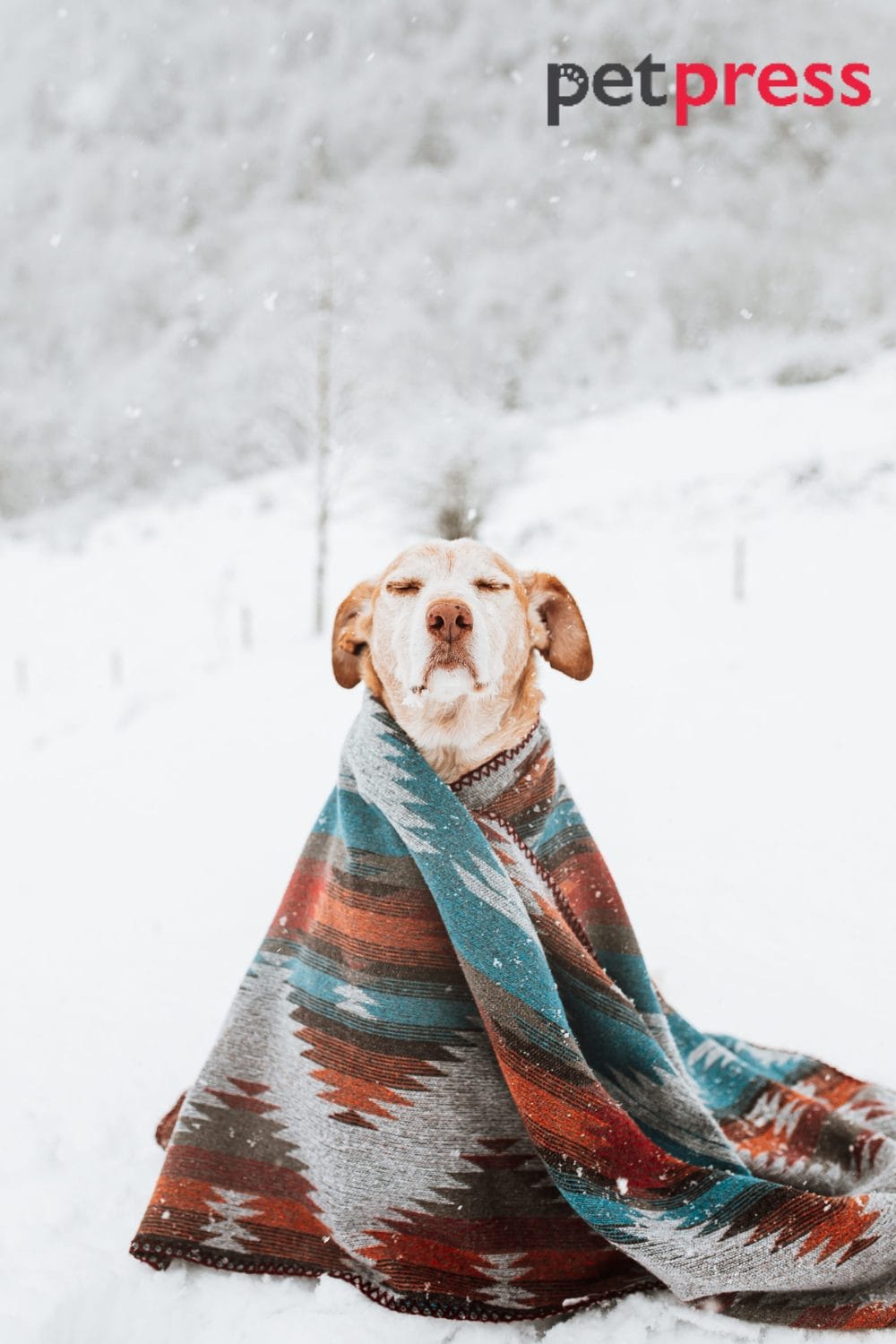 Evergreen Joy Electric Blanket:
Keep your dog warm with this forest-patterned 26″ x 36″ electric blanket. Made with pet-friendly features for controlled heating that ensures your pet's safety.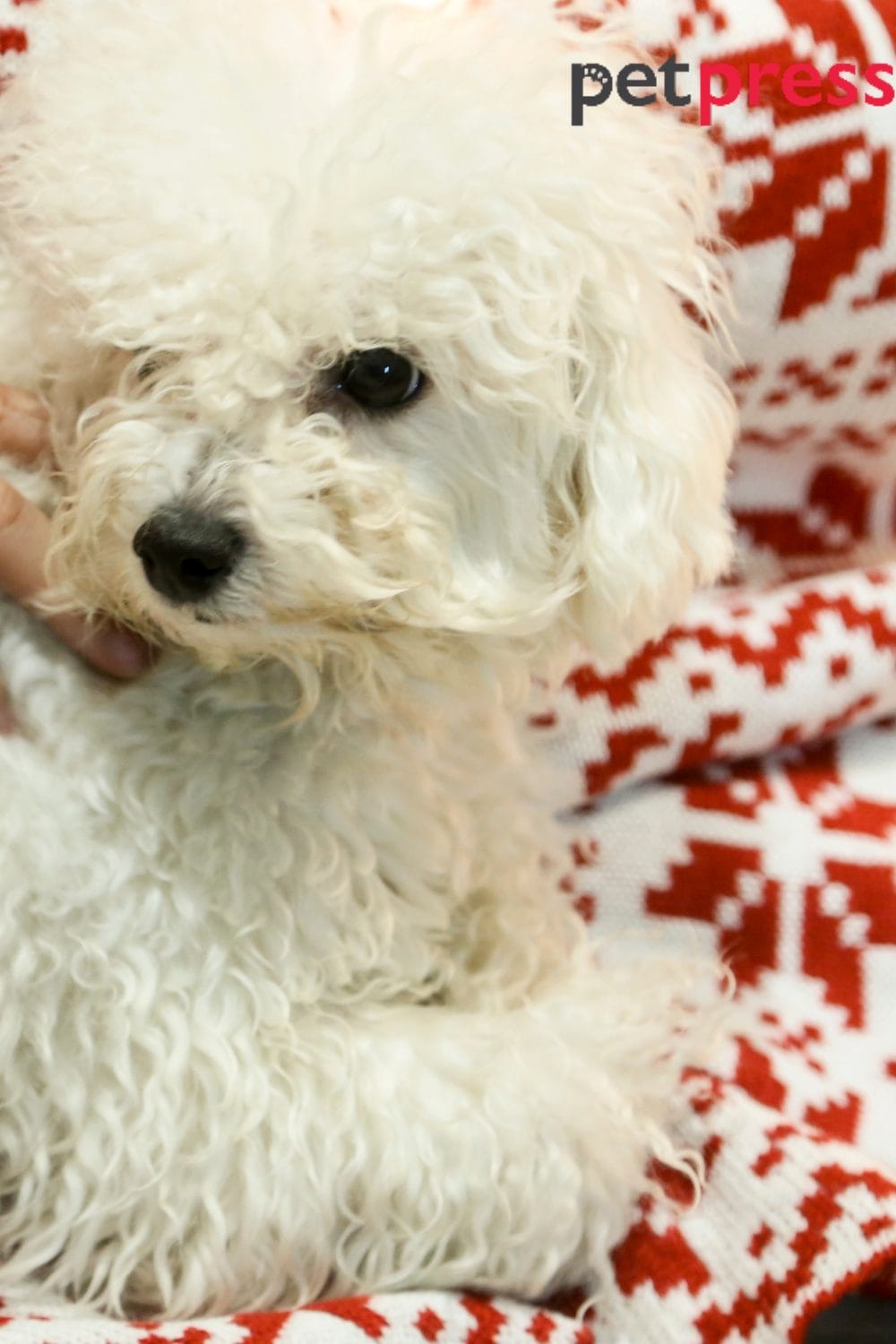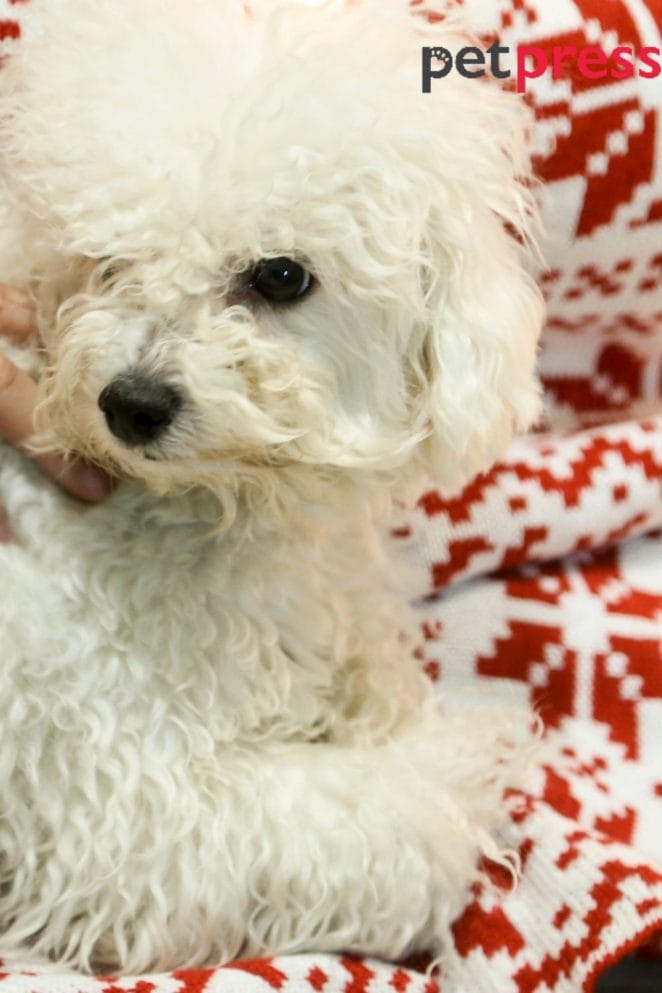 Winter Wonderland Plush Blanket:
This ultra-soft, 40″ x 50″ plush blanket provides superior warmth and comfort for your dog. Its festive winter pattern makes it an ideal Christmas gift.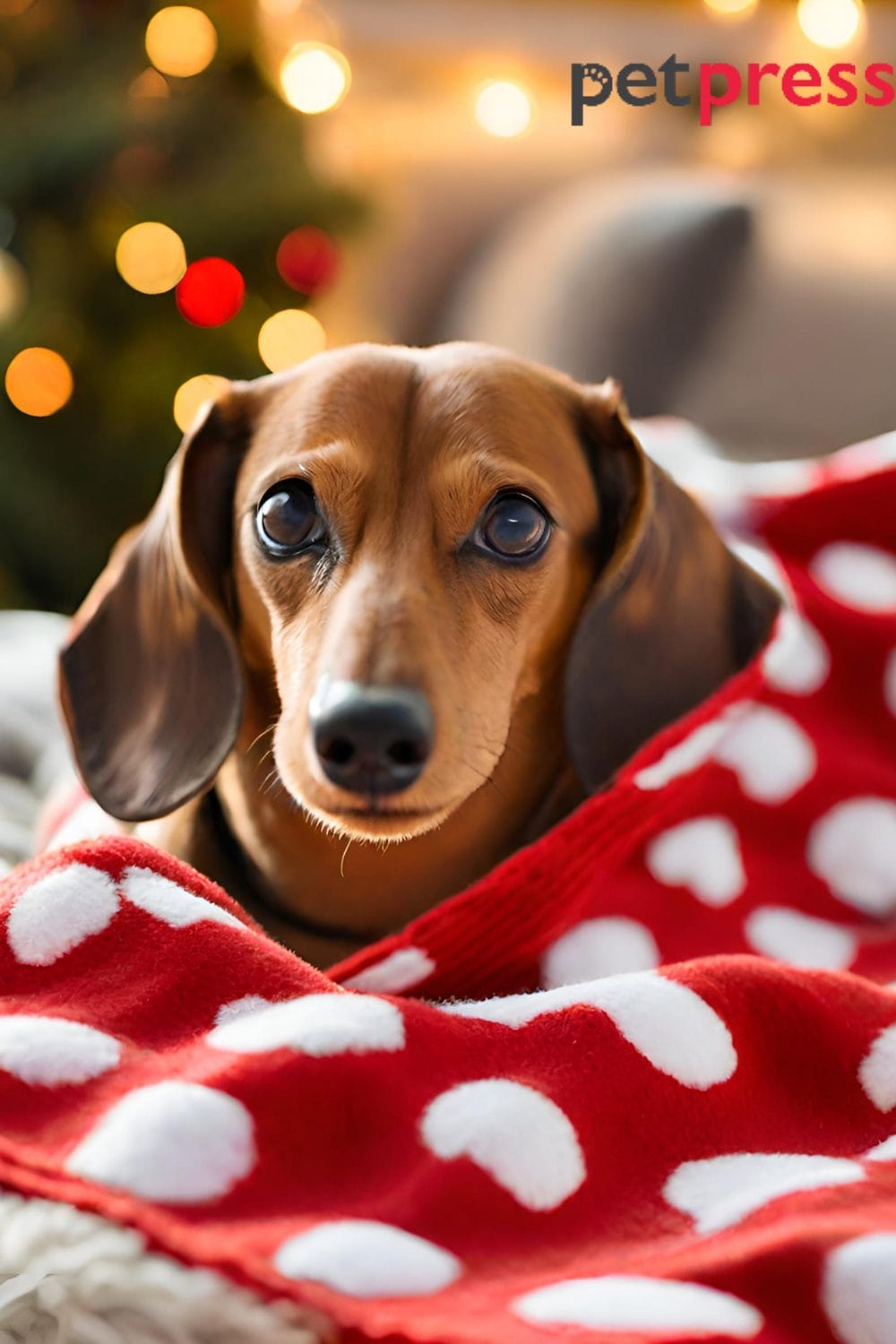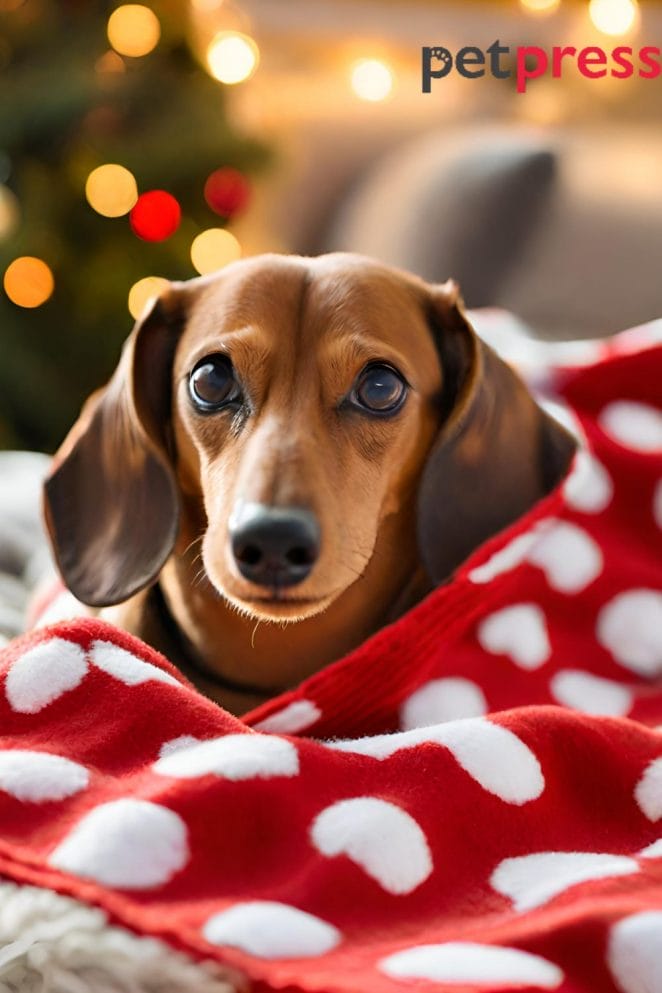 Frosty Paws Thermal Blanket:
With a delightful frosty paw print, this 30″ x 40″ thermal blanket ensures your dog stays cozy during the coldest winter nights.
How to Choose the Right Christmas Blanket for Your Dog
Choosing the right Christmas blanket for your dog requires knowledge about your pet and the different types of blankets available.
First, consider your dog's size. The blanket should be large enough to comfortably cover your dog, but not so large that they get lost in it.
Consider your dog's breed and natural coat. Some dog breeds with thick fur might prefer a lighter blanket, while dogs with short or thin fur may appreciate a thicker or thermal blanket.
The age and health of your dog also matter. Puppies and old dogs, in particular, might enjoy the additional warmth and comfort that a blanket provides. If your pet suffers from joint pain or anxiety, consider a heated or weighted blanket, respectively.
Maintaining Your Dog's Christmas Blanket
To make sure your dog continues to enjoy their Christmas blanket, it's essential to keep it clean and well-maintained.
Most dog blankets can be machine-washed, but always check the care label first. Use a pet-safe laundry detergent to avoid irritating your dog's skin.
Tumble dry on a low heat setting, or air dry if possible, to keep the blanket soft and fluffy.
Regularly inspect the blanket for any signs of wear and tear. If you notice any loose threads or holes, it may be time to replace the blanket to ensure your pet's safety.
Show Your Love with a Dog Christmas Blanket
Choosing a Christmas blanket for your dog is not just about keeping them warm or enhancing the festive atmosphere. It's a tangible expression of your love and care. When your dog snuggles into their new blanket, they will feel safe, comfortable, and loved, truly making it a Christmas to remember for them.
Explore more paw-some reads!
Craving more content to satisfy your furry friend's needs? Dive into our other insightful articles packed with tips, tricks, and the latest trends for pet parents. Don't miss out on making your pet's life even more joyful and comfortable!
Dog Christmas Bow Tie – The Festive Styles Fido Can Rock!
15 Dog Christmas Pajamas: Get Ready for Festive Fido Holidays
A Festive Collection of the Cutest Dog Christmas Sweaters