Island dog names are perfect for dogs that love the beach, sand, and sun!
If you're looking for a unique and island-inspired name for your new pup, look no further.
We've gathered over 120 of the best island dog names to get you inspired. From Maui to Barbados, these names will have your pooch feeling like he's on a tropical island vacation all year round!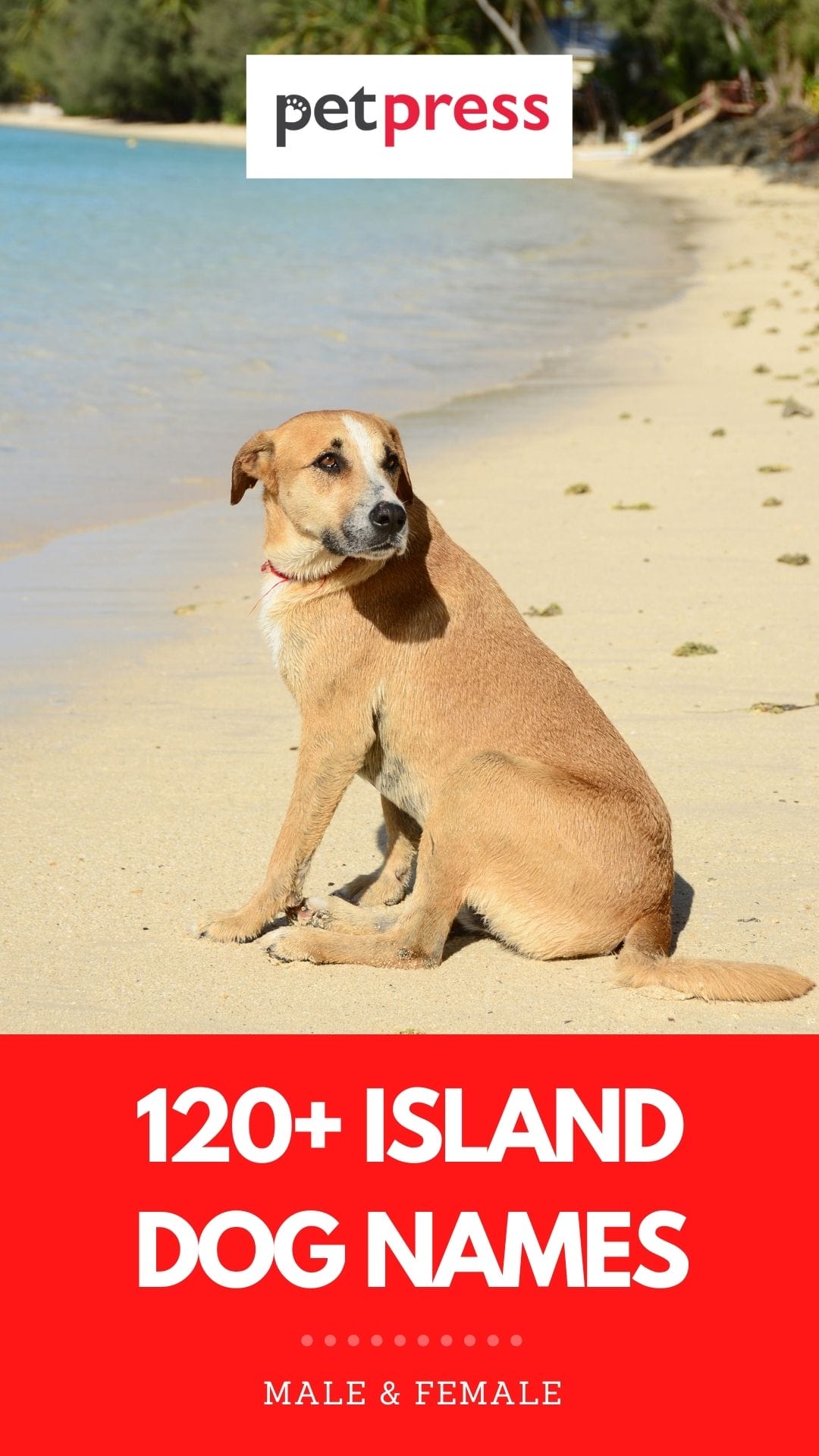 Here are the best Island-inspired dog names that can help when choosing a new dog name for your puppy!
Male Island-Inspired Dog Names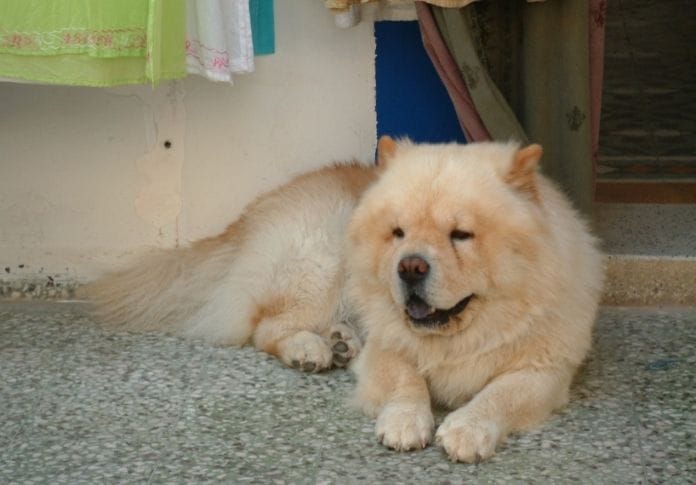 | | |
| --- | --- |
| Cook | After the Cook Islands, a group of 15 islands in the South Pacific |
| Kohtao | After Koh Tao Island, Thailand; aka Turtle Island |
| Phuket | |
| Howland | After Howland Island, USA |
| Sampson | After Sampson Cay, Bahamas |
| Cozumel | After Cozumel, Mexico; cruise ship tourist hotspot |
| Cayman | After Grand Cayman Island; soft sands, a seven-mile beach |
| Skepelos | After Skepelos, Greece; rich with Byzantine era design |
| Bart | After St. Barts, Caribbean |
| Ni'ihau | After the Hawaiian Island of Ni'ihua, the only privately owned island of the Hawaiian chain |
| Lofoten | After the Lofoten Islands, Norway; paradise for fishing, skiing, and hiking |
| Pitcairn | After Pitcairn Island, UK; last overseas territory in the Pacific |
| Fiji | After the islands of Fiji, which boast beautiful reefs, ancient temples, and rainforests |
| Galapagos | After the Galapagos Islands, Ecuador |
| Corfu | After Corfu, Greece; centered around its Greek culture |
| Turks | After Turks and Caicos; feature a 14-mile stretch of reef |
| Hvar | |
| Pico | |
| Maldive | After the Maldives, South Asia; some of the best reefs in the world |
| Crete | |
| Svalbard | After Svalbard Islands, Norway; renowned for their massive polar bear population |
| Caulker | After Caye Caulker, Belize; fantastic seafood, laid-back vibe |
| Gozo | After Gozo, Malta; boasts some serious history |
| Palawan | After Palawan Island, Philippines; gorgeous backdrops of jungles and beaches |
| Caicos | After Turks and Caicos; feature 230 miles of luxurious white-sand beaches |
| Faroe | After the Faroe Islands, Denmark |
| Paxos | After Paxos, Greece; features classic Greek elements all crammed onto an island |
| Cyprus | After Cyprus, Mediterranean; beautiful coastal views and plenty of history |
| Sentinel | After North Sentinel Island, India; one of the most isolated places on Earth |
Female Island-Inspired Dog Names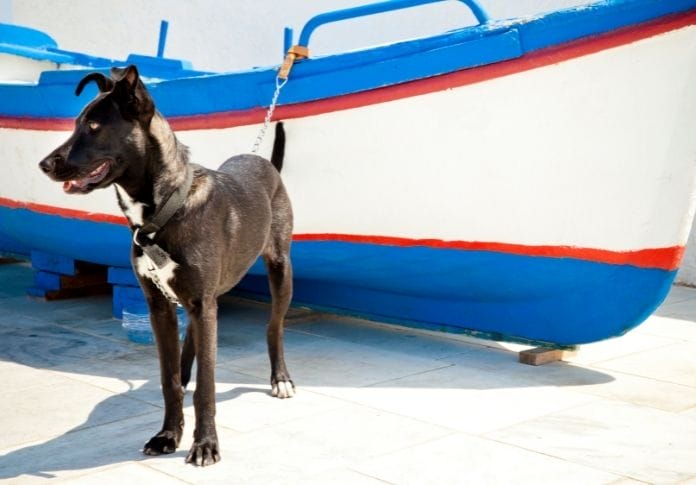 | | |
| --- | --- |
| Mykonos | After Mykonos, Greece; luxurious white buildings on sprawling coastlines |
| Exuma | After Exuma Cays, Bahamas; a series of 365 cays and islands. |
| Maui | After Maui, Hawaii; dramatic volcanic landscapes with lush vegetation |
| Capri | After Capri, Italy; cities built into oceanside cliffs |
| Skye | After the Isle of Skye, Scotland; considered one of the most beautiful islands on Earth |
| Sandon | |
| Cocos | After Cocos Keeling, Australia; a tropical paradise unspoiled by chains and excessive tourism |
| Bora | After the island of Bora Bora, French Polynesia |
| Santorini | After Santorini, Greece; incredible white-washed buildings with striking blue roofs |
| Moorea | After the island of Moorea, French Polynesia |
| Easter | After Easter Island, Chile; home to the legendary Moai |
| Navassa | After Navassa Island, an uninhabited Caribbean island |
| Sicily | After Sicily, Italy; fantastic wine, ancient villages, and dramatic coastlines |
| Martinique | After Martinique, Caribbean; ancient secrets tucked into the wilds of the island |
| Samoa | After Samoa, South Pacific; caves, waterfalls, and gorgeous volcanic formations |
| Caye | After Caye Caulker, Belize, where you can snorkel with nurse sharks and stingrays |
| Monuriki | After Monuriki Island, Fiji |
| Munecas | After The Island of the Dolls, Mexico |
| Seychelles | After Seychelles, East Africa; granite islands with white sand beaches and colorful reefs |
| Attu | After Attu Island, Alaska; the westernmost island in the Aleutian chain |
| Bali | After Bali, Indonesia; boasts lands and waters equally beautiful, lush and tropical |
| Kauai | After Kuai, Hawaii; one of the oldest Hawaiian Island |
| Hashima | After Hashima Island, Japan; an abandoned mine island |
| Bouvet | After Bouvet Island, South Atlantic |
| Mallorca | After Mallorca, Spain; rich citrus plantations and beautiful alternating rock and sand coastlines |
| Socotra | After Socotra Island, Yemen |
| Lucia | After St. Lucia Island; gorgeous and lush with volcanic beaches and rainforests |
| Tahiti | After the island of Tahiti; a quintessential vacation island |
| Ischia | After Ischia, Italy; a mountainous island with steep cliffs |
| Guadeloupe | After Guadeloupe, Caribbean; fantastic backdrops |
| Palmyra | After the Palmyra Atoll; a group of islands used for natural and scientific research |
Caribbean Island-Inspired Names for Dogs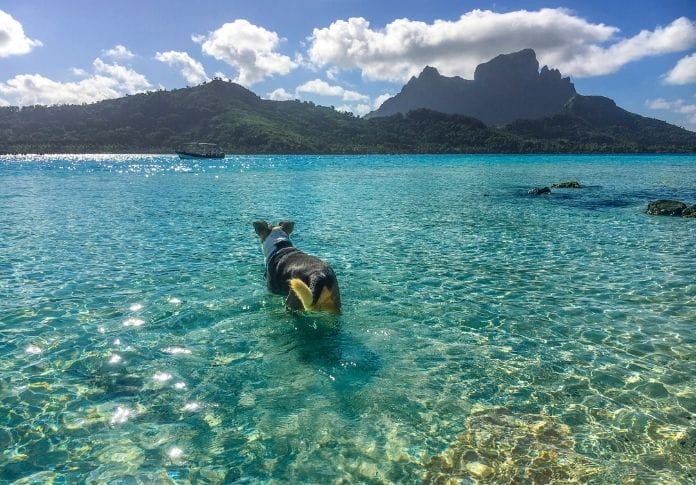 Barbuda
Cayman
Cabo
Caicos
Bonaire
Grenada
Nassau
Mustique
Bimini
Andros
Domingo
Tortola
Rum Cay
Eleuthera
Montserrat
Haiti
Aruba
Bahama
Dominica
Trinidad
Tropic
Lucia
Indies
Curacao
Redonda
Tobago
Cuba
Turks
Saba
Nevis
For more ideas, take a look at our complete list of Caribbean dog names.
Tropical Dog Names
Terre
Turk
Coco
Vincent
Alejandro
Grace
Tamarind
Jaheim
Ackee
Carrera
Marshall
Lena
Alesha
Tierra
Maubi
Brian
Potter
Jamaica
Juanita
Tobago
Vin
Calala
Ginger
Santiago
Lucia
Pearl
Palomino
Syrena
Rihanna
Josue
Viv
Desi
Fernando
Hemingway
Mango
Amani
Dupre
Marley
Coakley
Kitt
Related: Over 130 Tropical Dog Names with Meanings
So what are you waiting for? Get inspired and find the perfect name for your new furry friend.
Whether you're looking for a unique and exotic name or something more traditional, we've got you covered. And if you still can't decide, check out our list of over beachy dog names to get started.
No matter what you choose, we know your dog will be happy with its new name. What's your favorite Island-inspired dog name?