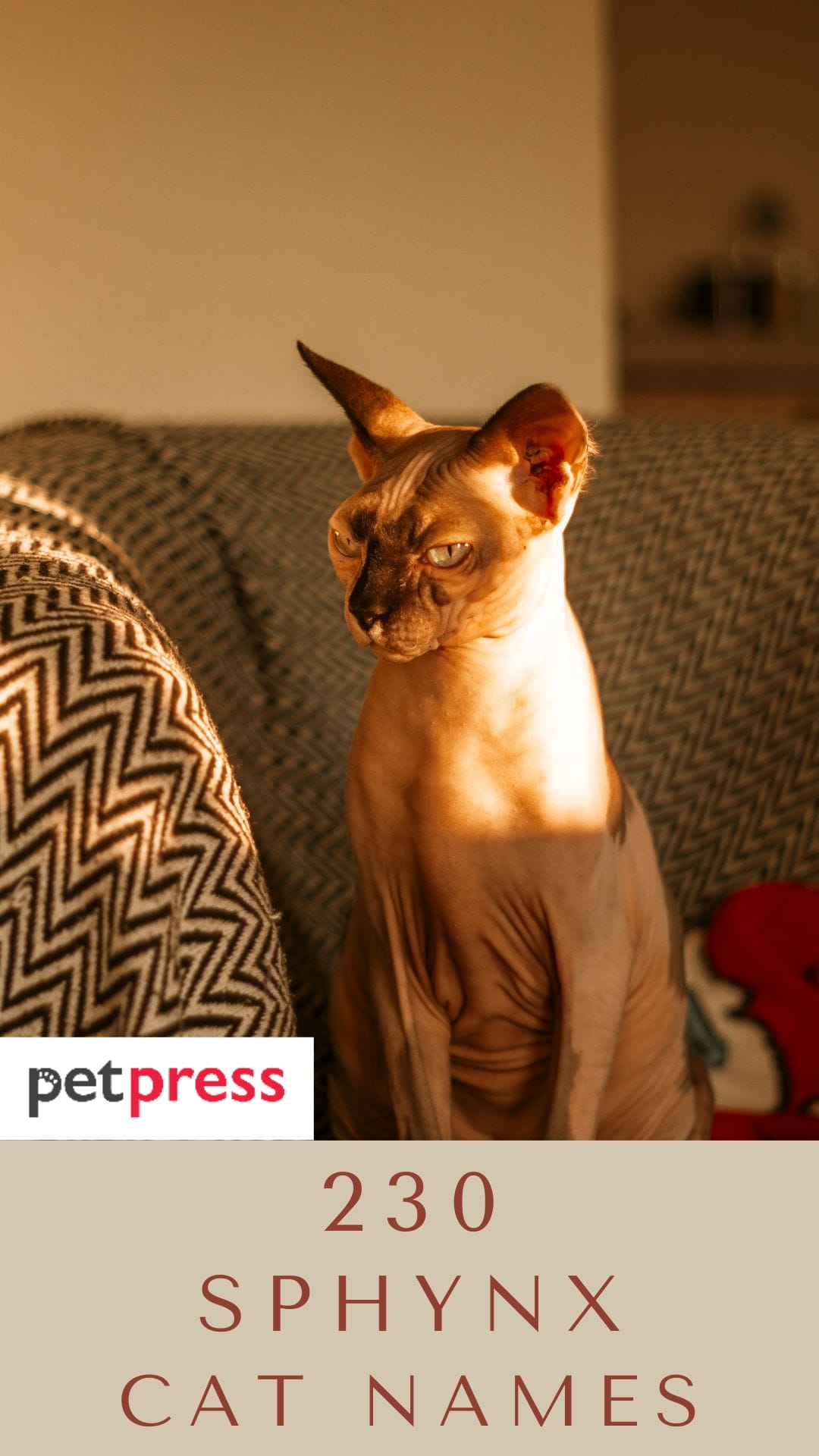 Sphynx cats are some of the most uniquely-looking animals on the planet, so it's no wonder that people often have a hard time picking out a name for them.
If you're one of the lucky owners of this breed or are thinking about getting one, check out this list of sphynx cat names! From quirky to classic, we've got you covered.
Male Sphynx Cat Names
Blade
Loki
Khalid (immortal)
Samson
Orson (little bear)
Osiris (Egyptian god, ruler of the underworld)
Ramesses (common name for Egyptian pharaohs)
Woody (as in Harrelson)
Amun (Egyptian god)
Hennessy
Bruce (as in Willis)
Dr. Evil
Xerxes (king of Persia)
Seth (Egyptian god of chaos)
Yoda
Meow Tai
Lucky
Gollum
Jason (as in Statham)
Aton
Kingsley (as in Ben)
Patrick (as in Stewart)
Magna (large or strong)
Cara (Italian for baby)
Anubis (Egyptian god of the dead)
Mr. Skinner
Bacchus (Latin for one that shouts)
Ra (god of the Sun)
Ramses
Tigger
Diesel (as in Vin)
Seti
Coco
The Rock
Whiskers
Pluto
Cary (honesty)
Mercury (god of trade)
Balbina (Latin for strong)
Horus (Protector of Egypt)
Seal
Lucas (one who illuminates)
Vin (as in Diesel)
Alf
Aten (sun or white light)
Varys
Heru
Vin Diesel
Stanley (as in Tucci)
Amon
Smudge
Abasi (serious)
Farid (unique)
Jager
Kosey (lion)
Cassidy
Akil (smart or clever)
Felix
Aaron
Hemingway
Mars
Gamal (handsome)
Neptune
Check the full list of male Sphynx cat names
Female Sphynx Cat Names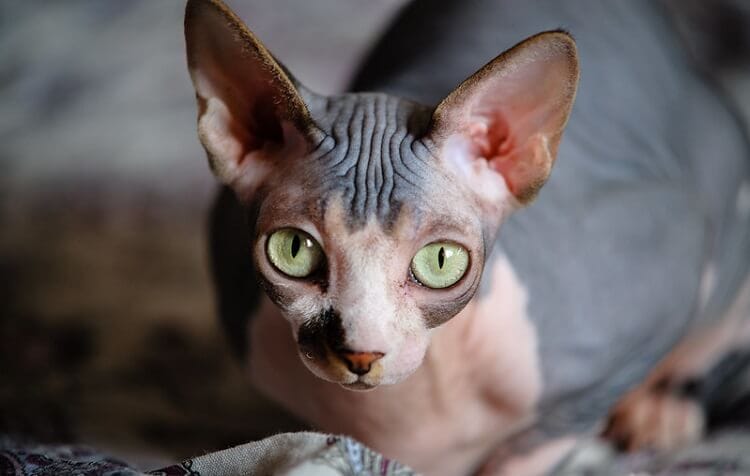 Pearl
Agata (gentle)
Elara (a moon of Jupiter)
Isis (Egyptian goddess)
Zoey
Amanda
Natalie (as in Portman)
Rosalind (great beauty)
Ruby
Femi (one who loves)
Amber (as in Rose)
Sinead (as in O'Connor)
Sushi
Thema (queen)
Ching Shih
Dalila (Egyptian for sweet)
Sanura (kitten)
Lagertha
Valeria (strong and vigorous)
Mittens
Danai (as in Gurira)
Kamilah (Egyptian for perfect)
Balbina (strong)
Gazelle (graceful)
Gracie
Paris
Farida (unique)
Mau (Egyptian word for cat)
Magna (large)
Rose (as in Amber)
Demi (as in Moore)
Molly
Hasina (lover)
Bastet (protective goddess)
Cersei
Aziza (precious)
Beatrice (one who brings joy)
Madonna (Latin for lady)
Venus
Cleopatra (Queen of Egypt)
Sangria
Chai
Alice
Kitkat
Solange
Shani (a wonderful woman)
Primrose
Luna
Valentina (healthy)
Katniss
Emma
Precious (Latin for a darling)
Gamila (beautiful)
Lupita (as in Nyong'o)
Angel
Maya Angelou
Grace (as in Jones)
Nefertiti (Egyptian Queen)
Check the full list of female Sphynx cat names
Funny Sphynx Cat Names / Funny Hairless Cat Names
Buddha
Ariel
Mop
Bangs
Sinead O'Connor
Fuzzy Wuzzy
Sphynxter
Butch
Fade
Fluffy
Peter (short for Peterbald, a hairless breed)
Dobby
Pixie
Velvet
Squeaky
Whiskers
Gillette
Shag
Spock
Jasmine
Elvis
Mr. Skinner
Tar ("bald" in Hungarian)
Professor X
Baldwin
Peachfuzz
Paige/Page
Moon
Curly
Shaggy
Marilyn
Hairy Pawter
Feather
Jerry
Belle
Cotton
Cabello ("head" in Spanish)
Lucille Bald
Chrome Dome
Bob
Ringo
Baldo
Scarlet Nohaira
Buns
Yul Brynner
Venus
Rachel
Pinky
Fabio
Farrah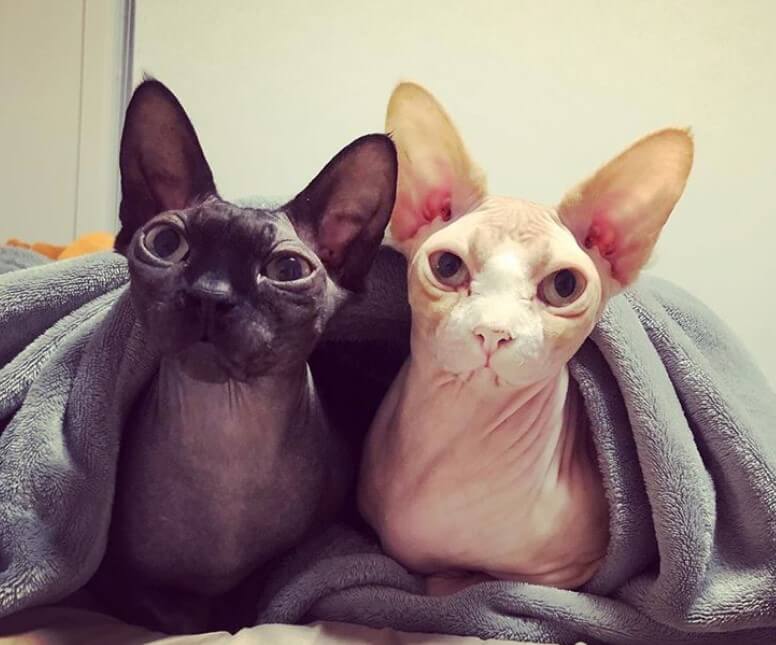 Twiggy
Liberty
Rip Van Wrinkle
Yoda
Baldy
Fuzzinator
Hairy Styles
Cue Ball
Lady Godiva
Mr. Clean
Shave Brubeck
Vin Diesel
Caesar (from Latin for "hairy")
Godiva
Harold
Piglet
Bettie
Harriet
Peach
Leia
Dada ("curly hair" in Yoruba)
Teddy
Locks
Slick
Bald McCartney
Cornrow
Samson
Harry
Pellé ("bald" in French)
Patrick Stewart
Daddy Warbucks
Cersei
Cleopatra
Chignon
Stanley Tucci
Fringe
Razor
Hawk
Buzz
Dwayne "The Rock" Johnson
Goldilocks
Calvin (from French for "bald")
Furball
Marcel
Barber
Peach Fuzz
Gollum
Shirley
Fuzzy
Quiff
Ringlet
Check the full list of funny Sphynx cat names
So there you have it – a comprehensive list of Sphynx cat names. We hope you found this useful, and if you need more inspiration for naming your new kitty, be sure to check out our hairless cat names. As always, thanks for reading!