Looking for a spotted cat name? Check out this list of over 150 names for spotted cats.
These are some awesome spotted cat names, so you can find one that fits your new friend perfectly!
Cat lovers will especially enjoy these spotted cat names – but even if you don't have a spotted kitty at home, they're still great to know about.
Here are the best spotted cat names for both male and female cats.
Names for Female Spotted Cats
Paisley
Fawn
Snow
Freckles
Dot
Patty
Sparkles
Milky Way
Queen
Mocha
Ginger
Saffron
Chia
Sugar
Fleur
Speckles
Cloud
Scout
Kisses
Spice
Dottie
Fleck
Twilight
Pepper
Anise
Poppy
Mittens
Daisy
Peanut
Sundae
Diamond
Gingham
Midnight
Tie Dye
Callie
Marshmallow
Bambi
Latte
Ikat
Mandala
Chevron
Tiger
Starry Night
Cheetah
Cinnamon
Minnie
Pebbles
Ladybug
Sesame
Sprinkles
Strawberry
Chutney
Cookie
Glitter
Honey
Lucy
Licorice
Names for Male Spotted Cats
Polka
Atari
Moo
Argyle
Stripes
Whale
Dumpling
Dice
Snickers
Socks
Damask
Link
Spot
Pixel
Chester
Chili
Smartie
Feather
Constellation
Blizzard
Camo
Checkers
Polkadot
Pox
Clove
Domino
Turmeric
Orca
Confetti
Rocky
Marbles
Dick
Spottie
Boots
Snowflake
Chunk
Chip
Twilight
Pollen
Patches
Pollock
Sparky
Bullseye
Besos
Basil
Snowy
Dab
Parmesan
Lynx
Cumin
Leo
Dash
Swatch
Buttons
Cowboy
Arrow
Dusty
Bootsie
Pongo
Ansel
Spade
Doodle
Calico
Clover
Unisex Names for Spotted Cats (with meanings)
| | |
| --- | --- |
| Twister | A cyclone or tornado. |
| Splotch | An irregularly shaped spot |
| Sparky | Animated, lively. |
| Flip | Lover Of Horses |
| Pongo | One who smells. |
| Chief | One in highest rank or authority. |
| Snickers | A brand of candy bar. |
| Nugget | as in Chicken |
| Fang | A long pointed tooth. |
| Bootsie | Collins Pussycat |
| Thunder | Sound produced from lightning |
| Snickers | A brand of candy bar. |
| Sox | Short stockings finishing above the ankle |
| Dotty | meaning is amusingly eccentric or absurd. |
| Sox | Short stockings finishing above the ankle |
| Sushi | Raw fish. |
| Sushi | Raw fish. |
| Purdy | Variation on pretty. |
| Moose | Largest member of the deer family. |
| Fetch | To go after something and return with it. |
| Thunder | Sound produced from lightning |
| Bongo | Connected drums played by beating with hands. |
| Badger | Burrowing mammal with white stripe on forehead |
| Nipper | A small boy |
| Freckles | Dotted with small brownish spots. |
| Thunder | Sound produced from lightning |
| Spotty | Marked with spots |
| Socks | Short stockings finishing above the ankle |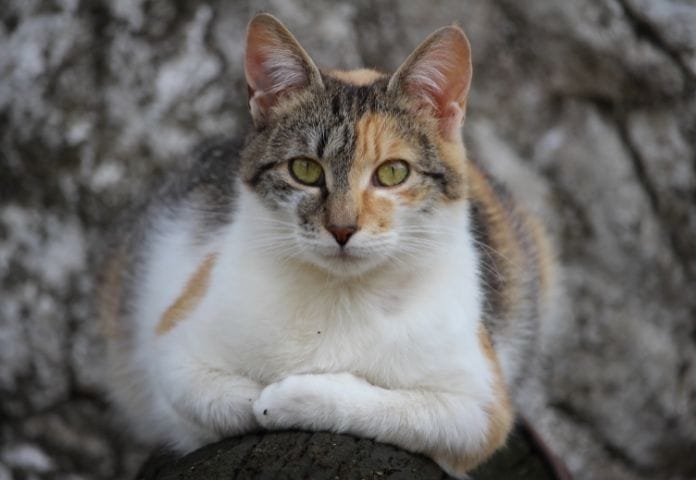 You may also think about what spotted cat breeds there are, so here is a list of the best spotted cat breeds to inspire you.
Spotted Cat Breeds
1. Bengal
The Bengal cat is a domesticated cat breed created from hybrids of domestic cats, the Asian leopard cat and the Egyptian Mau.
2. Egyptian Mau
Egyptian Maus are a small- to medium-sized short-haired cat breed.
3. Pixiebob
The Pixie-bob is a breed of domestic cat claimed to be the progeny of naturally occurring bobcat hybrids.
Check the full list of Pixiebob cat names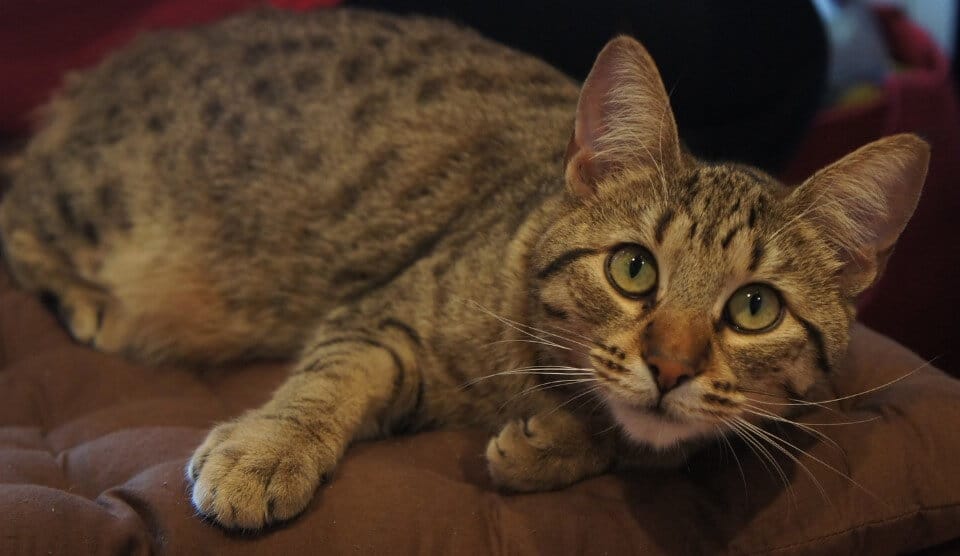 4. Serengeti
The Serengeti is a breed of domestic cat, first developed by crossing a Bengal (domestic and wild hybrid) and an Oriental Shorthair.
View the full list of Serengeti cat names
5. Ocicat
The Ocicat is an all-domestic breed of cat which resembles a wild cat but has no recent wild DNA in its gene pool.
View the full list of Ocicat cat names
6. Savannah Cat
The Savannah is a hybrid cat breed. It is a cross between a serval and a domestic cat.
If you're a cat owner and your kitty has some spots, this guide is for you.
We've compiled over 150 of the most popular names for spotted cats to help lighten the load on finding that perfect name.
You can also browse through our list of orange tabby cat names that have a similar coat to these cats.
So which name is your favorite? Let us know in the comments below. Happy naming!