If you`re an animated movie lover and want to give your horse a famous name, here's the list of the most famous horse names from animated movies. Check the list and make your choice.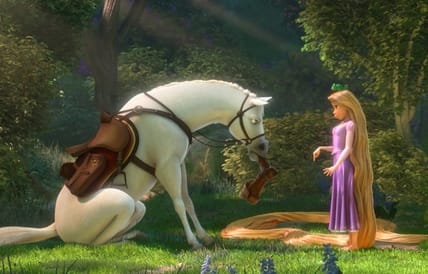 Maximus, the horse who pursued Flynn Rider in Disney's Tangled
Sugarfoot, a Walter Lantz cartoon
Spirit, the stallion from Spirit: Stallion of the Cimarron
Tempest, Princess Sissi's horse from the show of the same name
Spirit from She-Ra
Yato, from Legend of Basara
Lightning, from Dinozaurs: The Series
Bullseye, Woody's horse in Toy Story 2 and Toy Story 3
Opal, in Ribon no Kishi
De Royal, Double Eight, Chestnut, Mikagehomare, Miyako, and Rosanna from Silver Spoon
Ico, from Ico, el Caballito valiente
Quick Draw McGraw, of Hanna-Barbera's cartoon series
Khan, the Fa family's horse from Disney's Mulan
Ponycorn, from Bomberman B-Daman Bakugaiden
Princess, Lisa's horse in The Simpsons
Majesty, from Barbie & Her Sisters in A Pony Tale
Bucephalus, demon-horse of Alexander the Great from Reign: The Conqueror
Rain, the paint mare from Spirit: Stallion of the Cimarron
Buck, the sheriff's horse from Home on the Range
Achilles, horse of Captain Phoebus in Disney's The Hunchback of Notre Dame
BoJack Horseman, the titular alcoholic celebrity horse in BoJack Horseman
Captain, the authoritative farm horse in Disney's 101 Dalmatians
My Little Pony: Friendship Is Magic
Starlight and Skydancer, from Rainbow Brite
Horace Horsecollar from the Walt Disney cartoons
Altivo, Cortez's warhorse from DreamWorks' The Road to El Dorado
Deablo the Horse, from Johnny Bravo.
Frou-Frou, from Aristocats
Noble Heart Horse, a Care Bears Cousin from the television series and films
Pharfignewton, Pinky's girlfriend on Animaniacs and Pinky and the Brain
Cyril Proudbottom, Toad's helpful but clumsy horse friend in Disney's The Adventures of Ichabod and Mr. Toad
Sabure, in Tari Tari
Chet, from The Littlest Pet Shop
Phillipe, Belle and her father's horse from Disney's Beauty and the Beast
Fun Saiki, from Mobile Fighter G Gundam
Major, from Cinderella (1950 film).
Samson, Prince Phillip's horse from Disney's Sleeping Beauty
James Baxter, from Adventure Time
Donny the White Horse, Bubbles' friend in the reboot of The Powerpuff Girls.
Angus, horse of Merida in Disney's Brave
Pony Puff Princess, Dee Dee's idol in Dexter's Laboratory
Gallopin' Gals
Thowra, the Silver Brumby in The Silver Brumby cartoon series
Horse, Dudley Do-Right's horse in The Rocky and Bullwinkle Show
Mr. Horse from Ren and Stimpy
If you haven't found the perfect name for your horse, make sure to check our famous horse names, and you'll find tons of ideas.