People who love horses know that strong names are important.
The strong horse names in this list will inspire your imagination and give you ideas for naming strong, tough, or powerful horses.
They can also be used to name other strong animals like dogs or cats!
But let's focus on your new pet. You'll find out why these horse names are fit for your strong pet horse.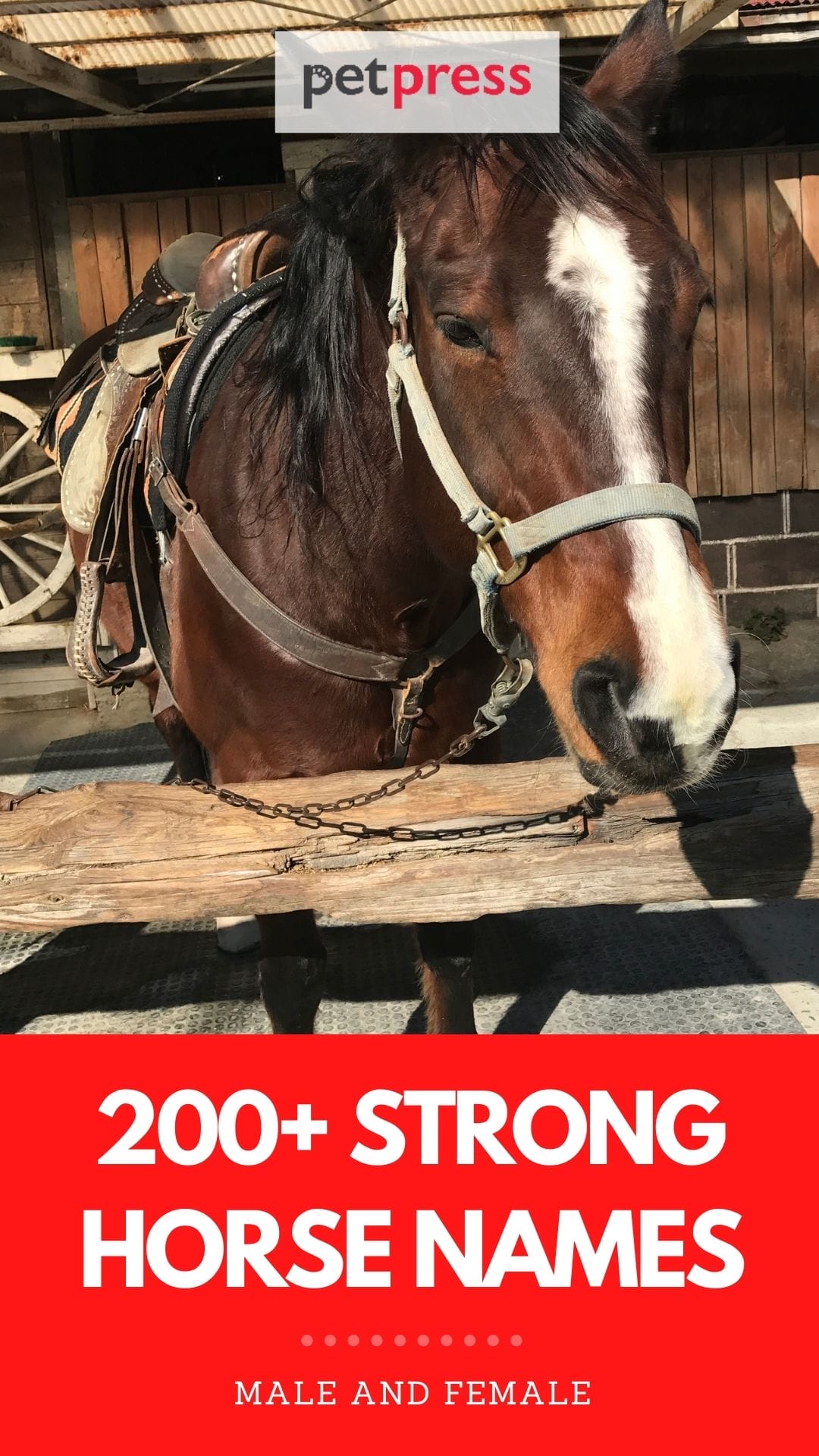 Here are the best strong horse names for mares, stallions, or geldings.
Male Strong Horse Names
Balor
Brady
Warrior
Goliath
Thor
Shadowfax
Highlander
Magnus
Skadi
Corb
Titus
Tito
Rocky
Wizard
Dragon
Volcano
Loki
Bandit
Survivor
Big Brown
Enzo
Tank
Zorro
Flame
Excalibur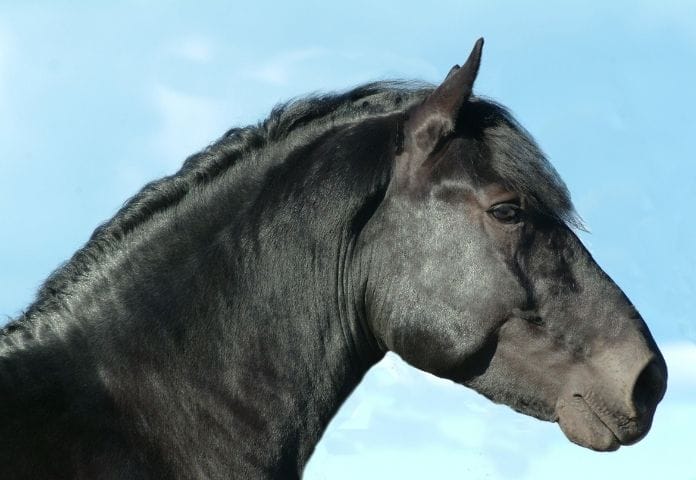 Yoda
Grant
Thunderstorm
Rage
Bronze
Big John
Pirate
Blackjack
Punch
Biggles
Courageous
Boxer
Zeus
Conquest
Hero
Ace
Diablo
Olympic
Hel
Amazon
Athos
Hercules
Blizzard
Assault
Geronimo
Fuego
Rodeo
Argus
Captain
Force
Fire
Tiger
Tabasco
Atlas
Ninja
Jedi
Azam
Obi wan
Female Strong Horse Names
Beauty
Hope
Thunder
Phoebe
Stormy
Catherine
June
Tethys
Shadow
Pansy
Sally
Moly
Nova
Chir
Diomedes
Astar
Vanita
Sequoia
Moonlight
Reckless
Adira
Amelia
Pearl
Maia
Query
Alvira
Chollima
Oprah
Rumba
Valentina
Zsa Zsa
Trauma
Bridget
Lollipop
Asta
Bely
Piper
Granada
Alsie
Melisande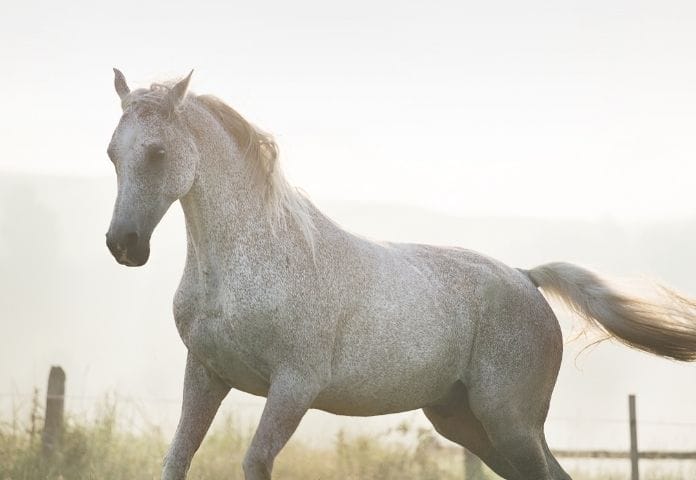 Ellen
Ada
Polky
Cobra
Tara
Audrey
Ruby
Valerie
Trudy
Jamaica
Maya
Minerva
Xena
Epona
Annie
Rosa
Celestia
Jupiter
Nin
Salsa
Valentine
Athena
Lexi
Camie
Titania
Trotsky
Storm
Arwen
Tiana
Gaea
Juno
Hermione
Rose
Tulip
Opal
Sandy
Pandora
Hera
Misty
Sirena
Pheonix
Daenerys
Powerful Horse Names from Mythology
| | |
| --- | --- |
| Gringolet | |
| Atlas | god that holds the sky (Greek) |
| Neptune | |
| Ares | |
| Mars | |
| Balius | one of two immortal horse gifted by Poseidon to the hero Peleus |
| Zeus | |
| Tulpar | a winged horse in Turk mythology. |
| Maia | goddess of the mountain (Greek) |
| Veillantif | ridden by Roland the paladin of French legend |
| Juno | Queen of the Gods (Roman) |
| Minerva | Goddess of Wisdom (Roman) |
| Hercules | |
| Tethys | mother of the sea (Greek) |
| Phoebe | goddess of the moon/intellect (Greek) |
| Jupiter | |
| Hera | Queen of the Gods (Greek) |
| Athena | Goddess of Wisdom (Greek) |
| Arion | a Pegasus like horse in Greek mythology that could speak |
| Uchchaihshravas | a seven headed flying horse from Hindu mythology. |
| Gaea | mother of the earth (Greek) |
| Uranus | |
| Heracles | |
| Xanthus | one of two immortal horses gifted by Poseidon to the hero Peleus |
| Poseidon | |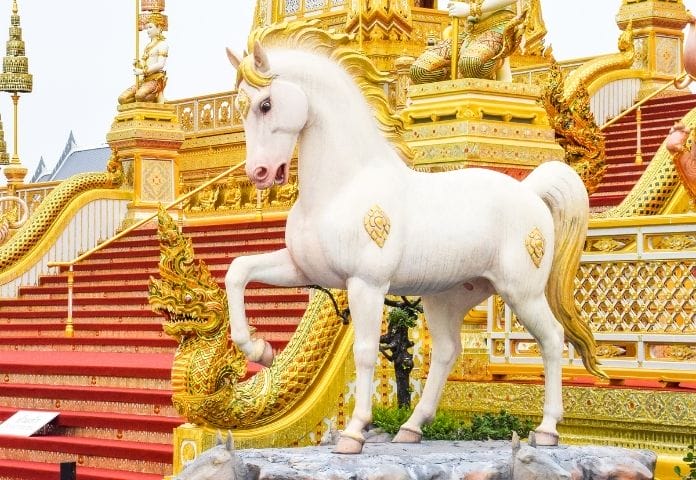 Strong Racehorse Names
Street Sense
Omaha Beach
Mariah's Storm
Foolish Pleasure
Regret
Tonalist
Easy Goer
Eight Belles
Ghostzapper
Rachel Alexandra
Mineshaft
Lady Eli
Tiznow
Afleet Alex
Assault
Go For Wand
Riva Ridge
Point Given
Curlin
Graydar
Ferdinand
Animal Kingdom
Lexington
Wise Dan
Conquistador Cielo
Palace Malice
Silver Charm
Skip Away
Personal Ensign
Pulpit
Storm Cat
Sir Barton
War Emblem
Key to the Mint
Round Table
Giant's Causeway
Bernardini
Lady's Secret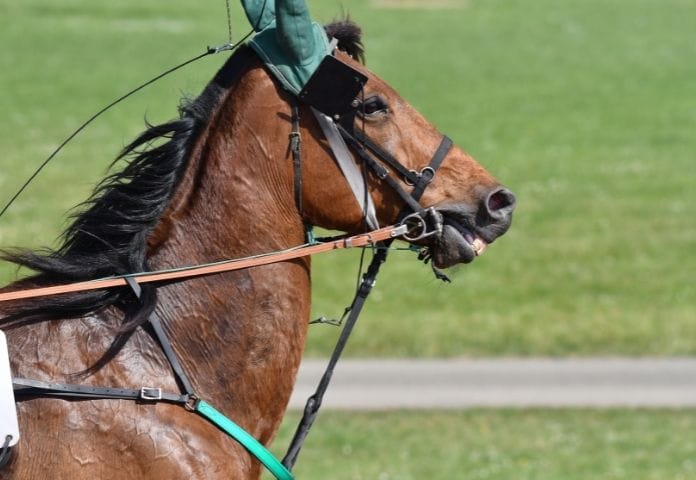 One of the most important qualities to look for in a horse is its strength.
A strong, powerful horse can help you do more with your business or hobby than an average one ever could.
If you are looking for names that sound tough and masculine, then our list of over 200 name ideas may be just what you're looking for!
Otherwise, we have a list of 100+ badass horse names to widen your options in naming your tough pet horse.