France is a country that has a rich history of horse breeding. So if you're looking for french horse names, then you're in the right place.
France and its horses are known all over the world for their beauty and intelligence and have been prized as warhorses since ancient times.
France's contributions to Western literature include those from famous authors Alexandre Dumas, Honoré de Balzac, Victor Hugo, Émile Zola, and Georges Sand.
They also contributed to music with composers Claude Debussy, Maurice Ravel, Olivier Messiaen, and Francis Poulenc.
With such an important role in our lives, it's no wonder that french names for pet horses are a thing!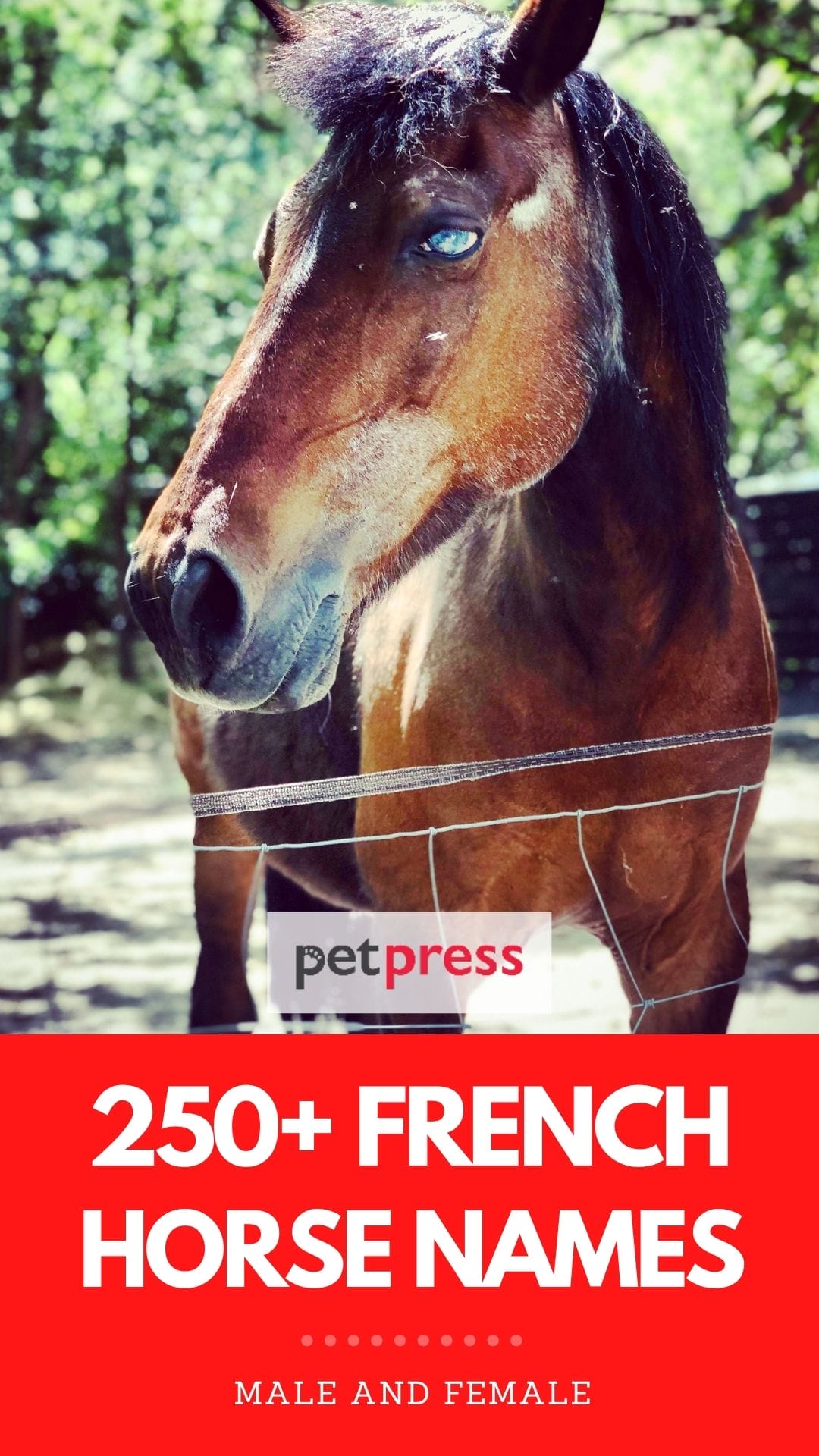 This article features 250+ French horse names that you can find below:
French Horse Names Male (Stallions/Geldings)
Nathan
Gabin
Corbett
Pierre
Audric
Darcy
Luke
Sebastian
Aurelian
Bastien
Agathon
Delano
Stephane
Henri
Nael
Alphonse
Raphael
Nicolas
Blaise
Valentine
Arsene
Corentin
Anatole
Yves
Antoine
Olivier
Hugo
Lucien
Amaury
Leo
Gabriel
Jeoffroi
Ethan
John-Paul
Liam
Pascal
Maximilian
Louis
Sylvain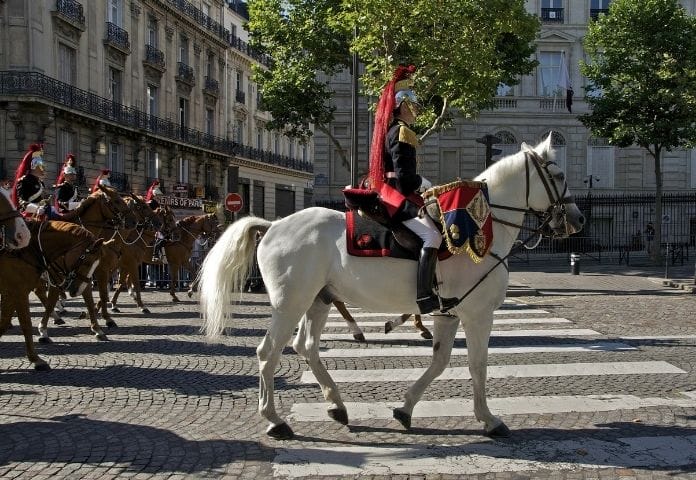 Gaspard
Sacha
Ambrose
cross
Marquis
Serge
Francois
Kiss
Noah
Alexander
Jules
Arthur
Thibault
Malo
Charlot
Claude
Thierry
Paul
Lucas
Mathis
Laurent
Stephen
Clovis
Georges
Jeans
Didier
Guillaume
Remi
Voltaire
Charles
Rainier
Thomas
Patrick
Matthew
Denis
Mael
French Horse Names Female (Mares)
Chantae
Lou
Thérèse
Hughette
Gabrielle
Barbe
Anne-Belle
Colette
Antonine
Giverny
Yvette
Aurélie
Solange
Pauline
Jean-Marie
Rochelle
Héloïse
Véronique
Aimée
Eléonore
Catherine
Jeanne
Marie-Thérèse
Angélique
Caroline
Antoinette
Elle
Valerie
Léonie
Anelise
Raymonde
Noelle
Monet
Mathilde
Mila
Andrée
Édith
Cerise
Esme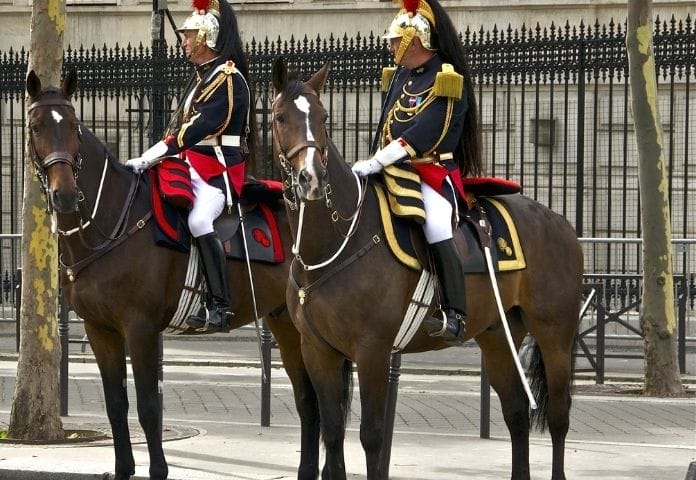 Yvonne
Lucile
Danielle
Yolanthe
Charlotte
Clarisse
Maëlys
Carole
Ambre
Agathe
Odette
Avice
Émilie
Iris
Pierrette
Fleurine
Mia
Baptistine
Liana
Brielle
Champagne
Ninette
Océane
Anastasie
Laurence
Armadine
Lydie
Avriel
Zélie
Annette
Lucienne
Salomé
Madeleine
Hélène
Mirielle
Maëlle
French Racehorse Names
Kandy
Klairon Davis
Niksar
Solwhit
Ervedya
Sprinter Sacre
Marchand d'Or
Lassalle
Natagora
Mkfancy
Mon Talisman
Sardanapale
Talma
Montmartre
Mont Tremblant
Silviniaco Conti
Eclair au Chocolat
Keltos
Rayon d'Or
Le Marmot
Sassafras
Hors La Loi
Vimy
Saonois
Pineau de Re
Ourasi
Buveur d'Air
Al Capone
Régalien
Algan
Lavandin
Motrico
Matisse
Omnium
Val d'Or
Rantzau
Harchibald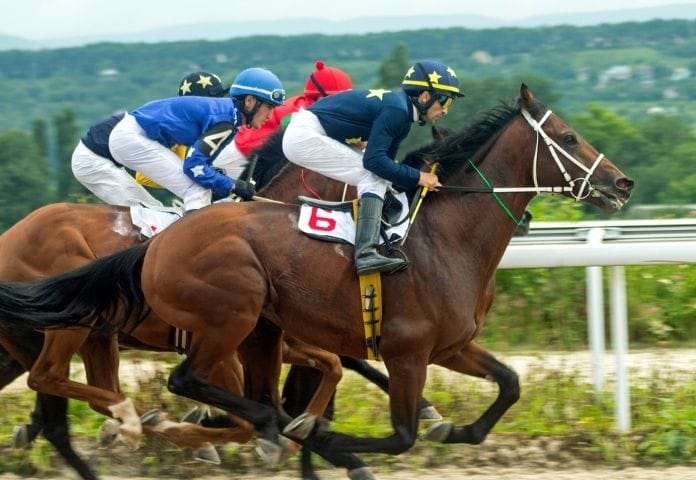 Épinard
Sir Des Champs
Vision d'Etat
Gemix
Caracalla
Noalcoholic
Avenir Certain
Souverain
Dunaden
Finasseur
Sire de Grugy
Un de Sceaux
Taboun
Plaisanterie
Sigy
Quevega
Bella Paola
Glorosia
Camaree
Allez France
La Cressonniere
Sarafina
Silic
Madelia
Natagora
Fortina
Corrida
Mandesha
Dunette
Sicarelle
Mesa
Reine de Saba
La Troienne
Stacelita
Aquarelliste
Kandy
Luth Enchantee
Siyarafina
Cool French Names For Horses (with meanings)
| | |
| --- | --- |
| Moussa | Drawn out |
| Festin | |
| Marceau | Little Worrier |
| Gustave | Glorious Guest |
| Questa | |
| Chantilly | White |
| Elegance | Grace |
| Force | |
| Frenchie | From France |
| Froufrou | |
| Pate a choux | |
| Cyclone | Tropical storm |
| Manon | Bitter |
| Astrid | |
| Napoleon | Emperor of France in the past |
| Blaise | To stutter or have a lisp |
| Alize | Noble One |
| Dom Pérignon | Famous Monk and Champange |
| Monet | A famous artist |
| Jacques | Jacob |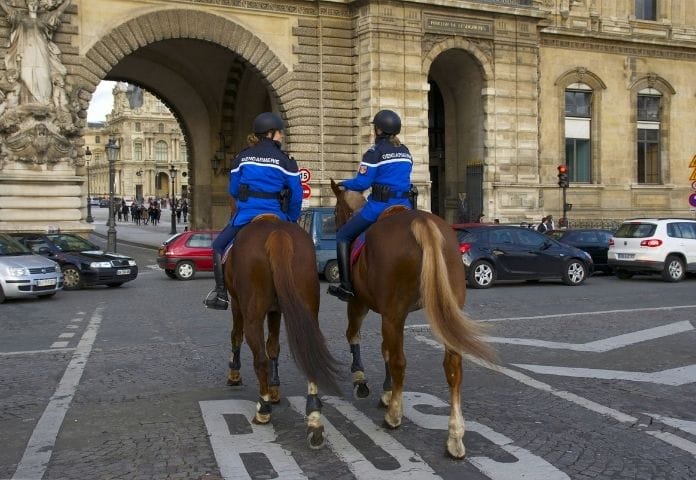 Elegant French Names For Horses
| | |
| --- | --- |
| Milo | Soldier |
| Baguette | A breadstick |
| Pierre | Stone or rock |
| French Toast | Breakfast made from bread dipped in an egg batter |
| Mousse | Foam or froth |
| Éclair | |
| Cabernet | |
| Merlot | |
| Café | Cafe |
| Gaspard | |
| Hugo | Mind |
| Soufflé | |
| Brie | Region of France, type of Cheese |
| Truffle | A sweet treat |
| Pepé Le Pew | |
| Ratatouille | A French stew |
| Crème Brûlée | Custard sprinkled with sugar and slightly burnt |
| Biscuit | |
| Bronze | a copper and tin metal given in a competition |
| Parfait | Perfect |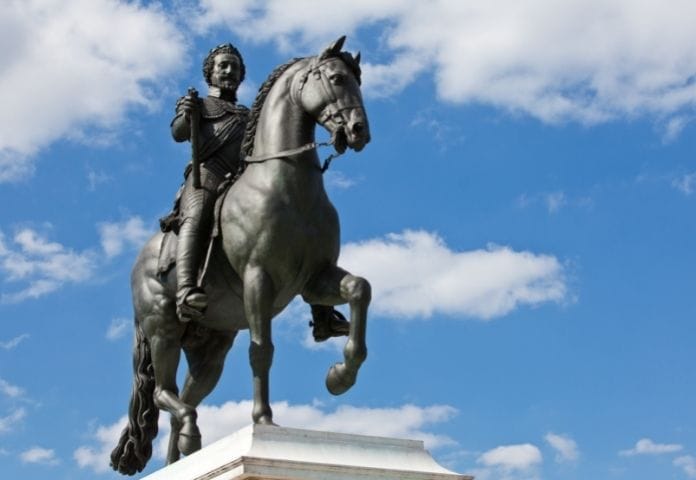 If you're looking for the perfect French name for your horse, we think our list is pretty impeccable.
Otherwise, we have another list of foreign horse names that you will surely love with various languages included.
We hope you find one that suits your favorite animal and leaves everyone around wondering what kind of fantastical creature they are riding!