Friesian horses are a beautiful breed of horse that has been around since the 16th century.
They originated from Friesland, a region in the Netherlands. The Friesian horse can be found all over Europe and North America, as well as in Australia and New Zealand.
It is considered one of the most popular breeds of show horses today. In this blog post, you will find 200+ Friesian horse names for your Friesian show horse!
Here are the best Friesian horse names for both and mares, geldings, stallions.
Male Friesian Horse Names
Ryker
Sarge
Clyde
Gunner
Caesar
Presley
Rebel
Maverick
Champion
Apollo
Angus
Buzz
Dexter
Hero
Pacino
Eagle
Remington
Hamilton
Ulysses
Orion
Jagger
Romeo
Xander
Fury
Ranger
Brutus
Hendrix
Maximus
Sirius
Socrates
Colonel
Osiris
Boris
Stirling
Deputy
Jameson
Kaiser
Zeus
Atlas
Jethro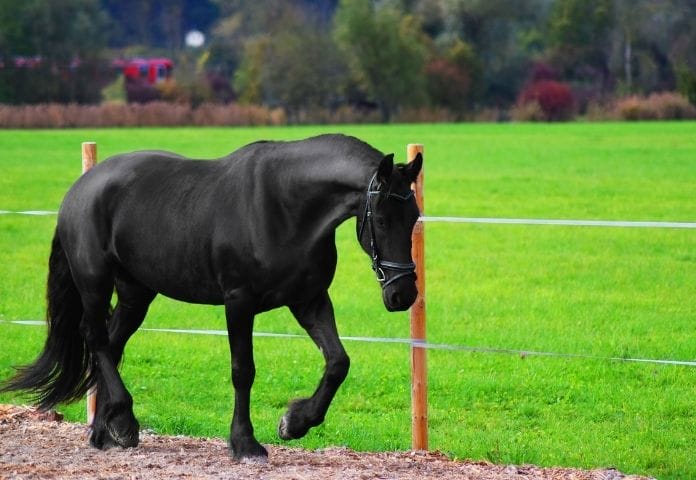 Female Friesian Horse Names
Isabelle
Ilsa
Dahlia
April
Gypsy
Freja
Diamond
Aphrodite
Ophelia
Aleid
Fenna
Fantasia
Beatrice
Fiona
Elsa
Clara
Bliss
Eliza
Liberty
Petra
Esther
Saskia
Hannah
Sofie
Victoria
Sheba
Pandora
Duchess
Delilah
Esme
Noelle
Astrid
Athena
Josephine
Lakshmi
Gracie
Cleo
River
Annika
Bridget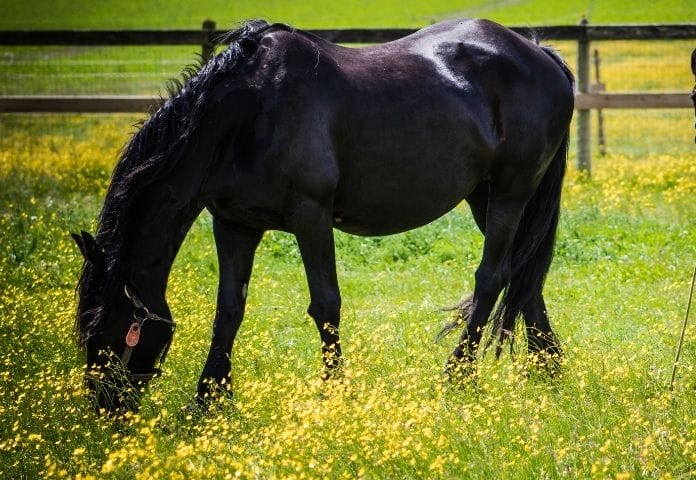 Good Friesian Horse Names
Sequoia
Echo
Rogue
Booker
Thor
Beau
Beaumont
Xena
Rowan
Storm
Majesty
Rex
Carlotta
Blackjack
Goliath
Ruger
Beauty
Titan
Diesel
Queenie
Striker
Stella
Nebula
Aria
Voodoo
Luna
Czar
Bane
Obsidian
Artemis
Godiva
Galaxy
Caspian
Siren
Divinity
Thunder
Asgard
Baron
Noble
Vader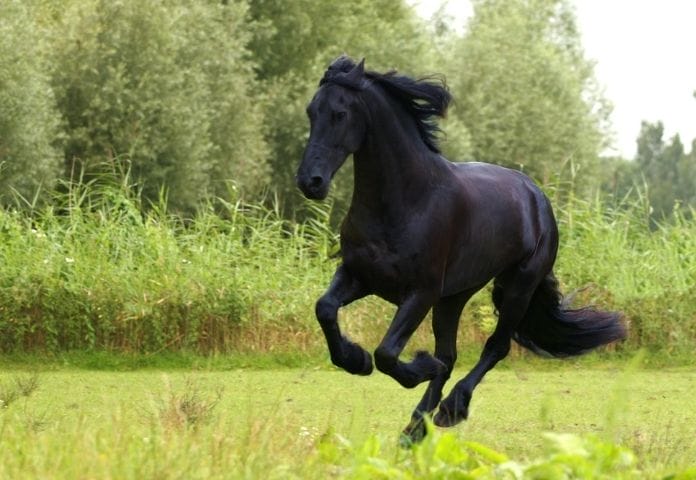 Dutch Friesian Horse Names
Viggo
Johan
Caspar
Zuzanna
Hilde
Lars
Aart
Tess
Jan
Ciel
Joris
Bram
Gustaaf
Greta
Una
Wilhelmina
Elin
Fenna
Lotte
Kyra
Gabriel
Rhona
Elke
Hanne
Jacobin
Ilse
Dutch
Sjef
Luca
Louis
Marja
Betje
Bastiaan
Hogarth
Luc
Amira
Roel
Henrick
Franz
Otto
Famous Friesian Horses Names
| | |
| --- | --- |
| Frederik the Great | known for his majestic beauty, loving personality and grand performances. |
| Cass Ole | This famous black Arabian stallion played the lead role in the Black Stallion movies. |
| BlackJack | Born in 1947, Black Jack was used in multiple funeral processions including that of President John F. Kennedy in 1963 |
| Ruffian | She is a Thoroughbred mare remembered for being an extremely fast mare who won every race |
| Skydancer | The black/purple mount of Stormy in the Rainbow Brite movie. |
| Black Hawk | This solid black Morgan stallion is a very well-known sire. |
| The Black | The Black Stallion was made famous first by Walter Farley's series of books and |
| Black Caviar | This is a famous Australian Thoroughbred mare who was undefeated in 25 races. |
| Tornado | Tornado was the name of Zorro's horse in the books and the television series |
| Chocolate | Black Friesian stallion in the movie, Ladyhawke. |
| Quo Vadis | She is well known for being a champion show mare as well as an excellent producer of champions. |
| Bucephalus | A special horse only rode by Alexander the Great |
| Top Moon | This Quarter Horse stallion earned his place in the hall of fame through his illustrious career as a top racehorse and an excellent sire of racehorses. |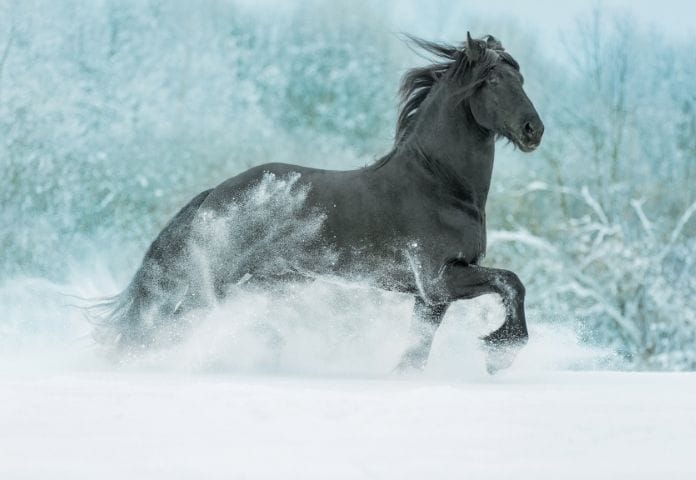 London
Ghost
Copa / Copper
On-X
Moulin Rouge
Ursul
Sylvester
Army Nob
Petro
Tagi
Goliath
Coconut
Black Widow
Spider
Black Friesian Horse Names
Dot
Chez Noir
Dahlia
Cinderella
Opal
Selena
Ebony
Olive
Sable
Nebula
Puma
Cosmo
Pepsi
Falcon
Kalamata
Leather
Ruffian
Black beauty
Hershey
Cola
Bailey
Leopard
Godiva
Char
Morticia
Panda
Maggie / Magpie
Ember
Ravan / Raven
Comics
Bullet
Vader
Ashley
Raisin
Coco
Coven
Black Pearl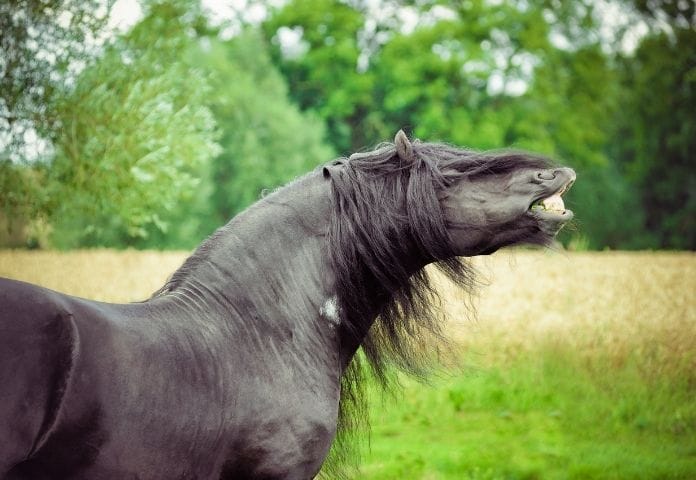 If you're looking for a Friesian horse name, we hope these suggestions help!
As always, the most important thing is to choose a name that suits your new equine friend.
So go ahead and browse through some of our favorite names from different cultures around the world—there are over 200 possibilities just waiting for you to find your perfect match.
And if none of those appeals to you, don't worry- we also have a list of buckskin horse names and shire horse names if you're planning to get one of these horse breeds.
You can also search by meaning or origin so it's easy to find one with a special message behind it.