Horses are such majestic creatures.
They're one of the most popular animals in the world, and they have a variety of names that you can give them to suit their personality!
But if you're looking for weird names for your pet horse, then check out our list below.
We have over 100 weird horse names that are perfect for your pet horse who makes funny and silly faces. Enjoy this compilation of hilarious weird horse names.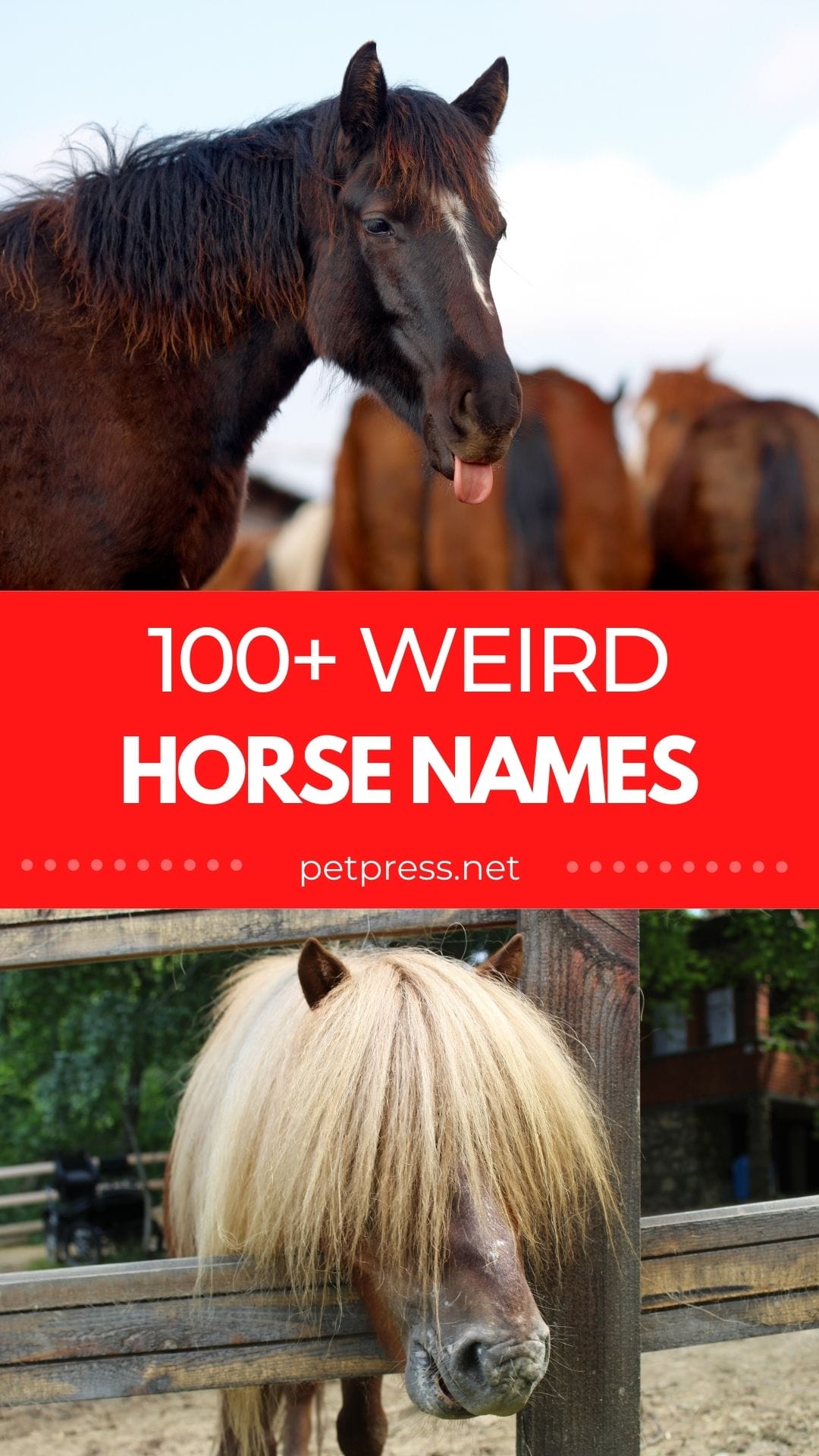 Best Weird Horse Names
Pants
Ze Brah
Ghostzapper
Potoooooooo
NightMare
Teeny Turner
Hannibal Lector
Odor in The Court
Usain Colt
Neighsayer
Clear So Far
Hoarse
Hoof Hearted
Rogue One
Trojan Horse
Snail Male
Reya Sunshine
Foaling Around
Degeneres
Long Face
D'apples are Sweet
Hay Jude
Wotsit
4-Hooved Sloth
Ha Ha Ha
MyExWifesAshes
Just Mare-ied
Bunny Killer
Weird Names For Female Horses
Hermioneigh
Tricky Silver
Mane Attraction
Kit Kat
Tater Tot
Penny Loafer
Justine Thyme
Black Pearl
Kate Winsalot
Hay Girl
Mane Event
Pony Tail
Lady Rover
Night Mare
Teeny Turner
Nightshade
Maple Stirrup
Britney Spurs
Shoe Crew
Horsey Kiss
Money Penny
My Little Pony
Kolt Kardashian
Minnie Scule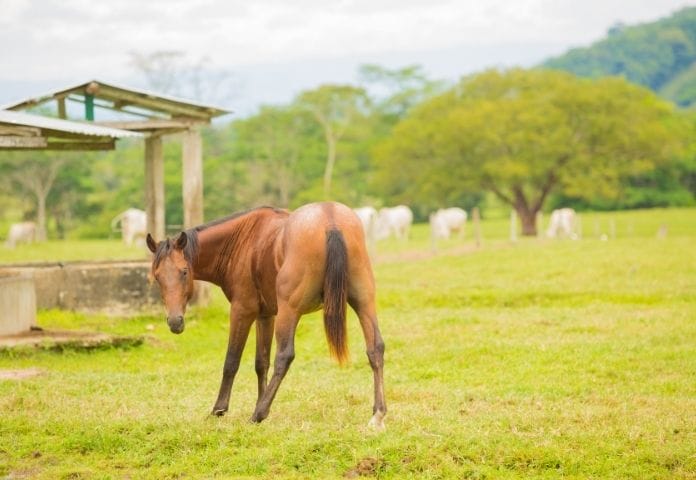 Weird Names For Male Horses
Harry Trotter
Chuck Horris
Sir Neighs A Lot
Richard Friction
Buck Rogers
Dustin Hoofman
Mister Ed
Horse Power
Dappleganger
Hoof Jackman
Jon Bon Pony
What The Buck
Mr McWhinney
Adam Neighiski
Pony Soprano
Liam Neighson
Sylvestor Stallion
Forrest Jump
Al Capony
Spongebob Horsepant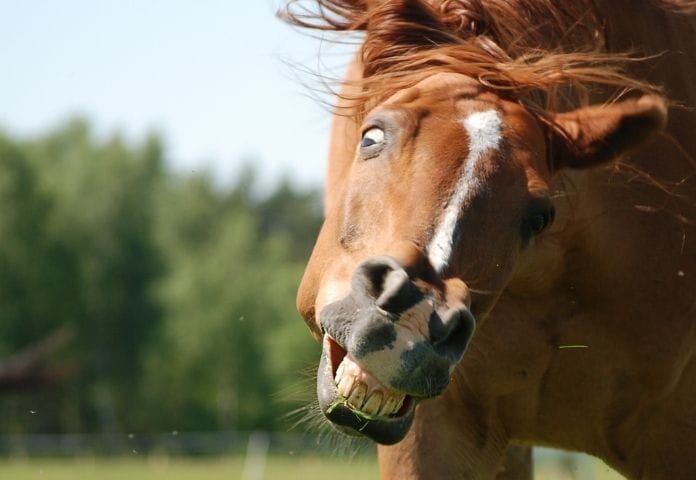 Weird Racehorse Names
Race Career
DoReMiFaSoLaTiDo
GiveMeAnotherName
Ha Ha
Horsey McHorseface
WhatAmIChoppedLiver
OhNoItsMyMotherInLaw
GeeSpot
Mookie's Runnin
Leading By A Length
Shakalakaboomboom
Houdini
Walk of Shame
WhyKickAMooCow
TheWifeDoesntKnow
Bofa Deez Nuts
Sotally Tober
NotACatButaLlama
Stopchargingmaria
Barely Legal
Panty Raid
ARRR
JunkintheTrunk
Attention Shoppers
Where's The Beef
Red hot Filly Pepper
IWinYouGetNothing
Thats' WhatSheSaid
MyWifeKnowsEverything
Riding Miss Daisy
Slumpbuster
Bodacious Tatas
MayTheHorseBeWithU
Spineless Jellyfish
FiftyShadesofHay
EighteenCharacters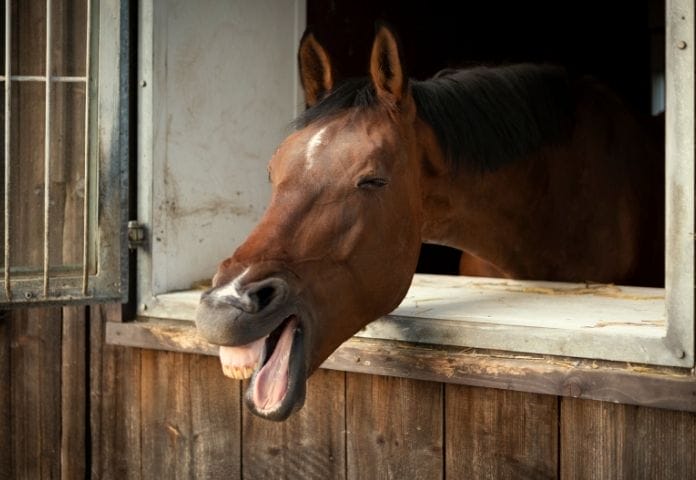 How would you like to name your new pet horse?
Some people have really weird names for their horses, but we've found some of the best!
You can also check out the fun paint horse names that are both unique and a little weird.
There are over 100 different types of names on this list so there is something perfect for everyone. We also have a list of over 300 funny horse names if you need more hilarious name ideas.
What do you think about naming him or her "Salty Breeze"? I bet that would make them feel loved!